The Nothing Phone (1) - You've either heard all of the hype and maybe you've seen Marques in his latest video showing one-off, or, this is the first time you've heard about it. Today I wanted to talk to you about what exactly Nothing Phone 1 is, and to attempt to answer if Nothing Phone 1 is actually going to change the world, as their marketing hype seems to say.
First - story time!
Last year, a company called Nothing which is actually based here in the UK released their world-changing headphones, like nothing you've ever seen before.
I mean, having Nothing as the company name does give you some fun and also very mixed marketing messages… with people saying they can't wait for nothing. I want to buy nothing. You get the gist.
But seemingly all of the big tech YouTubers were talking about them, they hyped them up,  I'm guessing they had a big marketing budget to pay all of these big influencers - aaaaand.
I can tell you right now, that I don't actually know a single person who owns a set of Nothing Earbuds.
Do you? Let me know in the comments, 1) If you own them, how are they? and 2) If you don't own them, do you know anyone who does?
So out comes their latest announcement, the Nothing Phone 1, the next revolution and the biggest competitor to the iPhone.
Now, I don't know if they are just pure out there flipping people's flapjacks…
But that's a bold claim given that the iPhone is one of the best-selling phones of all time, and also given that the Nothing phone (1) is still based on a third-party operating system, Android.
Specs-wise we have some pretty solid specs - 120hz OLED Display, Snapdragon 778G+ with 8GB of Ram, 128 or 256GB of storage, a 4500mAh battery, and 45W fast charging. A Dual camera system including a 50MP Wide and 16MP Ultrawide plus 16MP front-facing camera.
With only the leaked pricing available, it's looking to start at around £400 to £500.
So as far as reading off a spec list, it looks to be a pretty good mid-range phone.
Pre-orders for the Nothing Phone open today and I'm going to be trying to get my hands on one of these for you to check out, so cheeky reminder to subscribe to my newsletter to keep up to date when that comes out.
💌 Sign up for the weekly newsletter: https://www.petematheson.com/newsletter
Now we did get to see some cool new features from MKBHD, and they did have one unique feature as many Android phones do and that we've talked about before on this website - every phone has its flagship feature, 120-watt fast charging, 10x telephoto lens, optical zoom, well the Nothing Phone (1)'s flagship feature seems to be what they've dubbed their Glyph Interface - which is basically some notification LEDs.
Don't take that the wrong way - glyphs are really cool. Firstly it acts as a notification LED, that saves you from having to repeatedly pick up your phone to check if you have a new notification - Like I'm sure we all do.
They light up and vibrate when your phone goes off, and they have a tonne of customised combined ringtones and vibration patterns that you can use, which are cool.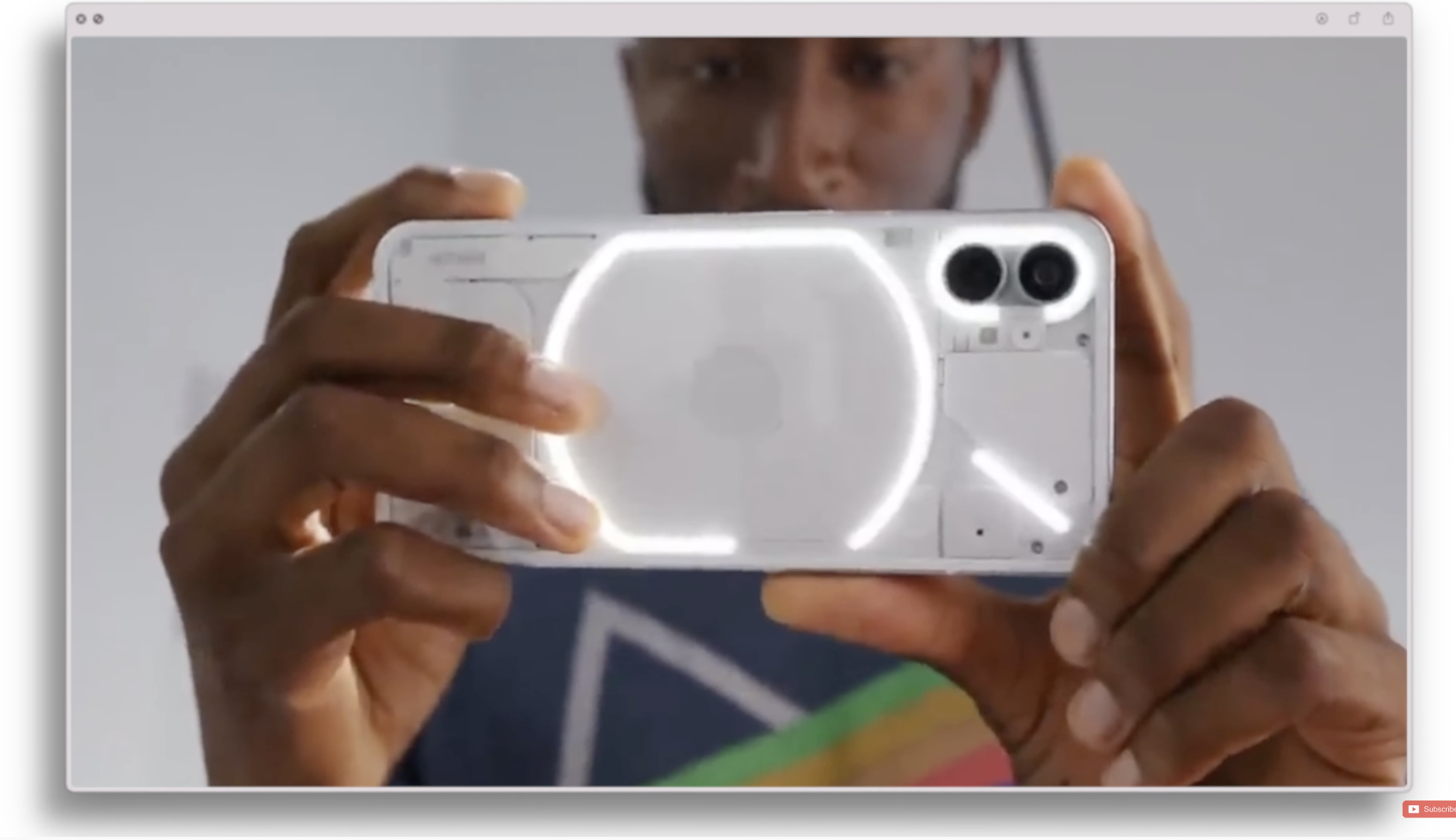 It glows when it's charging other devices, and also when you charge the phone and put it face down, it gives you a cool progress indicator.
You can even use the LED interface to use as a fill light when you shoot video, along with a blinking red LED that flashes when recording, akin to the older recorders that did this.
It looks like it has a separate flash module on the back so when you need a bit more power then perhaps it uses that, but there's no information on it just yet.
So that's the feature, and there is a tonne of questions that surround this question for me - what's the impact on battery life, does it even matter to most people who put a case on their phone, which will then cover up all of these LEDs?
It's going to be very interesting to put this phone up against its competition - as an iPhone user, this is arguably going to be the most familiar design for me to use, it basically looks identical to an iPhone in its physical shape and the lenses on the back.
But it's the software that interests me - since at the end of the day it's still an Android phone, and so on the Nothing Phone, we of course have the Nothing Launcher.
I've actually installed the Nothing Launcher on my S22 Plus that I've been using for a few weeks now, and there's not really a huge amount to it.
A Date and weather widget, a so far very non-customisable home screen, and it looks like all you can really do is change the App Grid to 5x5 and play with some icon packs and that's about it.
So based on this, I'm already going to expect to just slap on the nova launcher, which I basically do now to every new phone after I've given the stock launcher a good go.
I wouldn't crucify them just yet though, since they're likely keeping most of the cool features and the full interface ready for when the phone itself, is launched.  If anything it probably works as yet another clever marketing ploy to get you to install their launcher onto your phone and to just keep their name in mind.
I'm hopefully going to secure my piece of nothing today so that I can review it, and then I'll post it here very shortly, all about - nothing.
In the meantime, why not check out the dumpster fire of a phone that is the Sony Xperia IV, pun very much intended, and I will see you in the next one.