Roku Streaming Stick+ vs Amazon Firestick vs Google TV
Today we are looking at cutting that cord, ditching those expensive cable subscriptions and TV licenses, and instead - going Internet only, by comparing the best budget 4K Streaming sticks on the market.
Here in the UK - watching live TV over the air comes at a significant cost. Even Freeview. Yes, the name FREE-VIEW costs us £13 per month.
Today we are looking at the Amazon Firestick 4K, Google Tv, and Roku's Streaming Stick+.
I have notably left out the Apple TV and other, more expensive options like the NVidia Shield because I wanted to focus on budget 4K Sticks.
Can I ditch my TV license?
For those of you who aren't sure about the legalities of ditching your TV license - be sure to stick around until the end because I'll give you a quick 30-second explanation on how that all works.
Amazon Firestick 4K
The remote is small, thin and the rubber buttons are just in the right places. Power and voice at the very top, then Navigation, home, play and pause in the middle and volume at the bottom.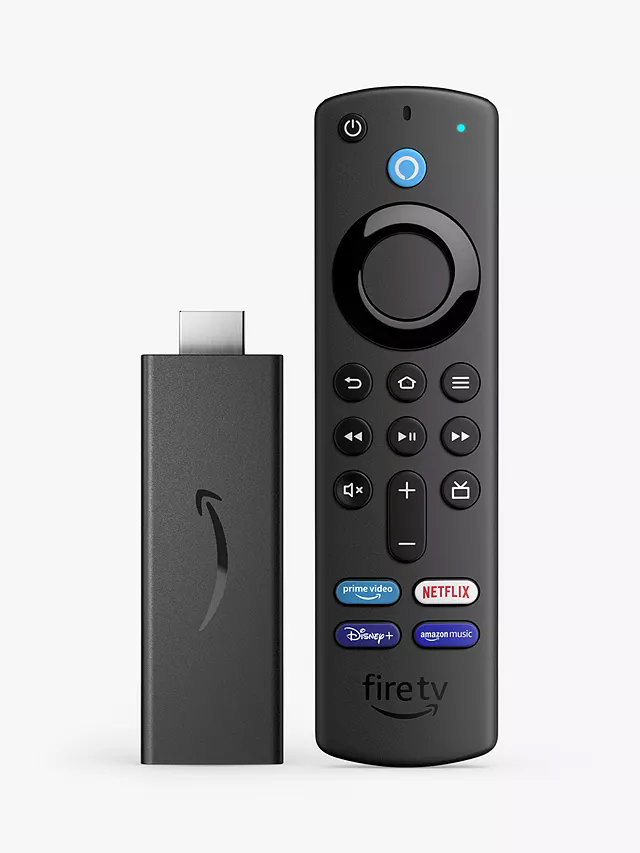 Super clean, super simple. Nice and grippy so it doesn't fall out of your hand. No issues at all there.
For ease of use - this one is obviously very Amazon-centric, but I like this - it shows lots of content on the screen at one time so you can quickly scan and see if there's something you want to watch. There's a new Live tab that integrates with some of the TV Apps, and I also like in general, how The Amazon Firestick sometimes pulls through some recommendations from other apps like Netflix, in this Netflix Recommends section.
I haven't seen anything similar yet from the likes of Disney Plus or Apple TV. But it's still nice that you don't have to go into each app.
Things get even easier when it comes to voice as you can just tell it what you want to watch, and if that show or film is available across multiple streaming providers, it will ask you which one you want to stream from. That makes for a really nice feature!
Performance-wise, with the 4K stick - no real specific issues so to speak of. First I'll say that this is the 4K Version, as the non-4K version I tested a few years back was SUPER slow and actually put me off buying the 4K version, assuming it would be just as sluggish.
At times I have had issues with audio, or streaming services not streaming properly which then involves rebooting the firestick, but that could be specific to me, or something to do with my Dolby Atomos AV Receiver.
But in general - everything loads quickly, smoothly, buffering isn't a thing and I can switch between apps really quickly.
Overall experience - I actually really like this. It works well across all of the streaming apps I use like, Netflix, Prime, Apple TV, YouTube, Disney+, and Plex. The voice commands are actually useful when you want to watch something but are not sure what service it's on, and the video and audio quality, aside from those hiccups, has been faultless.
A really strong start!
GOOGLE TV
Next up, is Google TV.
The remote comes in this smaller, rounder shape in comparison to the Amazon Fire TV. I don't find this as comfortable as the Amazon remote.
It's a slippery bugger for starters. Everything on this remote is plastic and slippery, so there's nothing to actually grip onto.
Navigation at the top, some handy shortcuts to the various apps, and the power down the bottom. But the one thing that annoys me about this remote is the volume buttons.
I have no idea what the logic is behind putting the volume buttons on the side of this thing? I find it awkward to readjust your grip to get to the volume buttons and risk dropping the remote because of how slippery it can be.
With the remote aside, ease of use - is actually good!
One thing that this has above the Amazon Firestick, is that you get this really nice 'Continue watching' section which brings in shows across other apps too. Though weirdly, it doesn't seem to work on all the Apps - but definitely Netflix and Disney which is nice to see.
Voice is equally accurate as it is with Amazon, but a one up on Amazon here when you, for example, ask it to say 'watch a movie it actually plays that movie without needing you to press additional buttons... Eventually...
Being a Google / Android TV thing, it also interestingly picks up apps you may have installed on your phone or other android devices, giving you easy access to getting those installed on your Google TV as well.
Performance-wise, it's OK. I have had an issue when you wake it up after a while and open an app, it takes an age to open, then sometimes doesn't even open. Once it's up and running it's just fine - but it's kind of annoying that it takes so long to wake it up and get up to speed. So that would be a point to the Amazon Firestick right there.
Overall experience - Yeah, really good actually - with one, minor, exception. With YouTube, you cannot quickly and easily swap between accounts. You have to fully sign out and back in again to each account. This is really awful if you and your partner, or kids want to switch between accounts quickly and easily.
Not sure why this is a thing, given that the YouTube app on the Firestick will let you swap accounts just fine, but it's quite annoying and if you mainly watch YouTube or have kids' accounts you want to swap between, then possibly this isn't the device to choose. This is stupid because Google makes this device!
ROKU STREAMING+
First up, is the remote. It's bigger and bulkier. Not sure if that's a good thing, but it's not as slippery as the Google remote since it has rubber buttons at least. But once again, the volume controls are on the side!
I'm not sure what the infatuation is with doing this. Yes, I guess it makes some space for other buttons on the front, but all I find is when I go to pick up the remote that I accidentally hit one of those buttons instead.
There's also this little purple tab at the bottom, for some unknown reason.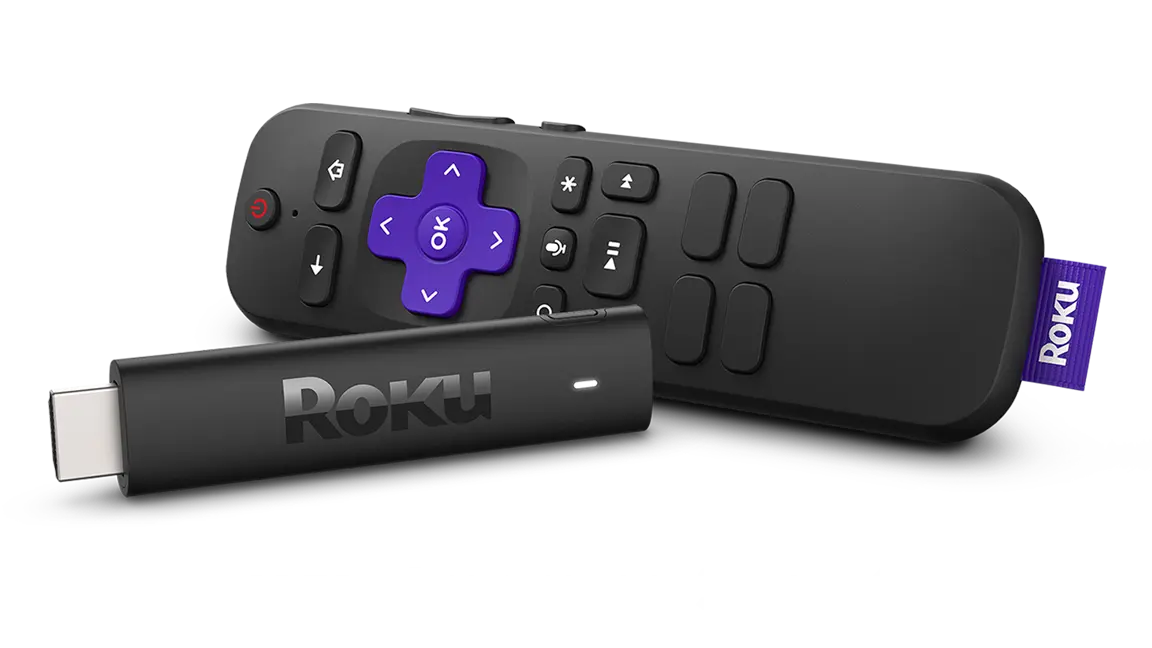 The layout, to me, feels uncomfortable. Because of the bigger size and those stupid volume buttons on the side, I find you have to adjust your grip to reach the tops and bottoms of the remote fairly often.
With that said, over to ease of use and eh..... in all honesty. Just no?
Using the voice control, took multiple attempts. I found the remote sometimes unresponsive, even though the volume buttons would always work. Using voice controls to watch something, it would give me a countdown timer whilst it left the app you were currently in, to then show the search results and wait for you to select which one to watch. Then you had to fire up the app - which all say 'requires subscription' even though you are already signed in to your account.
It's because of this, that performance-wise - I just found it sluggish.
Whilst the processing power and capability of this one is and should be good on paper, the OS properly slows it down.
That already sounds like too many nails in the coffin - but for overall experience, I just don't understand how this can be better than the likes of Google and Amazon FireTV.
The interface looks dated, with the ability to select themes that look like they're from the '90s and it doesn't really show you anything other than ' Here are your apps'.
There's no - hey here are the latest shows you can watch, and definitely nothing as nice as the Continue Watching sections on Google TV.
For me, the Roku seems basic. Too basic. And perhaps that's reflected in the price because the Google TV is almost double the price of the Roku.
However, stick around for Black Friday or Amazon Prime Day, and you can get the Amazon Firestick 4K for £30 which is cheaper than the Roku, and a far better experience.
The only thing, and I really do mean the only thing that the Roku has above the Google and Amazon options, are that it has built-in Apple AirPlay and HomeKit, which you normally have to buy the full-on Apple TV for. So if that's something you are desperate for, then perhaps this is an option for you.
But honestly, I don't understand why this seems to top the charts of all the reviews. I can only assume that perhaps Roku has a really good affiliate program that pays really well, which would then encourage all the reviewers to recommend this as their number 1 so they can start making a tonne of money off the sale.
And that is something that I DON'T do on this channel, of having my opinions swayed by how much I'm paid.
Yes, I do use affiliate links - but I always buy the products myself. Review them. Put the video together and literally, sometimes even minutes before uploading - I go and sign up to the affiliate programs.
BEFORE YOU DITCH YOUR TV LICENCE...
If you are very heavily into Amazon Prime shows, then go for the Amazon Firestick 4K. It's a good all-rounder, lets you use multiple YouTube accounts without having to sign out and in, and there is a tonne of integrations and apps available.
If you only have a single YouTube account, then take a look at the Google TV as I do like how the interface lays everything out for you. My only issue here is that it is double the cost of the Firestick,
And as for the Roku. Just don't get it. I personally don't see any reason here why you would buy this over the other 2.
Change my mind in the comments below?
Actually, if I find that Roku has a killer affiliate program - You'll see it in the description below too, I'll be sure to tell everybody that I've changed my mind and Roku is actually the overall winner! haha.
But I would say out of all 3 - the winner, for me, is the Amazon Firestick 4k.
SO CAN I DITCH MY TV LICENCE?
A quick pitstop for those with a TV license.
You do not need a TV license if you only watch services like Netflix, Apple TV, prime TV, or anything like that.
You DO need a license if you watch ANY live TV, OR watch the BBC iPlayer.
That's it. That's all of the rules.
Now, these only apply to UK Viewers, but there is so much confusion over this - which of course there is because they want you to keep paying the TV license. I've not had a TV licensed for probably around 5 years now and I'm yet to be arrested.