The iPhone 14 is just around the corner and I've got my order in the bag! A brand spanking new iPhone 14 Pro.
So, in the spirit of the iPhone excitement, I thought I'd give you a run-down of what are, in my experience, the very best accessories to buy for the iPhone. Although I've been back and forth between iPhone and Android, I've been an avid iPhone fanboy since, well, 2007! And, throughout those many years, I've tried out A LOT of accessories. So let's get into the best of the best…
Cases
Let's start things off with cases. For which I have two defaults.
Firstly, there's MagBak (Discount code: PETEMATHESON15), which is my all time favourite magnetic case. They're no thicker than the standard Apple cases you can buy from an Apple store, but they have super strong magnets in them which mean you can stick your phone to any metal surface. This comes in clutch to stick your phone to gym equipment whilst you're working out, or it sticks to fridge doors. It's super useful! My wife had one on her phone and it fell out of her pocket whilst getting out of the car the other day, and instead of falling to the floor, it stuck itself to the outside of the car, saving herself a cracked screen I'm sure! They are awesome.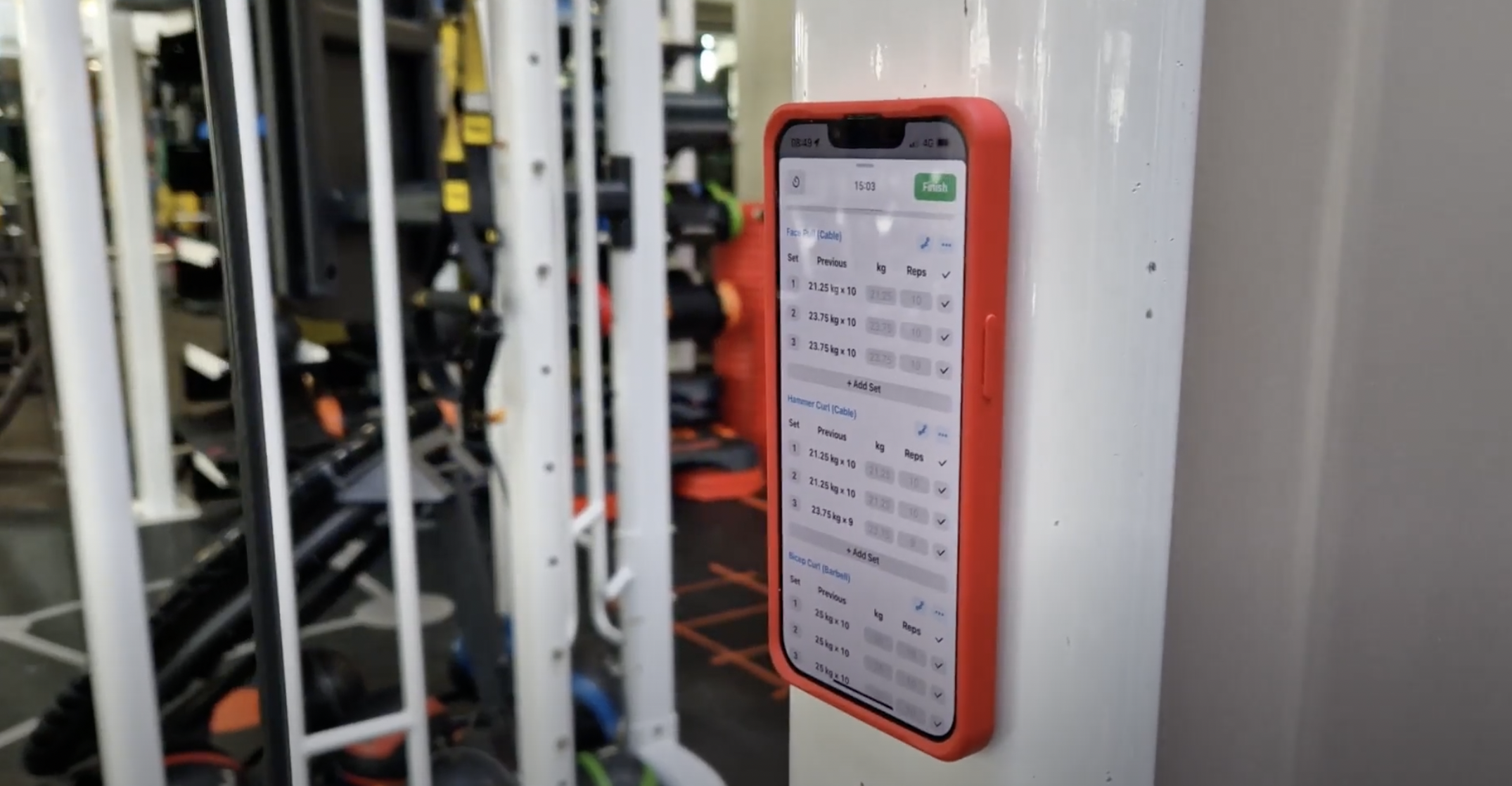 I've already got a pretty decent setup for MagBak. I bought their desk charger which charges the phone, watch and headphones all in one stand. It doesn't look that pretty, but it works really well and is super convenient.
And also there's the MagBak Tesla charger that fits very, very cleanly to a Tesla Model 3 or Model Y and, again, you just stick your phone to it and it stays there, charging wirelessly and in the perfect position for FaceID and navigation if you drive a LHD car.
Honestly if you're a Tesla owner with an iPhone, get one of these car mounts with a case, they're awesome.
You can also use them without a case, as ultimately all they do is significantly enhance the Magsafe magnets, you can still use all the Magsafe accessories, and likewise you can charge any Magsafe iPhone on a MagBak charger, the magnets just aren't quite as strong.
On to my second default for cases. Pitaka. They are super thin at just 0.95mm thick, still magsafe compatible, and you can still wirelessly charge. They look great with tonnes of different styles. I just love how thin these cases are.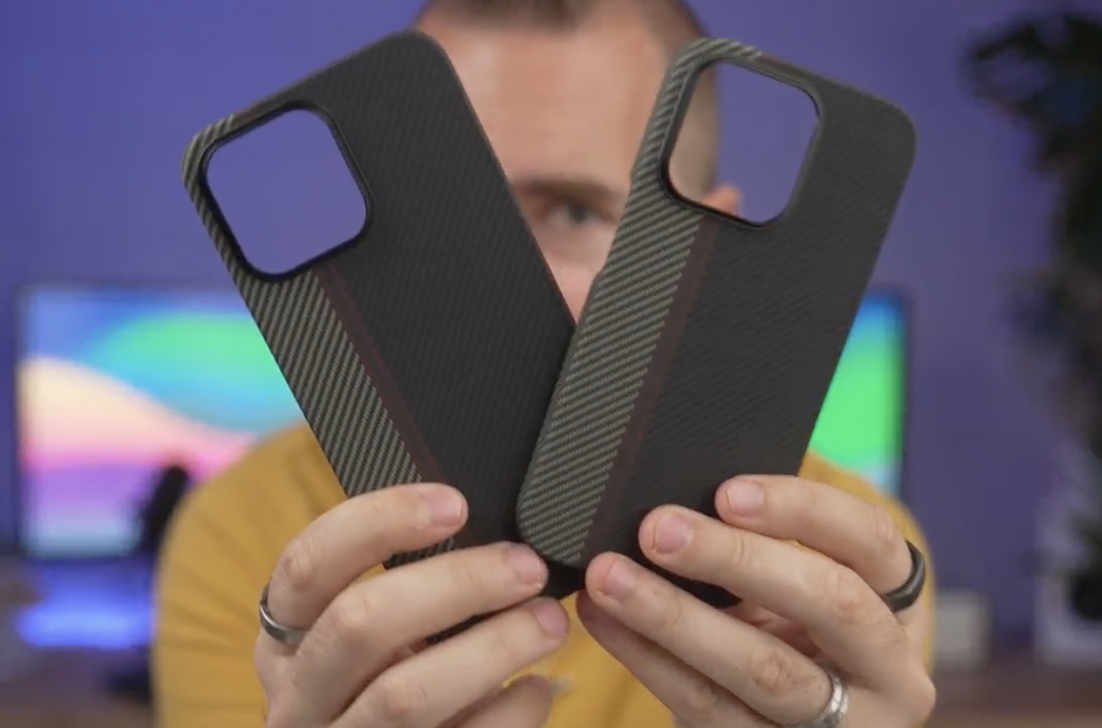 Pitaka also does other gadgets. For instance, their Airtag holder that doubles up as a lightning charging cable. There's also one that functions as a multitool. You can attach these to your bag, keys or whatever you want to keep track of. And they 'hide' the Airtag so potential thieves wouldn't know it was there.
Now there are thinner cases out there too, if that's your thing. The Latercase. Which is 0.6mm thick as opposed to the Pitaka's 0.95mm. I keep one on my Google Pixel 6 Pro, and it is great and fits well. But, and this is my only gripe with these cases, I'm finding the corners are starting to come apart a little. And I do actually prefer the designs you get to choose from with the Pitaka cases. But if super thin cases are your jam, and you look after your phone, Latercase might be for you.
Lastly on the cases and protection front, there's Rhino Shield. If you're like my wife and like to fling your phone here, there and everywhere, or you have butterfingers from great heights, then Rhino Shield cases are a must. They will protect your phone from significant impact damage.
I've been fortunate enough that Rhino Shield have sent me a tonne of their cases to try out and I'll be giving them away to my Newsletter subscribers next month so be sure to sign up to that. This month, it's a set of very, very nice Edifier speakers!
Screen Protection
Now, I never used to bother with screen protectors (I know, I know, I'm naive) until I got a pretty hectic scratch across the top of my iPhone screen a few months back.
So I went looking for a decent screen protector and, wow, there are SO MANY to choose from. However, the one I settled on and the one that I return to time and time again is from Amazon. And it's a matte one.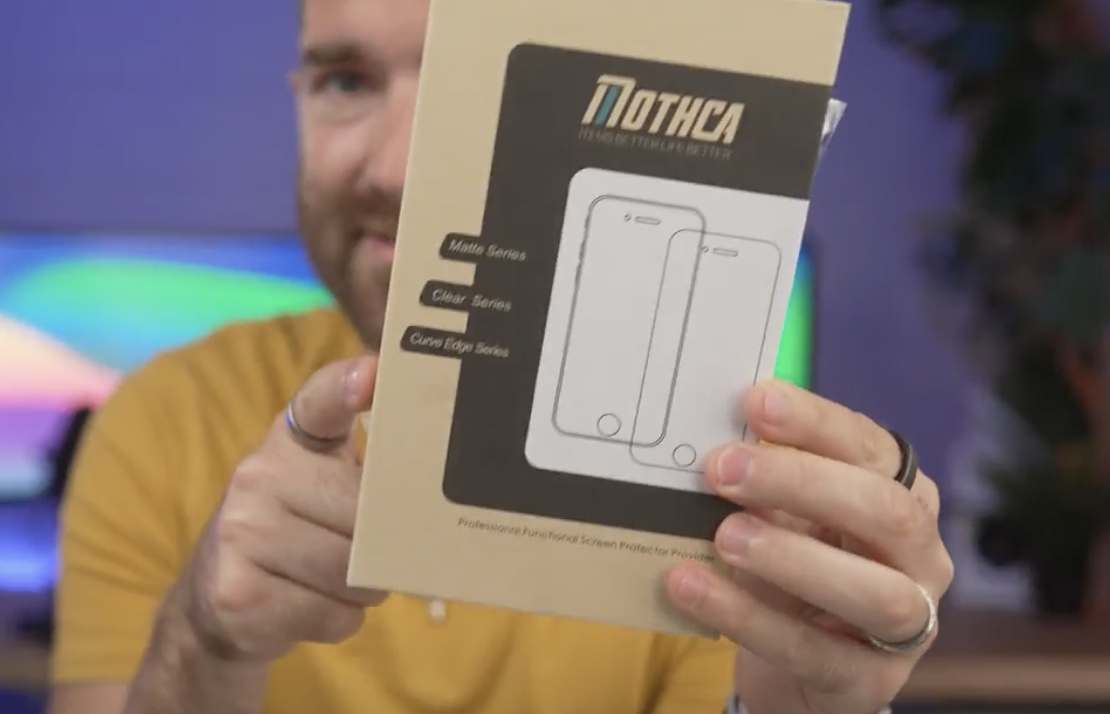 I realise that a matte finish isn't to everyone's taste BUT, these things are great at reducing reflection and glare on the screen. It also makes the touch experience so much smoother. These things are super cheap on Amazon and last year they included 2 of them in the box. Plus you get a little module thing to stick over your cameras to protect them too.
Something to be super aware of though is that, with the iPhone 13, the MagBak case and one of the matte screen protectors don't quite cooperate together! The case puts a little too much pressure on the screen protector and lifts it slightly. I'll be testing this out when I get my hands on the new iPhone 14. Hopefully they will have solved that issue. You can, of course, buy a screen protector from MagBak themselves but, sadly, they don't offer a matte finish one.
Headphones and Earbuds
I've tried out the Pixel Buds, the Pros, the Redmi Buds, Airpod Pros, Airpods - all of the bloody buds! But, the best fit and the best features are always going to be, for me, the Beats Fit Pros. They fit better and more securely than any other earbuds I've tried out. The noise cancellation is exceptional. The battery life is really good. I use these every single day, they are just SO good!
If headphones are more your thing though, I would go for the Sony XM5s or even the Apple Airpods Max. I am personally finding the XM5s just get that little bit uncomfortable after longer periods of wearing them.
Chargers
There are two that I use on a daily basis. First is the MagBak charger (remember the discount code: PETEMATHESON15). This thing looks a little ugly but it serves its purpose extremely well.
Second, and on my desk, I use the Benks charger. This lets me charge my phone via Magsafe - yes it works with MagBak too - and has a Qi compatible charger underneath for headphones. Or, actually, for charging another phone!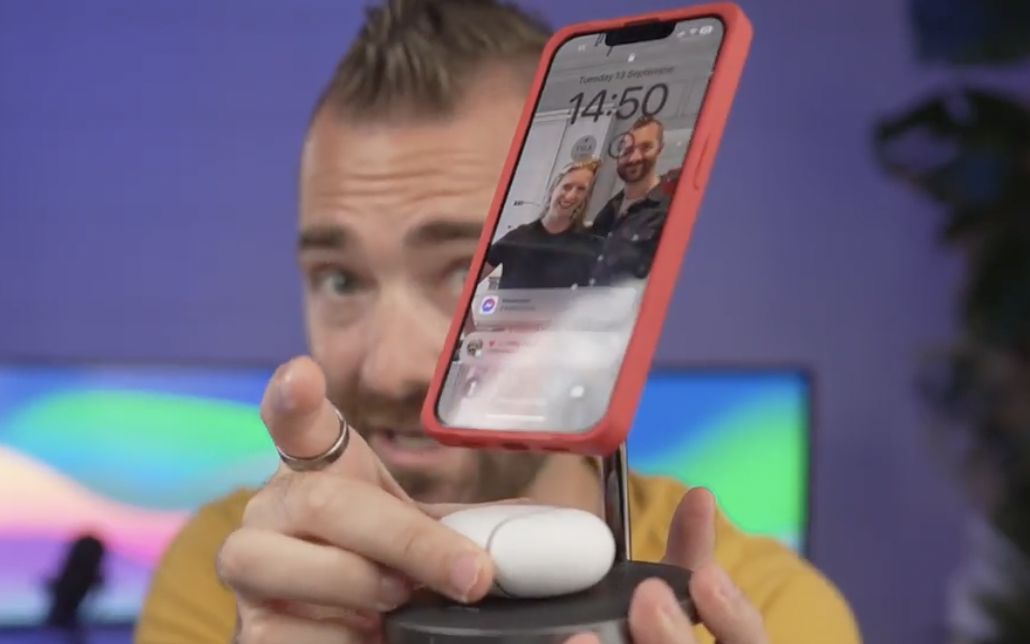 In terms of charging on-the-go, I usually bring along my Anker Power Bank 24000mAh 3 port portable charger, which, whilst it weighs a fair bit, charges my iPhone about 5 times. It can also charge my Macbook Pro at 100 watts, so it's super fast!
Watches
An easy choice for me and that is the Apple Watch Series 7. I see absolutely no reason to upgrade to the Series 8 or the Apple Watch Ultra as I don't plan to go hiking in the Arctic Circle or deep sea diving in the Atlantic any time soon! So I'll definitely be sticking to the Series 7 for at least this year!
And, if you're interested, go check out my face-off between the Galaxy Watch 4 and the Apple Watch