I've spent over £6,000 on nine premium tech gifts to review for you today, from fitness to function. We're going from the cheapest to the most expensive. There'll be links and hopefully some discounts below for everything I mention in this post, Starting with Number 1.
F97 Mechanical Keyboard from IQUNIX
At $265, the F97 Mechanical Keyboard from IQUNIX has quickly become my favourite keyboard. It's now replaced my Logitech MX Master keyboard for day-to-day use.
This one is the RGB version of the Variable X Design with TTC Gold Pink switches, and it just makes typing everything feel so satisfying.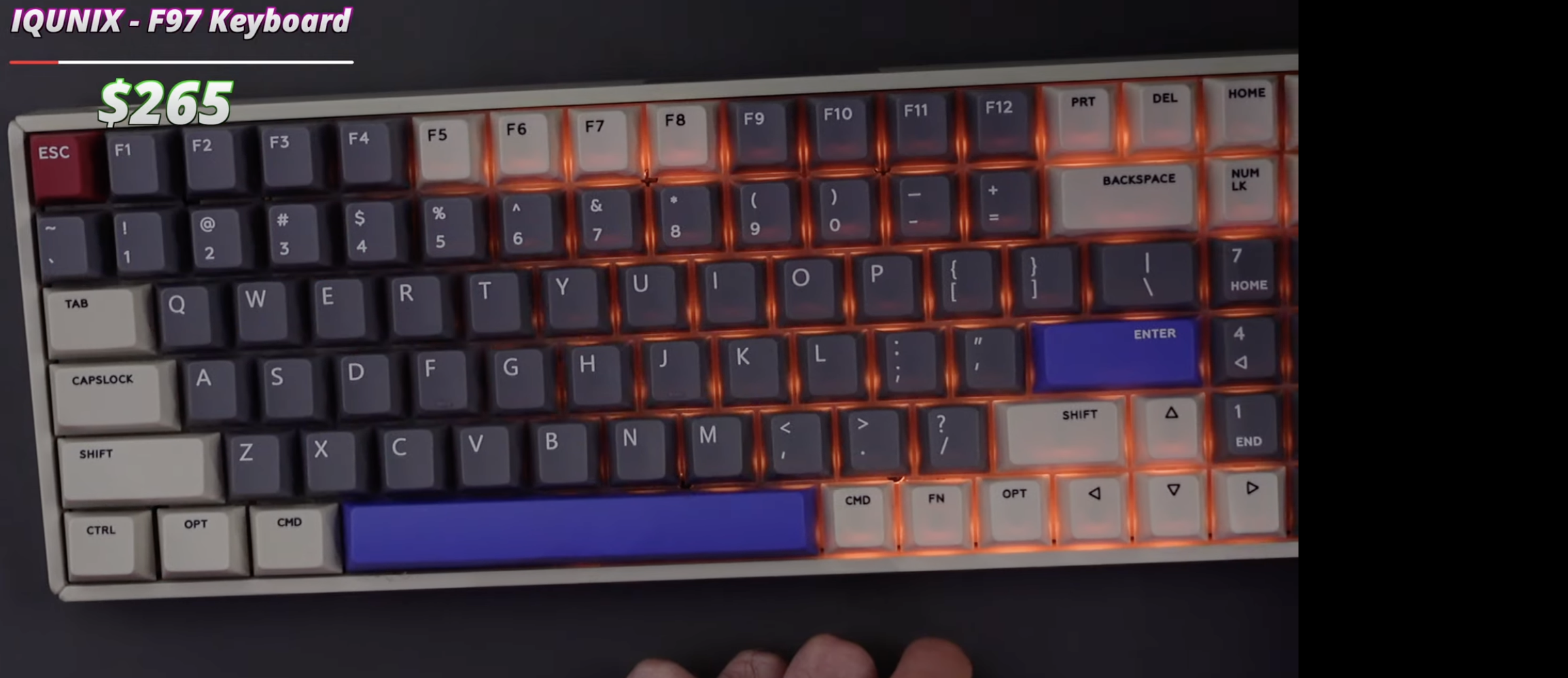 It has several backlighting options that make your desk look great in the dark. I, for one, have come to love everything about this keyboard, the form factor, the looks, the design, the materials they've used to build it with the ABS keycaps, and being a mechanical keyboard, it's fully customisable from the different types of switches to the keycaps themselves.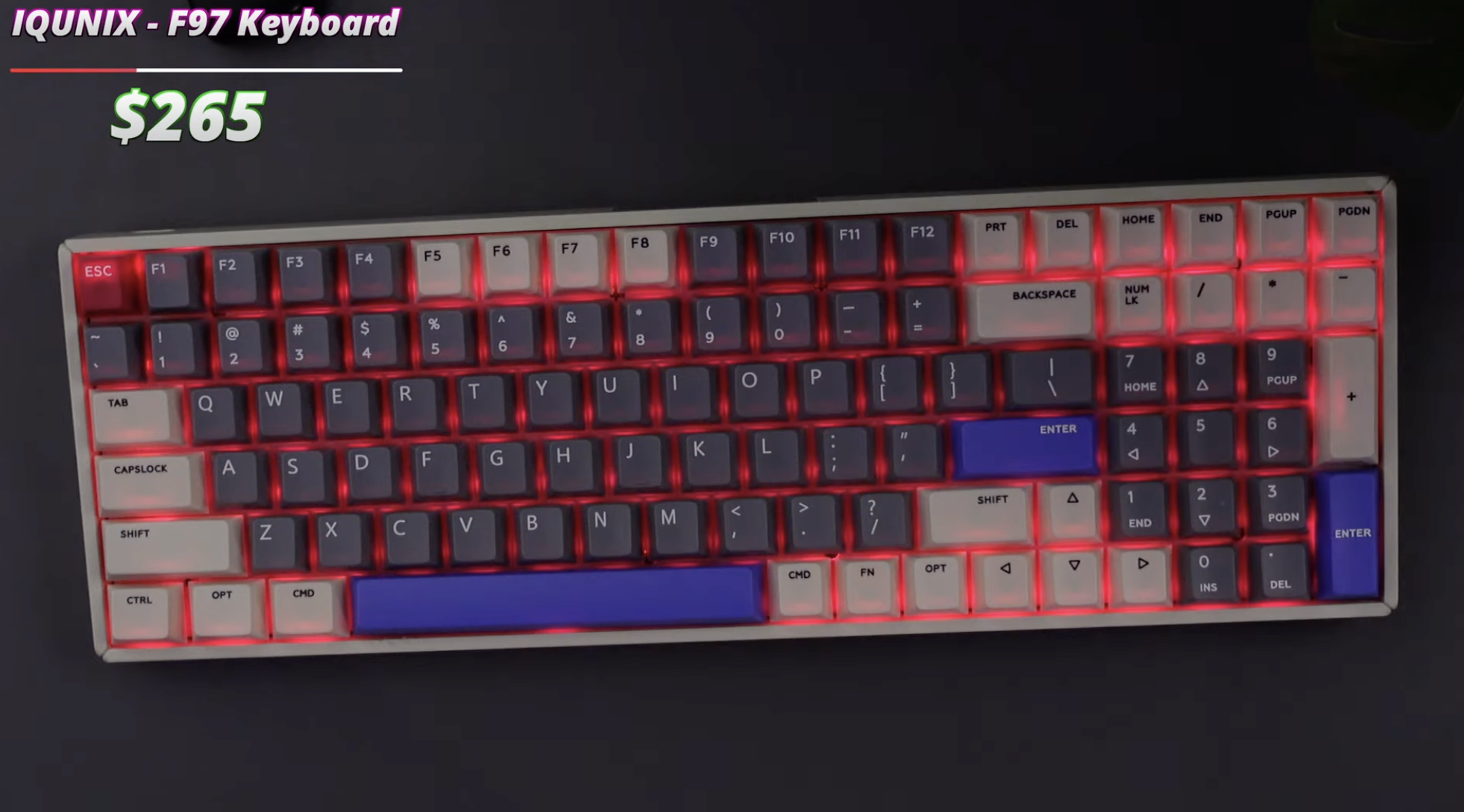 There's a 4000 mAh battery that lasts up to 260 days in their low power consumption mode, though with daily use, Bluetooth, and the LED lights on max brightness, I'm getting around a week before I need to charge it up again, which you can do with the included braided USB to USB C cable.
It's compatible with both Windows and Mac, with keycaps you can swap out to suit and a toggle that changes the keyboard layout to work on both sides of the fence.
I've been using this for the last 4 or 5 months, and I get why people love mechanical keyboards so much. The keys are so responsive, I love it, and it's solidified a permanent place on my desk setup.
So if you're someone who regularly works at a computer, I'd recommend the F97 Mechanical Keyboard from IQUNIX without a single hesitation!
At £250 now are the Twinkly Squares.

I was SO excited when I saw the news that these had launched.
We've all seen wall-mounted light panels before, but these are different in that you retain complete control over every single one of the 384 - yes, 384! - LEDs, and this is done simply by using their app to scan in the panels once you've mounted them in your desired place!
Once you do, a whole world of possibilities gets opened up to you.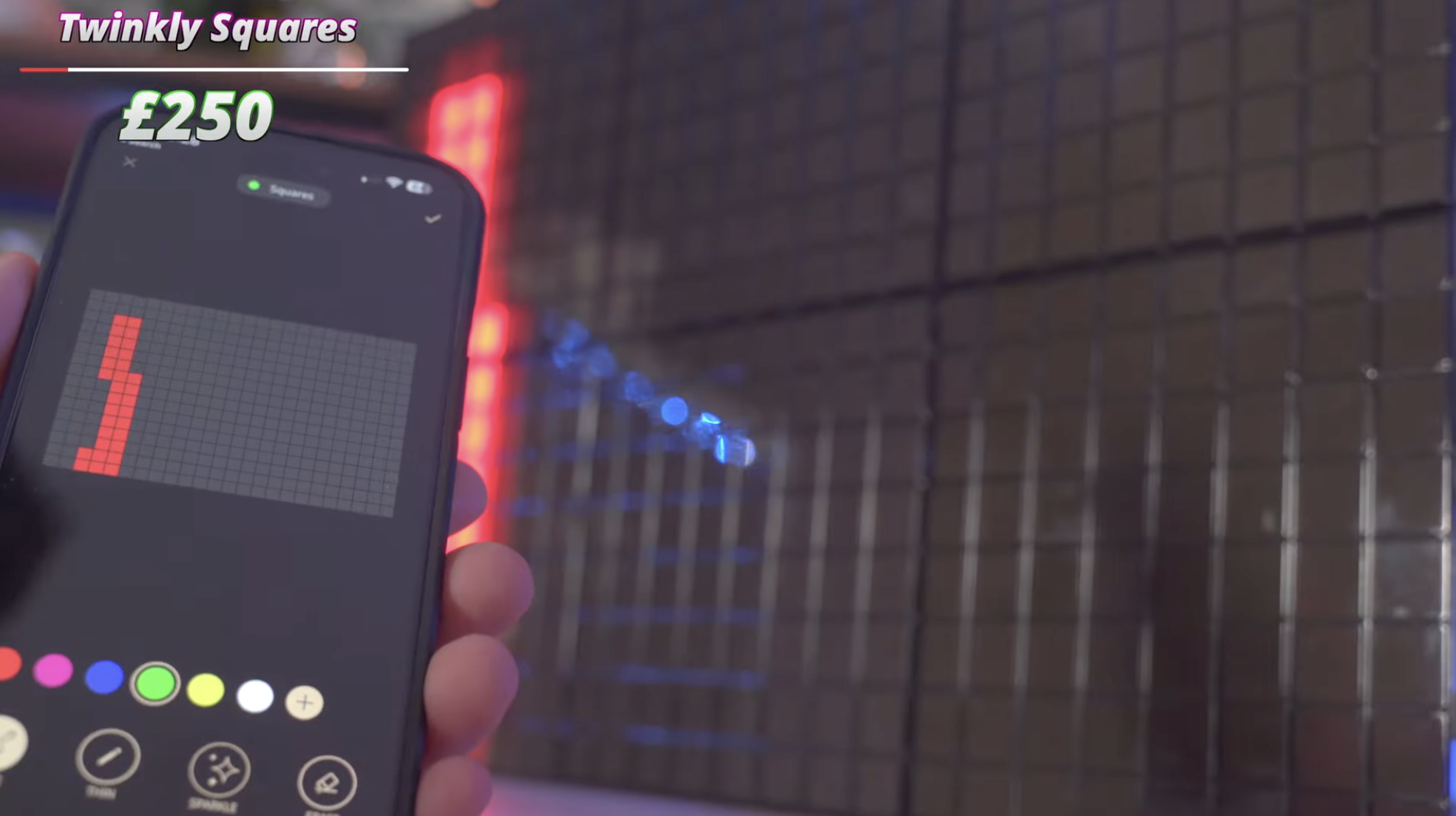 I've been waiting to make a post about these because I've wanted to buy more of them to show you what they're capable of, but they've been so hard to get hold of since release that I haven't been able to.
Each panel of these squares gives you 64 controllable LEDs, you get 6 of them in the starter pack, which, if my High School Maths serves me well, makes up to the 384 I mentioned a moment ago!
Create a shape on your wall and have some patterns running over it, or even paint pictures,  display NFT artwork, or even draw on it using the app. Your options are, well, endless!
The only constraint I've found with these panels, and why I wanted to buy more, is that I wished the LEDs were smaller and there were more of them so you can get more definition in the images or patterns you want to display. But the sheer fact they're user-controllable means you can hook them up as part of a gaming setup and trigger things when events happen on your stream or in a game or use them to display some wall art, or just enhance the vibe of your room with matching colours.
It's the kind of cosmetic purchase that really transforms a home office or man-cave to another level!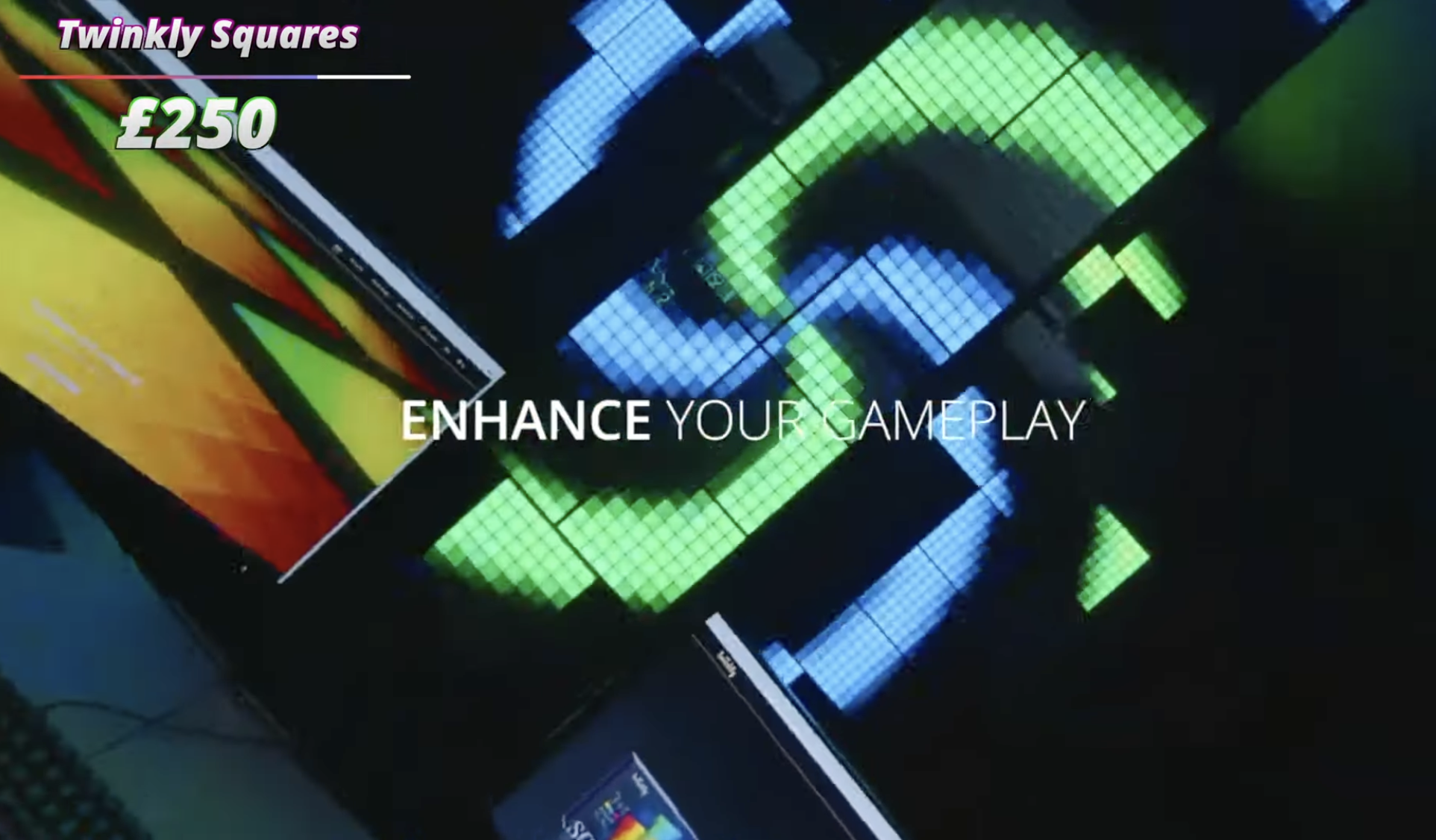 They're compatible with Razer Chroma and Omen Light Studio to sync with your gameplay. They can also dance to music and are compatible with the usual voice assistants. So for me, they go well with all my smart home gadgets.
You can buy extension kits and go to a total of 16 panels, but I'm just going to wait to buy some more before I wall-mount them, and then I can put together something that looks really good.
WHOOP 4.0
At £264, we have the Whoop 4.0, a fitness tracker that is essentially a simple band that you wear pretty much 24x7.
I've been getting more into tracking my health this year, and the Whoop has been interesting.
🎉 Get a FREE Whoop 4.0 and 1 month free: https://geni.us/ihyDL6eCbAg-3 🎉
Firstly you get a small tracker puck which you can wear in multiple ways; either use the included band around your wrist or arm, or they make clothes where you can subtly attach the sensor. They have tee shirts, shorts, pants, and underwear, which means that the strap doesn't get in the way of whatever activity you're doing.
The Whoop tracks all the usual things you would expect, but a few areas where it stands out are in the habits tracking, where it asks you each morning what you did yesterday. If you took any vitamins or supplements, whether you used a screen in bed, whether you ate meat, it puts all of that information together, and it gives you a pretty detailed report at the end of each month to show you what those decisions are doing to your overall health.
The whoop also works as an alarm clock in the morning, which is excellent as my sleep is something I'm trying to work on right now. It's pretty awful; I don't get enough of it, I feel tired every day, and I only noticed this when I went to LA recently and didn't have my Xbox with me.
I went to bed when I felt tired and woke up, mainly because of jetlag, but when I woke up, I was ready. I haven't had that since, well, since before I had kids!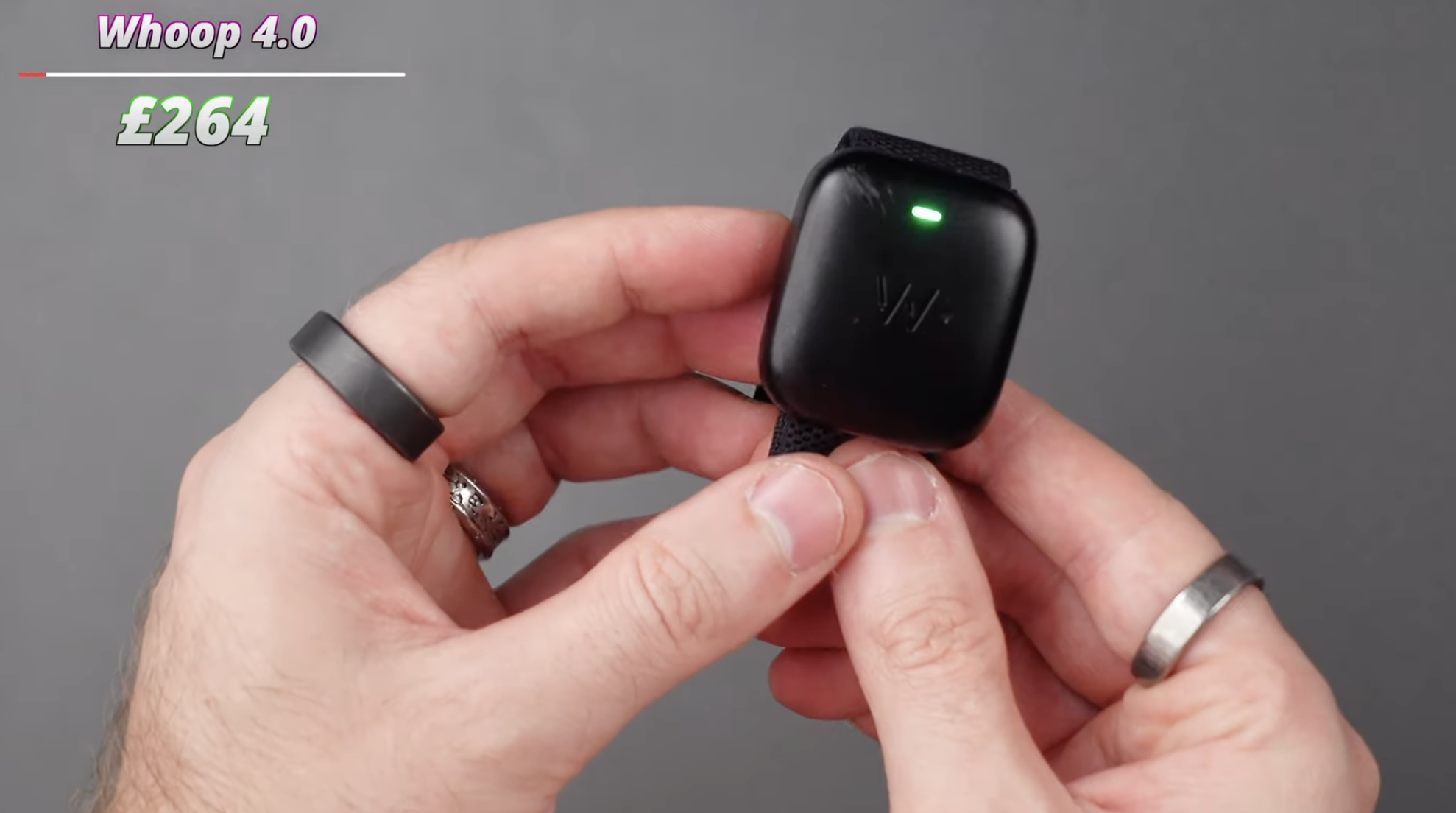 So the Whoop will vibrate on your wrist silently, which means it can wake you up without waking up your partner. It can wake you up at a fixed time or catch you at the best time in your sleep stages to wake you up.
I've also been using it at the Gym recently by using the App on my phone to track how much strain I add each day. It stops me from going over the top at the gym and pushes me harder if it senses that I'm not putting enough strain on that session.
It also displays my Average Heart rate, which checks the box for my Vitality health insurance.
Battery life on the Whoop is about four days, and there's a charging puck that you can charge up and then slide on to charge your Whoop without even taking it off, which I find works well.
The band and charging puck is also waterproof, so you can swim and do anything in water without worrying about damaging them.
OURA RING
The next is another fitness one, the Oura Ring, at $349.
I've been using their Heritage ring for the past year, which has been SO helpful. I bought this mainly for sleep tracking, and whilst it can't wake you up, it still tracks your vital stats throughout the day.
Its battery lasts about five days, and it's more stylish than the Whoop, as it looks just like any other piece of jewellery. You can buy one in Silver, Gold, Black, and Stealth black, which is what I have, and their new Rose Gold colour. When you order, they'll send out a sizing kit to help you choose the correct size.
This thing is clever. Inside the ring are a bunch of sensors, which keep track of all of your vital statistics, and it's been great to track my sleep for the past year with it.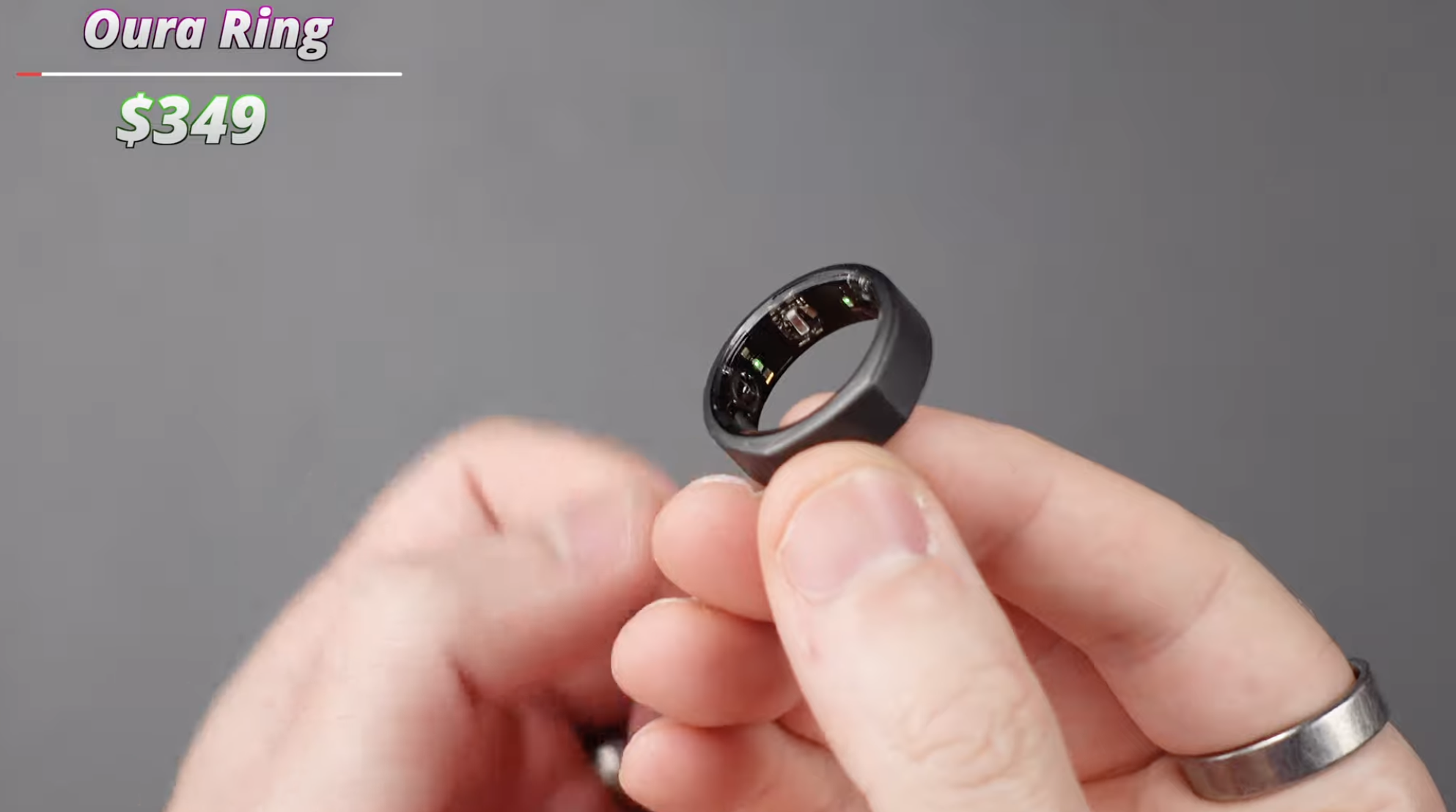 Every morning, I look at my sleep score and want to improve it. I've recently had a few scores in the 80s and upwards, which I'm proud of.
The other thing this has been perfect for is knowing when I'm sick. The ring tracks your average body temperature and then shows you in the app if it is above or below its usual temperature.
I was recently sick, and because of the ring, I could tell a day or two before when I was starting to feel a little bit off, that my temperature was up, which helped me to take it easy and made sure was taking supplements to help fight off whatever it was that I was suffering from!
I ended up calling the Doctors once, and I could give them the stats from my ring to help them assess what was going on, and that insight is a fascinating use case for how technology can help improve our lives.
Once you've purchased the ring, there is a fee of about $5 per month, which unlocks some more features - I subscribe every month and feel that it's worth it, but even without the stats, what you get out of the ring is really valuable.
If you already wear jewellery or are interested in having a tiny fitness sensor on you, then the Oura Ring is a great option.
INSTA360 LINK
Next up, being slightly more expensive than the Oura, at £318, is the Insta360 Link.
And the Insta360 Link is probably the first Webcam I've found in a long time that comes anywhere near to being a Good Quality webcam.
It's not a like-for-like replacement, as I don't think there ever will be unless you get something the same size as a mirrorless like the Sony ZV1, but the quality and features of this thing are incredible.
The camera is mounted on a tiny gimble, much like on one of these DJI Drones, which is as stable as an Owl's head! And the gimbal means that this webcam can do what most other webcams can't.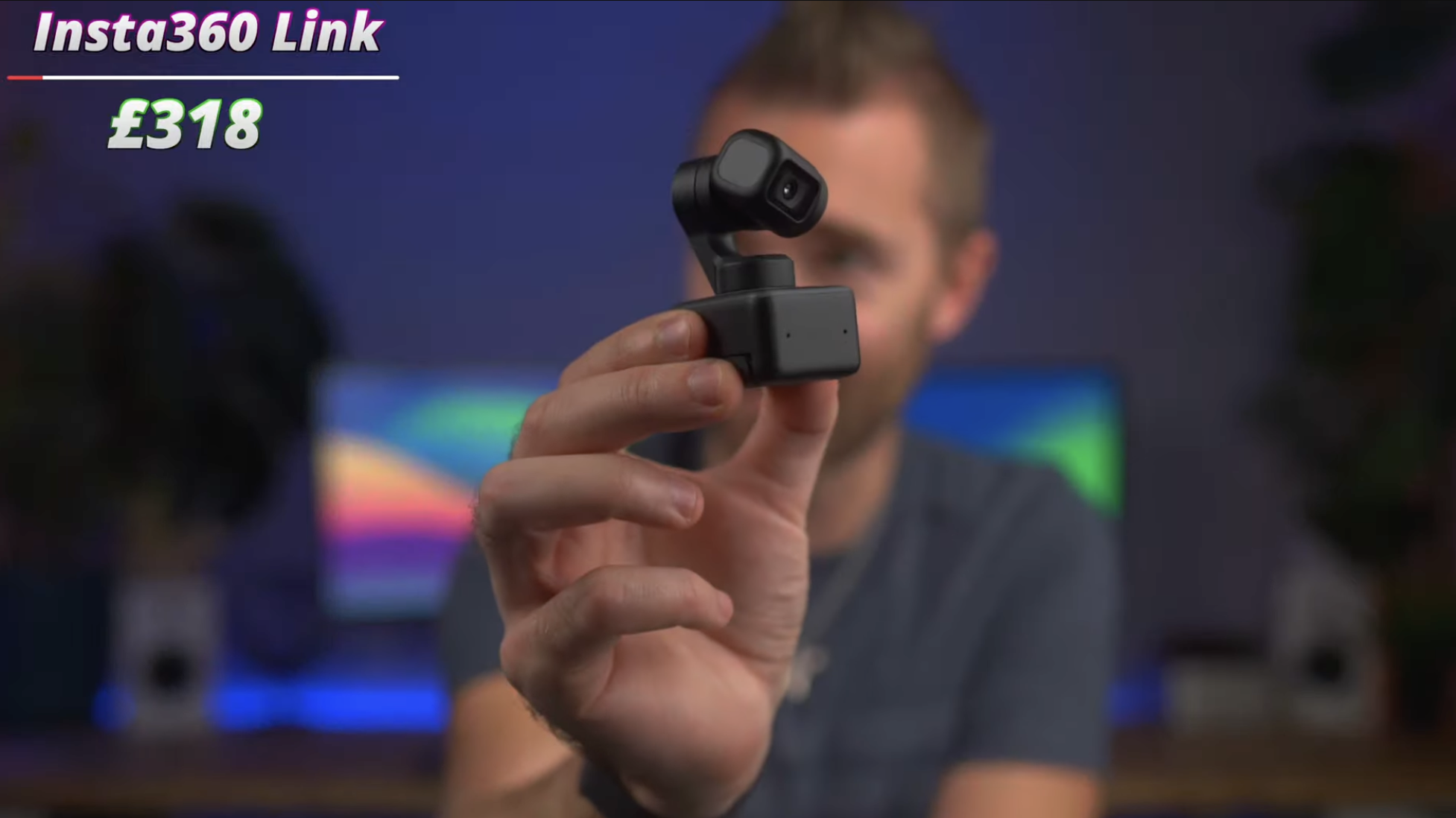 It can track your face and keep you zoomed in to keep just, say, the top part of your body in the shot.
There are stickers you can attach to a whiteboard or any surface that you might want to draw on, and a simple hand gesture will instantly make the camera focus on that, as long as it can find it in your room.
It just looks good quality; I'm not quite sure why it's taken us until 2022 to get a webcam that doesn't absolutely suck, and so even at £318, if you're constantly on video calls all day, then this will give you a massive step up in video quality.
Airpod Pro Max's.
In at £345 now - surprisingly, are the Airpod Pro Max's.
I'm not sure why, but on Amazon, they are currently the cheapest they've ever been, as long as you buy them in the space grey colour since every other colour is £549 still. Weird, I thought grey was a very 'in' colour!
If you're in the Apple Ecosystem, then at £345, I don't feel like these are overpriced. At £549, there has to be a good reason you'd want these over some more affordable and arguably better options.
But they've got good audio quality, the controls are easy, and the instant pairing and switching between devices work well.
As long as you can deal with their stupid decisions to not have an Off Switch because you're supposed to put them in this purse thing which puts them in low power mode instead, which nobody does, and use Lightning instead of USB C to charge, then for £345, in my books they're a pretty good buy.
One RS
At £499 is another one by Insta360, the One RS. You might have seen in a few recent videos we've had footage of me at some very strange angles.
that's all down to the beautiful piece of kit, the One RS.
This thing is a Lego Camera. You have a battery, a screen, and interchangeable lenses.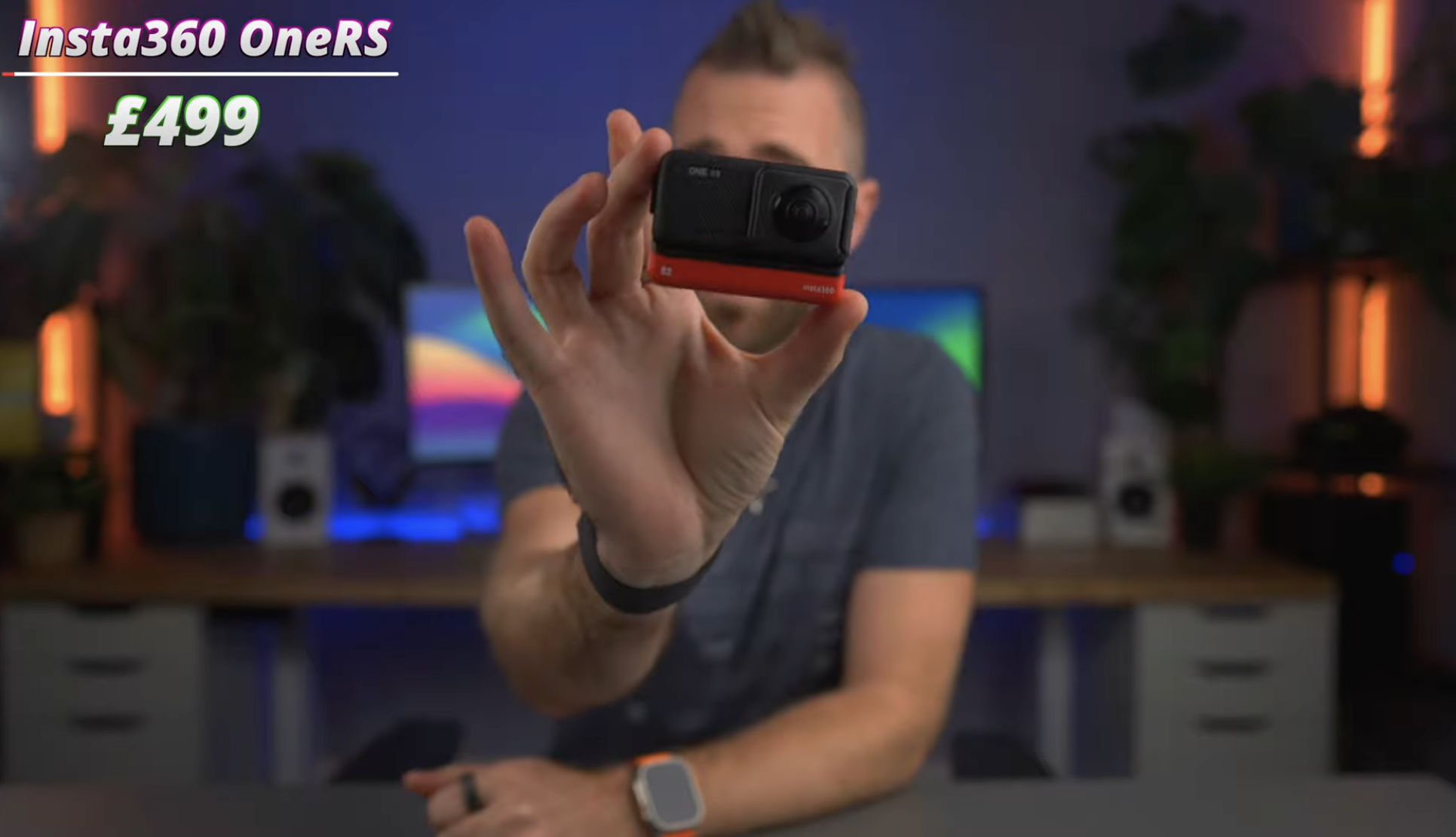 I've got either the 4K lens which then turns it into an action camera that rivals the GoPro, or a 360-degree lens, which for me, always stays on the camera.
Use it to capture some of the most interesting angles that you can find, and with this somewhat magic ability, you can use a selfie stick - either short or insanely long, and the Insta360 software will automatically remove the selfie stick to make it look like the camera is floating in mid-air.
You can use the app to track certain things or manually keyframe in certain angles, or even transition from zooming right in through to a tiny world effect.
And a really simple feature that I like, is that I can just hit the record button, even when the camera is off, and it wakes the camera up and starts recording.
I'm not sure if the latest versions of the GoPro's have this or not, but it was never as quick as this to start shooting.
The One RS is quite a unique gift for someone if they're into their cameras or action.
Actually, that's another thing that's been a huge bonus for me when compared to a GoPro.
Because of the changeable lenses, either the 4K or 360 Lens, I actually use this camera!
I literally have 2 GoPro's sat in my drawer, that I NEVER use, because I see the marketing, I go WOW, they're incredible! I need one of those, and then I buy one, and realise that I don't really ever do extreme sports, or scuba diving or snowboarding, so it goes in the drawer and never gets used again.
But that's not the case with the One RS. I really is another great buy for either yourself or a gift.
APPLE WATCH ULTRA
What I initially didn't think was a good buy, though, was the Apple Watch Ultra at a whopping £849. I mean, my first actual car was cheaper than this watch! It's been marketed at the adventurers, thrill seekers, rock climbers, and scuba divers amongst us - but apparently, for everyday people as well.
I completely ignored this watch when it came out; I thought it was a waste of money - almost £900 for a Watch? And an Apple Watch that will be old in a year when the Ultra 2 comes out? Ludicrous.
But I recently bit the bullet and bought one, and I'm very quickly coming around to why these are so, so good.
I wore this watch for a whole day, leaving my phone at home, and the battery lasted all frikkin day!
That's not something you can do with a regular Apple Watch, every time I've tried, it always dies by lunchtime.
The additional activity button works well; the watch band feels comfortable; I love the new Watch Face with the ability to find your parked car or use waypoints to find your way back.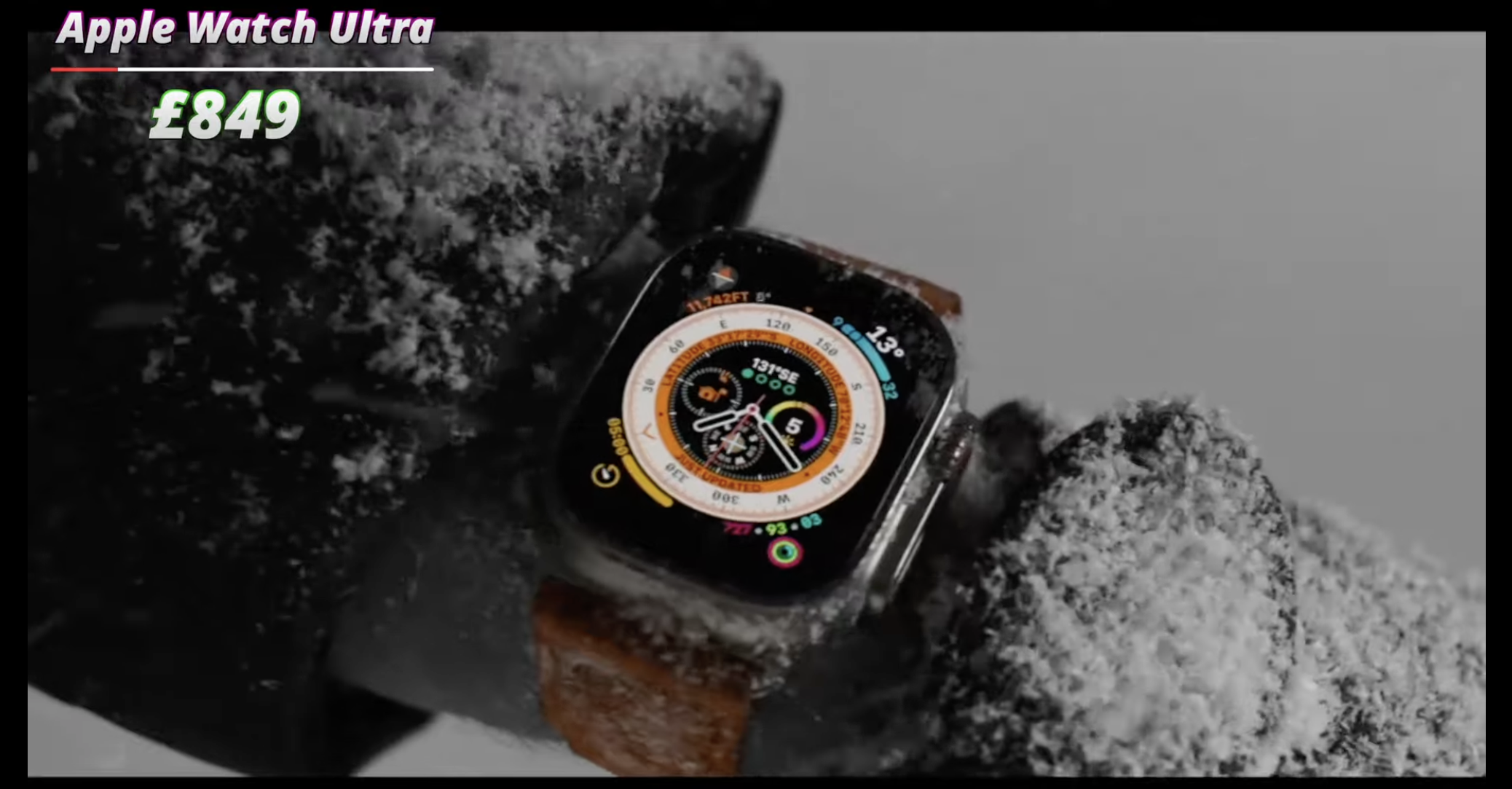 It is probably what the regular Apple Watch should be - that's Apple being Apple for you. But if you can stretch to this much for a gift, it's a pretty good one - provided the recipient of this very pricey watch is already in the Apple ecosystem!
META QUEST PRO
Stepping up again in the cost department, now let's talk VR - and specifically, the Meta Quest Pro. This AR/VR headset enables you to merge reality with virtual reality with games and productivity tools.
Games perform so much better on the Pro than on the regular Quest 2, and the new controllers with the additional cameras for tracking mean there are no more issues with losing tracking when put down by your side to reload in some of the shooting games.
One area that it's solid at is when you hook this up to a Gaming PC, where games like Half-Life Alyx really get their chance to shine. The incredible graphics, the fantastic story, and using the Meta Quest headphones also immerse you fully in the games.

At £1,500, it's still a very expensive VR Headset, especially when the Quest 3 is perhaps around the corner. But I saw this as an alternative to spending £2,500 on a large monitor for my desk. Instead, why not buy the Quest Pro and have as many virtual screens to work on as you want? You can set up your own office in the virtual space, and I have to say that I'm super excited to give this a try myself!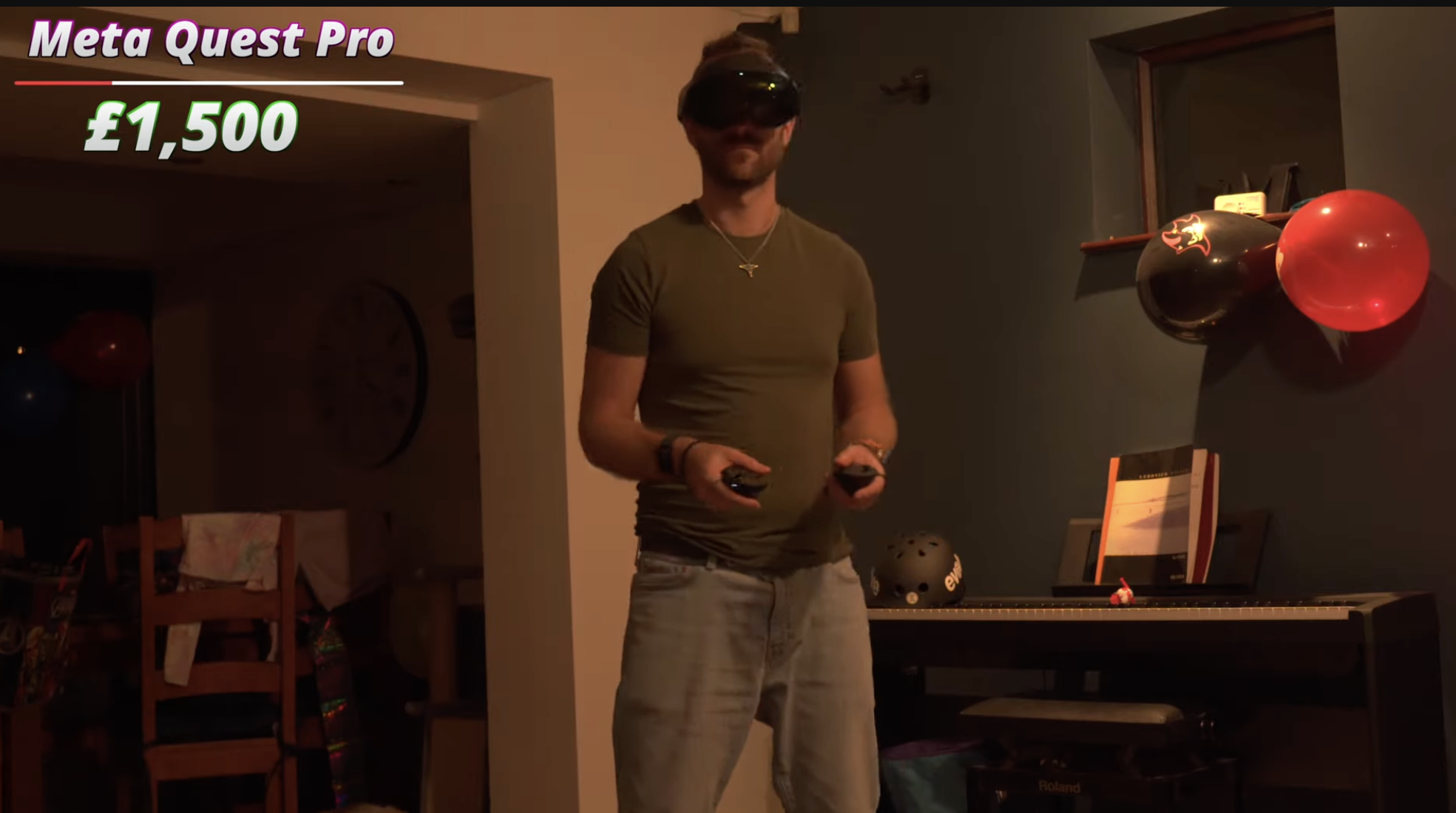 One thing I would say is DON'T order this from Meta directly. The courier they used here in the UK managed to 'lose' my headset, even though they magically delivered the other accessories in the same order.
Meta support seems to want nothing to do with giving me a refund, even though the courier has confirmed and I've shown them proof that they've lost it.
So my advice is if you buy one, make Jeff even more wealthy, where at least he'll send you a replacement the following day if they screw up.
I'm sorry, but there's a reason why people keep using Amazon even though they morally, might not want to.
BEST ELECTRIC SKATEBOARD
At just £2,000, check out the best electric skateboard I have ever owned: the Hadean or GTR Boards from Evolve.
I have had the GTR Carbon board for a few years now, and the ride, the build quality, the speed, and the handling are incredible.
I opted for the GTR All Terrain model (which is currently nearer £1000 due to black Friday sales).
I'm also in talks with them to do a full review of the Hadean Bamboo All Terrain which has a few extras over the GTR, but I've always gone for the All Terrain with the sketchy British pavements (sidewalks for the Americans!) we have here.
If you live somewhere like the US with much wider, flatter, smoother roads, and paths, then the regular wheels would be a better option.
The boards get anywhere from 19 to even 40 miles of range on a single charge. They can get up to speeds of 31 mph, which, when you're travelling on what is essentially just a plank of wood, feels incredibly fast, so I'd recommend wearing a helmet at the same time if you want to avoid seeing the inside of your skull.
Particularly if you have to travel a short distance or park your car a little further away from work, then using one of these as your final mile of transport can be a huge time saver in getting around.
I wish we lived in a country where they took more care of bike lanes as I see elsewhere because that would make riding one of these incredibly fun.

Links and any discounts will be down below; whilst you're there, comment with the gift you're most interested in, then maybe send this video to your girlfriend or boyfriend with some 'useful suggestions' for Christmas, and see what happens.
See you soon!
---
🛒 Buy IQUINIX Keyboards: https://geni.us/ihyDL6eCbAg-1
🛒 Buy Twinkly Squares: https://geni.us/ihyDL6eCbAg-2
🛒 Get a FREE Whoop 4.0 and 1 month free: https://geni.us/ihyDL6eCbAg-3
🛒 Buy an Oura ring: https://geni.us/ihyDL6eCbAg-4
🛒 Buy the Insta 360 Link: https://geni.us/ihyDL6eCbAg-5
🛒 Buy Airpod Pro Max: https://geni.us/ihyDL6eCbAg-6
🛒 Buy the Insta 360 RS: https://geni.us/ihyDL6eCbAg-7
🛒 Buy the Apple Watch Ultra: https://geni.us/ihyDL6eCbAg-8
🛒 Buy the NEW Meta Quest Pro: https://geni.us/ihyDL6eCbAg-9
🛒 Buy the Evolve GTR Bamboo Skateboard: https://geni.us/ihyDL6eCbAg-10