The Poco F4 GT caught me by surprise.
I wasn't prepared to review a Chinese made, flagship phone, with specs and features that rival, if not exceed anything else that I've reviewed before.
---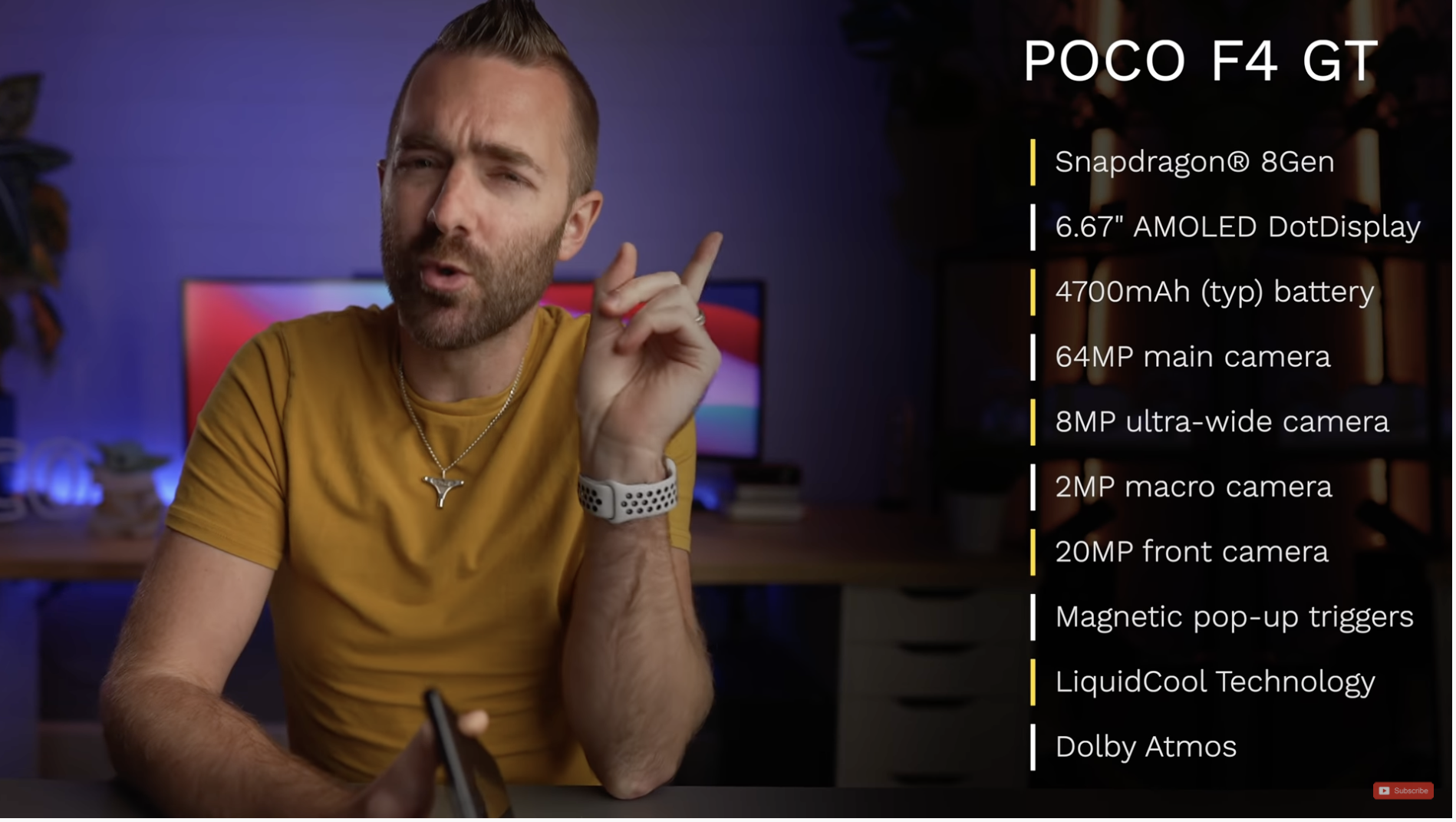 There's the flagship Snapdragon 8 Gen 1 Chip with either 8GB of Ram or 12GB of Ram. 120hz AMOLED Display, 120w Hyper Charging, and a 4700mAh battery.
It packs a 64MP main camera, 8mp ultrawide, 2m macro, and 20MP front camera
Plus other features like Dolby Atomos, a side fingerprint sensor, LiquidCool Technology, 5G and Wifi 6E support AND for Gamers...
There are 2 Magnetic Pop-up triggers that I genuinely believe, give you an edge with mobile gaming.
So when Xiaomi reached out to me, after watching my last couple of review videos, to ask if I wanted to review this Poco F4 GT before it was released, I jumped at the chance.
---
Welcome back to 'What the Tech'. My name is Pete, and I've been exploring switching away from iPhone to Android for the last couple of years now.
After trying phones from the likes of Samsung, Google, OnePlus, and even Xiaomi themselves, I'm always left feeling a little bit, deflated.
All of those phones just make you wonder, what if you picked the best features from each of those phones, and made the perfect phone.
Now, this isn't the perfect phone. Not quite. But it's not far off either...
UNBOXING
The unboxing experience is pretty good. Open the box to reveal the phone itself, which I've got in the Stealth Black Colour. You get all the usual additions, sim tools, and tonnes of paperwork, and as is the norm with Poco phones, they include a clear rubber case. Which is actually pretty good!
Underneath the phone, you get a high-quality USB C Cable, plus that insanely large 120w HyperCharge brick too.
As a predominant Apple user, I loved the unboxing of this phone. A charger in the box, and a case!?
DESIGN
In terms of the design, we've got a built-in fingerprint sensor on the side button with the volume buttons on the opposite side.
There is the Dual Sim Tray, with no expandable storage, cool-looking speaker grills, but no headphone jack, though thanks to Apple I don't really own any wired headphones anymore anyway, and then we have thee magnetic triggers which pop up for use when you slide the switches over.
It's pretty comfortable to hold with its rounded edges and flat screen, and on the side, there's that fingerprint sensor which you can configure to work by just lightly touching it, OR fully pressing the button.
The fingerprint sensor is actually pretty damn good. Far better than the Pixel under the screen reader, and actually faster than any under-screen reader. It's not something that I really have to worry about in the iPhone world because of FaceID, which I love. However, when switching to Android, I much prefer a side fingerprint sensor to unlock than one built into the display.
On this phone, it's much easier to find, due to it being a physical button, but also it's positioned in a natural place that you would normally touch when you pick up your phone anyway.
SCREEN
We've got a 6.67" AMOLED screen on the front which is covered by Gorilla Glass Victus and a Pre-installed screen protector.
That display is also 120Hz with a touch sampling rate of up to 480Hz, and whilst there is an option to automatically adjust the refresh rate based on what you're doing, this isn't an LPTO panel. So when I ran a screen test tool on the phone, it seems to stay at that 120hz pretty much permanently, unless you head into the Camera or specific setting pages where it lowers to 60hz.
It also has a proper always-on display that's actually always on. There's support for DCI-P3 colour, HDR 10+, TrueColour and up to 800nits of brightness, it's really not a shabby phone.
When watching content on the screen it's bright with rich colours and content does pop on this screen quite nicely. Viewing angles are also good here too.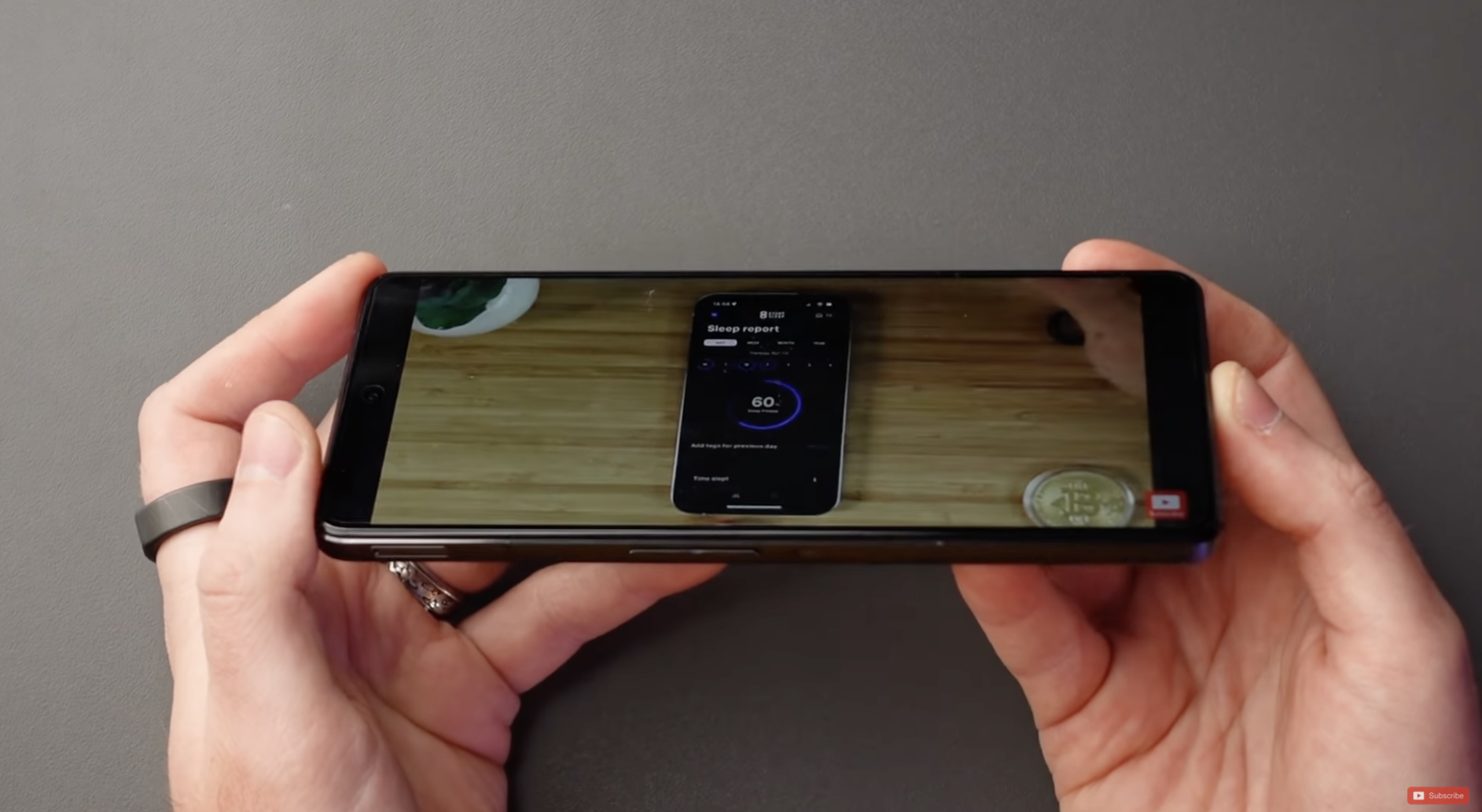 AUDIO
The placement for the speakers - is also good. There is a certain way that you hold this phone though. You always want those triggers to be facing up, otherwise, the palm of your hand will cover the speakers. But get it right, and you've got support for Dolby Atmos, Hi-Res Audio and Hi-Res Wireless Audio which actually, doesn't sound half bad.
POWER AND MEMORY
The reason you have such great audio is that we've got that flagship Snapdragon 8 Gen 1 4nm chip in here with the X65 5G Modem. DDR5 Ram with either 8GB or 12GB depending on whether you go for the 128GB or 256GB models.
I'll be honest, after testing out the Exynos Samsung S22, this thing actually performs incredibly well. In quite a stark contrast to the S22, the Snapdragon chip definitely performs. There's been not a single slow down, a hint of lag, or things not happening as I would expect on a flagship phone. This is actually quite a surprise coming over from using an iPhone where, we just kind of assume that Android is buggy, and slow.
I'm discovering whilst testing all of these different shapes and sizes of android phones that whilst many of them are quite buggy, quite a few of them absolutely fly.
PRICE
Xiaomi gave me no indication on pricing for this thing, but it's likely to be around $500, which for all of the features that you get is insanely good!
UI
This phone runs MiUI 13 which is based on Android 12, and I'll be honest, I don't think it's all that bad.
There are plenty of options, you can of course switch the launcher over if you like, but as it comes, it's not that bad. You can still customise pretty much anything you like, the drawer, shortcuts, and home screen. I do wish they had the option to switch the torch on and off by using the back tap feature, I'm not sure why Android can just standardise on these types of features across brands.
I mean, I know why they don't, but still, it's something I find really useful on other Android phones I've used.
But the UI overall, I like, and I think it just helps that it's powered by that fast snapdragon chip so that there are no slowdowns, and I'm yet to come across any bugs which, actually, after using the Pixel and the S22, genuinely a nice surprise to find!
CAMERAS
For the cameras, I actually have mixed feelings about this phone.
There's a 64MP Main camera, 8Mp Ultrawide and 2Mp Macro. Those cameras can take some great photos. Plenty of detail, good colours, no bad over-processing and not overly contrasty either.
All of these images are perfectly acceptable and some of them actually quite good when dealing with challenging lighting situations.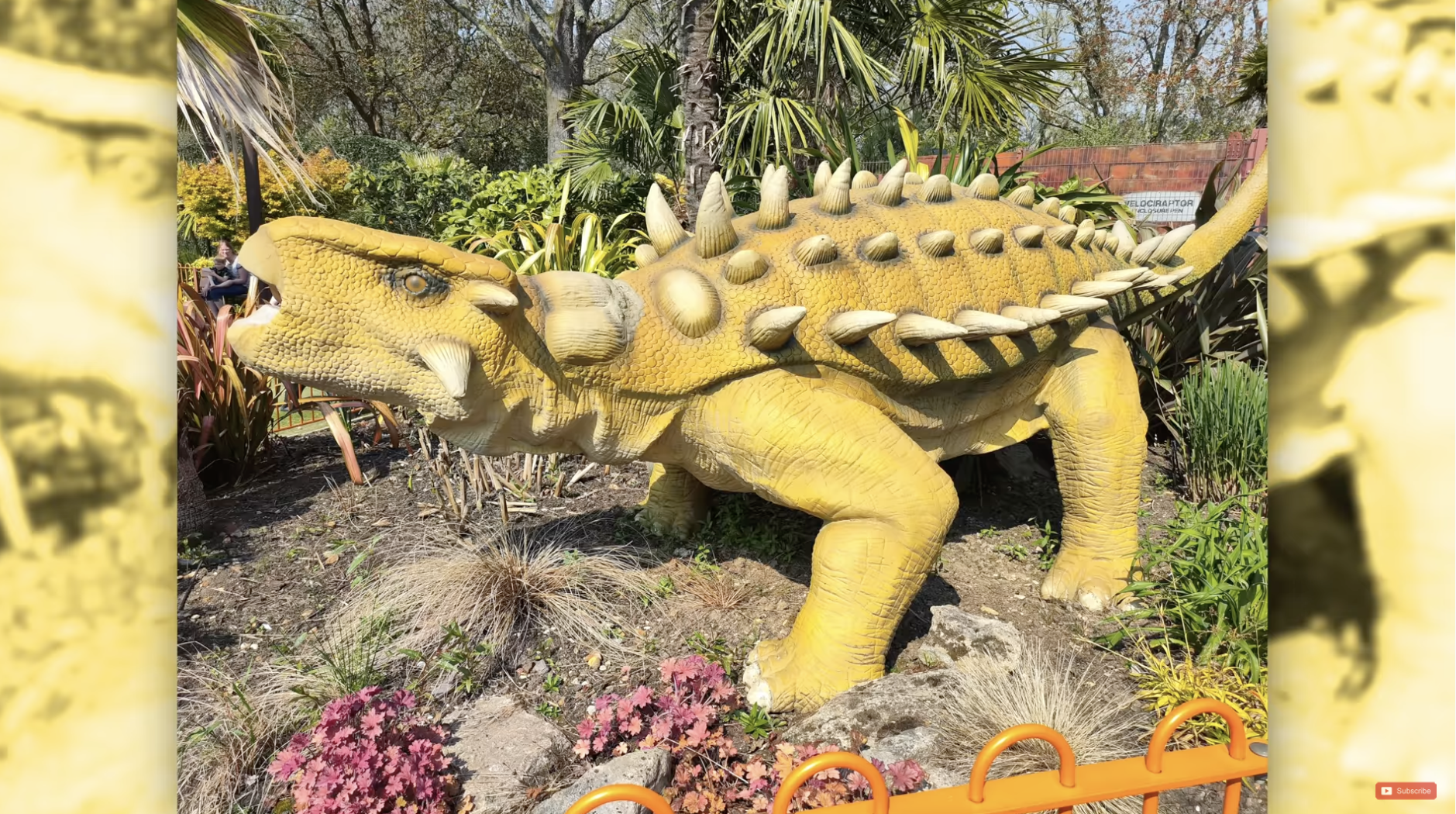 The front-facing camera is also pretty good and it takes good video providing there's enough light. Though I found its portrait mode can miss a bit of detail if there's more than 1 person in the frame.
The only real issue I've had with the cameras on the F4 GT has been when taking a video using the ultrawide whilst inside, where the image quality just fell apart, and with little to no stabilisation, it made for some pretty shaky footage.
One thing I did like though is the zoom in and out feature which lets you zoom really smoothly, instead of the wheel that you get on all other phones that I've used. It makes for better videos.
The cameras aren't bad, but you do only get a 0.5, 1x or 2x zoom, so it would be nicer to get something that could punch in that little bit further.
GAMING
For gaming on the F4 GT, I'm not normally one to game. I find the whole experience of just playing with a single touch screen a little frustrating. But having the shoulder triggers actually makes for an enjoyable experience.
Games like Fortnite are easily playable, at 60fps with little noticeable frame drops, even on its highest settings. Genshin Impact, also one of the most graphically demanding games to play absolutely flew through again with no slowdowns, and I found it much easier nailing some kills playing Call of Duty because of those trigger buttons.
If you like playing first-person shooter games on mobile, then I think this is going to be one of the best phones to go with purely based on that mixture of flagship Snapdragon chip, fast-performing memory, and those magnetic triggers.
Once you're done playing, you just flip those triggers away if you want, but you can also configure them for other actions outside of gaming like the camera and taking a photo or video, torch, turning on or off silent or vibrating.
So there are other use cases for those triggers however, the positioning of them and how much they stick out for me did mean quite a few accidental presses during normal use, so you'll want to hide them away most of the time when using the phone day-to-day.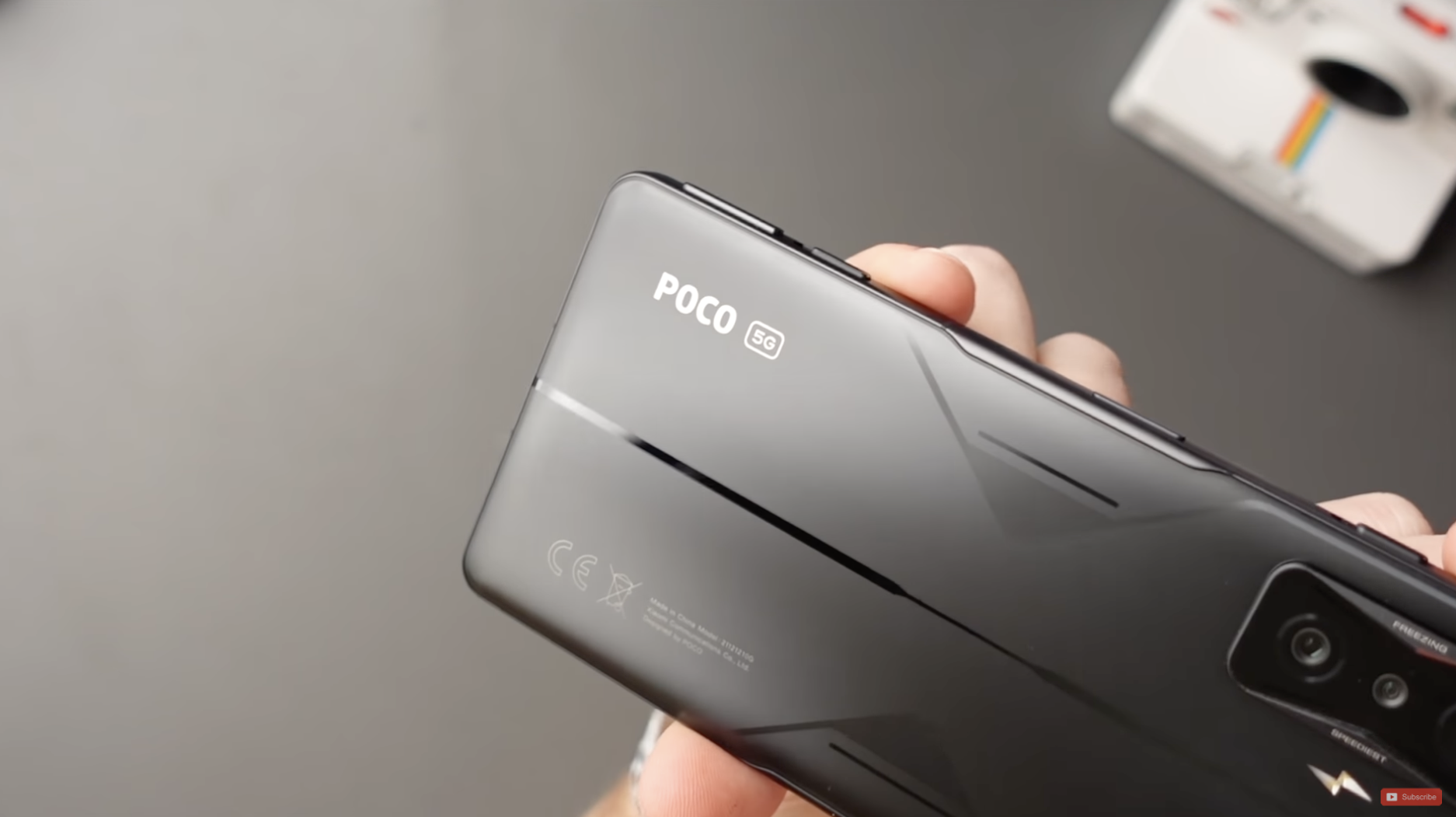 BATTERY LIFE
When using this phone on 60Hz all day, I got through from around 7am to 10pm with about 50% battery left. Which is really good.
At 120Hz, I still got through a full day, but with more like 10-20% left.
But the magic here is that 120w Hyper Charging, which charges from 2% to 100% in 17 minutes. And it's actually, pretty accurate!
The fact you can really hammer this phone, or forget to charge it overnight and then fast charge it in less than 20 minutes can be a lifesaver at times.
It's not something I'd normally have a problem with, but when you're heading out for what you know is going to be a late night, and can just juice your phone back to 100% quickly is one less thing that you have to worry about.
---
So for all of the amazing things this phone does, what could be improved?
Not a huge amount to be honest.
The only thing I do struggle with at times is the phone not registering the swiping back when using gesture navigation which can be frustrating at times, but otherwise, my only wants for this phone would be hardware.
Things like expandable storage, a camera like the S22 with a better zoom, the Google Pixel voice features, oh and adaptive refresh rate could just help that battery life a little bit further.
So this is a really, really solid phone which when you consider the price point for these Poco phones, is absolutely mind-blowing.
Thanks for reading!