S22 Ultra Vs Pixel 6 Pro vs iPhone 13 Pro vs Poco M4 Pro
Since the S22 Ultra release, I've seen some interesting articles talking about issues with the charging speeds, so today, I'm going to put the S22 through its paces, and see how the charge speeds compare across a range of phones.
We've got the S22 Ultra, with a 5000mAh battery and 45w charging. The Pixel 6 Pro with 5003mAh and 23w charging. The iPhone 13 Pro also with 23w but a much smaller 3095mAh battery, and for something totally different to compare to, this budget, Poco M4 Pro with 33w Charging and a 5000mAh battery.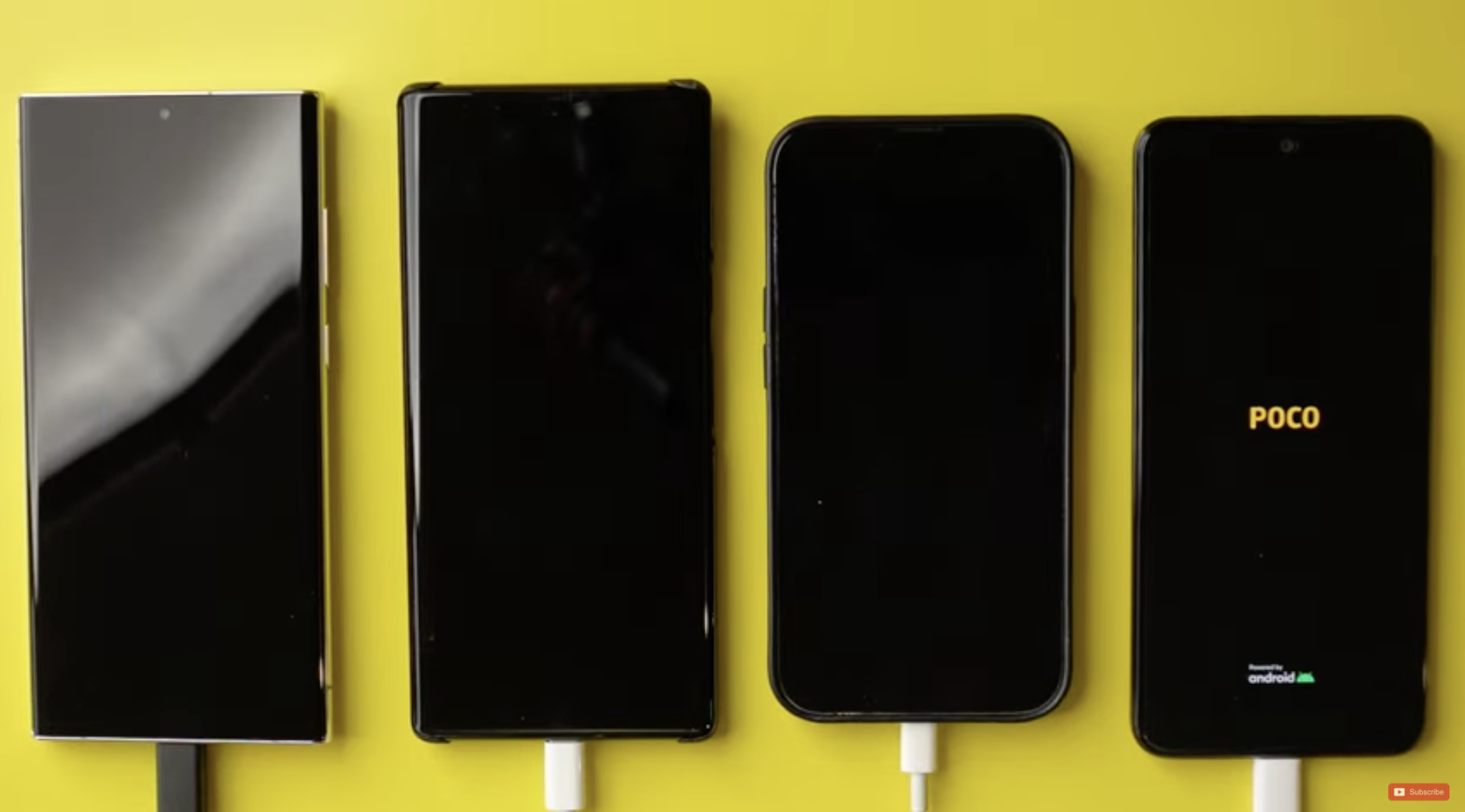 I plugged in the charging cable, using the official chargers for each phone to make sure we were getting the best speeds and compatibility. Now, we all know that when charging our phones, most of us switch them on as soon as possible whilst leaving them on charge. To replicate this real-world way of charging, that's exactly what I did with these phones. The only thing I did do that we might not usually do, is leaving the screens on using a low light level, to keep an eye on the charge, so you would expect to see a slight improvement with the screen off.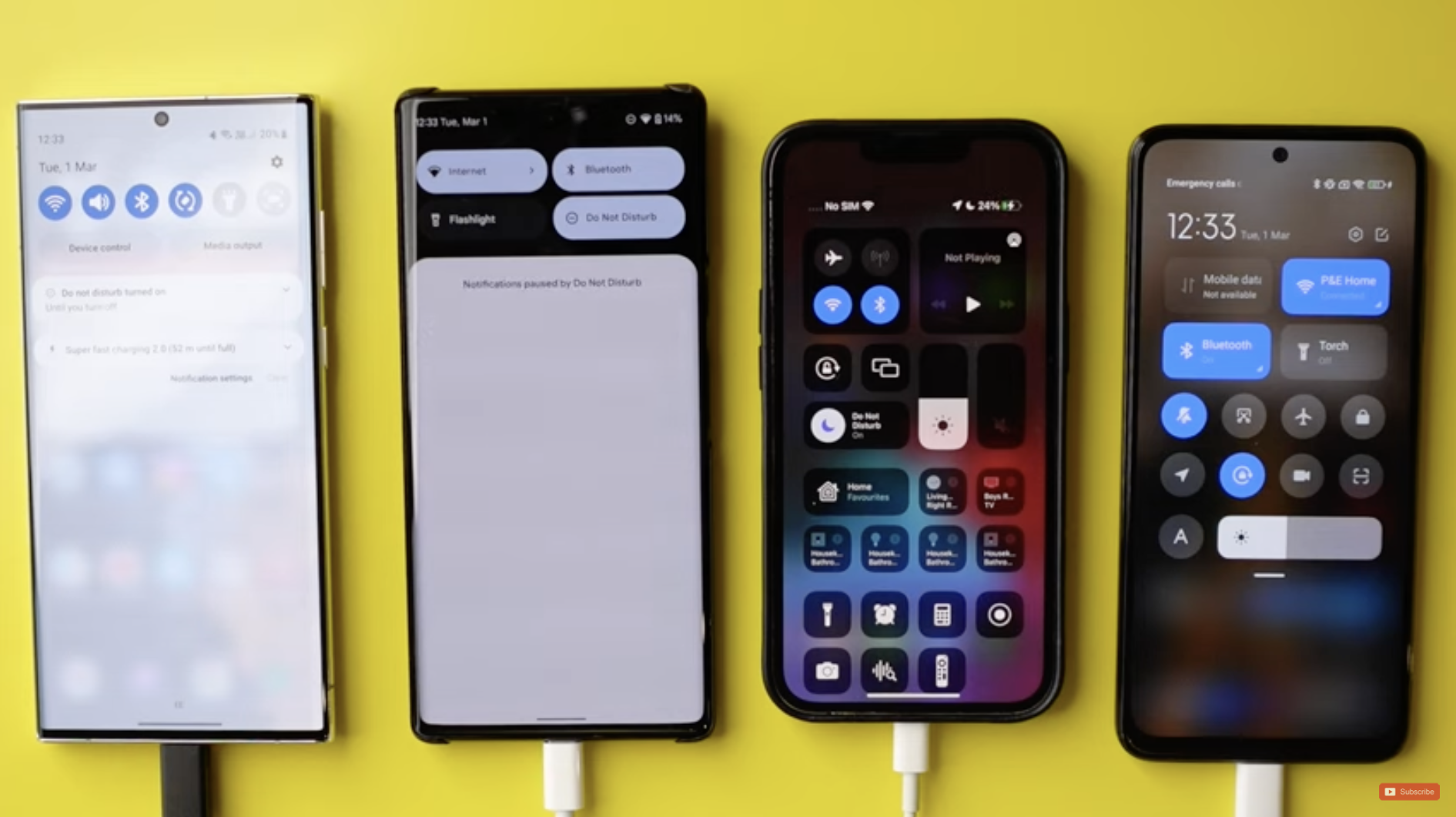 At 25 minutes in, Poco hits 50% first, the S22 Ultra at 48%, iPhone at 46%, and still the pixel is lagging way behind at 28%.
100% was reached about 69 minutes in for the Poco 🏆, then a minute later the S22 Ultra 🥈. Then at almost 2 hours in, at 117 minutes the iPhone gets there 🥉, and then 2 hours and 2 minutes later, the Pixel finishes 🏅.
The flagship S22 Ultra with 45w charging, charged just as quick as the budget, Poco M4 Pro with only 33w charging.
To be honest, I really wasn't expecting that the Poco would actually come first, considering it's a slower charger than the S22 Ultra.
I think a major surprise here was that both the iPhone and Pixel take almost double the length of time to charge up, it's a crazy difference. Considering it's the same battery size as the 2 other phones and a faster charger than the iPhone.
There are already phones out today that have faster-charging speeds than any we've tested today, but if charging speeds are important to you, then 2 of these phones, are great.
One thing I will say is that before doing this test I had to run all of these phones down to 0 of course, and the iPhone, took the most amount of effort to reduce its battery to 0. I was streaming video, and playing games at the same time, I even had the torch on max brightness, and I really, really struggled.
Whereas with the S22, I accidentally out of habit, charged it to full when I went to bed - so the following morning I had a full charge. I tried the same tactics, gaming, streaming, torch on, the screen on max brightness, and I managed to get it down to 0 again around 5 hours later. So if you really wanted to, you can definitely use all of the battery in an S22 in a very short space of time, if you put it through its paces.
So if you want the fastest phone to charge, out of the current range of flagships we have here today. The iPhone 13 Pro, the S22 Ultra, the Pixel 6 Pro, then - you should actually save your money and buy the Poco M4 Pro instead because it technically beat all of them in this test.