A lot of people who already own a Mac Mini have been asking me if they should buy an entry-level Max Studio Max. Why the entry-level? Because we don't all have £6k to spend on the M1 Ultra Mac Studio that YouTube has gone crazy over. Most of us probably couldn't use all of the M1 Ultra chips even if we tried really hard anyway.
So if you already own or are thinking of owning a Mac Mini or Mac Studio, let me help you decide as I cover everything from power consumption, and, noise to speed.
I'll also let you know what's wrong with the Mac Studio, and whether I can really replace all of the stuff on my desk which includes 8 separate components, for just a Mac Studio, and 2x Studio Displays.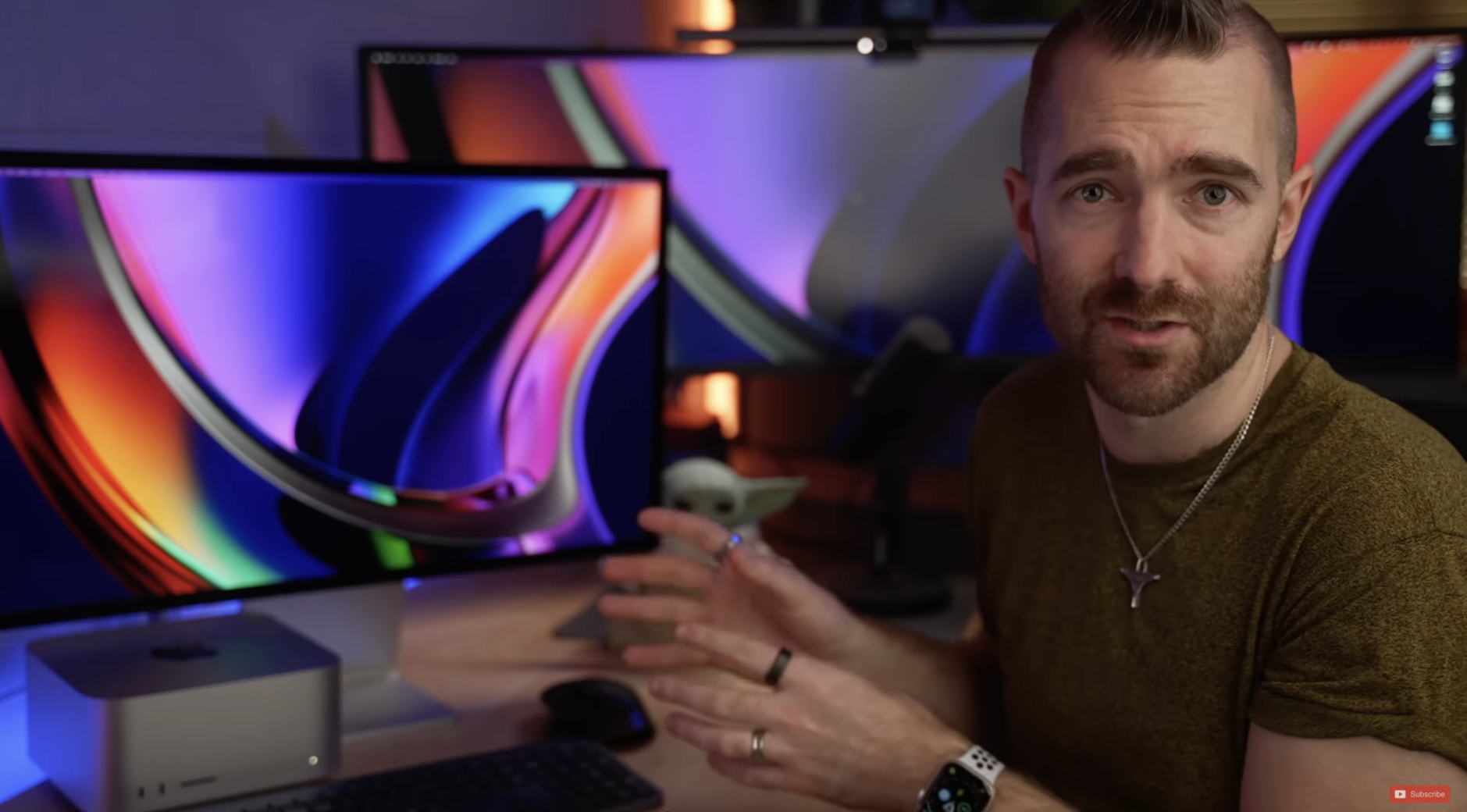 Right off the bat, the M1 Mac Mini I'm using is the base model, with upgraded 16Gb of Memory and 2TB of storage - Total cost. £1,699.
To compare, we've got the base model Mac Studio. That's the M1 Max with 32Gb of memory and 2TB of storage, that's £2,999, basically a thousand pounds more expensive than the M1 Mac Mini.
But, to make it a fair comparison and more like for like, I also have a Caldigit dock, plus a 10Gb Ethernet adapter. Which adds a further £420 to the price, which brings the M1 Mac Mini to £2,119. So only £880 difference.
POWER CONSUMPTION
When these machines idle, they run at around the same 17 to 20 watts, and also when in sleep, they both run the same at around 3 watts.
When run at full speed, however, this is where they start to break away from each other.
When doing more intensive tasks like exporting a video in the final cut I saw it reach around 35 watts, still pretty good, and then running benchmark tests, which kind of forces it to max out the system, I saw it hit around 50 watts.
When compared to the M1 Mac Mini - that was reaching around 25 watts for the video export and 33 watts for the benchmark. So there is a small difference in terms of power consumption that I've found with day-to-day use, but if you aren't taxing the system much, they'll basically be the same when it comes to power.
NOISE
We're using TG Pro to check and set the fan speeds, and it's worth noting that when the Mac Studio Idles, the fans actually spin up above their base fan speeds of 1100 RPM, here we can see they're idling around 1300RPM.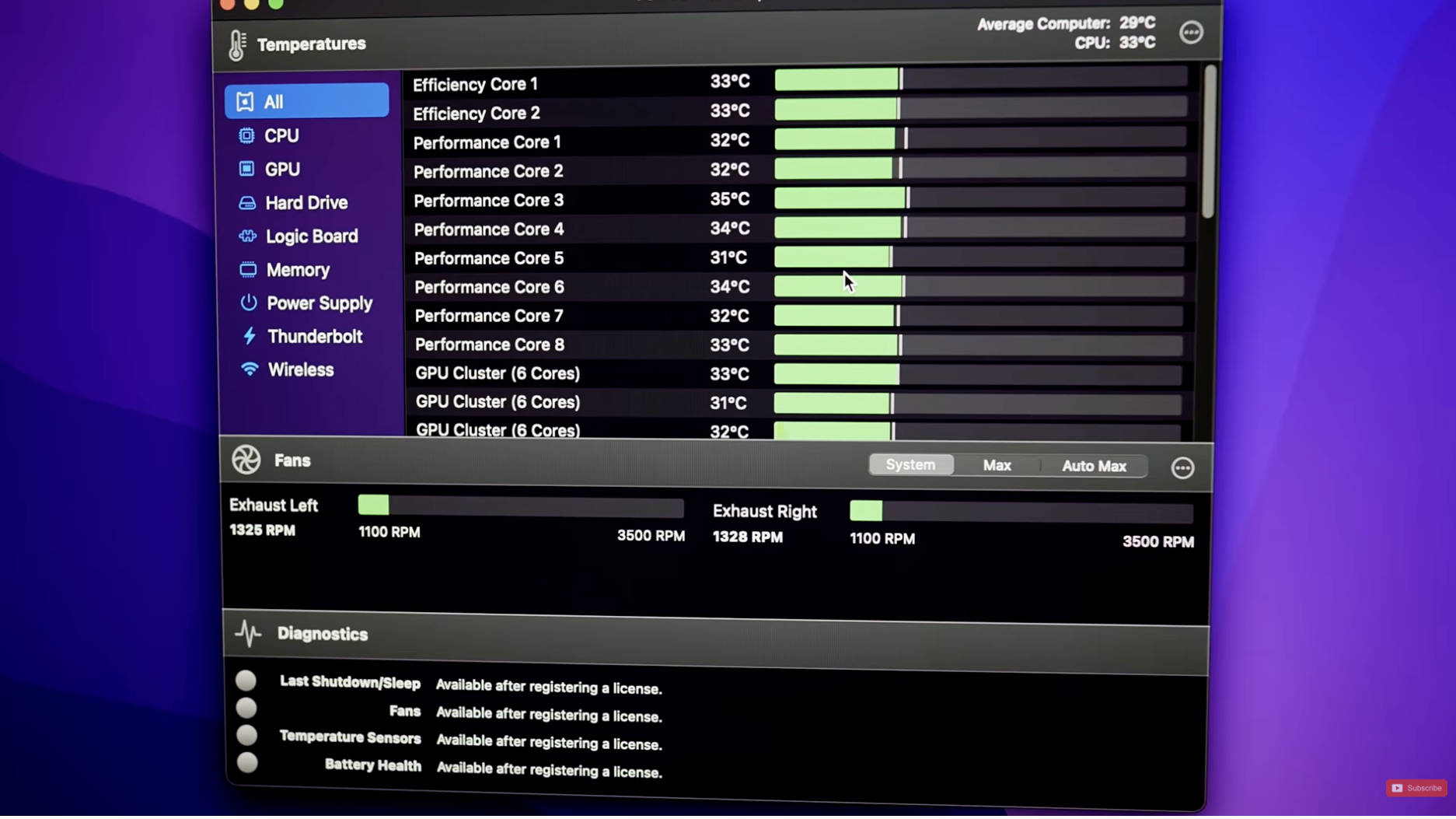 This is still pretty quiet, it's registering around 40 decibels which is basically just the volume of the ambient room volume. Compare that to the Mac Mini, and it's basically the same, around 40 decibels.
When they get going to their max though, which we can do from the TG Pro, The Mac Studio runs as high as 3500 rpm which gives you a very loud reading of 70 decibels, I couldn't run the same test on the Mac Mini, it just wouldn't let me max the fans out, but I can tell you from experience that the Mac Mini barely gets noisy to even make a difference.
If you are really putting the Studio through its paces and it ramps the fan speeds to the max, then yes, it's going to be quite off-putting if it goes on for any length of time. So hopefully you only hit this when you do that final export of footage, rather than like on the Macbook Pro I used to have which would spin up the fans all of the time, even when on Zoom calls or just browsing the web.
With that said, through all my use of using the Mac Mini, I've not heard the fans at all. And so far, I'm yet to hear them on the Studio, other than when doing these tests.
SPEED TEST
Next up, let's compare the disk speed of these 2 machines.
On the M1 Mac Mini, we're seeing Read at 2300MB/s and write at 2800MB/s
Compared to the Studio, which is getting Read at just over 4000 MB/s and write at 5000MB/s.
That is something I didn't even think would be faster, but damn. It's double as fast in terms of the onboard storage, and I guess just another reminder that if you are editing large files like video footage or audio, then it's always best to work off the local storage, instead of external drives.
CONNECTIVITY AND PORTS
The Mac Studio does of course have a new set of IO compared to the Mac Mini.
With the Studio, you get 2 extra thunderbolt 4 ports, 2x USB C on the front plus the built-in SD slot.
the Mac Studio does of course have a new set of IO compared to the Mac Mini.
With the Studio, you get 2 extra thunderbolt 4 ports, 2x USB C on the front plus the built-in SD slot.
For me, this means I no longer need a separate Caldigit dock, which is an extra £270 to £350 on the purchase price, depending on whether you buy the latest model.
However, you might still need something like a dock, or a USB hub to be able to connect all of your devices to this thing. But for me, it's good and does mean I can have less stuff on top of my desk.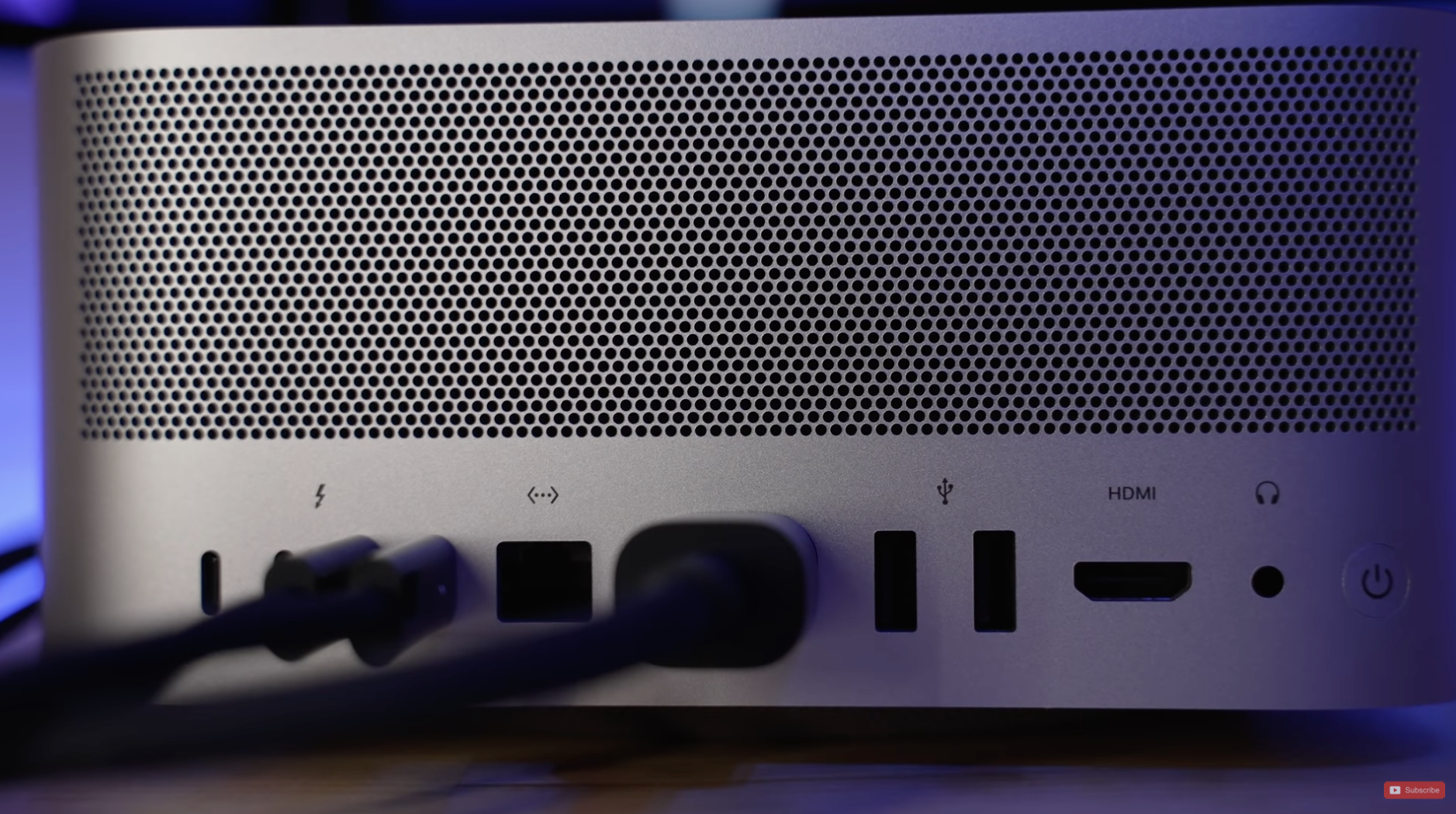 So my overall feelings about the connectivity, it's good! I'm happy to have the extra ports, FINALLY, a built-in SD card slot, and something else I will mention with the Studio, is that the M1 Mac Mini was plagued with horrible Bluetooth issues when anything was connected into the USB Ports directly to the Mac Mini, but I'm glad to say that there are no issues like that, that I've seen so far on the Mac Studio.
For those of you interested in the new Studio Displays, I'm going to be making a separate video and post where I put them up against my 49" Ultrawide to see how that compares, and to see if it can replace my screen, webcam, speakers, audio interface and mic to reduce that desktop clutter even further. If that interests you then subscribe to the newsletter to find out when it's released.
💌 Sign up for the weekly newsletter: https://www.petematheson.com/newsletter
BENCHMARKS
Final Cut Export Speed
Let's do Final Cut first, so as I said, this is one that people can actually relate to. We all know the M1 Ultra is as good as a £20,000 Mac Pro. But we don't all have 20k for a Mac Pro or even 6k for the Ultra model.
I just want to know if spending an extra £800 on the M1 Max Mac Studio, will export my footage faster?
Editing is almost the same for my footage, I'm shooting on the Sony A7SIII at a fairly high quality, but I never really run into any issues editing on my M1 Mac Mini anyway. Once you start layering up with transitions, graphics, and colour grades then it can start to bog down the Mac Mini, but you don't get that on the M1 Max.
When it comes to exporting, we've got the same project on both machines, it's 4 1/2 minutes long with a selection of footage from the Sony A7SIII, graphics, b-roll, screen recordings, and colour grading.
They came in at 2:33 for the Mac Mini and 1:22 for the Studio and that base M1 Max chip. So it's almost twice as fast as the M1 Mac Mini chip. That is quite a big difference, particularly if you are working on and regularly exporting large project files.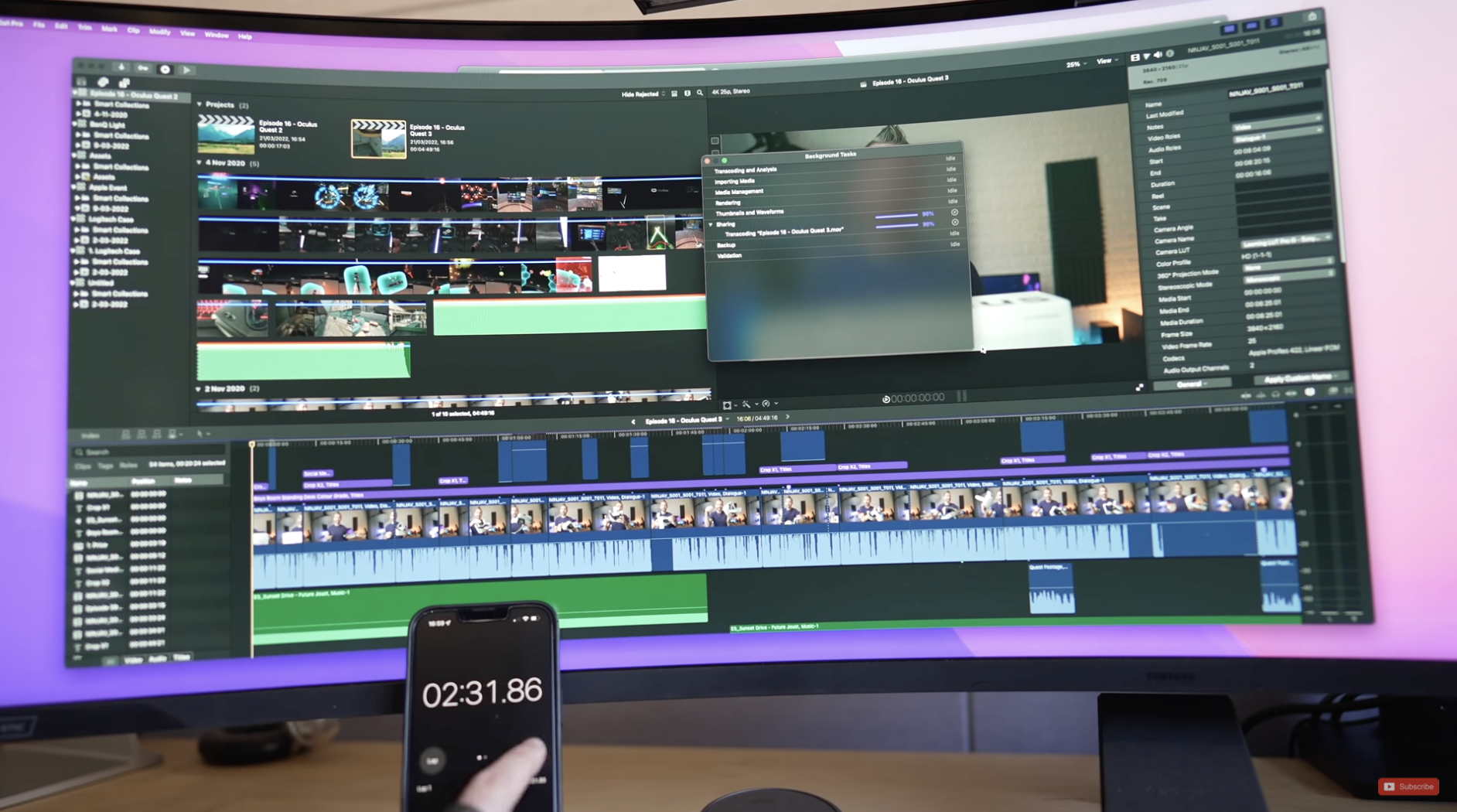 LOGIC PRO
Over to Audio now, and specifically those Logic users - running on multiple tracks of audio. The benchmark we're running here is one from music-prod.com which basically runs multiple tracks to see how many it can play simultaneously.
On the M1 Mac Mini, we're at 60 tracks, and on the Mac Studio, we're at over double that! 159 Tracks! If you're an audio editor and need lots of power to do multi-track audio, then definitely the Mac Studio is one to consider, and actually for a small bump in price to get more than double the tracks - that's not bad!
Where things go a little wrong for me with the Mac Studio, is that it's 2022.
Both the Mac Mini AND Mac Studio still only come with HDMI 2.0 ports. Which means no fast refresh rates. I get why because these machines are for 'studio' use, and a studio would typically connect a bigger TV via HDMI to review their work, and they just wouldn't need 120hz on the TV. You can even see this on a lot of the Apple marketing material of a separate TV being used whilst watching back the project they're working on.
Most movies that you watch are shot in 24fps, and lots of YouTube content would be 24, 30, or at most, 60. But even so, it still wouldn't be that difficult to give us 2.1 and free up another Thunderbolt 4 port on the back. It's not as if these machines aren't powerful enough to cope right?
SUMMARY
So yes, the Mac Studio is definitely an upgrade on the Mac Mini, that's pretty much a given.
For me, I can ditch my Caldigit Dock and the 10Gb Ethernet adapter, which all saves a mess of wires and cables on my desk.
If I was to swap out that 49" Ultrawide for 2 of these displays, with the built-in cameras, mic, and speakers, then actually I could ditch the audio interface, mic, webcam, and speakers. So THAT video will be coming very soon.
So the question, is whether you think those differences are worth the increased price for the Mac Studio over the M1 Mac Mini?