Welcome to my 2022 Studio Tour!
GAMING AND ENTERTAINMENT SET-UP
First up we have the gorgeous 48" LG C1 OLED TV which makes basically anything you throw at it look absolutely stunning.
The deep blacks contrast really nicely against bright colours. I've never normally been one to fuss over a TV before - but every time I sit down to watch this after watching something on our other Samsung TV, it just looks so much better. Still hands down the best TV I've ever owned.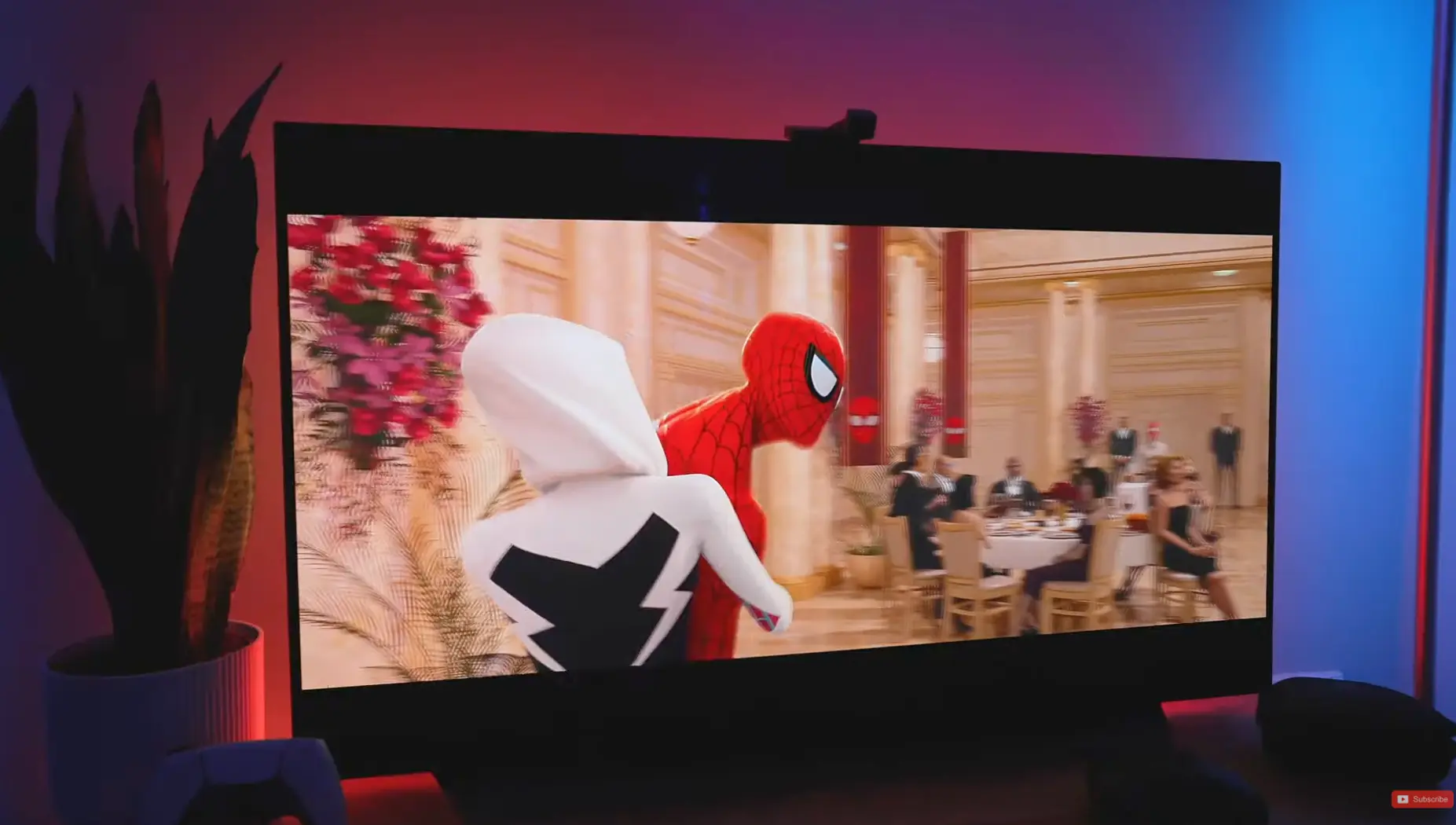 Connected to this TV we have both the PS5 and Xbox Series X. I tend to play the PS5 with my kids but for me, from around 10pm until midnight you can find me sitting on my sofa, playing the Xbox Series X and playing some cross-platform Call of Duty with the same 3 people I've played with basically since lockdown, half of which play on PS5 and the other on Xbox. It's been great to just chill out, put my feet up and complain about which Call of Duty is the buggiest.
I generally tend to play with headphones on because the kids are normally asleep upstairs - and for me, it's the official Playstation headphones or the Steelseries Arctis 9X depending on the console I'm using, though to be honest, if I could swap the Playstation headphones for the Steelseries equivalent then I would do that in a heartbeat.
Another piece of tech that you'll notice we've got going on here is the lighting - and this is all from Govee.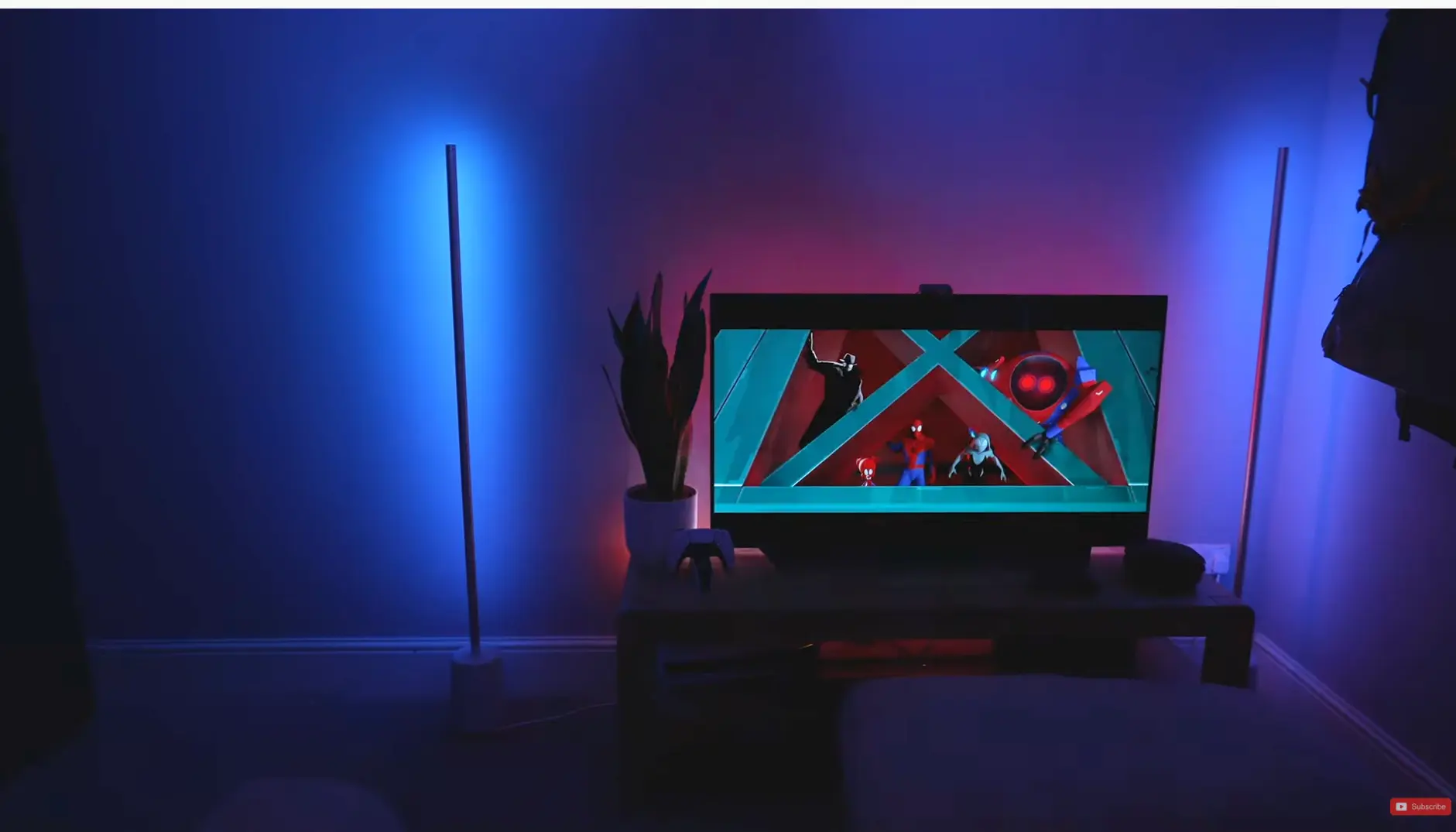 There are 2 Govee Floor Lamps that add some really fun splashes of colour to the wall, and there's also the Govee Immersion TV Backlights which had to do a workaround to make them fit, mainly because they're designed for 55" or larger TV's, and secondly, because the LG C1 is so thin, it doesn't really have much to stick the camera to.
Lastly to finish off the Entertainment space I've got the Sonos Beam soundbar underneath, which sounds really good. I love being able to use this to play music and use the built-in Google and Amazon voice assistants, but as I said before, I generally use the headphones when playing games, so the Beam only gets used when listening to music or when watching the odd bit of YouTube or Netflix content.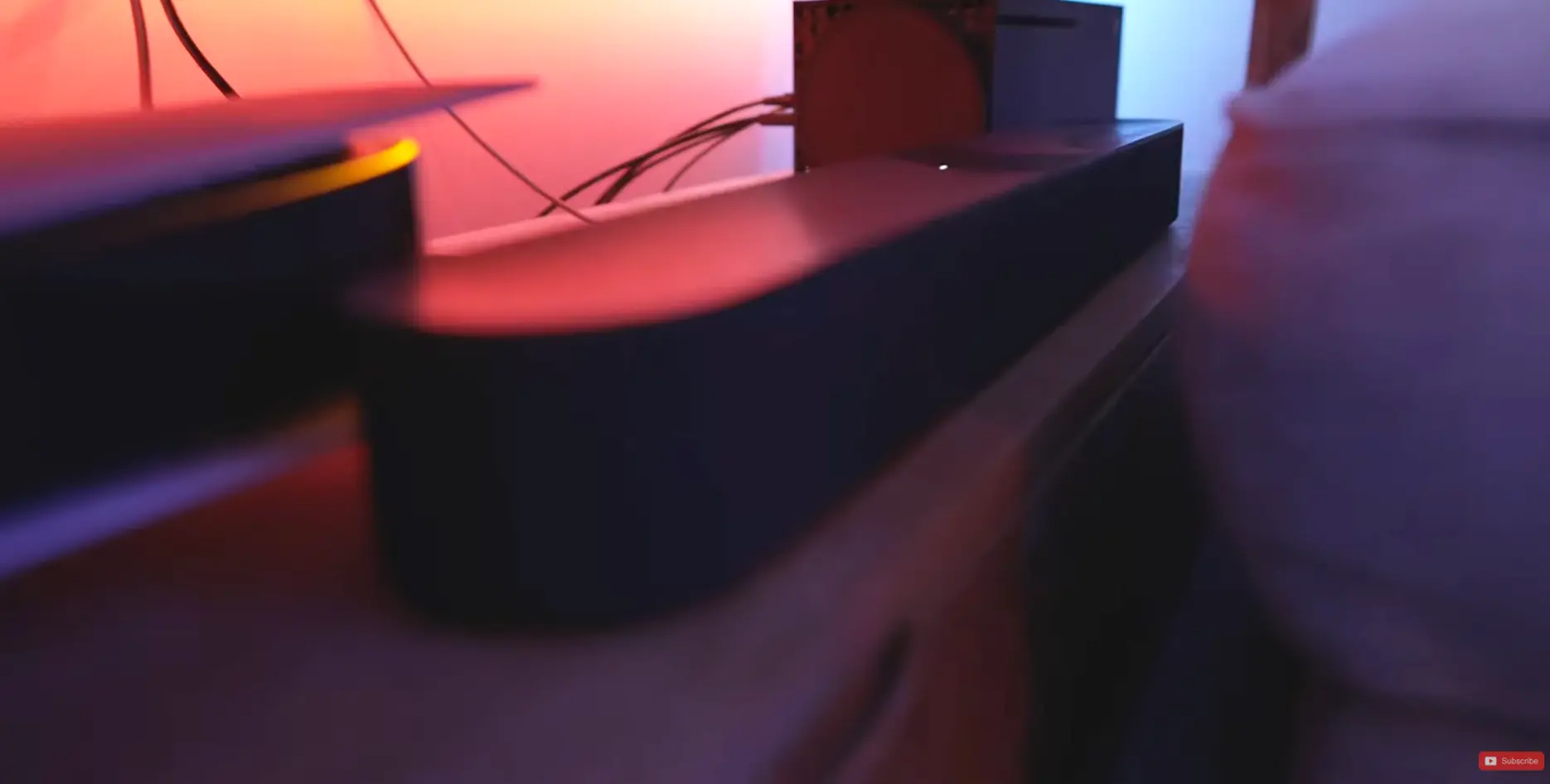 We've also got some hooks on the walls now. These are from Amazon - one for me to hang my bags on because it gets them up off the floor, and one on the other side of the room to hang T-shirts. Shout out to Akixi who have partnered with me for 2022 to create content over on their channel.
Art
The only bit of art that I really have on my walls - which I'd love more of - is this teardown of an original, iPhone. The day I'm making this post marks 15 years since Steve Jobs came on to the stage to launch a Phone, MP3 Player and Internet Browser all in one device. And the world was changed.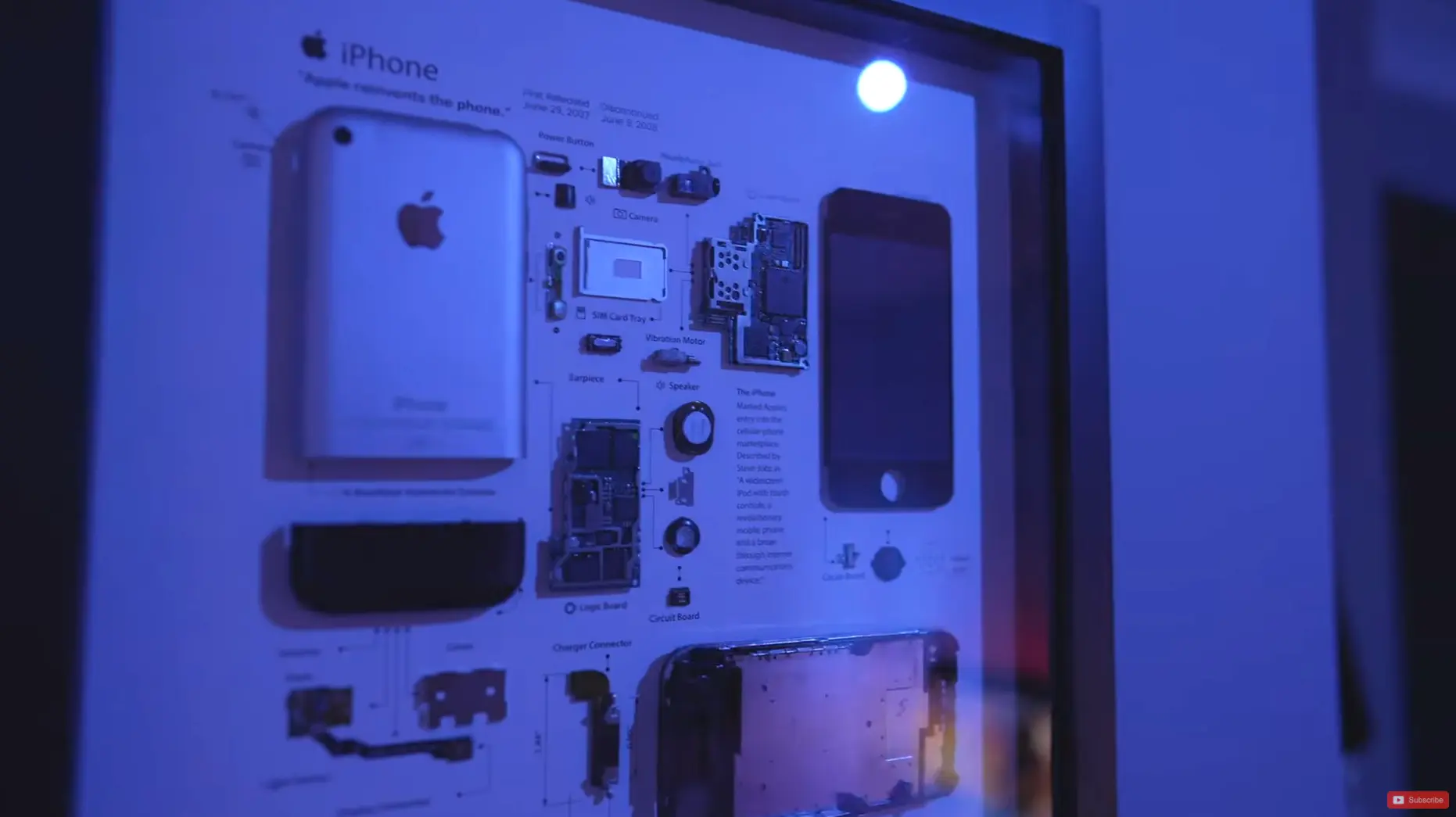 The guys at Xreart offered to send one of these to me, and they showed me their whole selection where they tear down products and frame them like this. From Gameboys to Apple watches and old Nokias - but I had to go for the original iPhone since it paved the way for a huge amount of tech that we all use in our daily lives now. Shout out to Xreart for this, thank you, and if you want to grab one, they make for amazing gifts as well as look really good on your wall, use this link for 10% OFF

WORKSPACE SET-UP
In some ways, this is the same as it was before, but in others - totally different.
Firstly I replaced what was some pretty badly fitted Amazon fake white brick sticky squares, with felt tiles. They're individual tiles that you stick to the wall, but I love how they've transformed the wall into something that just looks so much better.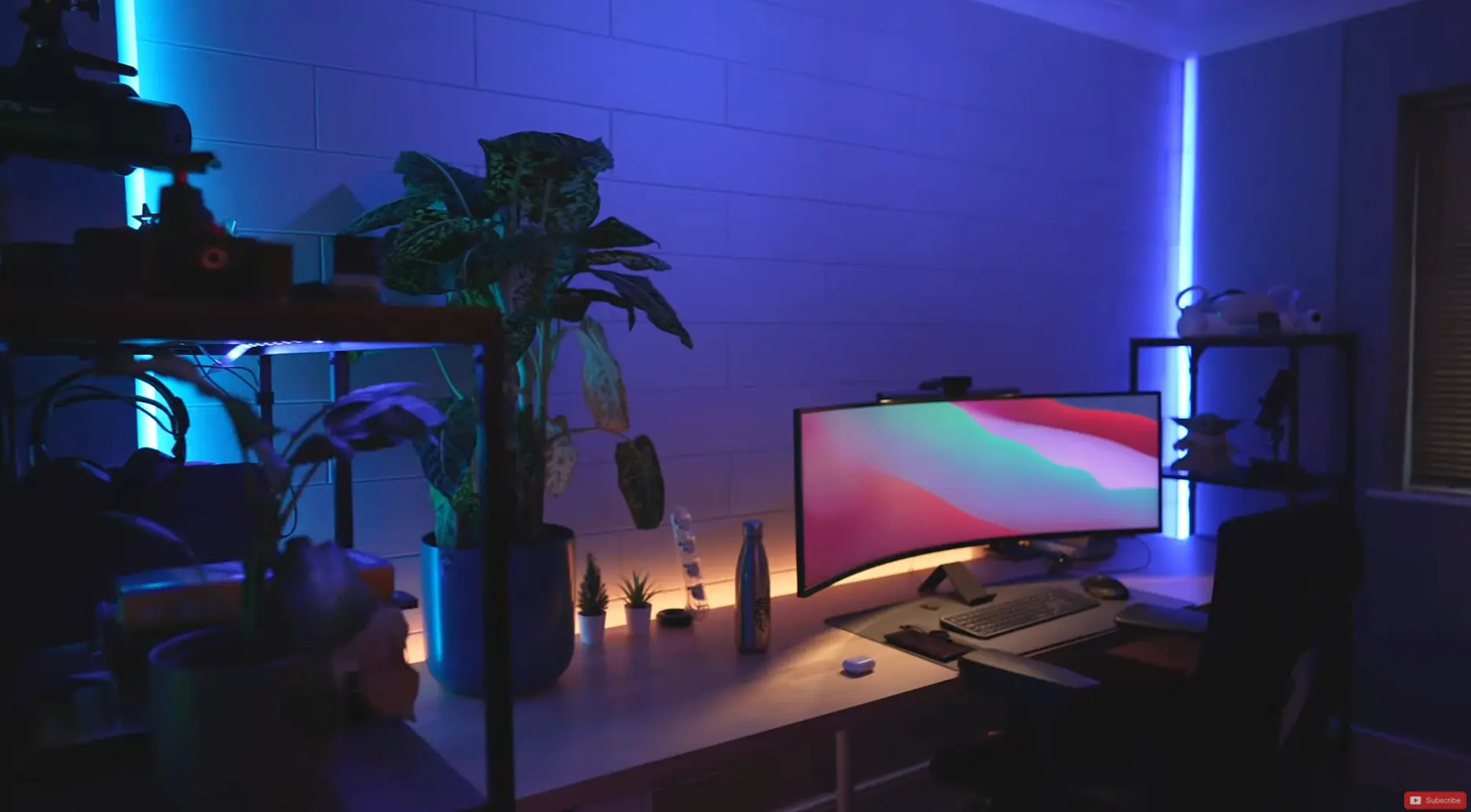 We've also got yet more Govee lights, and these just work perfectly for what I wanted them for. This year was all about getting rid of the excessive number of lamps and random lights that I had strung around the room, getting the wiring off the floor and making some more permanent fittings. These lights are perfect for what I wanted.
Random fact, but I also swapped out the lights in the ceiling for Philips Hue in both parts of the room. So now I can control the colour of the wall, the Govee strip lights, the TV and basically all parts of the room really easily without having to move things around.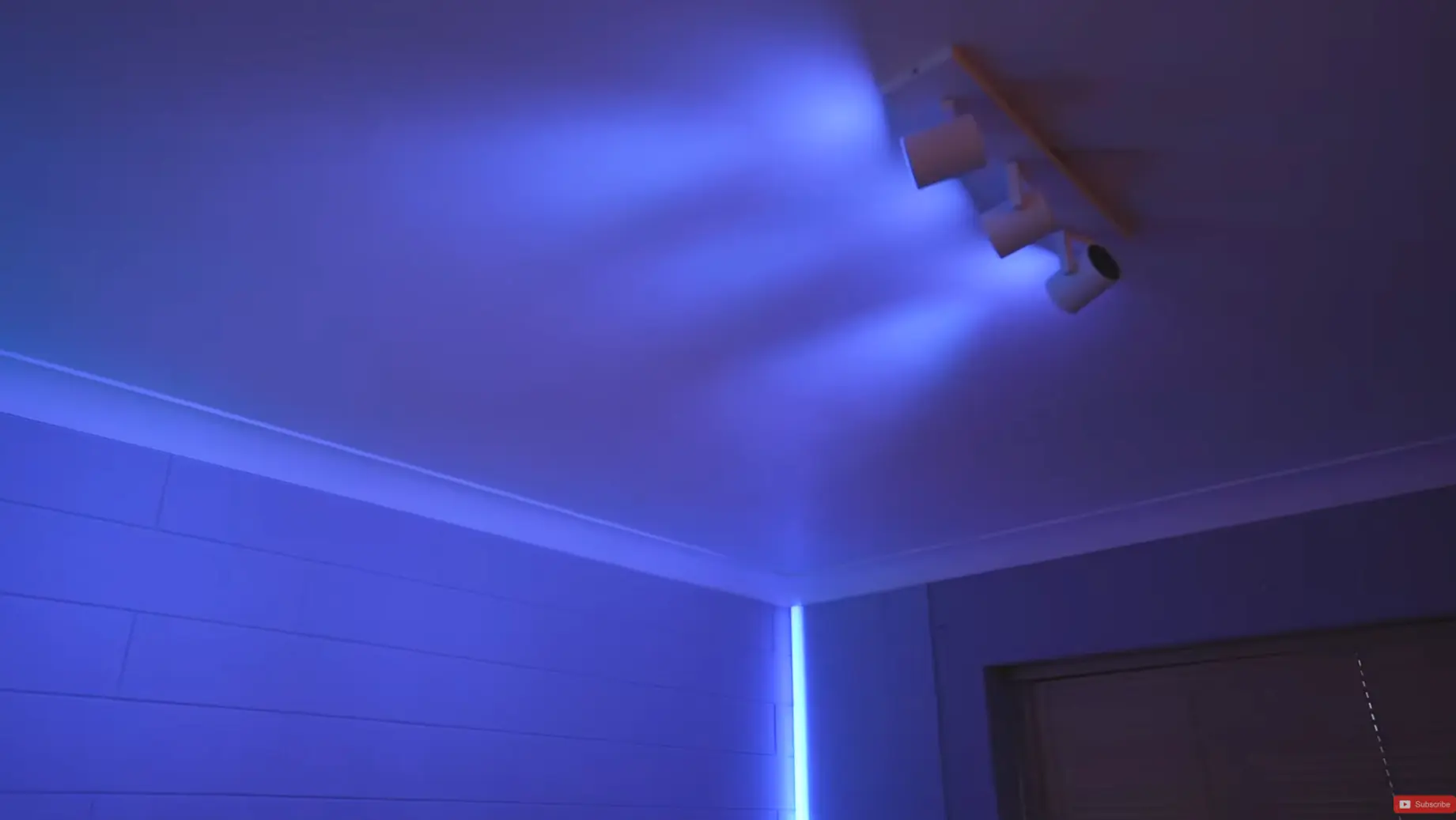 I've still kept the same desk, which is the Ikea worktop and the Alex drawers. Classic but very affordable desk combination right there. Also, I have the Herman Miller Embody Chair which I'm a huge fan of. And then I've significantly simplified and reduced what I've actually got on my desk.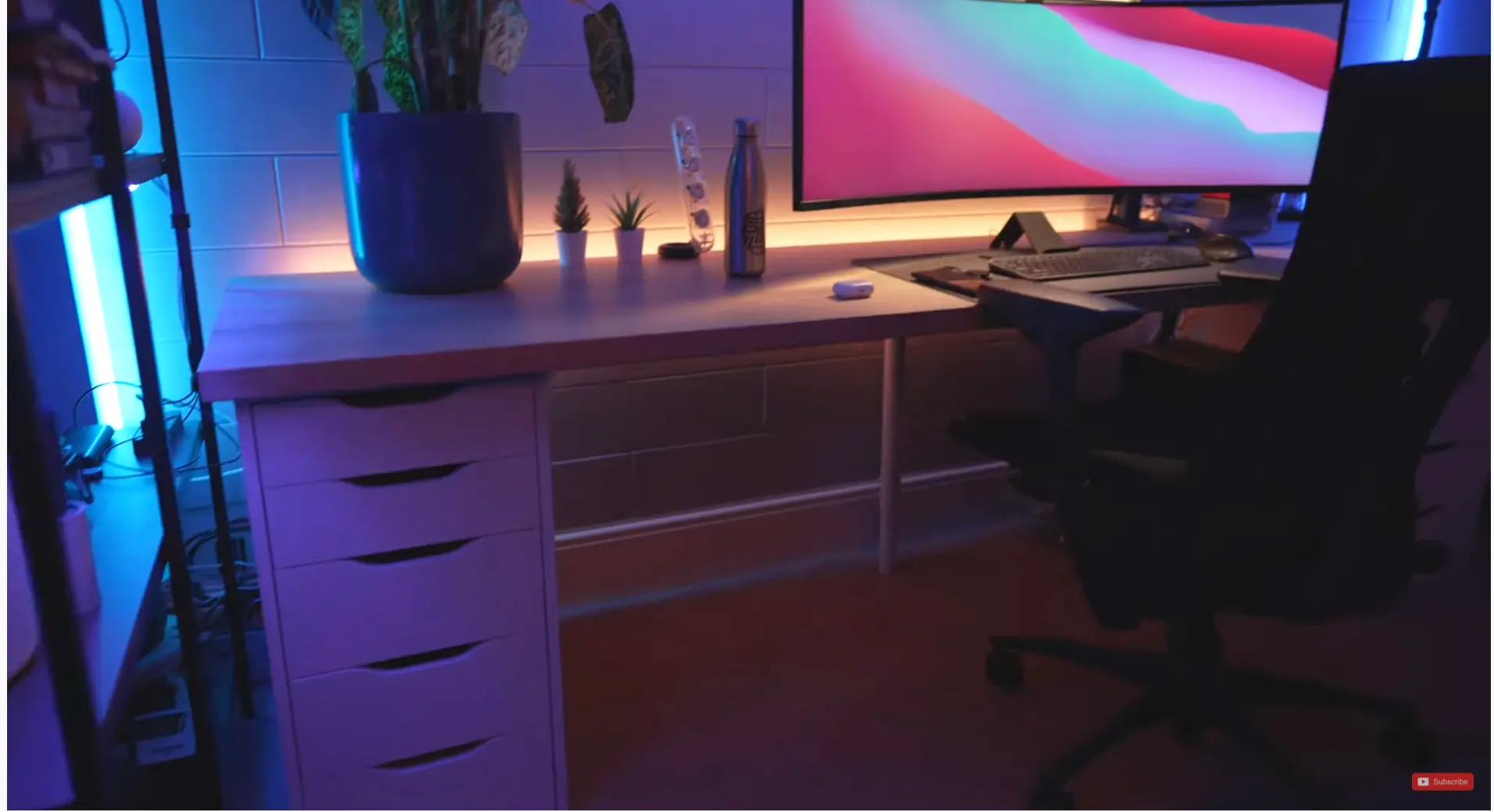 We've got the Ergotron monitor arm which makes manoeuvring the massive weight of this Samsung G9 Oddssy Neo a breeze, and means I can reclaim the desk space back from underneath where the stand would normally go. On top of the screen I have the Belkin light bar, just to brighten up my workspace when I'm sitting here late in the evening.
This one has adjustable colour temperature and brightness which is great when working late, and on top of THAT, I have the Logitech C920 webcam. Though I'm looking to upgrade that to something else soon, providing I can actually get my hands on one.
Over to the side, I have my M1 Mac Mini, still loving that. It's the 2TB with 16Gb of Memory model which is still an absolute beast.
Next, I still have the Caldigit TS3 Plus dock. It's worked flawlessly, I have no reason at all to change it and It connects to everything I need it to. Currently, I have my Mac running at 120Hz into the DisplayPort of the G9 Neo because it's what I use almost every day. I also have a PC connected to the screen - more on that in just a moment.
If you remember before I used to have a massive Rode Podcast desk. Well, I decided to put that back in its box, for now, that will be given away or sold off - and instead, I replaced it with the Focusrite audio interface, which is much smaller - but honestly, it's all I really need for video calls and when I speak to my notabusinesscoach.com coaching clients each week.
Into the Focusrite, I connect in the Sure SM7B, which I guess you could call it the industry standard for podcasting right now. But I normally keep it tucked away on a shelf because I only really use it one day a week where I have back to back coaching calls.
I'm also still rocking the original Harmon Kardon Soundsticks - again, no real reason to upgrade them because they work great.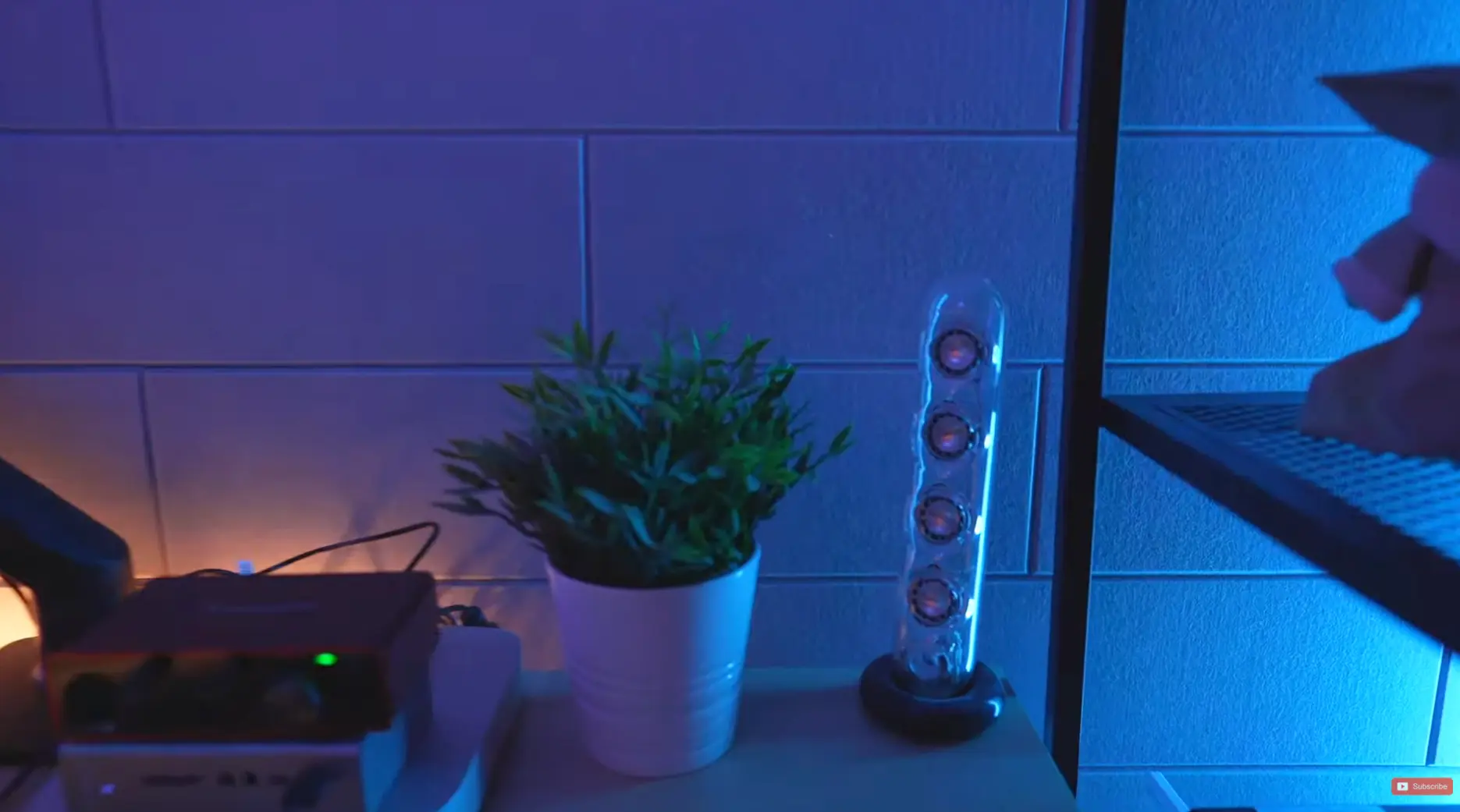 Other miscellaneous items on my desk are the Logitech MX Keys and the original MX Master, though I have been tempted to try out a mechanical keyboard lately. And we've got a Spigen wireless charger - nothing special but it does the job that it needs to do.
Underneath the desk, we have my Windows Gaming PC - which I don't really use for gaming anymore since getting the Xbox and PS5. Instead, it's now used to test many of the applications I use and review for these YouTube videos, things like comparing the best Password Managers and Cloud Storage.
The Ryzen 5 with 16Gb of DDR3, a 2080 Graphics Card is another miscellaneous item on my desk, and that's basically it. Actually, I have an Elgato Capture card in the back of this that I planned to use to stream regularly but then didn't. So that will be another thing to add to my pile of tech that I'll either sell off or giveaway to those on the Newsletter and with Patreon getting first dibs.
To the side of my desks I have 2 IKEA shelves, On the left, we have a few bits of camera gear, awards that my business won, props and remotes for various lights and video gear.
You'll also notice that I've got this light that is hanging down from the ceiling. This is part of my mission to get everything off of the floor and just tidies up the whole room rather than having a stand and cable get everywhere.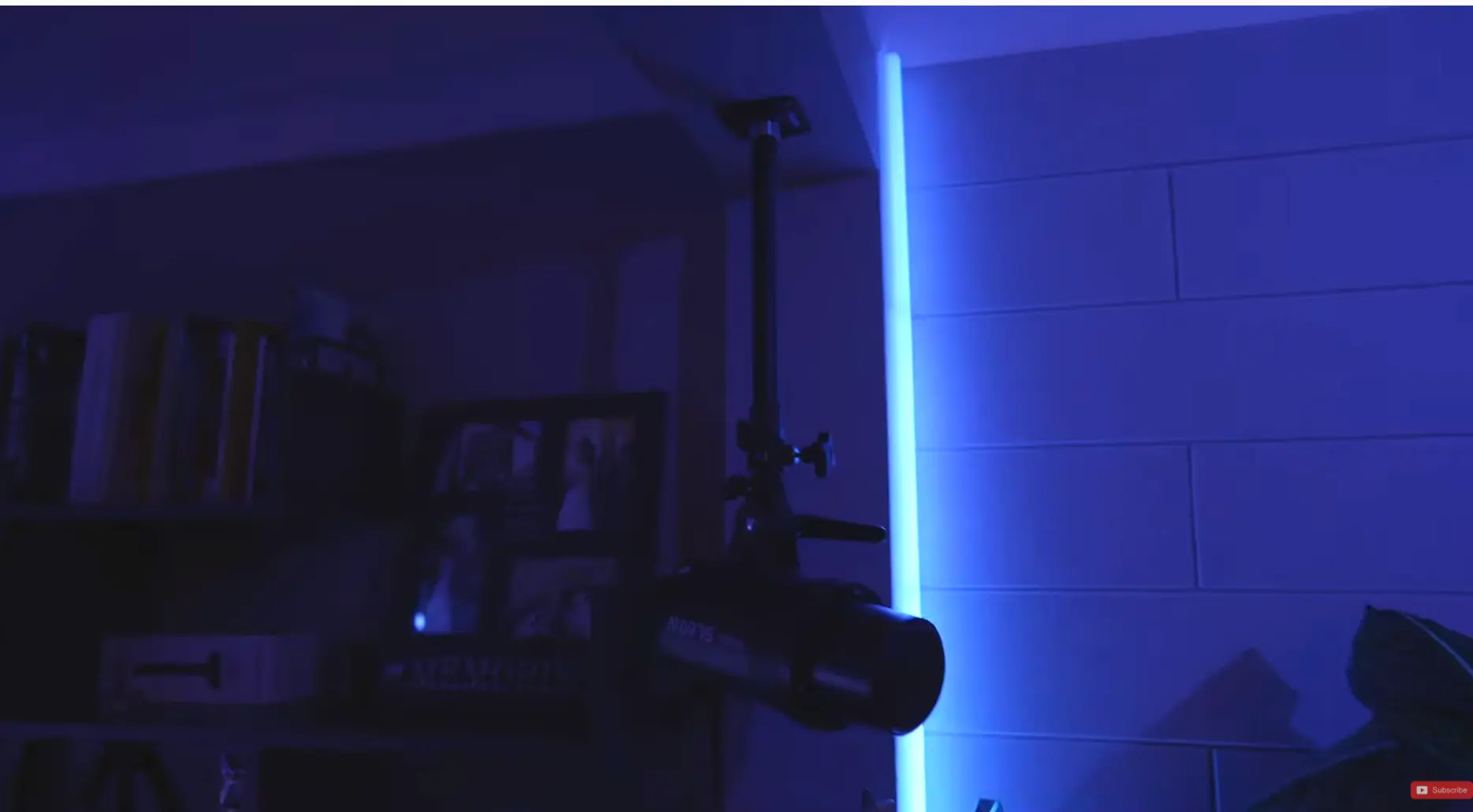 I've also got a bit of a charging station for my iPad, the headphones which I've hung on a double hook I got from Amazon, as well as the Apple HomePod Mini. I've also got the charger for my new Oura ring which was a Christmas present, absolutely love that.
We've got a Levoit Air Purifier because I found that my room would get really dusty, and this helps filter out all of the dust in this room, plus is a nice fan for the summer and I can control it via Amazon's assistant.
On the other side, we have the Oculus Quest 2 sitting on top of the Anker charging dock. Then the Shure SM7B Mic along with my little baby Yoda friend.
Below that we have the QNAP TS-hEC973AX NAS drive which I have over 80TB of Raw storage for archiving YouTube videos and my Plex library which streams around the house. I chose this NAS because it has a 10GB Ethernet port which I connect directly into my Mac Mini via a Caldigit Thunderbolt adapter so I can move files quickly. Then has the 1Gb for everything else. But also because it has enough ports in there to add SSD's and caching and all sorts.
This also runs my Home Assistant home automation system which has worked really well for the past year. It's been flawless to me. No issues. Chugs away through all of the data with no problems. Awesome for what I need it for. I'm backing this up to the cloud - I'm currently testing a few cloud backup services so subscribe if you want to see the video on that one.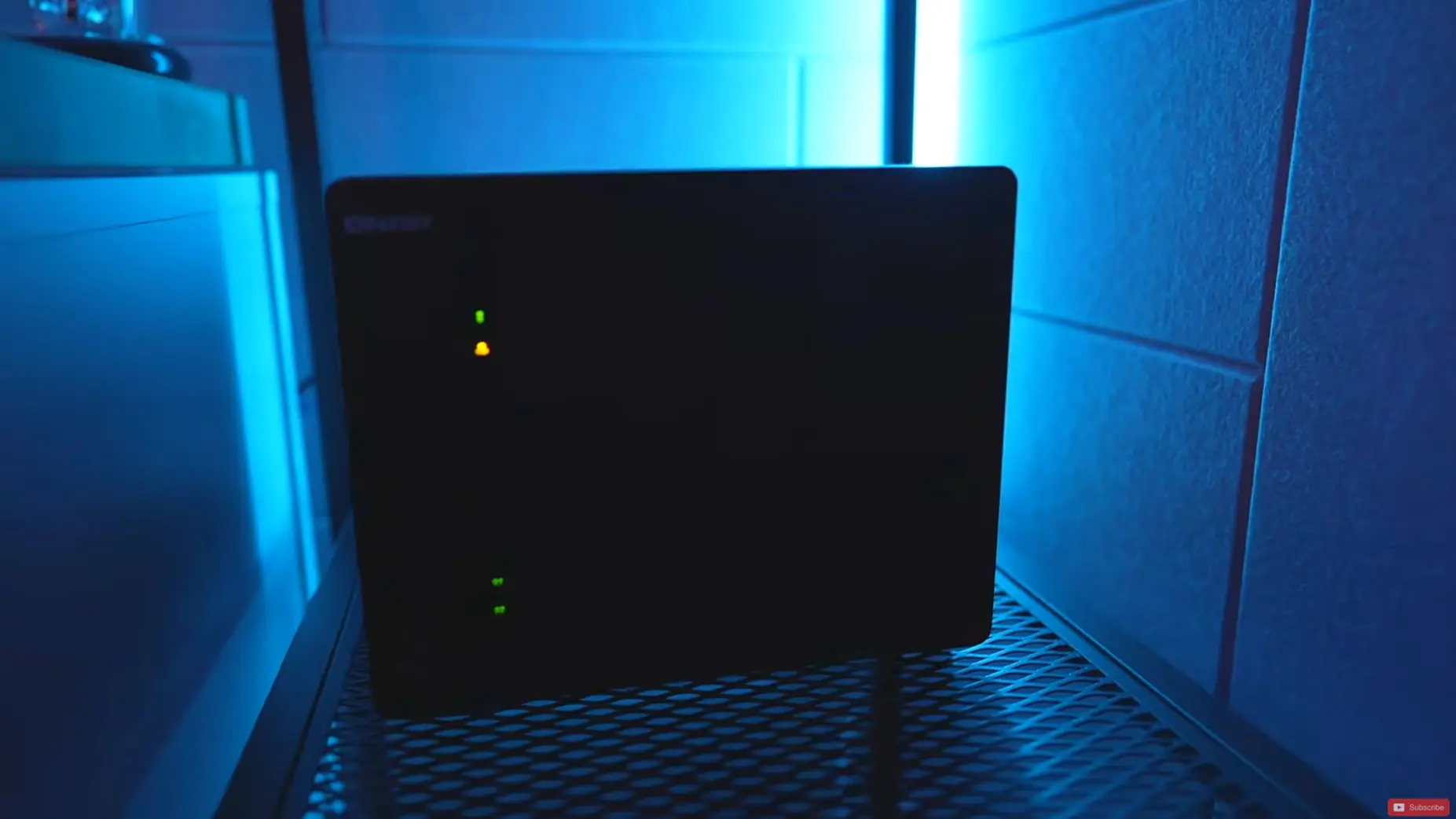 Finally, let's flip around to the other side of the room. The only thing that's been done so far is that I've got yet another Govee light, which is a neon strip that you can basically shape into anything you want. The best I could come up with, through all of my creativity, well - was my initials - but like all the other lights you can get some pretty cool effects out of it. I'm sure someone more creative than me could make some really cool shapes out of it. This corner will eventually have a small storage slash table where my plan is to set up a permanent overhead camera set up so I can quickly shoot the b-roll footage for some of my videos, as well as store all of the mess of boxes and wires underneath too.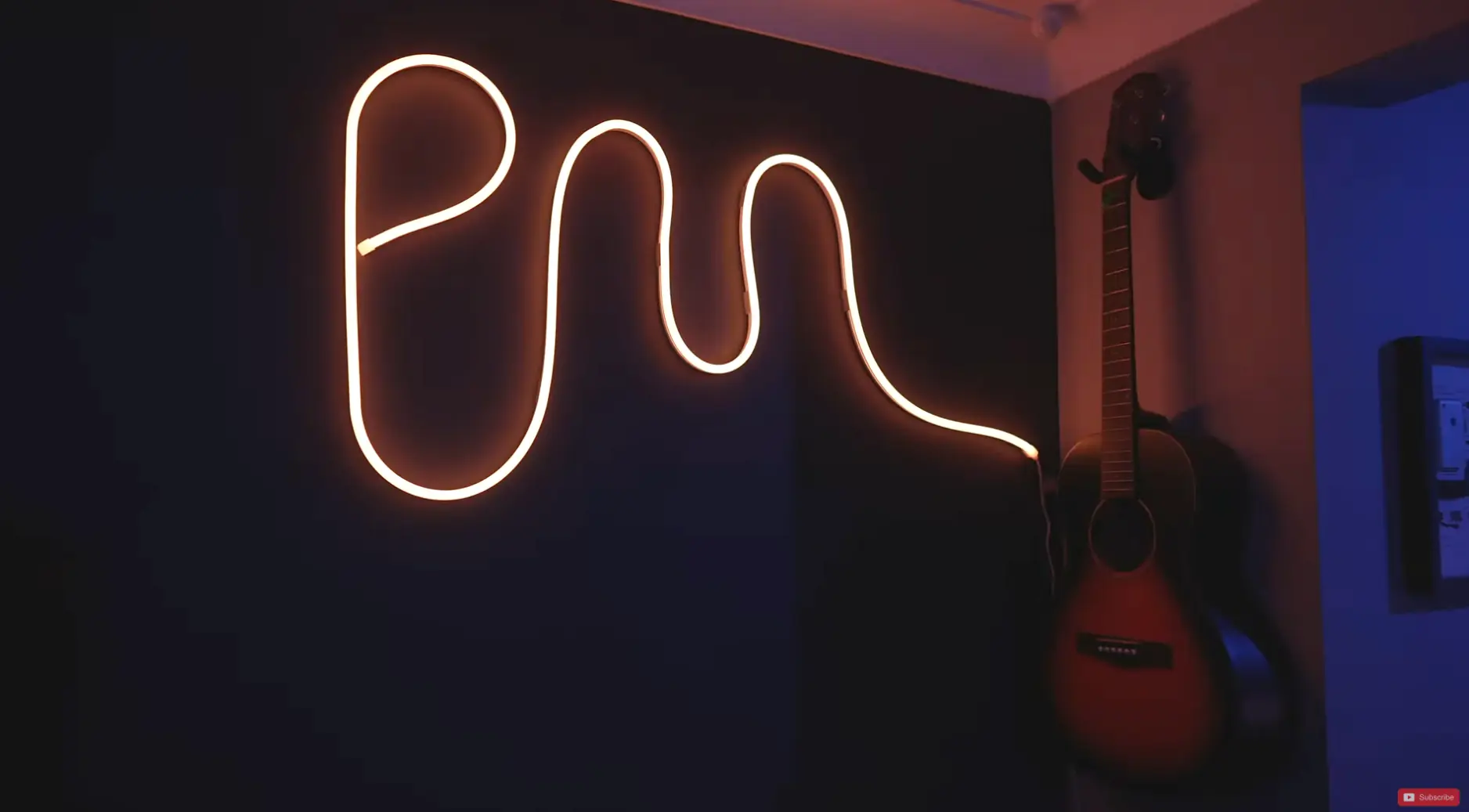 Over briefly for the main YouTube desk setup - I've now got a smaller electric desk, from my favourite desk company - Ergodesks. And again, attached to the wall now instead of cluttering up the floor with stands is my Overhead camera and Microphone. The other I actually planned on mounting the light to, but realised I could mount the Camera and teleprompter because I kept kicking the camera tripod whilst filming, so that solves that problem. I might get another one for the light - not quite sure yet. But I'll leave a link to my Kit page below if you're interested in all the camera and lighting gear that I use to shoot my videos. Thanks for reading - and I'll see you in the next one.