It is now 6 months after Google launched their Pixel 6 Pro, and after switching to it from my iPhone for a solid 3 months straight. This phone really re-enforced itself as the Android flagship that I was going to keep.
Until of course, the S22 Ultra was released, which I thought would take the place of the Pixel 6 Pro, but alas not.
So 6 months later and here are my thoughts about the Pixel 6 Pro, from the perspective of a long-term iPhone user trying to switch over to the Android ecosystem.
---
PROS
I am glad to report, that over time, the Pixel 6 Pro has been getting less and less buggy overall. I think we've probably really reached the point, 6 months later, of where we should have been at the original launch. It's a shame that it's taken some time to get there, but it's really good, now that we're finally here.
CUSTOMISATION
I haven't even scratched the surface of customising my Pixel 6 Pro still, but over time I've switched the launcher to Nova launcher, which now gives me the ability to swipe up and down on apps to launch other apps, and I have customised things like the search behaviour, removing the clock and weather on the home screen and just all sorts of things.
For the iPhone users amongst us who are switching over - this customisation thing is really nice, but it does take a really long time to get these phones set up how you like them. I found that I couldn't just do it all in one sitting because things change as you get used to using the phone day-to-day.
One thing that I would still like to see is the ability to change the back tap feature to be able to switch on the torch, that's a feature I've loved using when testing other Android phones recently and which apparently might be coming in a future update.
Oh also, just to mention here, because I've had a few questions. I've tried a few cases in recent months. At the moment I've got on the Rhinoshield Pacman case which I'm loving.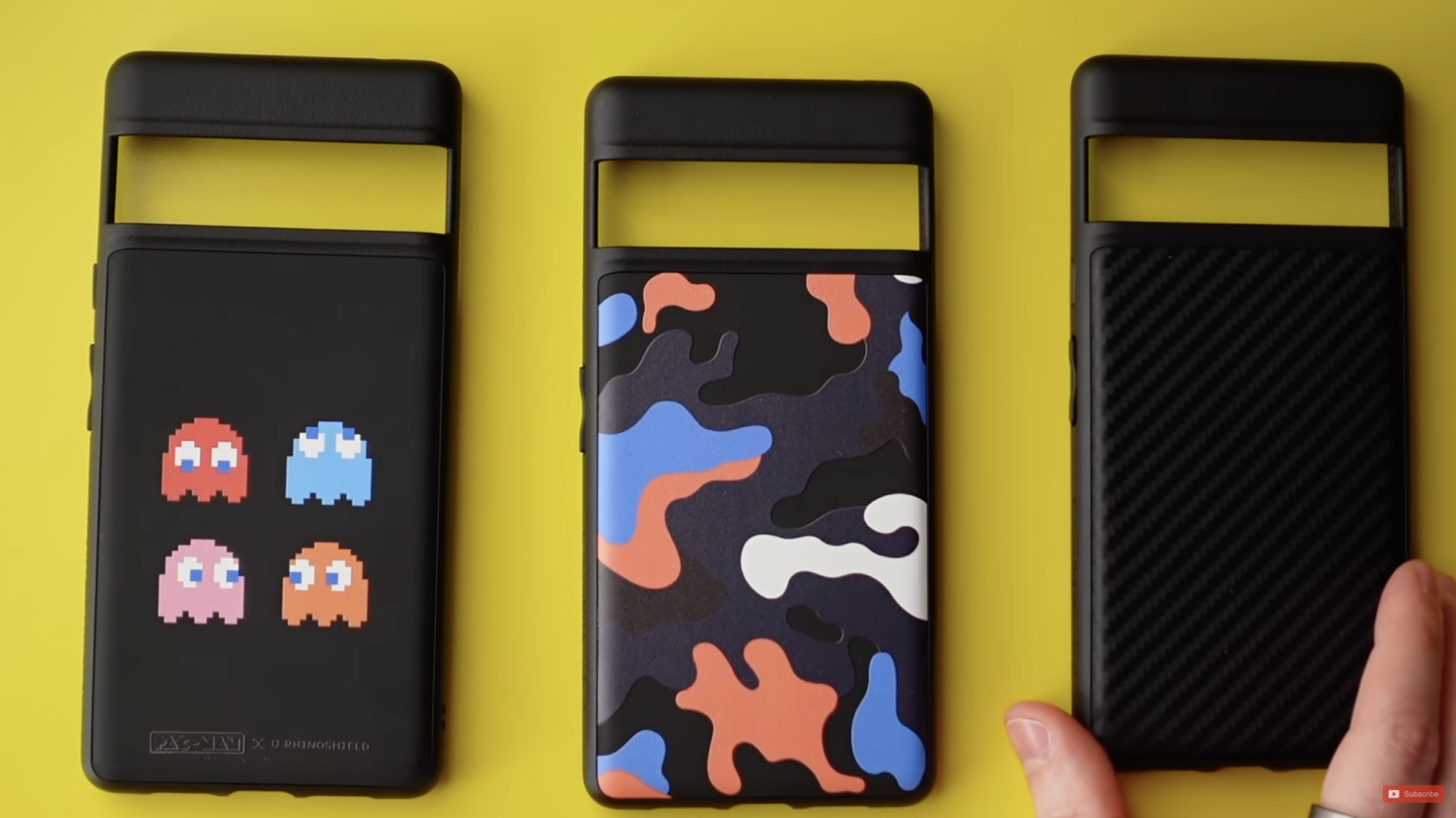 I've also had the LaterCase which doesn't offer as much protection as the Rhinoshield does because it's so thin, but it does take away some of that bulk of having a case on.
I also tried out some super cheap cases from Spigen which were really great value for their price. So it just depends if you want to weigh up how much protection and from what that you want, and how much you'd like to pay.
OVERALL EXPERIENCE
In terms of the general day-to-day usage, the Pixel 6 Pro has been pretty flawless. It's smooth, everything feels fluid, and it doesn't seem to stutter or slow down or have any of the issues I've experienced when testing other flagship Android phones.
It's a very similar and smooth experience to using an iPhone, although I have gone into the developer settings to increase the animation speeds to .5, something. I basically do it on all android phones now just to make it feel that little bit snappier.
VOICE DICTATION
Voice dictation for me continues to be an awesome feature. I go through phases of not using it as much, and then using it a lot. But I still dictate messages on this phone, which I just couldn't do on any other device.
It's really accurate, you can add in punctuation and emoji's really easy, and you can even send the message instantly by just saying send at the end of your message, unlike Siri which has to read the whole message back to you first, for you to realise that it's nothing like what you actually said, so end up picking up the phone to manually type it out.
With the Pixel, It's so accurate with the voice recognition that I can quite happily dictate texts and emails and then send them without even reading or listening back to what it thinks I've said first. So this is a huge help when your hands are kept busy with other things.
Digital Wellbeing
I've also come to love the Digital Wellbeing settings on the Pixel 6, particularly when I'm in meetings, on video calls or making YouTube videos. I've been able to set this phone to go into do not disturb mode when I place it face down, and I can also set who or what is allowed to notify me still when it's face down.
So if I'm expecting a call from someone but I want to get on with my work, I can add that person or app to be allowed through whilst everything else is blocked out.
THE CONS
That Fingerprint Sensor
The fingerprint sensor, whilst it has improved over time, is still not as good and reliable as any of the ultrasonic sensors I've used on other Android phones. There is currently no ability to use Face Unlock, so you really are limited to using that fingerprint reader or pattern unlock.
The Watch
The Galaxy Watch 4 just isn't as responsive in comparison to the Apple watch. It actually feels a little like the older generation Android phones, which are laggy, not very responsive and at times, just don't work. It also isn't as good in the water, and I found it really awkward to use whilst swimming to start and stop activities.
So, whilst I love the watch and how it presents information on its display, I just can't wait for the Google Pixel Watch, which I really hope is coming soon.
Calendar
The other thing I've struggled with is still the Calendar. Other than Google calendar, which is fantastic, I've really struggled to find an App that merges my calendars together - I still have an Apple family calendar with my Wife.
I've got a Google calendar, and a Microsoft 365 calendar, so the best I've been able to do is add those calendars to my Google Calendar. It just doesn't work as nicely as Fantastical, which I've used in the Apple world for years, and I really wish they could come up with an Android version for that!
MY WISHES
For the Pixel 6 Pro, or I guess 7 now, after comparing other Android phones, I would wish for faster charging, because the Pixel 6 Pro charges basically as slowly as an iPhone does. An ultrasonic fingerprint sensor, or perhaps even a side-button sensor like the Redmi phone I've been testing out recently, and that Watch.
I think the Pixel Watch will be very interesting to see how Google approach their first smartwatch.
---