Straight off the bat, I will say that I believe these headphones are better than the XM4's, and better than the Airpod Max's with a caveat, but there is one thing that lets them down.
Whether you're an Android or an iPhone user - I've got both of you covered, so firstly let's talk about the new design, because whilst I've heard some reviews say they don't like it - I actually really like this design.
I have had the Sony WH-1000X5s for the last couple of weeks now, and I've been using them across my iPhone, my Pixel, my Mac, and a few other devices. Today I want to share my thoughts on these new headphones, from the perspective of someone who isn't an audiophile per se but does appreciate good quality audio.
Firstly we've got a totally noiseless design. So it doesn't matter how you hold or twist these headphones, they're pretty silent.
Comparing this to other over-ear headphones like the XM4s and the Airpod Max that creak and click as you use them, it's a small but nice thing for them to consider.
We've got an all-new design that is totally different from the XM4's foldable design, with these being more similar to the Airpod Max non-foldable design, but I just love how sleek these things look.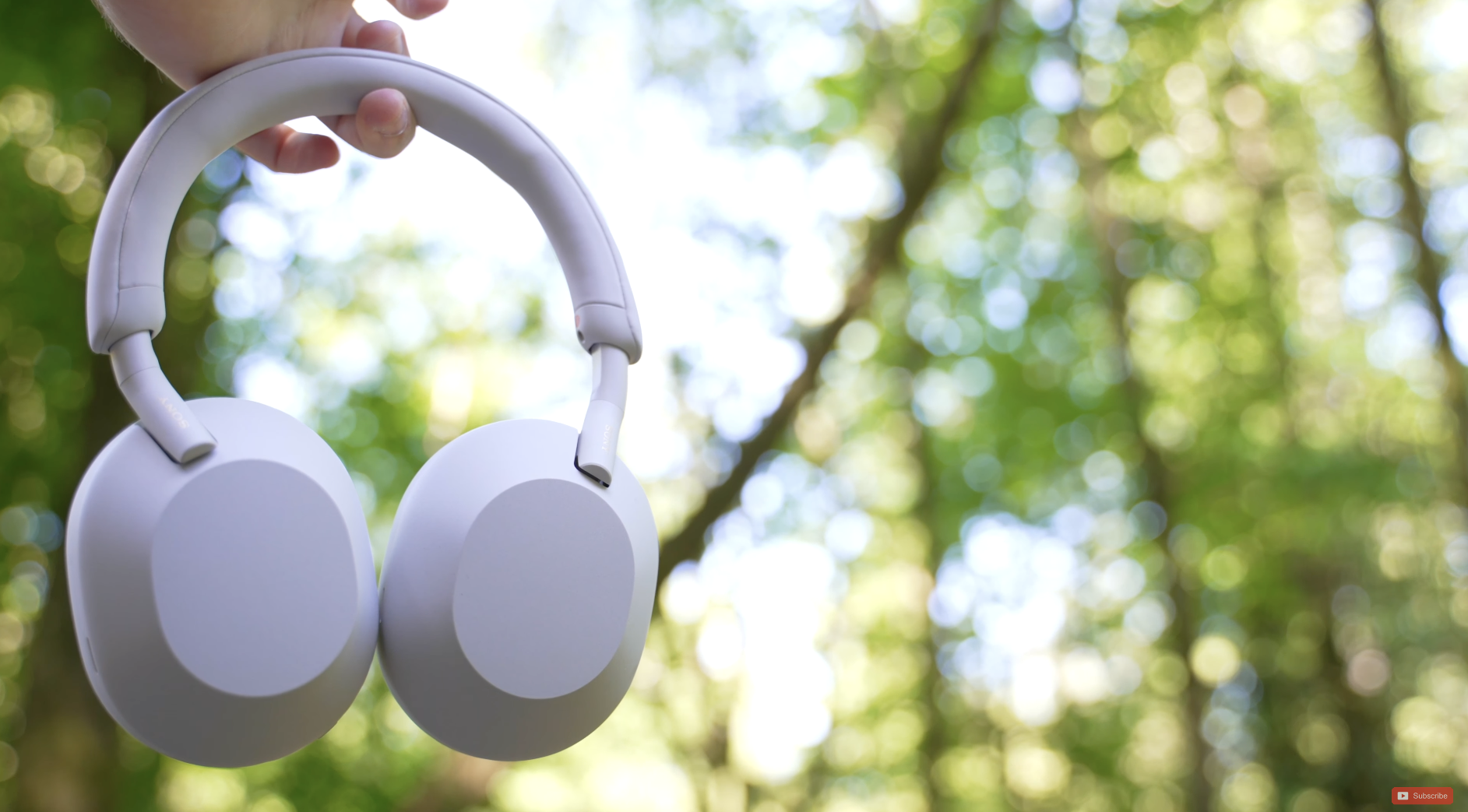 There is one thing that might annoy some people - when you wear the headphones around your neck, they'll only fold flat one way, which is with the ear cups facing outwards.
They still sit neatly when you fold them inwards which I don't have any problems with personally, but I know some people would have liked them to fold 90 degrees all the way in to have the earcups on the inside instead.
On the head, you've got a piece of relatively thin foam that sits on your head, and to the sides, they're actually solid because that's where the earcups retract into. Because of that, I found you actually get less support with these headphones over something like the Airpods Max which has a much wider mesh that wraps around your head.
With the XM5 you just get this small area on the top of your head and then the earcups which keep the headphones in place.
For me, this does actually mean these can feel a little uncomfortable after long sessions of wearing them. I think the band needs to be either thicker or wider to just spread the surface area where it rests on your head - but I definitely prefer the fit of the mesh band that you get with the Airpods Max as they do provide more overall support.
It's not a major problem, but if you're looking for some headphones you can wear any longer than a commute, maybe all day whilst you're working, then these might not be the most comfortable choice.
THE CASE
Something else that's all-new on the XM5 design is the case. This is also quite polarising from what I've seen in other reviews but I have to say, I love this design.
Because the headphones themselves don't fold down that means a slightly bigger case, BUT the thing that really annoyed me with the XM4 case was that I would never, EVER open up the case the right way up. If you open up the case the wrong way round, you'd end up tipping all of the accessories like the audio cord, charging cable, and airline adapter out of the case.
Well, they've fixed this, because the new case only really sits one way up, with the seam showing on the top.
Once you do open it up, they've got a new magnetised compartment for those accessories, so even if you did open it up the wrong way around for whatever reason, they still wouldn't come out.
There are also a few seams around this case which make it kind of look like the case might collapse flat, and it kind of does - but only if you take out the inner moulded part for the headphones themselves, which you wouldn't really do as the headphones wouldn't sit in there properly.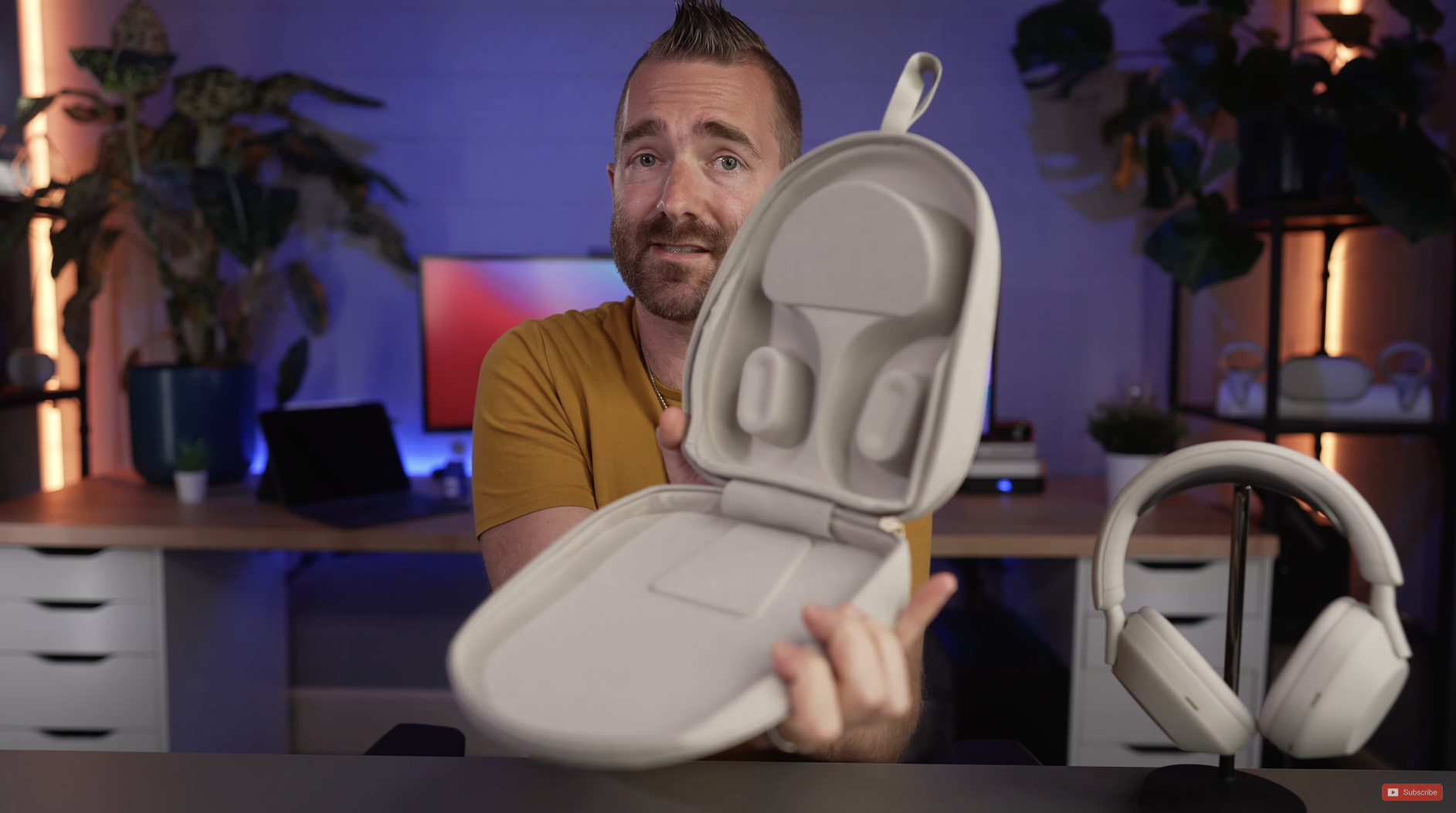 FEATURES
Let's talk a little about how these headphones work across both iPhone and Android devices, and then I'll cover how these perform on each of those devices separately in a moment.
Battery and Charging
So you've got 30 hours of battery life WITH active noise cancellation on. There's a USB-C Charger, and regular audio input, thank you Sony. If you're really in a pinch you can charge these headphones for just 3 minutes to get an extra 3 hours of playback which is pretty insane.
2. Active Noise Cancellation
Noise Cancellation is the flagship feature here on the XM5's and they are by far, the very best in active noise cancellation. Better than the X4's better than any Apple headphones too and so if you are just looking for a pair of headphones perhaps for travel, or for using in noisy spaces and want the best and quietest experience, then the XM5's are hands down the winner in this department.
3. Ambient Sound Control
Where these headphones aren't the winner though, is their Ambient Sound or Transparency Mode where at the push of a button you can hear the world around you, maybe to speak to someone, or listen for traffic or a baby crying.
They're still good at letting noise through when you want them to, but they're no comparison to the Airpod Max's which do make everything much more natural sounding. In busy environments I found myself taking these headphones off to speak to someone whereas I'd try to keep the Airpod Max's on, though I always feel it's still kind of rude to talk to someone with a pair of headphones on your head. Actually, I'd love to know, do you think it's rude? Let me know in the comments.
4. Controls
Control-wise we have touch controls on the right cup only, nothing on the left at all other than the manual buttons for power, pairing, and switching noise cancellation modes.
On the right, you can double-tap to play or pause.
Swipe up and down for volume and if you hold your fingers there it will continue changing the volume so you don't have to look like an idiot swiping up or down rapidly.
Forward and back to skip tracks.
You can hold your hand up to quickly hear someone or listen to announcements which will fade the music so it's barely audible and enable transparency mode quickly.
2 Fingers to manually enable or disable speak to chat, really useful if you like singing along to the tracks!
Similar controls whilst you're on a phone call, oh and you can also tap the power button to hear how much charge you have left.
THE APP
The App itself I actually really like, mainly because you can sync the app across multiple devices, and cross-platform, so if you're weird like me and use both Apple and Android devices, you can set up the headphones once, and then just sign in and bring the profile across to the other device as well.
The App works well for what it does. You can configure the Adaptive Sound Control's operation depending on the activity you're doing so if you're sitting, walking, running, or moving in transport, these are all pretty nice.
You can also enable some intelligent features like remembering the settings you use at specific locations, so if you use the headphones at work for example then you could tweak the settings to let in as much or as little noise as you wish.
That's something that is great about the ambient sound control on these headphones because you can dial the ambient sound from 0 to 20, and also tell it that you only want to hear voices and not other background noises, which all work great.
You've got the option to switch on Speak to Chat which will quickly let you hear others as soon as it hears you speak because it thinks you're talking to somebody. I will say that this is better on the XM5's than the XM4's. A few times on the XM4's I'd just cough, and the headphones would immediately open up for 30 seconds or so, thinking I was talking to someone when I wasn't. So no problems here on the XM5s.
There's an EQ that you can use to really tailor these headphones to your own preference. Whether you want thumping bass, a richer top end, or a flatter response.
My EQ Settings for the XM5s
One of the first things I do with a pair of headphones is to sit there for an hour or so tweaking the EQ.
I'm a drummer, so I like feeling the kick drum but I also like hearing the high ends of the hi-hats and cymbals, plus I also find that if you tweak the higher frequencies you tend to uncover things in music that you've never heard before. Hidden guitars and pianos are things that can easily get hidden in the wall of sound in some tracks.
So I bumped up the clear bass by +3, and then bumped up the 1k and 6.3k by +1, bumped up to 16k by +4, and then reduced 2.5k by -1.
That, for me, gives me a really nice listening experience for most audio tracks.
Again, this will be dependent on what your preferences are, and what you're listening to - spoken word, rock, pop, classical - I listen to a pretty wide range of stuff and have found that setting works really well for me.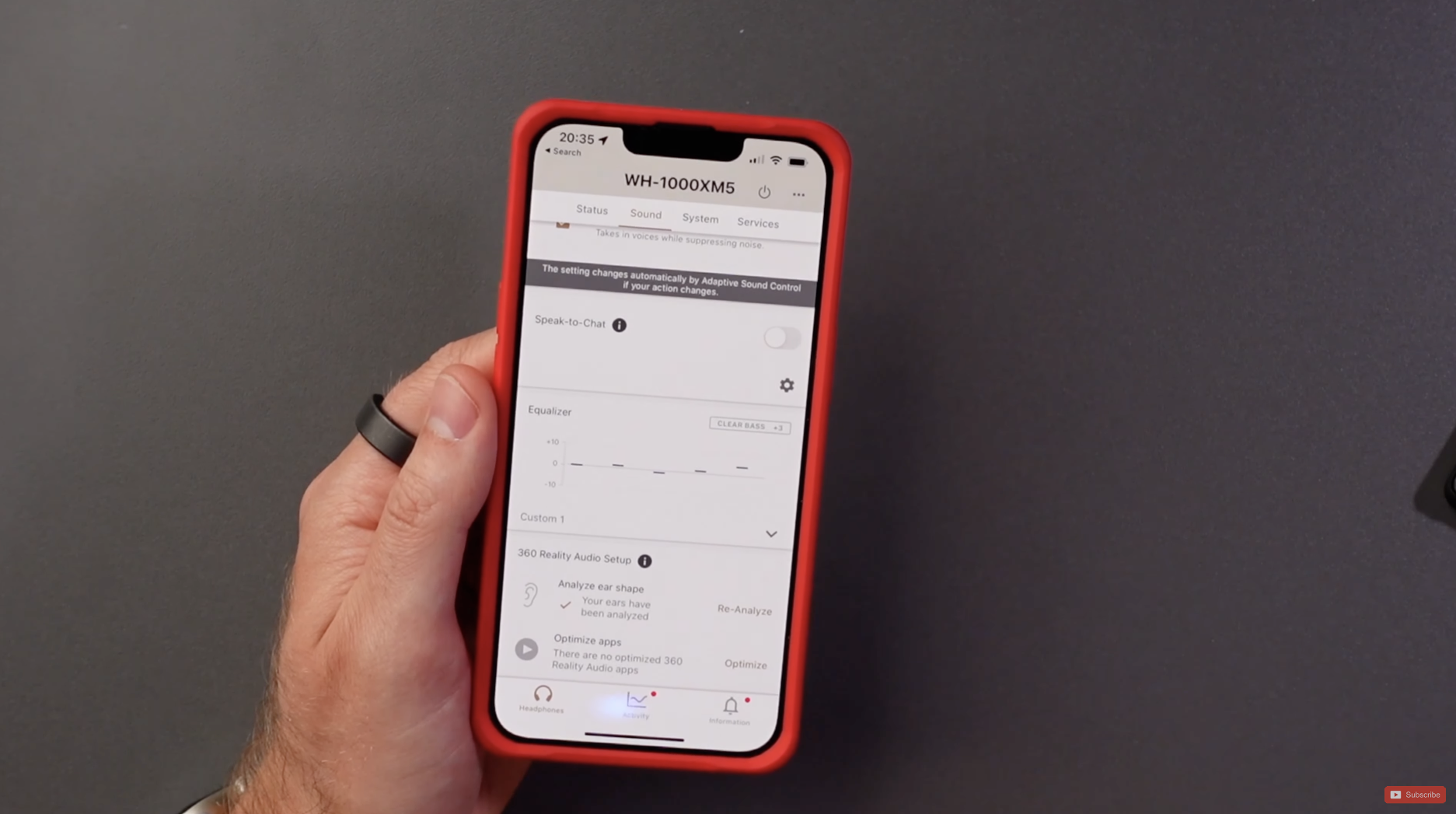 MULTIPLE DEVICES
The XM5's have a feature called Multipoint Bluetooth, and this will let them actively connect and play audio from 2 devices at once. This can be a great feature if you are say, playing a game on your PC and then taking a call on your phone, all without taking the headphones off.
Though a feature you do lose when using the multiple devices feature is Support for higher quality audio like AAC and LDAC.
Once this is enabled you can also go to the Status tab to control which 2 devices you want to specifically connect to.
QUICK ACCESS AND SPOTIFY TAB
There are also Quick Access options, one of which you can set up for Spotify Tap - which means you can just pop the headphones on and tap the button on the side twice, and it will immediately resume whatever you were playing from Spotify.
iPHONE
Over to the differences when using these on an iPhone instead of on Android. With iPhone, you get the Amazon Voice Assistant or Siri but you can't use your voice to trigger Siri, you'll always have to hold the headphones to trigger it, or have your phone nearby so that your phone, mac, or iPad picks up the voice triggers.
Using Alexa means that you are fairly restricted in terms of what the voice assistant can do for you when interacting with your actual phone.
So if you want to send messages, hear notifications and interact with your actual phone, then Siri's going to be the better option here.
With Alexa, You can of course do all of the things that the Amazon Assistant normally does for you. Ask it questions, play some music - which it does play via Spotify at least, which I prefer to use over Apple Music, but you can't ask it to send messages or read out messages or other notifications on your phone and so the assistant is quite limited in that respect.
Therefore, you either choose to use Siri but have to keep your Apple device close to trigger the assistant, or use Amazon's Assistant to get voice activation to work.
With Apple, you also don't get support for Finding your headphones if they're lost, that's something that's tied into the Google ecosystem.
BUT, as far as the rest of the experience goes, all of the other features work just great.
You get support for AAC for higher quality audio, but the better experience is going to be over on Android.
ANDROID
On Android, you get full support for LDAC for higher quality audio, so if you're using something like Spotify, Deezer HiFi, or TIDAL, then you'll get the highest audio quality that you can.
Though I will say that Spotify does support LDAC, it's not as high quality as when using either Deezer or Tidal which play at a much higher bitrate.
Over on Android we also have support for Google Assistant OR Alexa, but because you're using the Google Assistant on a Google operating system, you get a better overall experience.
In addition to the usual Google Assistant things, now you can interact with phone-level commands like opening apps, and sending messages, and particularly when using a Pixel I find this really powerful with their insanely good voice dictation which I'm still impressed with and that Siri can get nowhere near.
It's the equivalent experience of using Airpod Max headphones with an iPhone, but on Android - so I really do think that these XM5's are just the perfect companion to go with your Android phone.
You also get support for Find My Device which will let you locate your phone by using Google's Find My Device App.
AUDIO QUALITY
Let's talk about the Audio quality now because whilst I'm no audiophile, I do still appreciate a good listening experience.
Whilst the flat EQ provided by these headphones is pretty good across the board, the ability to tweak that to suit will mean these can be customised to your preference.
I've personally found the highs to be significantly lacking so you lose a lot of the detail in more intricate tracks, and whilst you can tone down the bass for yet more clarity, I like to muddy that base up by boosting the bass a little, just to feel the vibrations between your ears.
All in all though, due to the multiple EQ options, and the custom presets that you can save. These headphones definitely give a great listening experience regardless of what music you're listening to.
Considering these headphones are much cheaper than the Airpod Max's, in my eyes, these are fantastic value. Still expensive, yes, but you're getting the best of the best in these headphones.
MICROPHONE QUALITY
For Microphone Quality - to be honest, they're about the same as the XM4s and the Airpod Maxs, though I would say the XM5's take the lead slightly with better background noise isolation.
Where these headphones really do perform well though is when you're using them to speak whilst outside and in more windy conditions, as they really do a great job at removing the wind noise - so again, I'd say the XM5's take the win here in terms of the Microphone quality.
SHOULD YOU BUY THE XM5s?
The question that we all want to know though, is should you buy these?
The answer will depend.
If you have the XM4s, then there's probably not a huge reason to upgrade unless you are happy to spend that money to get the updated design, the better case and that slightly better noise cancellation on what was already one of the best set of headphones you could buy before.
I actually sold my headphones just before this review, for £185, so technically it cost me £195 to upgrade to the XM5s. I personally didn't think that was a bad deal, for the reasons I've already given.
If you're in that weird situation of switching over from iPhone to Android, and currently own the Airpod Max's - then I do think that there's reason to get the XM5s instead.
If these are going to be a new purchase, instead of an upgrade, then if you can afford it, these are definitely worth picking up.
I'm going to have a few more posts coming out soon around some of the best Android and iPhone accessories to buy, so subscribe to my newsletter for more of that, and I'll see you in the next one. Cheers!
💌 Sign up for the weekly newsletter: https://www.petematheson.com/newsletter