Following on from my recent 'Best Cloud Storage' post, Sync.com came out as one of the best for Individuals and Teams to Store and Share data securely online, and was pretty much the only one that offers Unlimited storage, at a reasonable price, as well as great privacy features.
Sync.com offers Unlimited Storage for $15 per user per month with a minimum of 2 users, but if you don't need that unlimited space then there are alternative options for both individuals or teams of people.
Because Unlimited Storage is such a Unicorn to find in today's world, I wanted to focus on reviewing the Teams Unlimited plan and break down its features and how its privacy protection is some of the best around.
On price alone, if you are paying for Unlimited Storage with someone like Dropbox, switching to Sync can save you potentially thousands per month, without needing to retrain your staff because it's such a familiar interface already.
For full disclosure, and after making my last review, Sync reached out to ask if I'd be interested in making a follow-up post, and well, the joke's on them, because I was planning on doing this anyway. So thank you Sync for sponsoring this one.
For full disclosure, and after making my last review video, Sync reached out to ask if I'd be interested in making a follow-up video, and well, the joke's on them, because I was planning on doing this anyway. So thank you Sync for sponsoring this one.
First, a quick mention about Privacy.
Sync's approach to privacy is one that really, all cloud storage services should follow.
Sync does not have access to your data and doesn't allow anyone else to see your data. They also do not share your data with third parties. They're literally one of the only companies I know of that have actual, real-life phone support. Just imagine! Being able to pick up the phone and call someone when you have a problem. No more submitting a ticket and waiting hours or maybe even days for someone to come back to you.
So let's hop into the software now to show you how it works - and for full disclosure here and since making my last comparison post, I have signed up as an affiliate for Sync because it's now a service that I use and like myself, so if you do choose to use the link to sign up which will be in this blog post, then I will earn a small commission for you doing so, to which I say thank you very much if you do.
So, let's take a look at Sync, which is going to have some similarities with other file sharing services that you may already use, particularly Dropbox but it's better in a few key areas.
With Sync, You can store files online, in either a web browser, with a local client application for either Windows, or Mac which you can install, or from a mobile app.
The name kind of gives it away, but anything you store locally in your Sync folder will be synced online.
So, you have the web client, and you can see that I've got a folder for my Video Files, and one for my private collection of cat photos because I'm happy and safe in the knowledge that these files are only my files, and nobody else's to peruse at their leisure.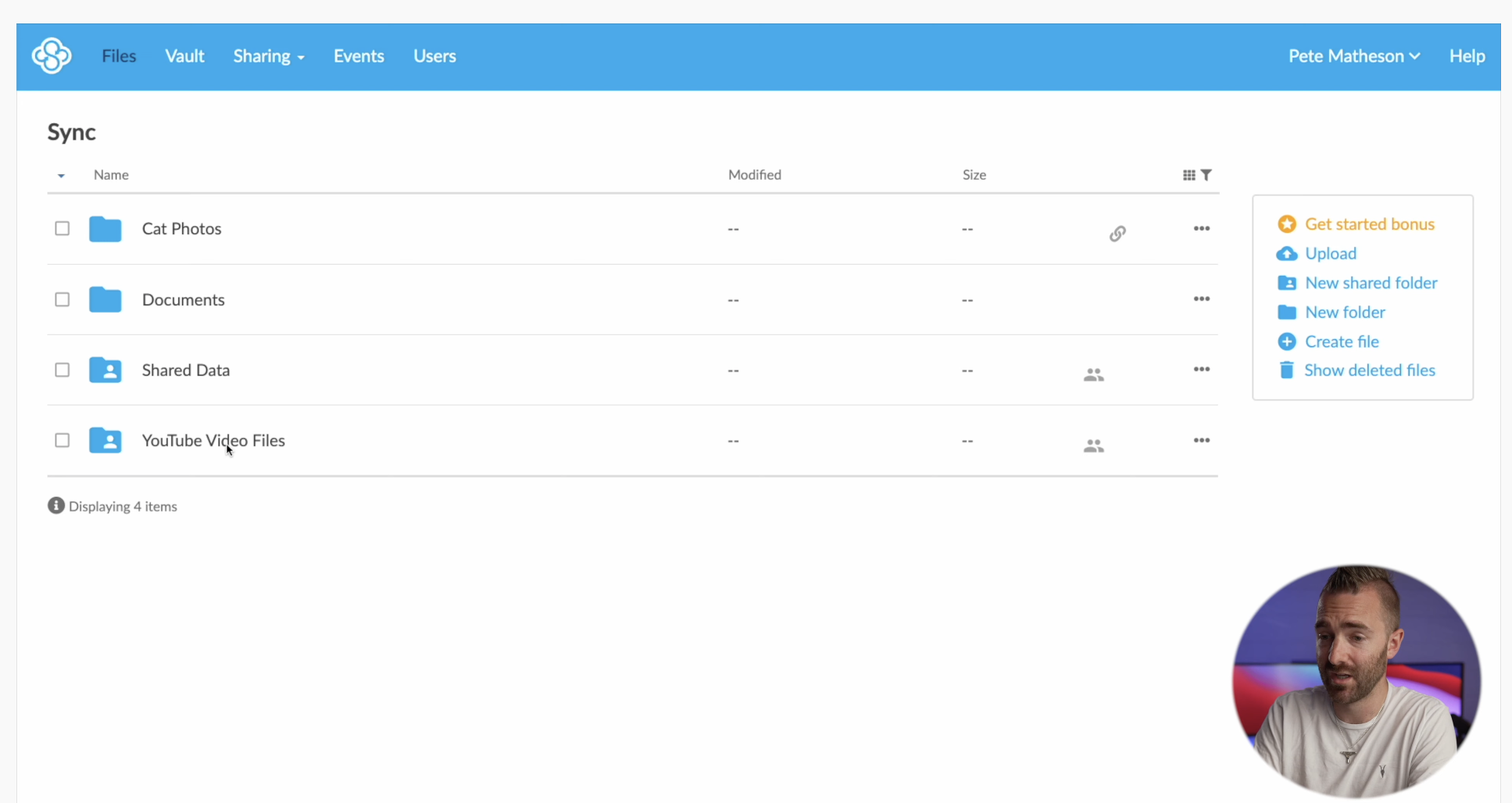 For me, the ability to have unlimited storage with Sync means that it's the perfect place for me to actually upload and store all of my video files which I then send over to my video editor to download, and put my YouTube videos together for you to watch. It's been fantastic at using it for that purpose. This is where Sync shined for me, because it allows teams small or large, just like mine to share and collaborate.
Let's hop over into the desktop client now, and, it basically just shows up like any other folder on my computer, and anything I drop in will then get uploaded into my secure Sync cloud. You can also see shared folders which all of my other team can access.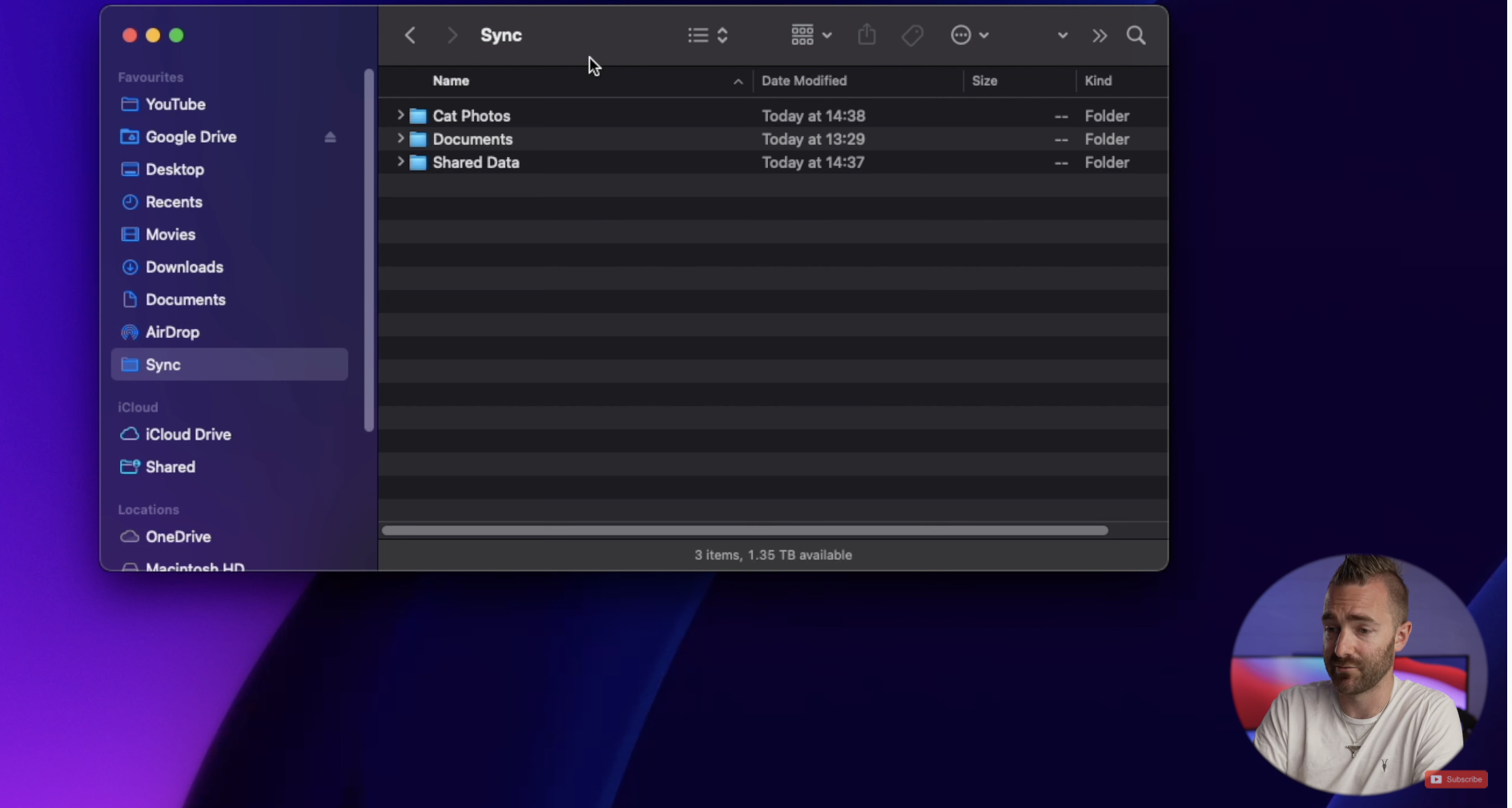 In preferences, you can decide where you want that local folder to be on your computer. It can be anywhere, including an external drive if you don't have enough local storage.
Under Progress, you can see exactly which files are currently uploading or downloading, which is great to understand what's actually happening on your computer.
Then under the Advanced tab, you can actually select which folders you'd like to sync. This would typically be because perhaps you have a huge file in one of those folders and you don't want to use up valuable storage space online - which isn't a problem anymore with sync if you're on their unlimited plan.
Or perhaps because you didn't trust the online service, which isn't a problem anymore with sync.
Or perhaps, you don't actually have the space locally to store these files. Speaking of which, Sync also has a feature called Sync Cloud Files, which mirrors the Smart Sync feature of Dropbox, where it will prevent your Sync files from taking up space locally.
This is how I operate, because we have terabytes of video files I want to store in Sync, and we don't all have terabytes of storage on each of our machines. So Cloud Files allows us to still see everything in our Sync drive without it taking up a huge amount of disk space.
Whilst we're here, let me address another concern over these Sync types of products, excuse the pun, where they just sync your data online. Sync.com offers up to 365 days of file history and recovery, which beats pretty much all cloud storage services out there today. Even dropbox only has 180 Days on its highest plan. Therefore you can be safe in the knowledge that if you accidentally delete a file, or catch a virus, or ransomware, you can use their built-in rewind feature to get those files back, all the way to 364 days ago.
Another way that you can work around the issue of not having enough local storage, is to use their Vault feature, and Vault is a Cloud-Only storage location within Sync.
It's still ultra-secure, with all the same privacy as the desktop and web client, but it takes those files away from being accidentally synced, deleted, or changed in any way, and moves them to this online vault which you can still get to via the web or mobile apps. Just not the local desktop app.
So let me just run you through some of these features briefly.
We're going to be using the online version, just to show you how this works.
From here you can go to your Files and see all of your synced files. You can add new folders, move things around, and toggle to view any deleted items as well. All good stuff.
To share something with someone that's not a Sync user, you just click Share, share as a link and here you can grab the URL, add their email address, and then click on Settings to get to the good stuff.
Here you can set how long they have access, what permissions they have, the privacy settings email notifications, and whether they can view only and not download. There is a tonne of settings in here. Then just click Save and you send that link to your friend.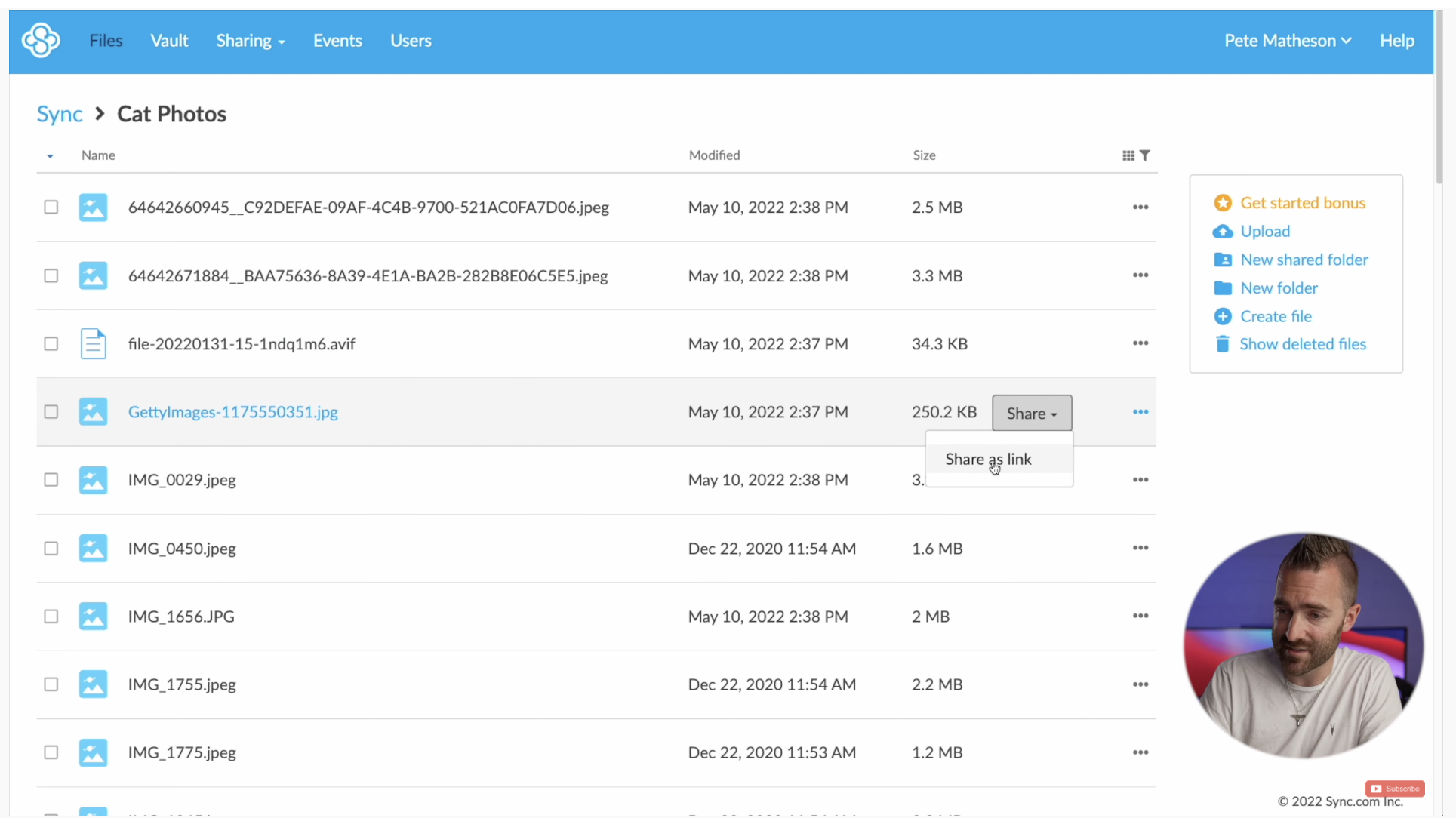 If you did want to move anything, you can just check the box next to the folders or files, click on Move, and from here you can move things to another folder, a shared folder, or remember the Vault we mentioned earlier - you can move things to the vault here too.
Then to see what's in the vault, just click on Vault at the top and it works in the same way as the Files section does.
Under Sharing and Team Shares, here is where you can create folders that are shared between you and other team members. So for me, I have a folder for me and my video editor, and as I said, any files in here will automatically get downloaded to his machine, ready to make my YouTube videos.
Creating a folder is as easy as clicking Create, typing in a name, the list of users you wish to invite, and setting their permissions, and away you go.
This kind of simplicity is actually quite nice to see in a product, particularly with the move to remote working - the thing that a lot of companies and cloud storage providers struggle with is a simple shared folder structure. So it's good to see that Sync makes this easy to set up and manage.
You also get activity logs and notifications so you can track changes, as well as see previous versions of files with up to 365 days of version history.
You've also got the ability to see the Links that you have created in one place. This is really great after a while of using this just to see what files or folders you've shared and then forgotten about, and you can delete any links you don't need anymore too.
Under events, you can see exactly what's happened, when and by whom. Again, really powerful if you want to track down who's deleted a file or shared something they shouldn't have. Then we have the users tab where you can just manage the users you've paid for with your Sync account.
There are some other features that are worth checking out as well if you click on your name and go to Settings. From here, you can brand your Sync account by uploading a custom logo and changing the colours to match your preference or company colours. This is a really simple but nice feature to have if you are using this across a business.
You can also enable 2Factor Authentication, something I'd highly recommend you do with any online account. They support Email or an Authenticator App, I'd recommend the authenticator App personally.
So as far as Sync goes, and like I said before, it is a bit of a Unicorn when it comes to online file sharing, cloud storage, and data backup. Because there are some things that Sync does that nobody else offers.
Firstly is that they have some of the best privacy protection around, and secondly, they have an easily accessible, unlimited storage option at a very reasonable price.
Something I'd also recommend you do now is to go and read this post about finding the best password manager.
Like cloud storage, there are lots of options out there for password managers, but only a handful of them actually care about your data as much as Sync does.
Thanks for reading, see you soon!
🛒 Sign up for Sync.com: https://geni.us/synccloud