I've been an Xbox Gamer for over 15 years, and today we're talking about THE best accessories you can buy for your Xbox Series X or S.
There are a whole host of accessories from the controller, to audio, to the tv you're actually playing on - so today we're going to cover off a few accessories that I believe every Xbox gamer should get to go along with their latest Gen Series X or S Console.
HEADSET AUDIO
Microsoft recently released their own Xbox Wireless Gaming headset, and it is relatively affordable compared to the likes of other well-known brands, but is it really worth getting?
My answer here is actually no. I sold mine a few months ago before making this post, but the sound quality, whilst it was really great, was also REALLY bassy. They were also loud enough to give you a headache when playing shooter games like Call of Duty, and I found the audio controls on the headset itself too clunky. To top it off, I also found the headset to be uncomfortable and after a couple of hours of gaming, it was quite nice to take them off.
On the other hand, I am yet to test out any wireless headsets that are better sounding, or more comfortable than the Steelseries Arctis 9X Headphones.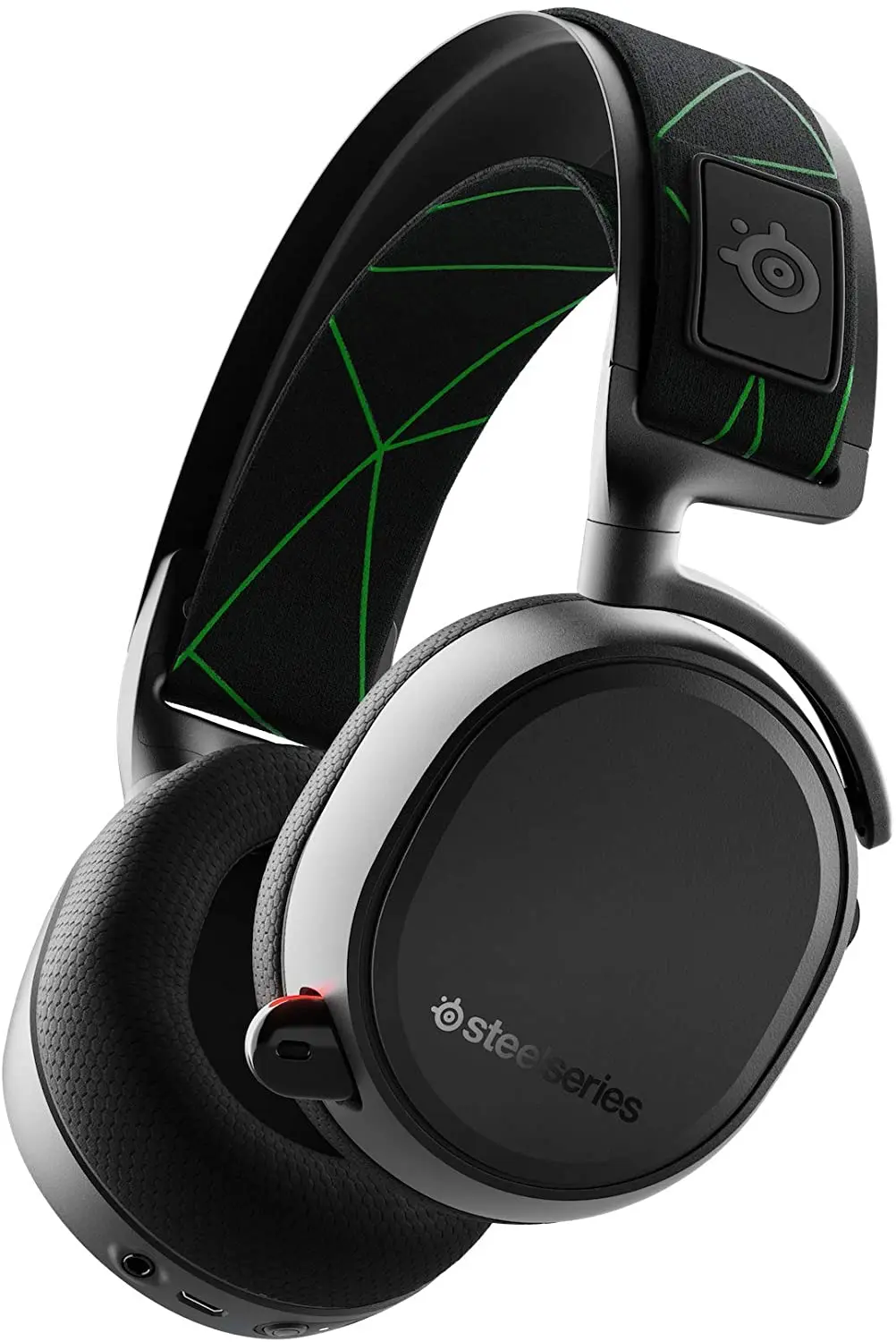 Steelseries Arctis 9x
Buy on Amazon
Yes, they are on the pricier side of things, but for something that you might be using every single day, and for a few hours at a time, I felt it was worth it.
These things are so comfortable that I genuinely forget I'm wearing them whilst playing. The audio quality is very good and more balanced overall than the over bassy Microsoft headphones. The controls are really intuitive so you can easily adjust mid-game, and neat features like the red light on the Mic when it's muted and being able to tuck the mic away just makes them a pleasure to use.
They connect straight to the console, but you can also connect them to windows PC to get access to finer EQ and gameplay settings as well as install firmware updates. That's the headset audio done, what about speaker audio?
SPEAKER AUDIO
I have always recommended a proper surround sound setup with an AV Receiver and Speakers, but without getting into audiophile-level audio and blowing a tonne of money, I'd recommend something more mid-range and that is the Sonos Beam. For the price, they deliver really punchy and clear sound when playing games of all types, and as they don't take up a tonne of space, they are the perfect companion for most TVs.
The Sonos Beam connects via HDMI to your TV's Arc port or Optical audio, as an ethernet port to wire into your network or can work wirelessly, and can be wall-mounted if you wanted to put it directly under your TV.
It has built-in Alexa and Google voice assistants, Airplay 2 Compatibility, and a handy feature that syncs to your TV's remote so it can control your TV. All in all, a brilliant piece of kit for the price.  If you start adding on the surrounds and sub, you'll not be far off going for that full audiophile experience of the AV Receiver so just keep that in mind if you think you might buy the Beam, then a couple of surrounds, then a sub...
STORAGE
Next up is storage, because I'm sure we are all pretty surprised that both the Playstation and Xbox only ship with 1TB of Storage. This is even less once you take into account the operating system. Xbox has its own solution which costs a staggering £220 for a 1TB Expansion card. For the Xbox, you can grab a Samsung T7 SSD. The one I have is the 500Gb Version, and it's pretty affordable but also, more importantly, It's fast. Very fast.
Whilst you won't be able to play the latest-gen games directly off the drive, you can play last-gen titles straight from the drive without having to copy it across. You can also use the drive as just a way to keep your less played latest-gen games as it's quicker than having to re-download the whole thing again. Maybe one day in the future Call of Duty won't take up half of the storage space and thus means we won't need external storage, but for now - it is what it is, and this is by far the best, fastest, and most affordable drive that I've come across.
CONTROLLERS
With the Xbox, it's basically a choice of a multitude of coloured first parties, an almost unlimited number of third parties, or the Elite Controller which Microsoft launched a few years back with the last generation of Xbox consoles.
I have to say, that after gaming with the Elite controller for the last year, it's an absolute dream to play with.
You get used to having the additional buttons underneath really quickly, and now I can game most of the time without ever needing to take my fingers off the joysticks because I can use the triggers underneath instead. The adjustable trigger depth is also really handy when switching between shooters where you might want basically a button, and racing games where you want the full trigger to accelerate.
My ONLY complaint about this, is that after a year of playing, I am getting stick drift on the left joystick, and because I bought it second hand, it's not covered by warranty, and I just can't bring myself to pay out for another controller. BUT, at least this time around you can use the Xbox Accessories app to adjust the dead zone to counteract stick drift to a certain amount.
Other than the stick drift, the controller is really comfortable, definitely adjustable if you want to drop in other styles of joysticks or dpads, battery life is great, the included case works nicely as a charging station and it's just an absolute pleasure to play with.
GAMING TV
Next, we have the TV, because of all things, the TV is probably one of the most, if not THE most important accessory if you could call it that.
I purchased the incredible OLED, 48" LG C1 which is mind-blowing for the quality of graphics that you get when playing games in 120Hz and with that OLED panel. It shows all of the blacks at their blackest and gives such great colour and smooth performance to an already great performing Xbox. I think this really does bring out the very best of the Xbox. I'll be honest, I bought this kind of thinking I wouldn't notice much difference than with my 2015 model. But damn, I definitely do!
The TV supports absolutely all of the next-generation display modes that the console can check for, and as the Xbox has a pretty good selection of games that support full 120hz gaming, you'll be able to play your favourite titles nice and smoothly and in the very best image quality possible.
If you look at the 48" Model then it's relatively affordable given the quality that it delivers, but of course, it isn't a cheap accessory by any means.
I won't bleat on about this TV for too long though, because I made a separate blog post all about that.