I've been excitedly waiting for the 49" Samsung G9 OLED ever since it was announced! And now it's finally here!
Before this upgrade, I've owned and used, as my daily driver, the original 49" G9, then the G9 Neo, and I've racked up thousands of hours of use across these screens.
And this OLED model is uh... pretty good.
But there are a couple of issues I've experienced with this screen which means I have to send it back… More on that in a bit.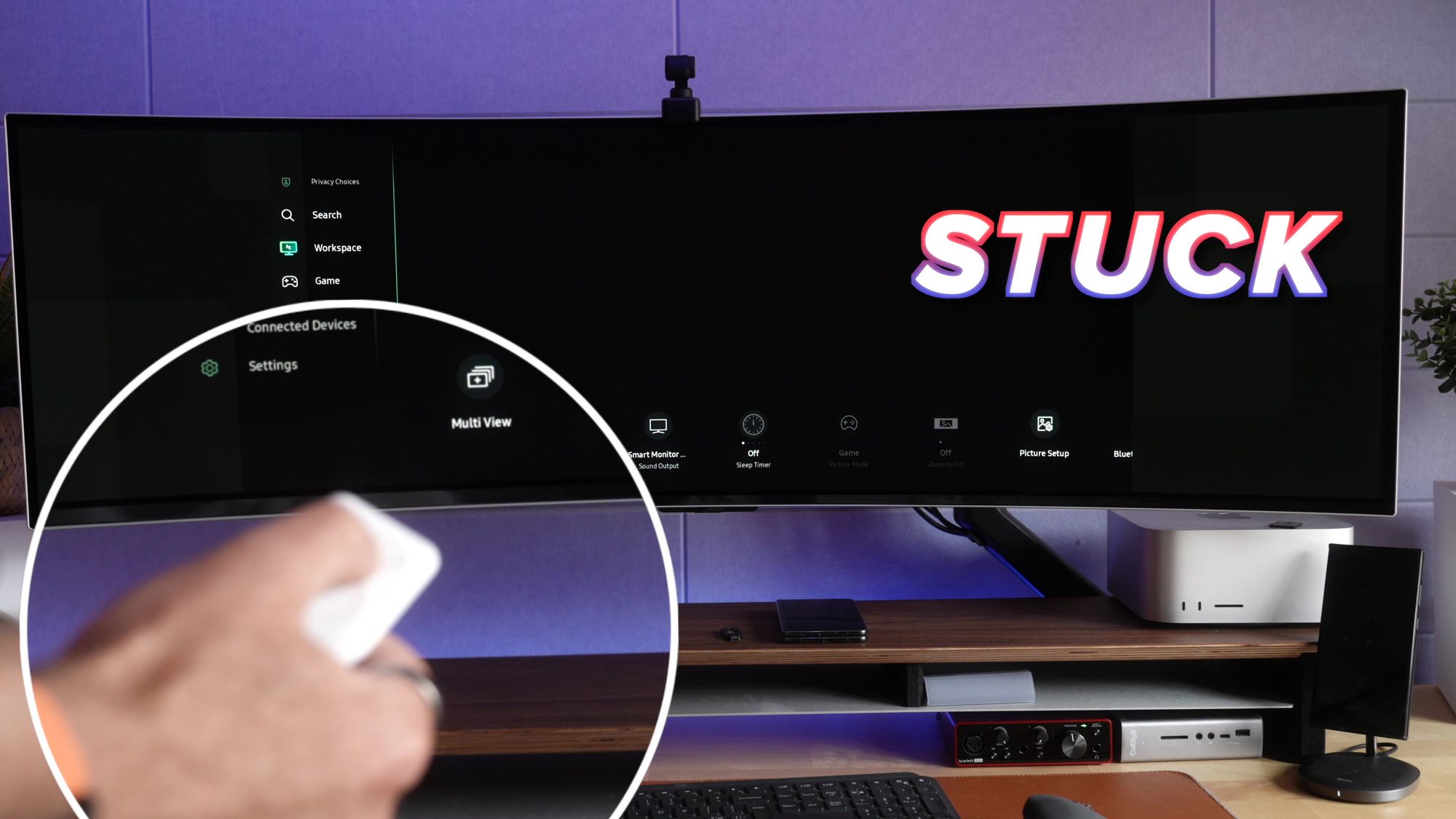 But before I get into all of that, let's run through the specs, and explain how it compares to the older models.
Specs
We've got the same 49", Ultrawide, 240hz screen that we've seen before, but that gorgeous 1000R curve has been replaced with a, well, less curvy, 1800R curve.
Honestly, that's a real shame because I definitely liked the curve of the old one ;)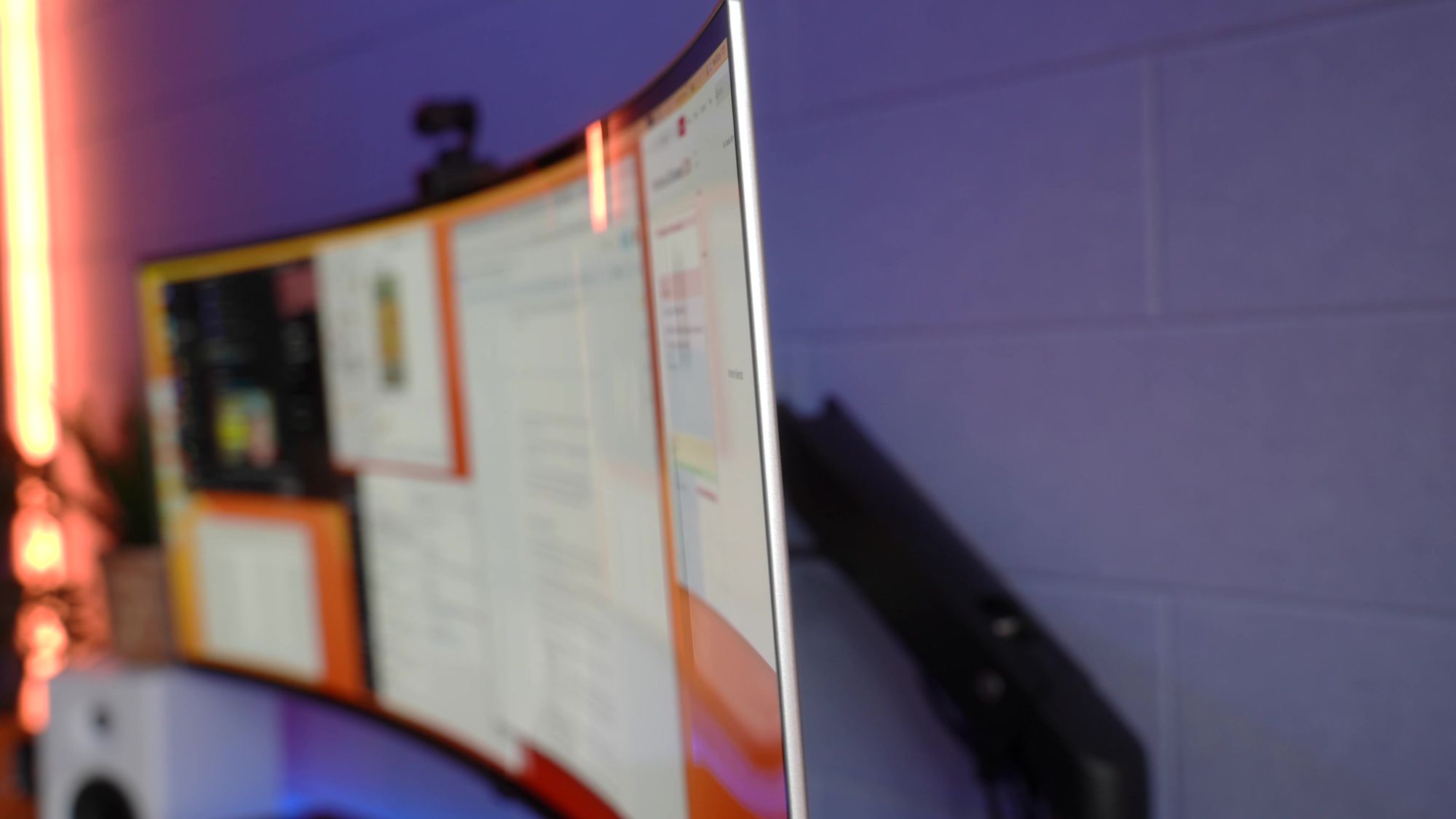 But with that said, it still runs at 5120 by 1440, and now of course, with that beautiful OLED panel.
There's a full-sized HDMI 2.1, a Micro HDMI 2.1, DisplayPort 1.4 Port, and a variety of USB-C ports. Though you can't use any of them for display, they're just a USB hub.
The old-school menu system is gone, instead replaced by the - love it or hate it - Samsung Tizen interface.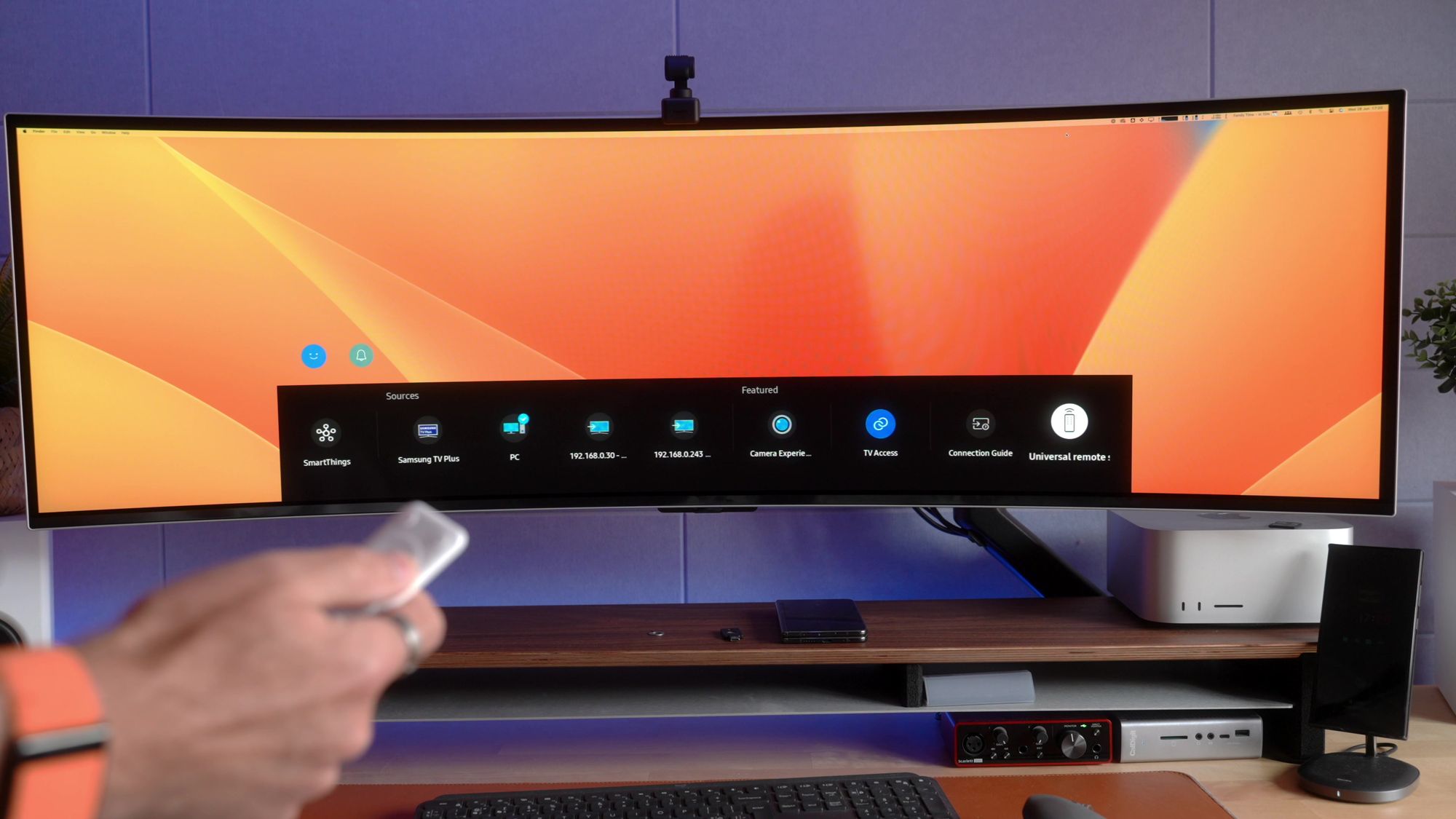 It sports DisplayHDR True Black 400, with a 0.03ms response time and AMD FreeSync Premium Pro.
And, from purely looking at the specs, Samsung are advertising this as primarily a gaming monitor. But I do disagree. I think this makes for a great all-round productivity, content consumption AND gaming monitor.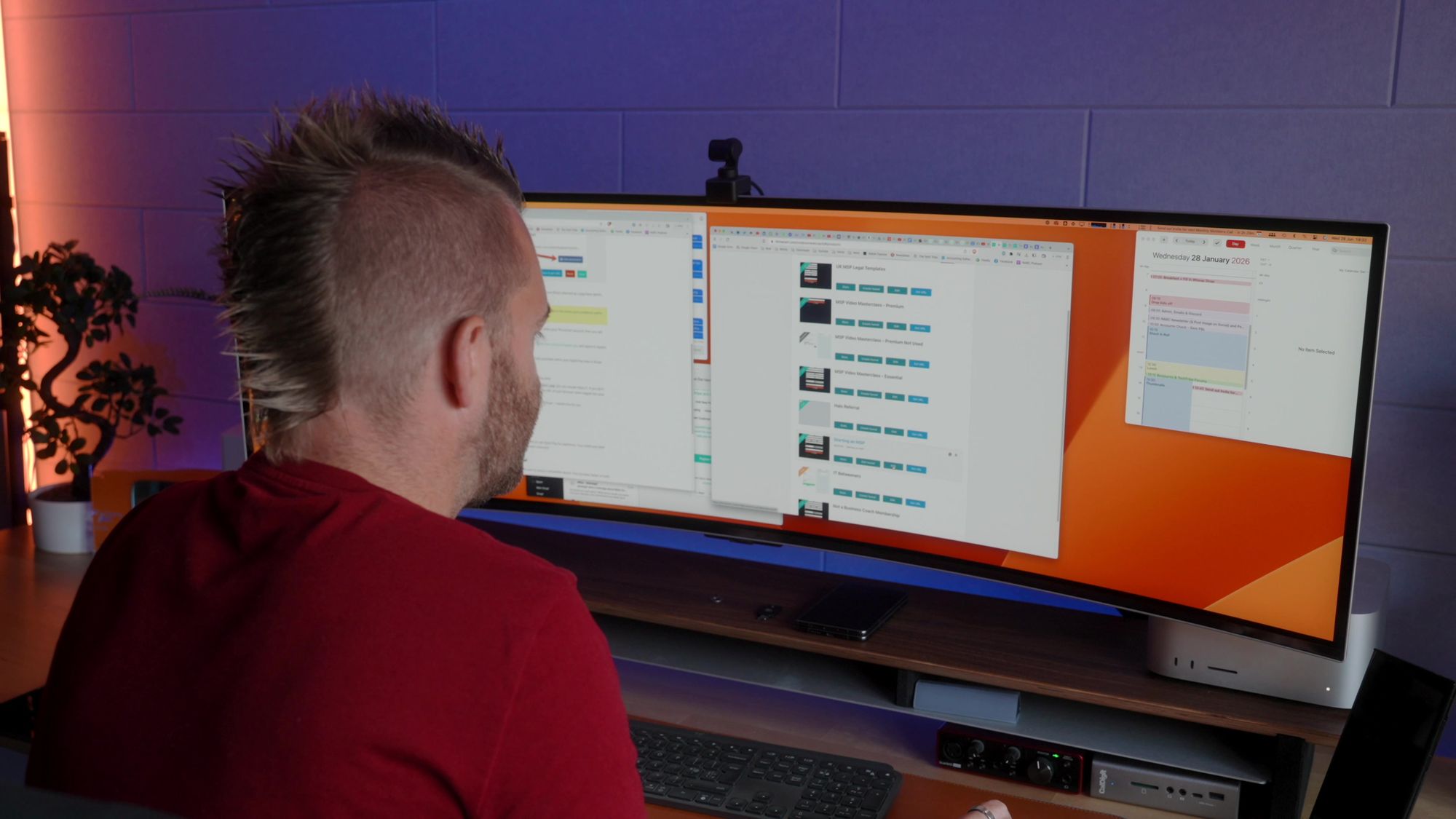 Design and Quality
The fact is, this screen looks SO much nicer than it's predecessor, and it also weighs almost 3Kg less than the G9 Neo, which is really helpful when moving the screen around or mounting it to a monitor arm.
It's thin, tapered edges just makes the whole screen look sleek in comparison to the fairly chunky build of the older model.
And because of this, the screen itself actually sits back a little further on the desk because the body behind it isn't as thick anymore, which does help with keeping everything in view.
As I mentioned earlier, one issue I do have though with this screen is their decision to go from a 1000R curve, to a 1800R curve.
Having a less, curvy, errr, curve in the display means that when you look to the far corners of this screen, it does feel a little distant, and sometimes even needing to adjust your head a touch so that you can see or read what's in that part of the screen.
Compare this to the 1000R curve, which is shaped more to wrap around you, mimicking your natural field of view with your eyes, where you have to use a little less effort to make use of the full size of the screen.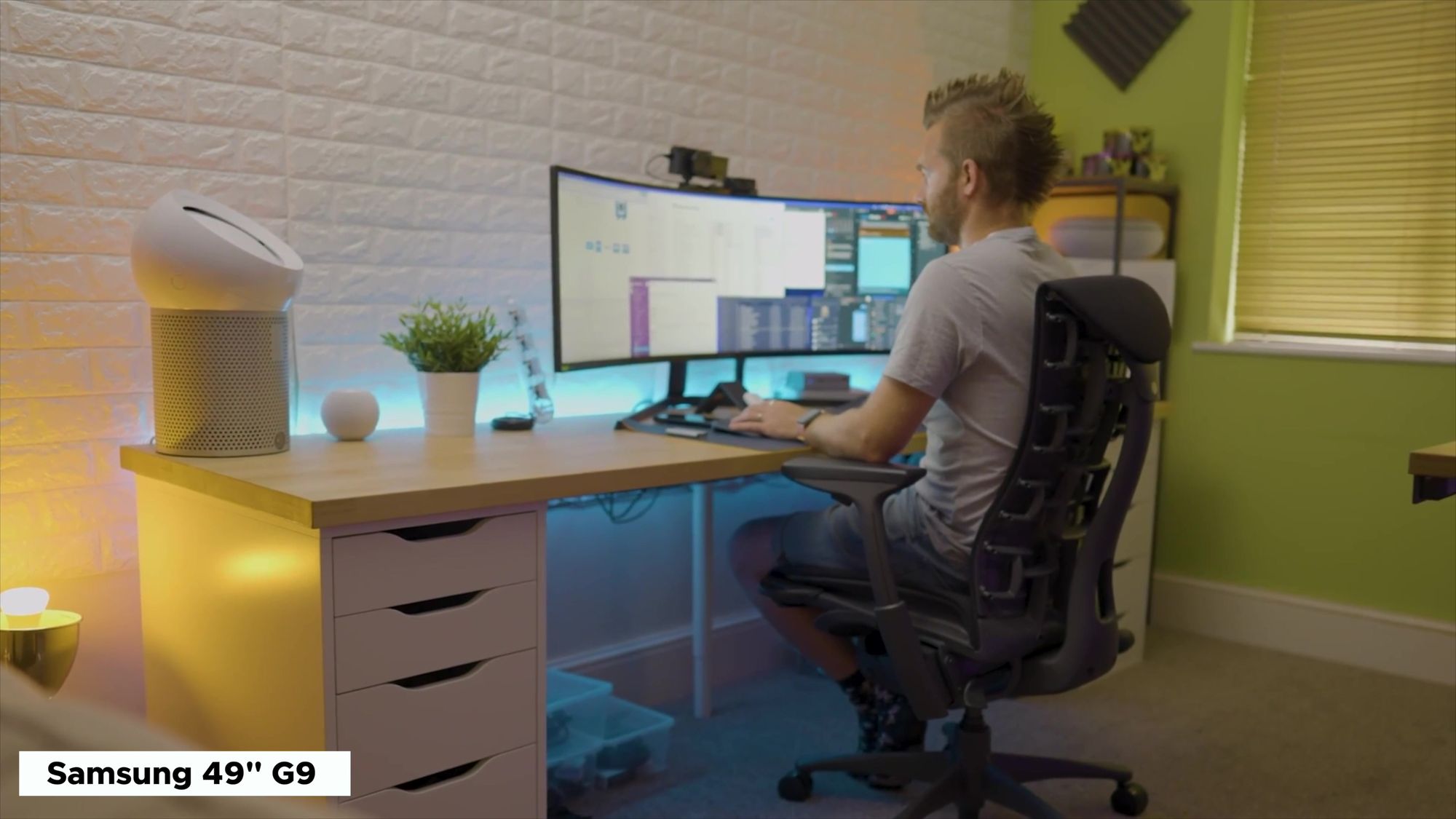 And one other thing I was hoping would improve in this latest model are the bezels around the edge. They're basically the same, if not slightly worse, as now there's this reflective strip at the bottom which acts like a mirror if you have a bright source of light like a window next to you.
Infinity Core Lighting
The G9 OLED still has the Infinity Core lighting on the back of the screen which honestly still feels a bit pointless to me.
It's just not bright enough to be of any use.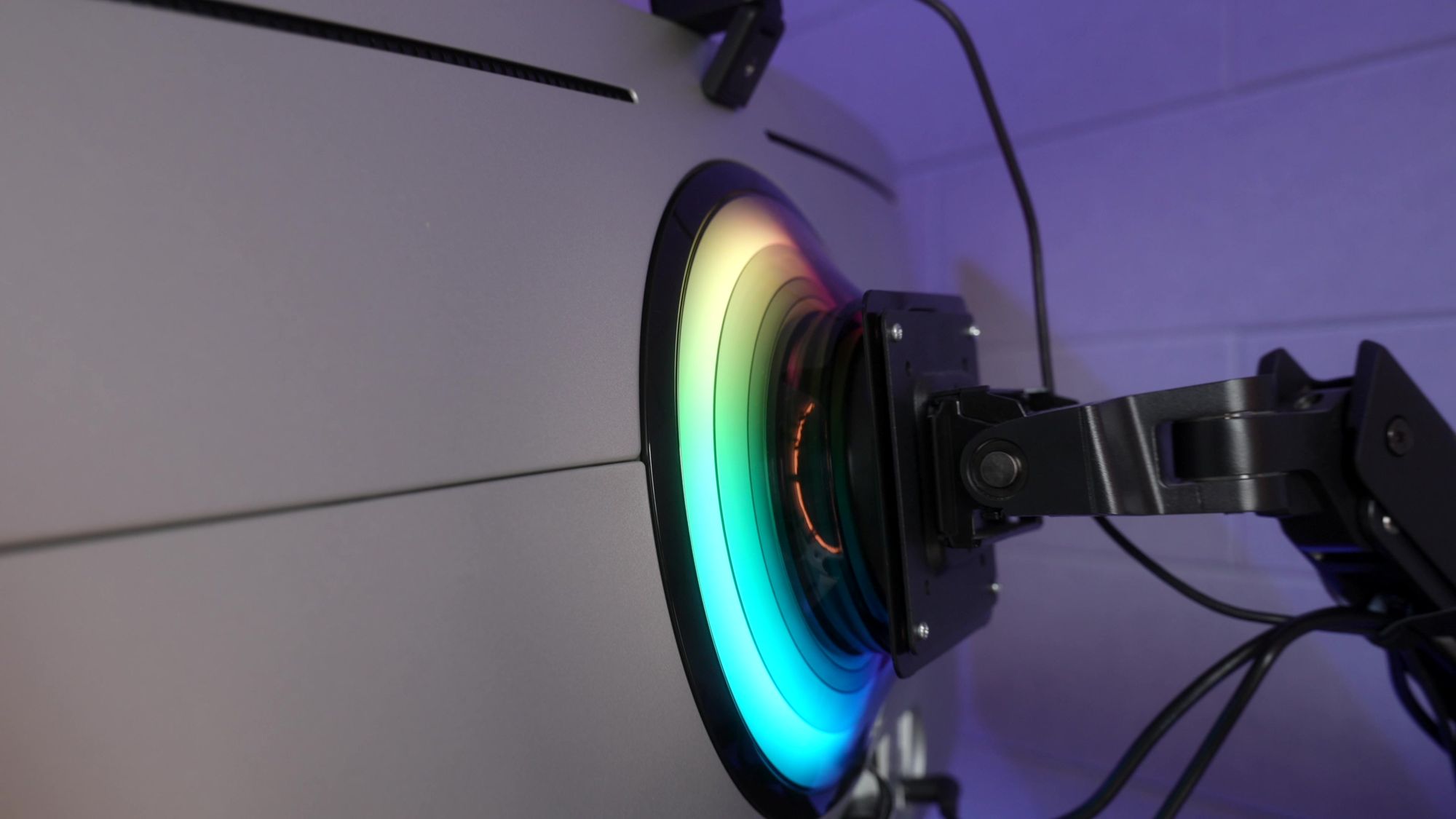 Even when you back the screen onto a wall, unless you're sitting in pure darkness, you're not going to be able to see the lights reflect onto the wall at all.
So for most people who like that kind of thing, you're probably just going to switch this off, and you're still going to want to look at alternative options such as fitting an LED strip behind your monitor if you are looking for more immersion.
Screen Quality and Colour
The good news though is that, at least on the side of the monitor that's important, the new OLED technology looks SO much better than the previous G9.
And after using the screen for a while now, I can tell you that it is an absolute pleasure to watch content on this thing.
The blacks are really deep blacks. Colours are vibrant. And, whether you are using this for productivity or for hardcore gaming sessions, I do notice the improvements constantly whilst I'm using this screen.
The only areas where you do lose out is in terms of peak brightness. With day to day use with the Mac, the brightest I've seen is around 590 nits. So it does actually fall short compared to the previous generation G9 NEO.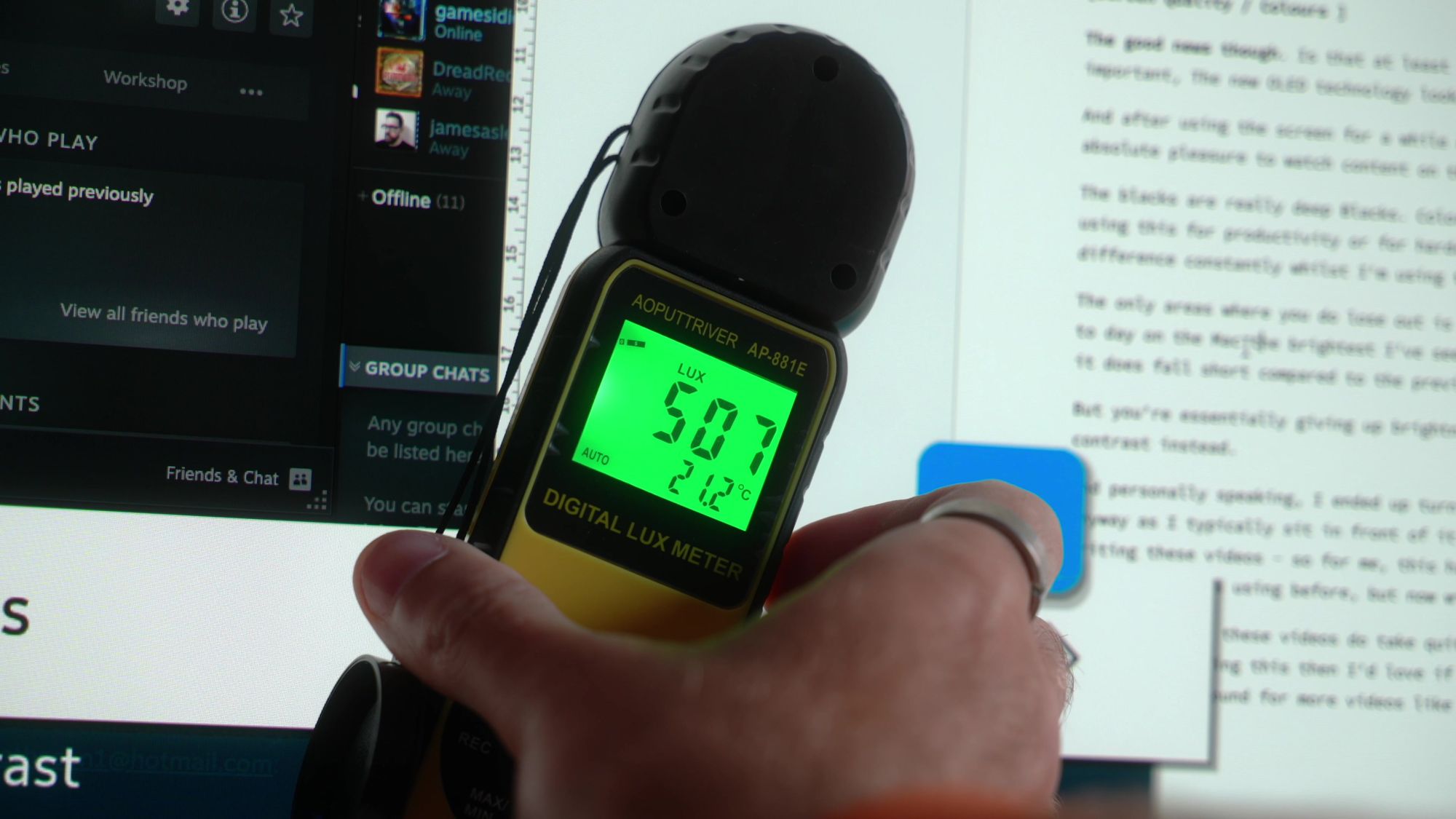 But you're essentially giving up brightness for better and more accurate contrast instead. Which I think is a fair trade.
And personally speaking, I ended up turning the brightness down on the G9 Neo anyway as I typically sit in front of it for hours at a time researching and writing these videos. So, for me, this has been an upgrade to keep the same brightness I was using before, but now with the richer contrast.
One other area which I've noticed an improvement on is the clarity.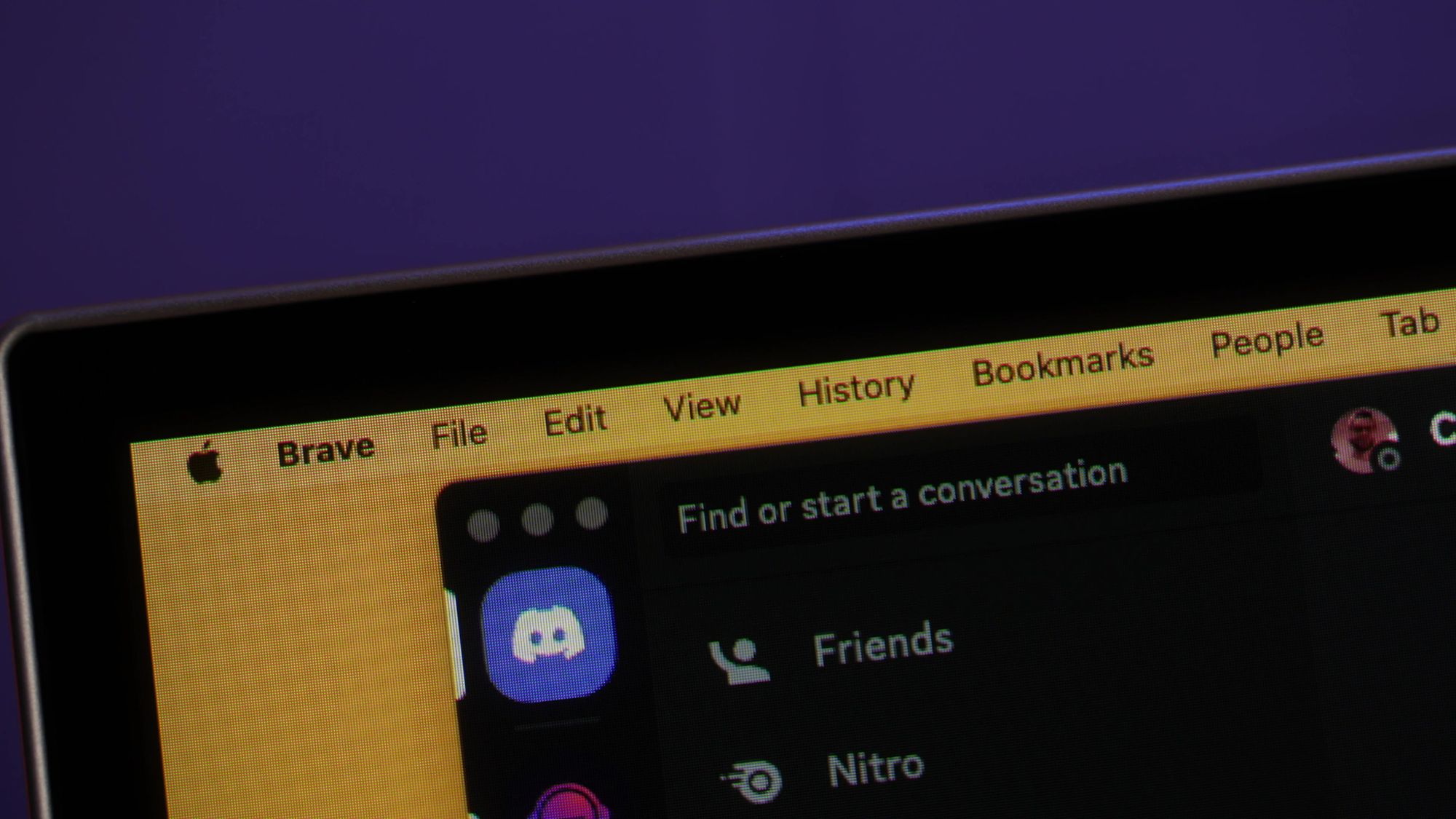 Which, I'm not sure if it's a placebo, since both of these screens are 108 pixels per inch, but the OLED just looks much sharper to my eyes. Probably because of the fact it's an OLED instead of the multiple dimming zones of the Neo. But either way, it just looks and feels sharper overall when using it.

Connectivity and Issues
In terms of connectivity, the good news here is that there are options: A big HDMI, a Micro HDMI, and DisplayPort.
And as a Windows user, you'll likely have no problems getting the best from this screen. 240Hz, 5120 x 1440 resolution, beautiful.
It's a shame they didn't include USB-C though - because the Mac experience was not fun for me to get this thing setup.
Most of these issues actually stem from Apple not including HDMI 2.1 on anything but their latest generation machines, as in machines they've literally just launched last month.
And I had this same issue with the previous 2 generations of this screen, which I fixed by buying a USB-C to DisplayPort cable. And that worked just fine and let me get full resolution at 120hz.
But for some reason, this fix doesn't work with this OLED model.
I tested it on my M1 Mac Studio, and my M2 Macbook Air, and neither of them worked using that cable, which still works just fine on the G9 Neo.
I did get a signal using the HDMI cable, but since the Mac Studio doesn't support HDMI 2.1, it couldn't get the full resolution or anything above 60hz.
And in fact, I was in such a rush to set this screen up, because I thought it would be pretty much plug and play, that I had to sit through an hour long video call with my colleague, with awfully stretched resolution.
So much so that when I looked at my mobile phone screen just after the call, my vision was totally screwed and the phone screen looked like everything was really tall and thin! It was so weird.
What eventually fixed the problem for me, was having to pull out my old friend, the Caldigit dock.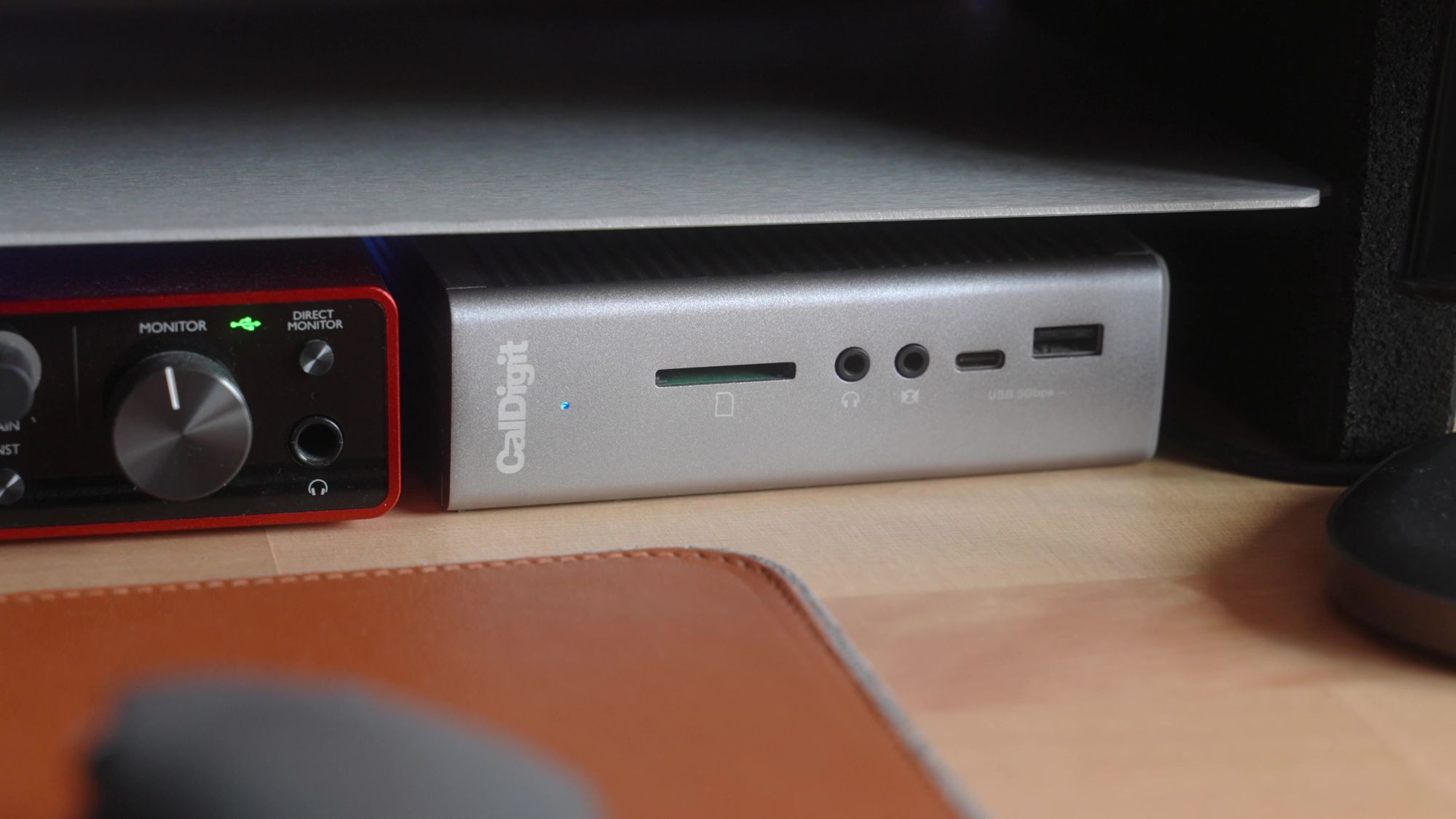 I take a USB C cable from my Mac Studio, to the Caldigit. Then from the Caldigit I go DisplayPort to DisplayPort, and that works just fine.
And by fine, I mean I get a maximum 120hz.
Which, yeah - that does suck, but that's no different to any of Samsung's previous screens.
Interestingly, I tested an LG Ultrawide monitor recently, and THAT worked flawlessly, at 240Hz without any of this faffing about.
So, Samsung! Please add USB C, and please make sure that your screens work with Macs, because right now - they don't. Not without an awful lot of adapters and cables and docks, which is totally unnecessary.
Remote Control
Moving on though - and one more thing that the newer generation of Samsung screens come with is a remote control.
I personally like the idea of using a remote control instead of using the, sometimes fiddly, buttons on the bottom of your screen.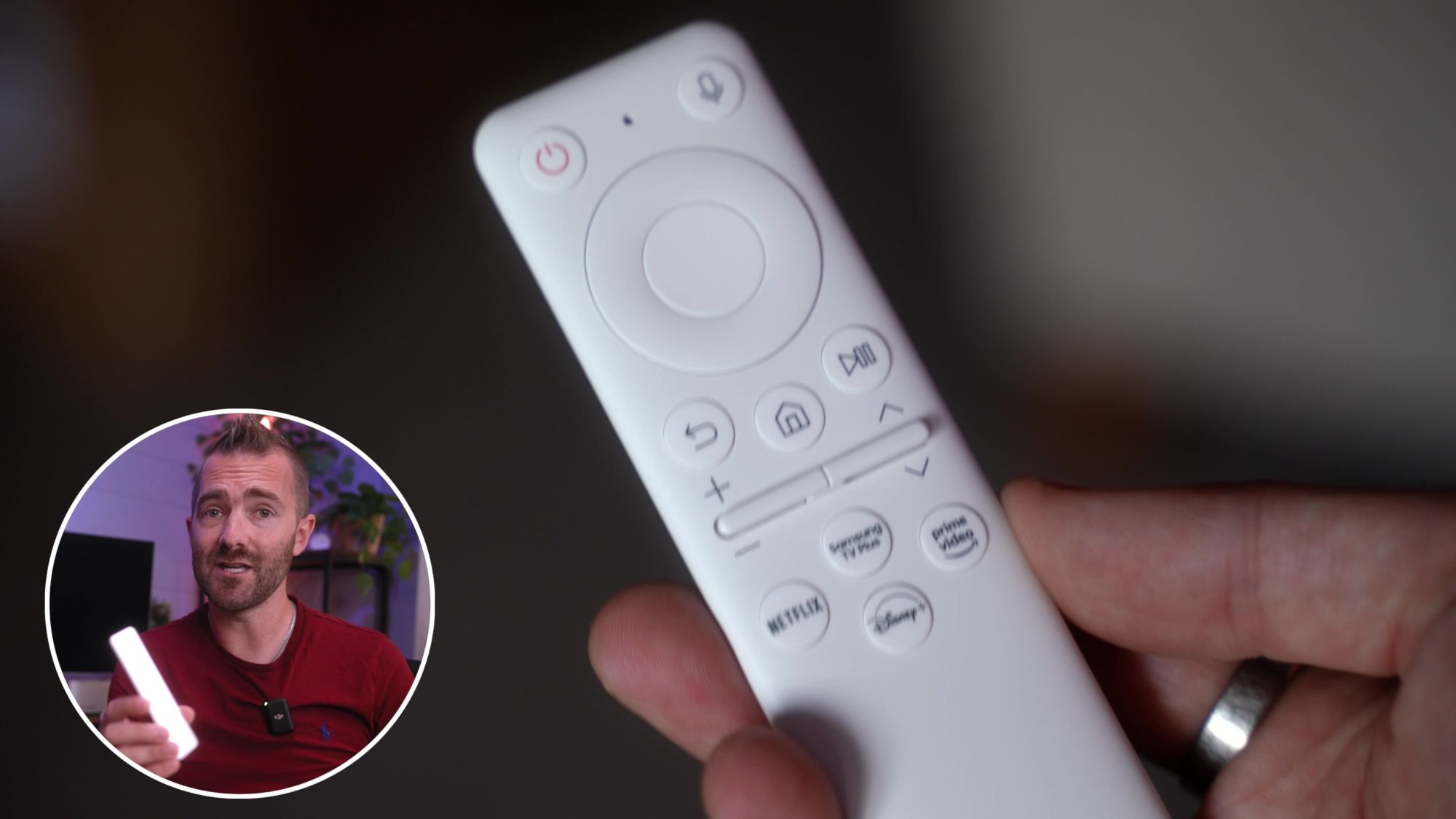 I know for some people it's just another thing to get lost. But the introduction of a remote control does start to blur the lines somewhat of this being a computer monitor or a more TV-like device.
And even as you go through the setup process, where it walks you through signing in, and registering it to your account, it also asks for your region so it can serve you regional content, such as live broadcast TV channels.
Which, for the most part, people aren't going to be using this screen for. Since it's a "computer monitor".
But if anything, that's just a bonus because that's just part of the Tizen OS software that comes loaded onto this screen. More on that in a moment.
This is something I'd like to see improve with the remote control because I typically don't need to watch TV or access many of the smart features of the screen day to day. Instead, it would be good if there were quick buttons to change inputs or recall presets, change brightness, you know? Things that might be useful if you are using this as a computer monitor. Not a TV.
Desk Space and Stand
Now one thing that has been a massive improvement in my eyes though, and it's on many of the latest generation Samsung screens, is the new stand that comes in the box.
The stand really doesn't take up much desk space and you can still put things on it or around it without it really interfering with everything else on your desk.
It is a huge step up from the old triangular type mount with legs which stick out quite far into your desk, causing problems for those of us who use desk mats or mouse pads or just like having other devices around your screen.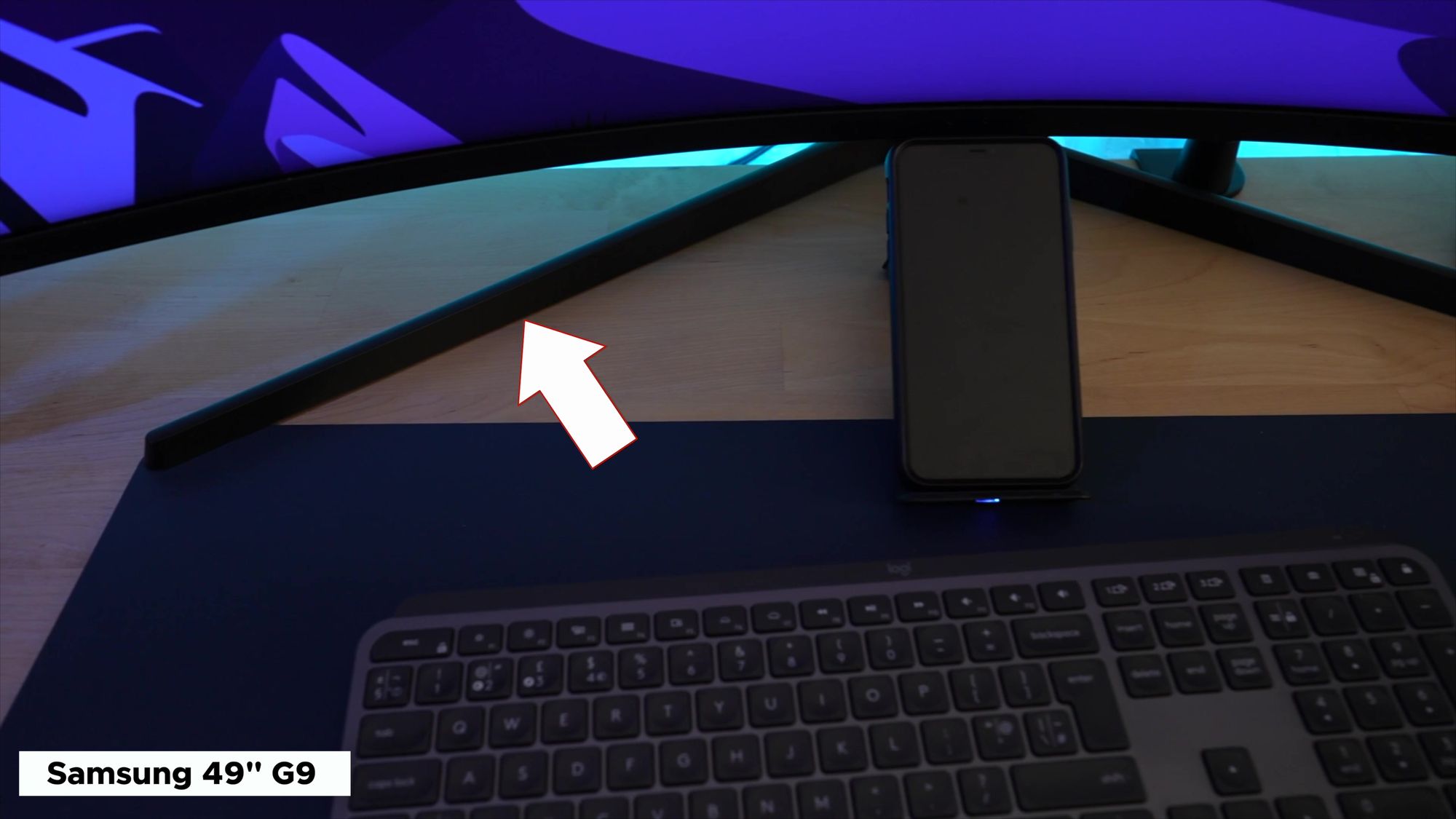 I'm still a huge fan of these Ergotron monitor arms because I still prefer the whole floating in midair look, and it means I can actually use the space underneath the screen such as using one of these Grovemade desk shelves.
It took me a while to find a monitor arm that actually supports the weight of the screen, even though it is almost 3kg lighter than it's predecessor, it's still a very heavy screen.
So yeah, my recommendation if you are going to pick up one of these Samsung screens, is to also pick up one of these Ergotron monitor arms, because it just finishes everything off really cleanly.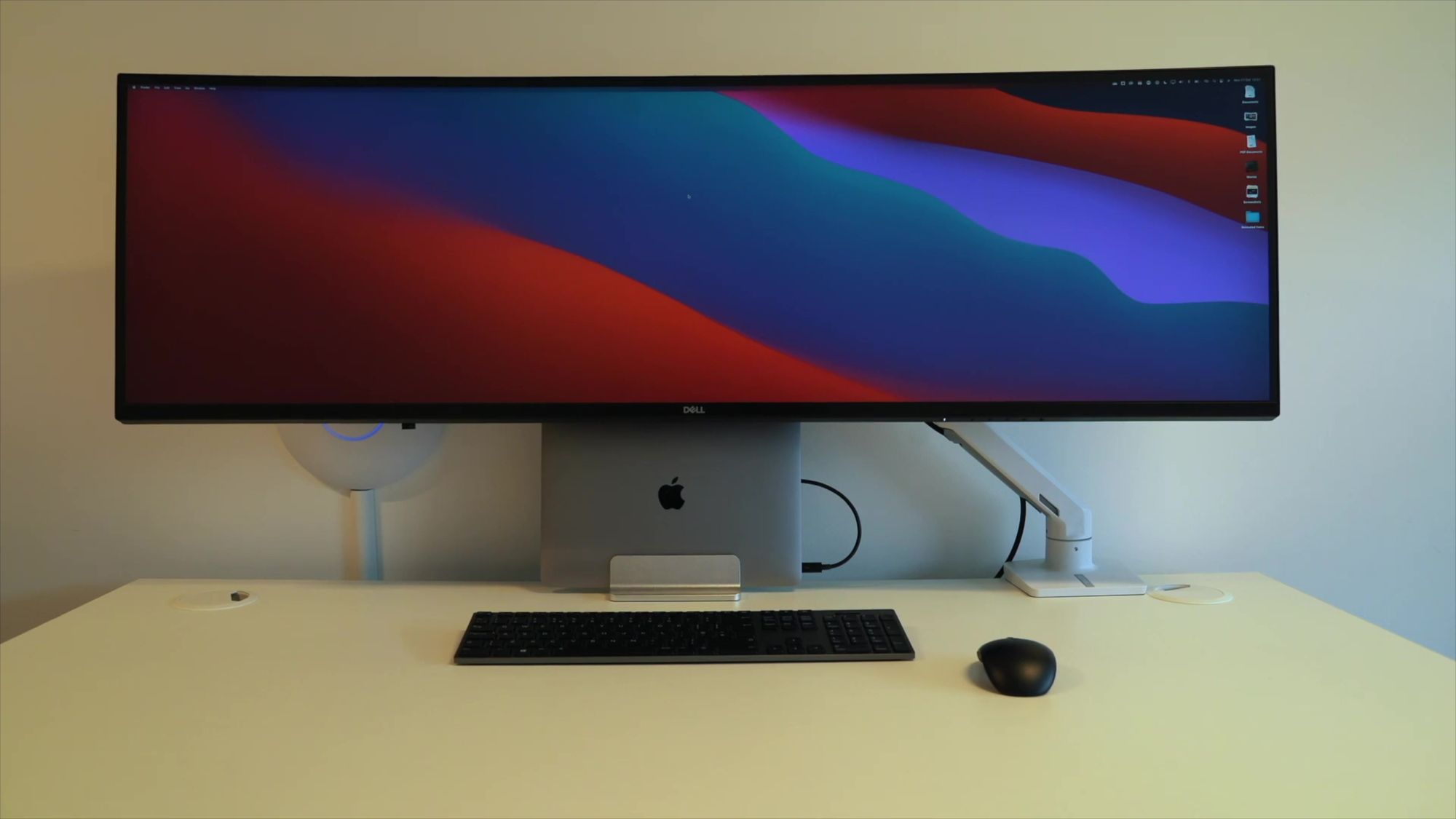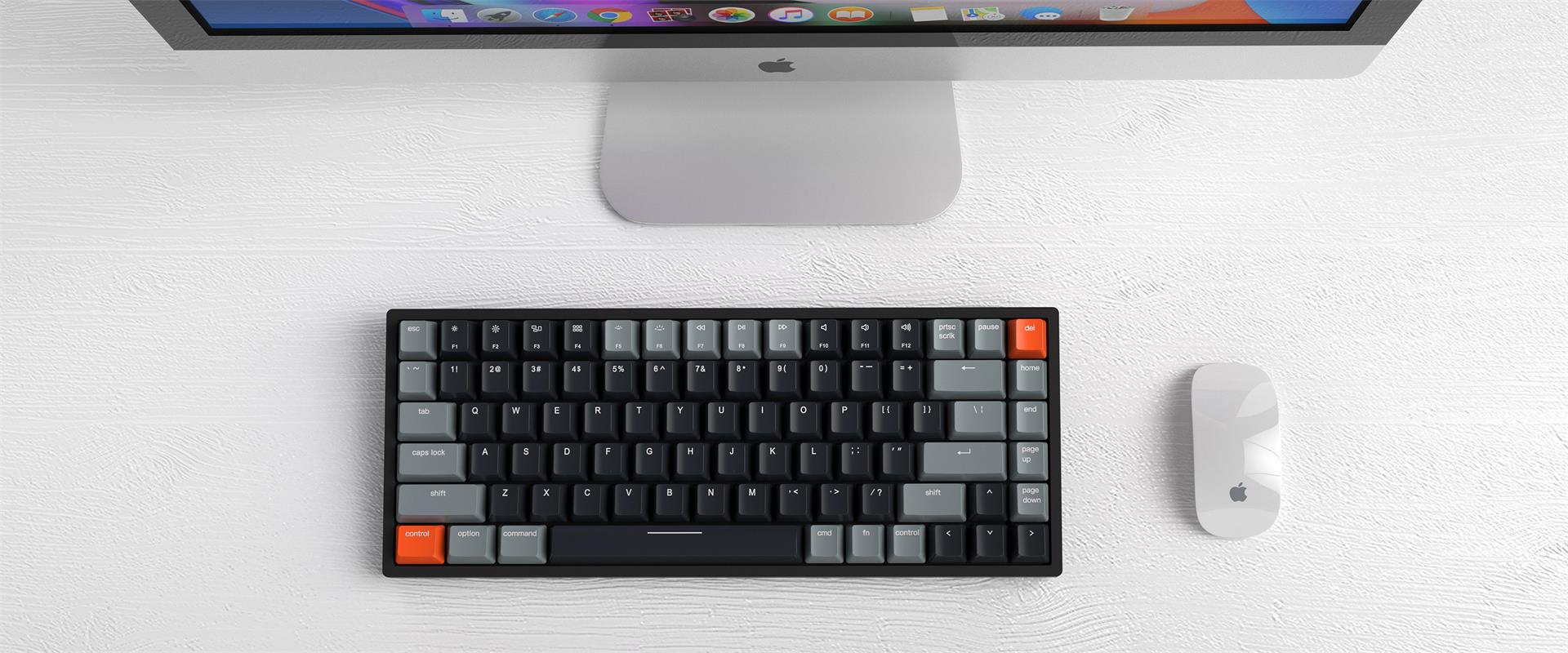 Tizen OS
But getting back to the screen itself: Tizen OS. Which is an upgrade from the standard monitor menu systems you might be used to.
Tizen is a much more aesthetically pleasing interface and opens up features which some of you might be interested in having on a monitor.
The ability to watch live TV, something again, I'm never really going to use the screen for.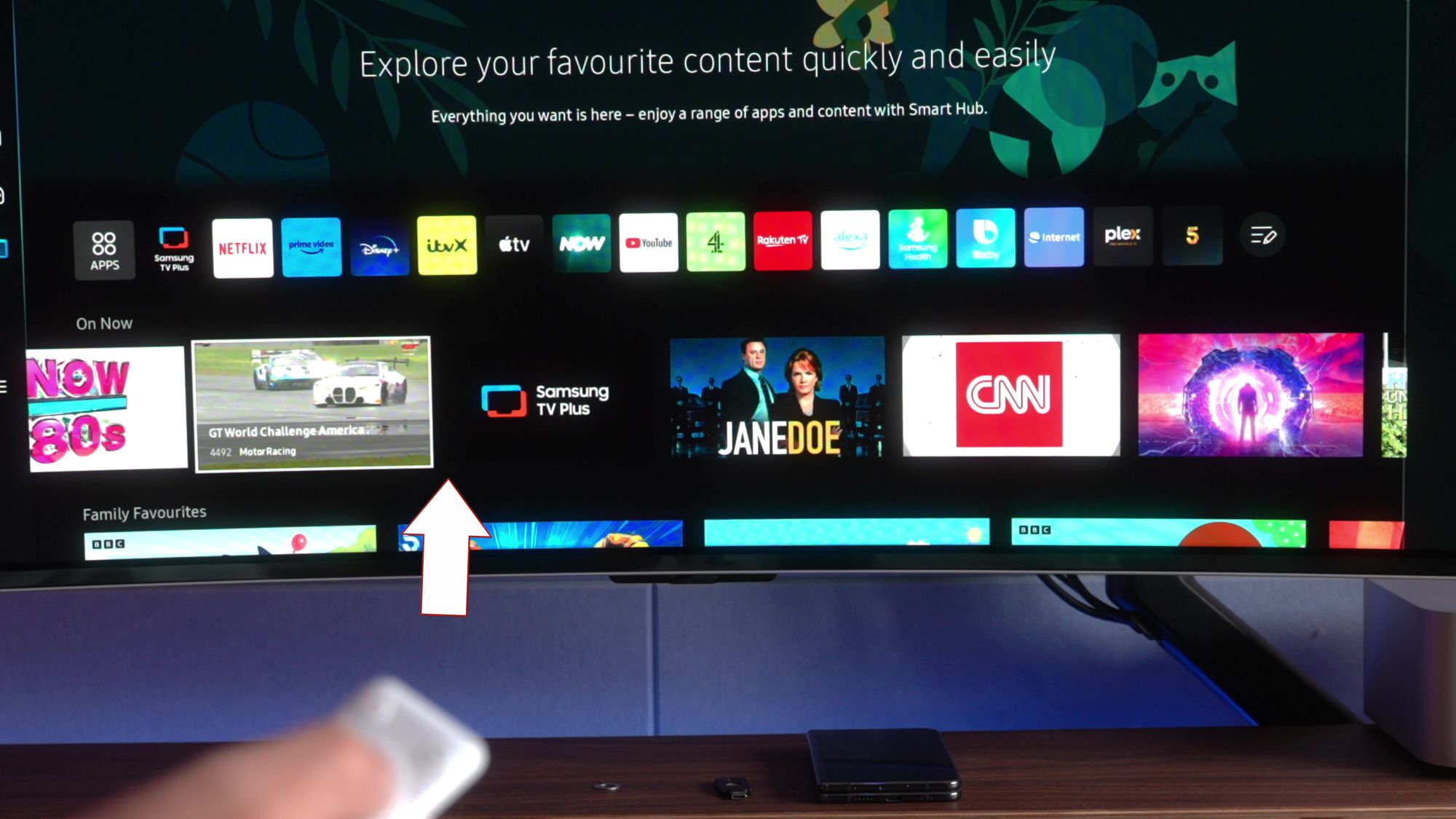 Then there is Smart Things support, which is a really nice bonus, because now I can set up some basic automations such as turning off the screen when I leave the house to save energy.
It can also show you notifications from other Smart Things devices. Though there doesn't seem to be any ability to customise where or how these notifications appear.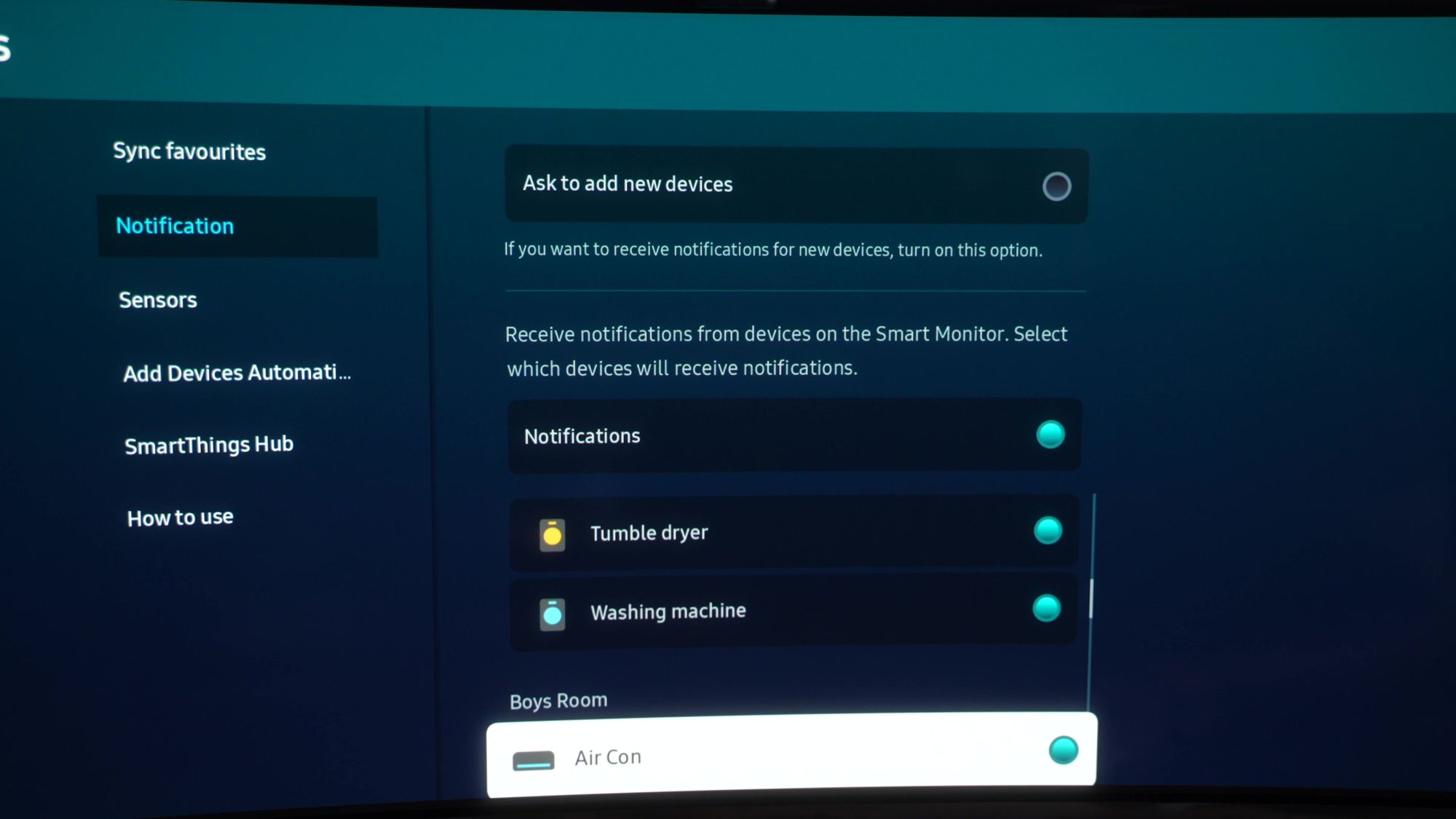 And if you're at a critical moment in the middle of a gaming session and a notification pops up to say that you're washing machine has finished, this could cover up your view of the in-game map... well, you're probably not going to want to switch that feature on.
It also opens up the ability to stream games directly to the screen from the likes of Xbox Cloud Gaming. In all honesty, this is only a feature you'd want to use if you were desperate, mainly due to the input lag I've experienced between my controller and what's going on on the screen. It's just not a fun experience.
But again, for most people you're going to be hooking the screen up to a gaming PC or a games console anyway.
And you can get the best experience doing this, as long as you're playing a game that supports the 5120 by 1440 resolution.
But where Tizen is an upgrade in some areas, it's also a downgrade in others.
Firstly, it can be frustratingly slow at times, which for a 2023 model product is really disappointing.
And secondly, features such as Picture in Picture, and Picture By Picture have been removed.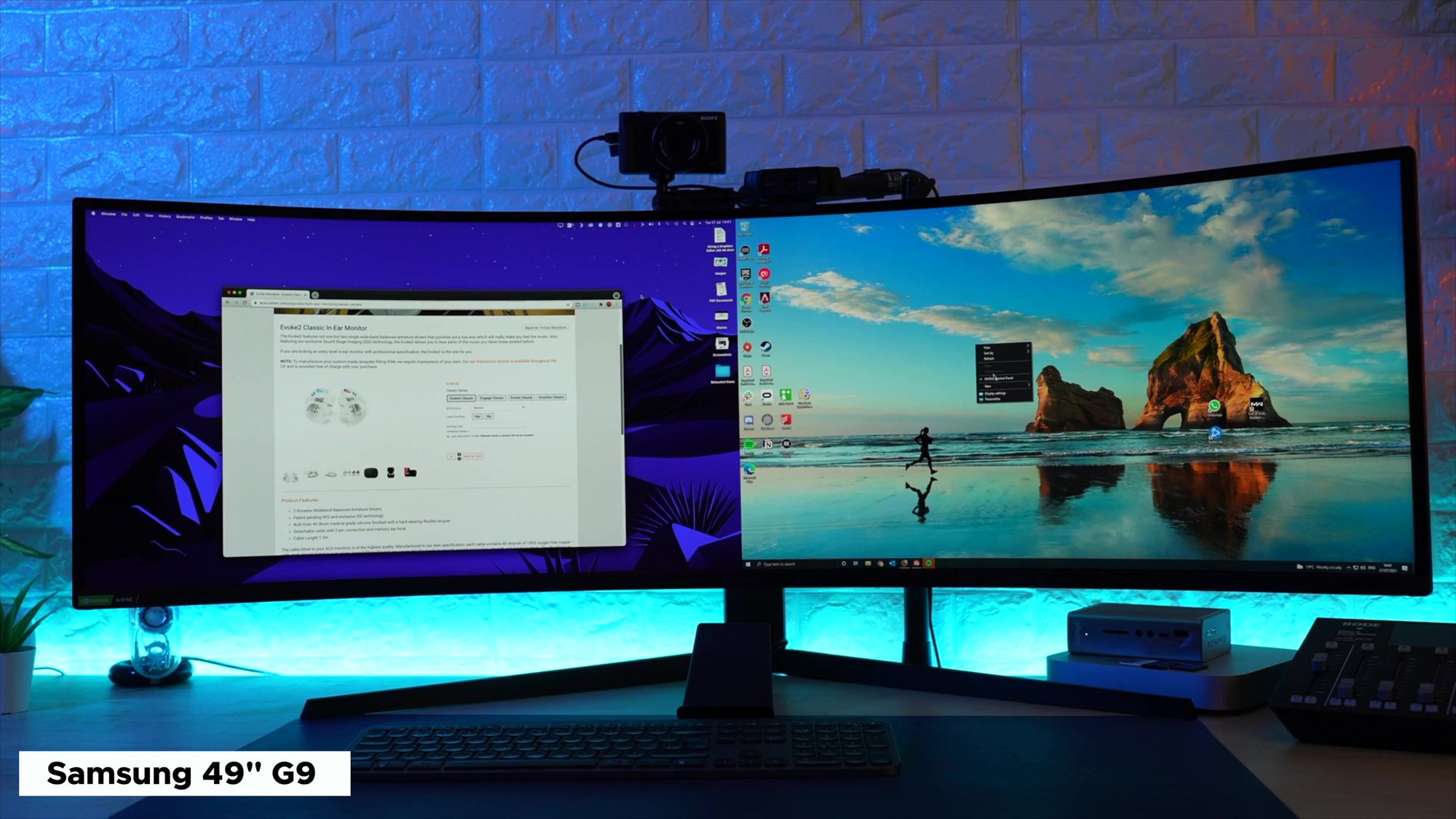 Two features which I don't use that often but are SO useful when I do need to.
The ability to have my Mac computer on the left of my screen and my Windows machine on the right of my screen has been great when testing things out.
And, if I have a new device that need setting up, I'd typically use Picture in Picture mode so I can keep an eye on it's progress whilst I'm going about my day.
And the problem is that Tizen just doesn't seem to support this. It's an issue I've seen on the 55-in Samsung ark, and the Samsung G8 OLED.
It just doesn't give you the option to display two input sources at any one time.
You can have one computer display on one side and you can fill the other side up with the built-in web browser or your smartphone. You can kind of fudge this with things like having AirPlay appear in that second window, but for most people you just want to display 2 different HDMI sources at one, and you just can't.
But for the majority of people, this isn't going to be a show stopper, assuming you will use this, primarily, with a single device, or just switching between 2 devices in full screen mode.
Pricing
Now I mentioned at the beginning of this video that I'm going to be returning this monitor. And unfortunately it's true.
You see at the time of pre-ordering this screen, the price was £2,000.
But literally a few days later the price dropped to £1500.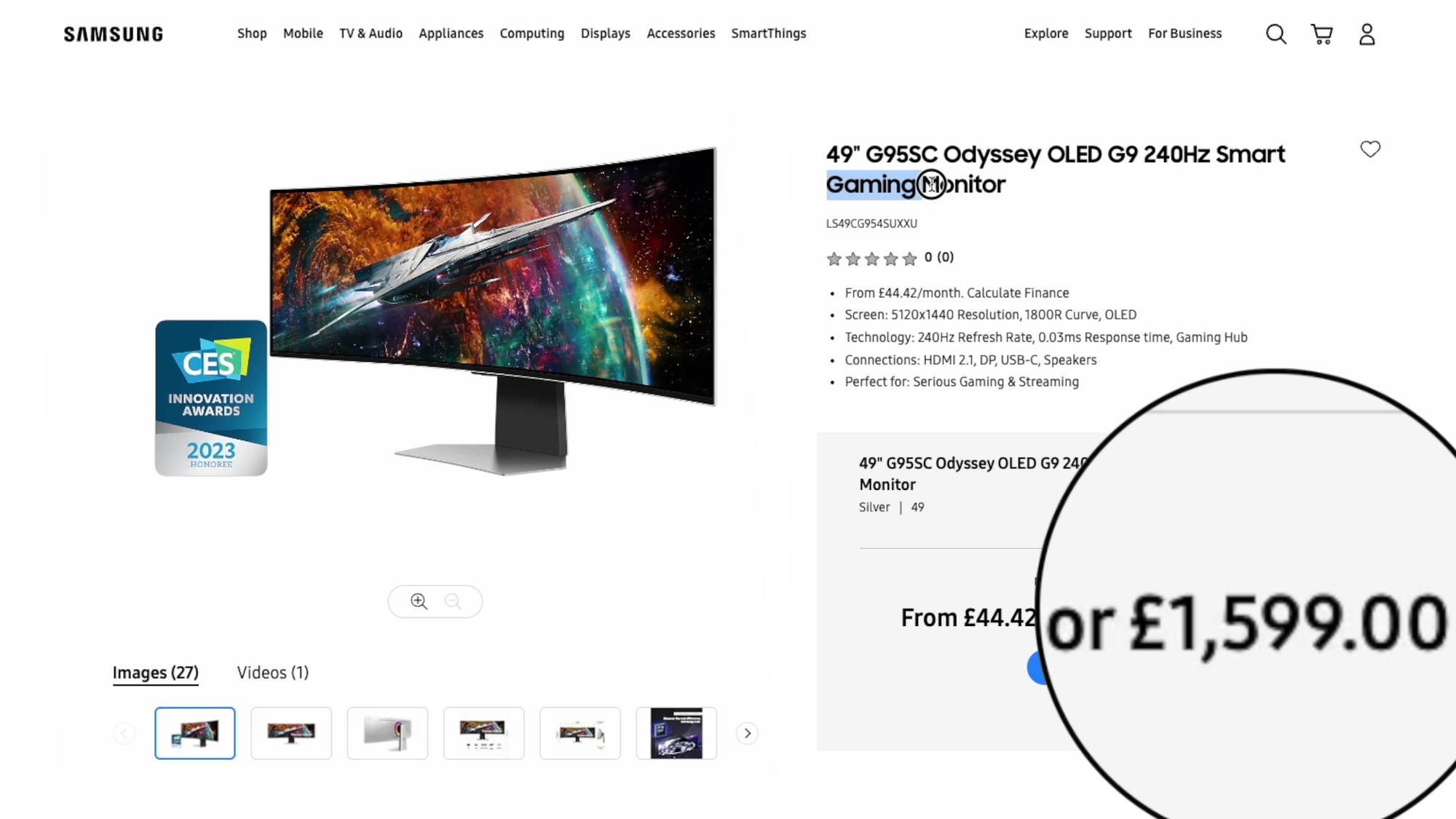 That's a 25% price drop in a matter of days and before the product's even launched!
And even though Samsung has a whole webpage talking about their commitment to sustainability and the environment, it seems the only way for them to honour their new pricing is for me to return this monitor and reorder the same screen but at the cheaper price.
So the courier is literally wasting his time tomorrow, driving, in his Diesel van, all the way back to me to bring me yet another one so he can take away this one, all because Samsung won't just refund the difference.
I reached out to them on Twitter along with the number of other people who had messaged me about the same problem.
All of us have had the same response.
And honestly, their treatment of their loyal customers along with their total disregard for their commitment to the environment and sustainability would make me want to switch to another brand.
BUT... the Samsung G9 OLED is a damn good monitor, and I do see it as an upgrade from the previous version, although it does lack in a few areas. So, once I receive my replacement, I will definitely be keeping it for the foreseeable!
If you want to check out the video I made about this screen, check it out here!