Last year I reviewed the 49" Samsung G9 Neo, but before I switched to an ultrawide, I did actually use 2 Apple Thunderbolt Displays side by side.
Now here we are and Apple has just Apple launched the Studio Display, which features a 5K Retina HDR display, built-in camera, speakers, 600 nits brightness, A13 Bionic chip, and 64Gb of Storage. It's basically the combination of just the display part of an iMac, and an older generation iPad or iPhone.
For the Samsung G9 and G9 Neo, their native horizontal resolution is 5120, which is exactly the same as the Studio Display. This means they are squeezing in the same width of my 49" Display, into a 27" studio display, so, I bought two Apple studio displays to make it a fair comparison.
Just to clarify, this is not a review for gamers. This is for productivity nerds like me who bought the G9 as a single wide display, with no bezels in the center, its 1000R radius curve, and on Mac, you can get 120hz from it.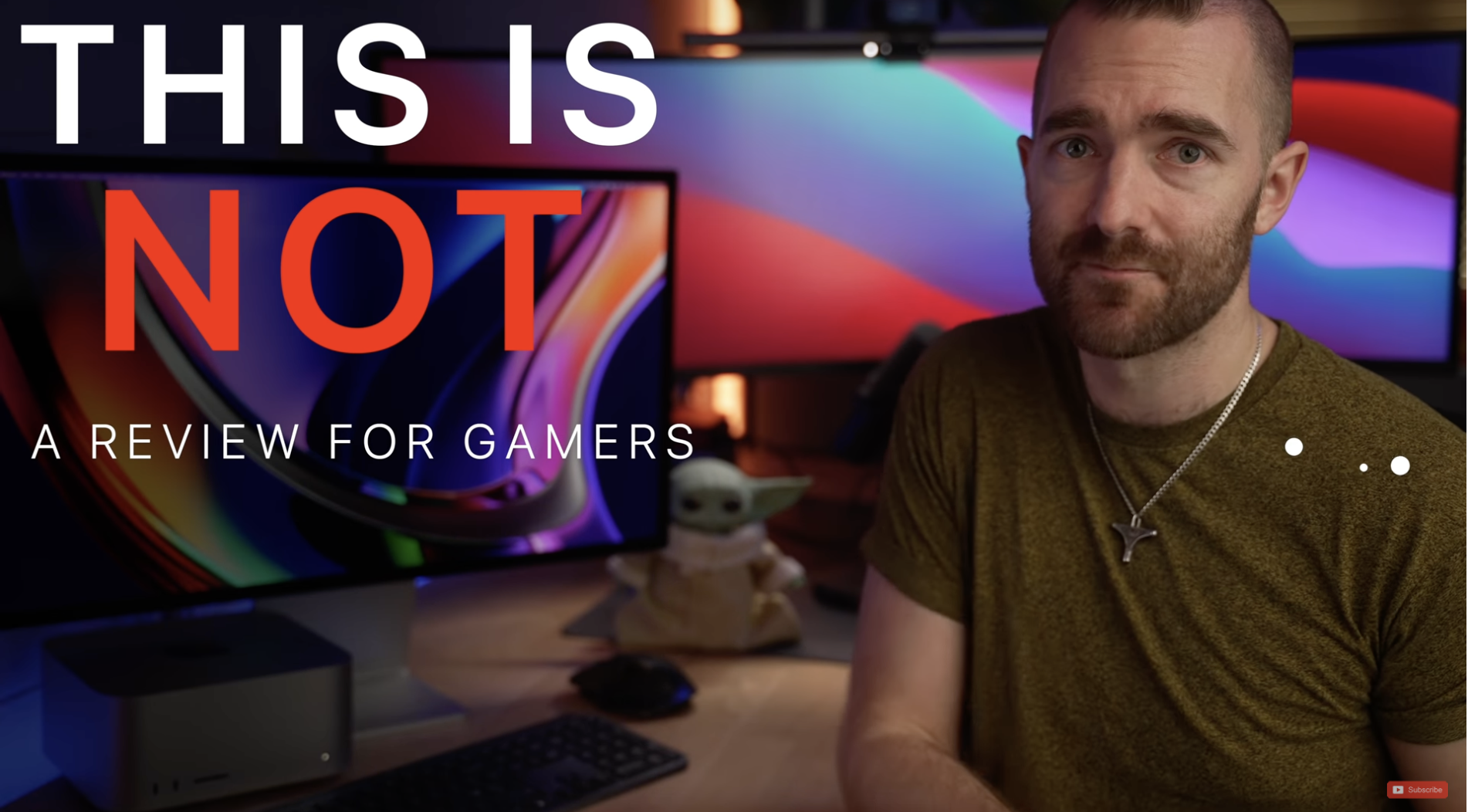 SIZE
On the G9, if you know what you're looking for, you can see where the pixels make up say, the lettering on screen, but you do have to look closely for it. That's because on the G9 we've got 108 pixels per inch.
For Apple, however, you've got 5K at 218 pixels per inch for a total of 14.7M pixels. That's literally double the G9, which makes sense. Since it's half the size - so at least that all checks out.
This means that even if you look closely at the screen, it's very, very difficult to determine where the pixels are.
Does it actually make a difference? Actually yes, stuff definitely looks noticeably sharper on the Studio Display, and I definitely prefer the higher PPI.
DIMMING ZONES - LED VS APPLE?
One area that surprised me in this review, was the display technology.
The G9 Neo uses Mini LED Technology with 2,048 dimming zones. The Studio Display uses older generation LED backlighting, which doesn't have any local dimming.
This means when watching things in darker rooms, you will perhaps notice issues with blooming on the Studio Display, where you wouldn't on the G9 Neo.
However, because the Pixels are much smaller, this isn't as prominent of an issue on the Studio Display.
BRIGHTNESS, COLOUR & HDR
This brings me on to the overall brightness because the G9 Neo does have a peak HDR brightness of up to 2000 nits, with a self-certified HDR standard, compared to just 600 nits on the Studio Display.
This would seem to be a huge difference, but in reality, the higher quality and better colours from the Apple Studio Display overall make for a better argument to go for the studio display, IF your main focus for work involved any graphics or video work. Of course, if you are gaming, then just get the G9, it's obviously the better choice there.
This is some sample footage here from Jonathan Morrison which was all shot in HDR just to show you the differences between the 2 screens though - let me know what you think down in the comments below on which one looks better?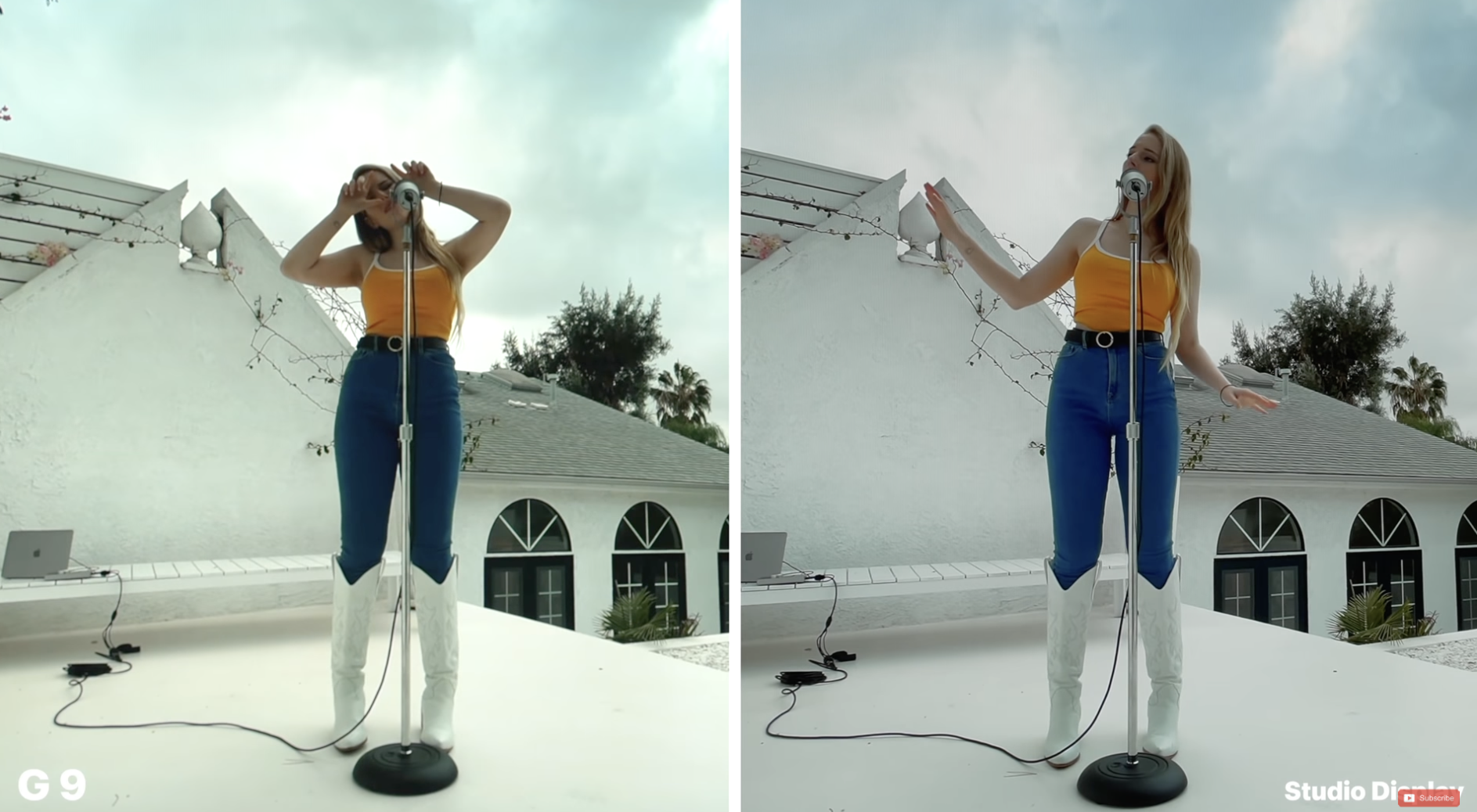 AUDIO - SPEAKERS
Over to Audio now and with the G9 Neo, I have the Harmon Kardon 2.1 OG soundsticks wired in, but I've been seriously impressed with the sound that comes out from the Apple Macbook Pro over the years, so I wanted to see if the sound from the Studio Display could be a match for the soundsticks.
To find out, head over a view the video I made for this review.
So whilst the sound is very impressive for audio built into a screen, it's no comparison for a proper system with a subwoofer on the floor. Of course, you don't feel those punchy bass notes or the kick drum that you do with a proper sub, but when comparing it does feel like the whole bottom end of the track is missing.
I thought that perhaps the saving grace could be Spacial Audio, but that just mimics a surround sound style audio by throwing the audio out of the left, right, far left, or far right of the speaker system, and definitely isn't any comparison when using Airpods.
MICROPHONE AND WEBCAM
This is what the audio sounds like when coming straight from the Mic that's built into the Display. Which, again, for a studio display, is pretty good.
I'm also going to compare this to the Mic that is built into my Logitech C920 webcam - just to see how that sounds in comparison?
When you put it up against the sound of a proper audio interface, along with a proper studio-quality microphone, what do you think? I haven't heard this back yet, but I can only assume it's going to sound significantly better with the £400 setup. £300 for the Mic, and £100 for the audio interface.
The question is whether it's worth spending the extra - so what do you think? Let me know in the comments - would you pay an extra £400 for the difference in audio quality?
But that's only one piece of the puzzle. What about the video quality on the Apple Studio Displays, with their A13 chip as well as 64 Gigs of storage built into the screen?
I've always struggled with the video quality, even on my Logitech C920 webcam, which is pretty much the industry standard when it comes to webcams. It must be the lighting or something, but it's not dark in my studio by any means.
So when comparing this to the built-in camera, I think it looks better? But one thing I can definitely see is that my skin has never been so smooth! That's some hefty image processing going on there. What do you think?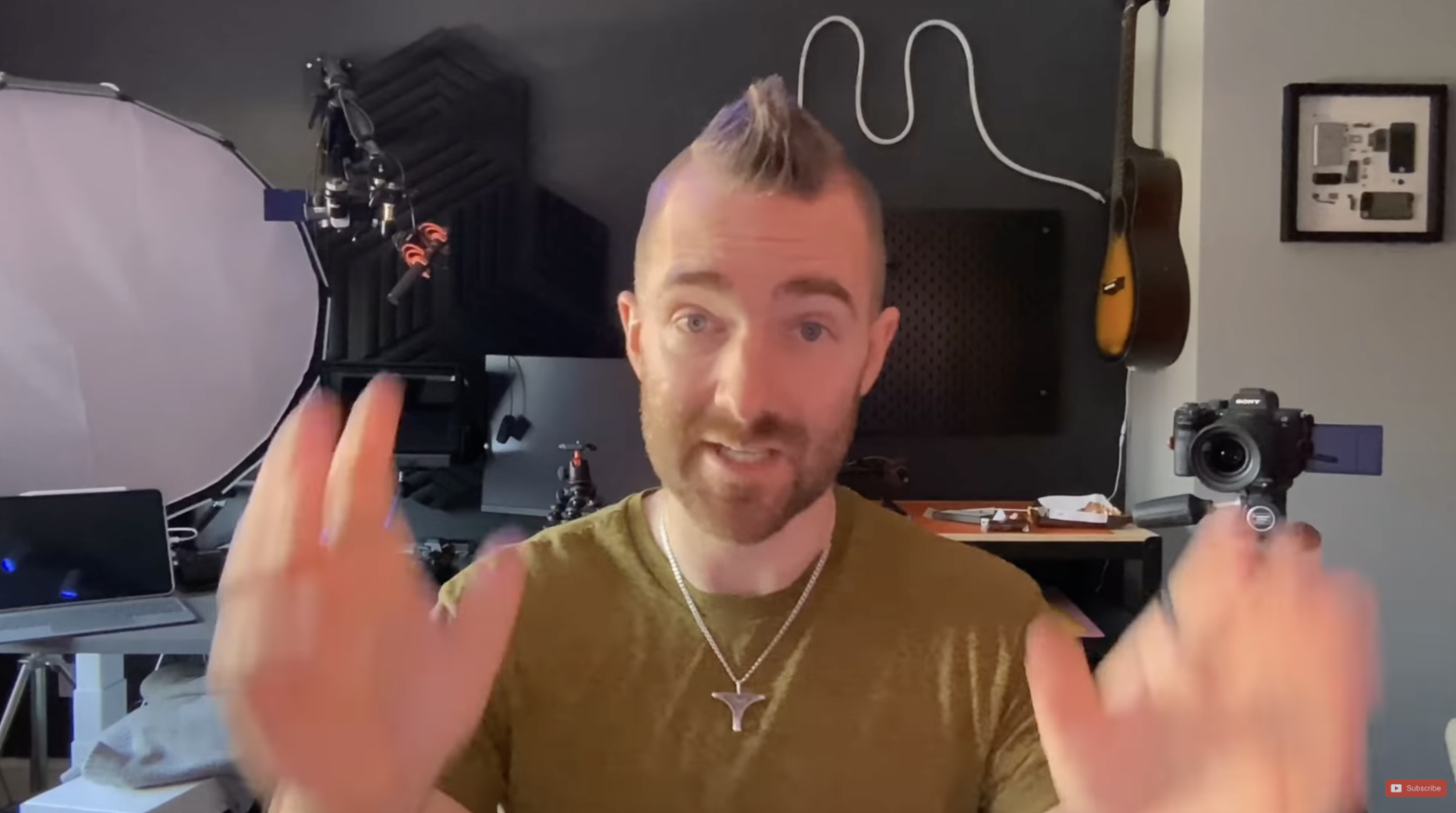 I would give this one to the Studio Display as it just takes the lead with slightly better quality.
So, does the Studio Display replace my Audio Interface, Microphone, Speakers, and Webcam? Probably not. Unless you really want to sacrifice quality for the simplicity of having it all built into one device. I'd definitely keep my Audio Interface, Mic, and Speakers.
It doesn't end there - because there are still a few other things to consider...
PRICE
The price for the Apple Display is around £1,500, which is already quite an expensive monitor. Actually, if you spec this thing up with a tilt stand, special anti-reflective coating, and warranty, this runs to over £2,000.
Whereas the list price for the G9 is $2,500 - but you can actually find it for about 2k Us or 1.8K UK.
So, if you want to replicate the actual desktop space that the G9 offers you, you'll have to spend almost double that with the Studio Display.
POWER CONSUMPTION
The Apple Studio Displays have an energy efficiency rating of E.
I hooked up my own power meter and whilst using the display, at max brightness, with the camera on and music up loud, it constantly draws almost 65 watts.
Reduce the max brightness by 3 notches, switch off the camera and music and that brings it down to just over 40 watts.
Compare this to the Samsung G9 Neo display, which is an even worse class G-rating, and with brightness set to max, it draws a huge 104 watts.
However, as far as the screen goes, that does draw less than having 2 of the Studio displays, if you wanted to double up as I have for the screen real estate. So one G9 Neo will technically be cheaper to run than two studio displays.
BUT if you add on the separate speakers, then you're about on par with each other again in terms of power consumption.
USABILITY
The big difference between these two screens is in usability.
This is frustrating for me because there are such good things about both of these screens, which makes everything from this point on my own personal opinion. \
First - the Screen Bezels. I don't like having bezels down the middle again. Something that I'd gotten used to with the G9 was actually using that center part of the screen. But now, we're back to having a massive black line in between my screens, which also means that when you're sitting down, you're either looking left, at the left screen. Or right, at the right screen.
With the ultrawide, typically you actually look directly forward at the middle.
It's not the end of the world of course, but it's still not as nice of an experience as with a single larger display. What is good, is when you want to make something full screen, now it takes up only one part of your screen. You can enjoy one monitor being full screen whilst the other is still usable. Yes you can kind of do that by either multiple cables, or just stretching windows - but it's not quite the same as a true full-screen mode.
Want to share your desktop for a video call? Now you can share one screen, which is a more globally accepted resolution, instead of expecting the other caller to have your 49" display squeezed onto their smaller, 'regular' sized screen.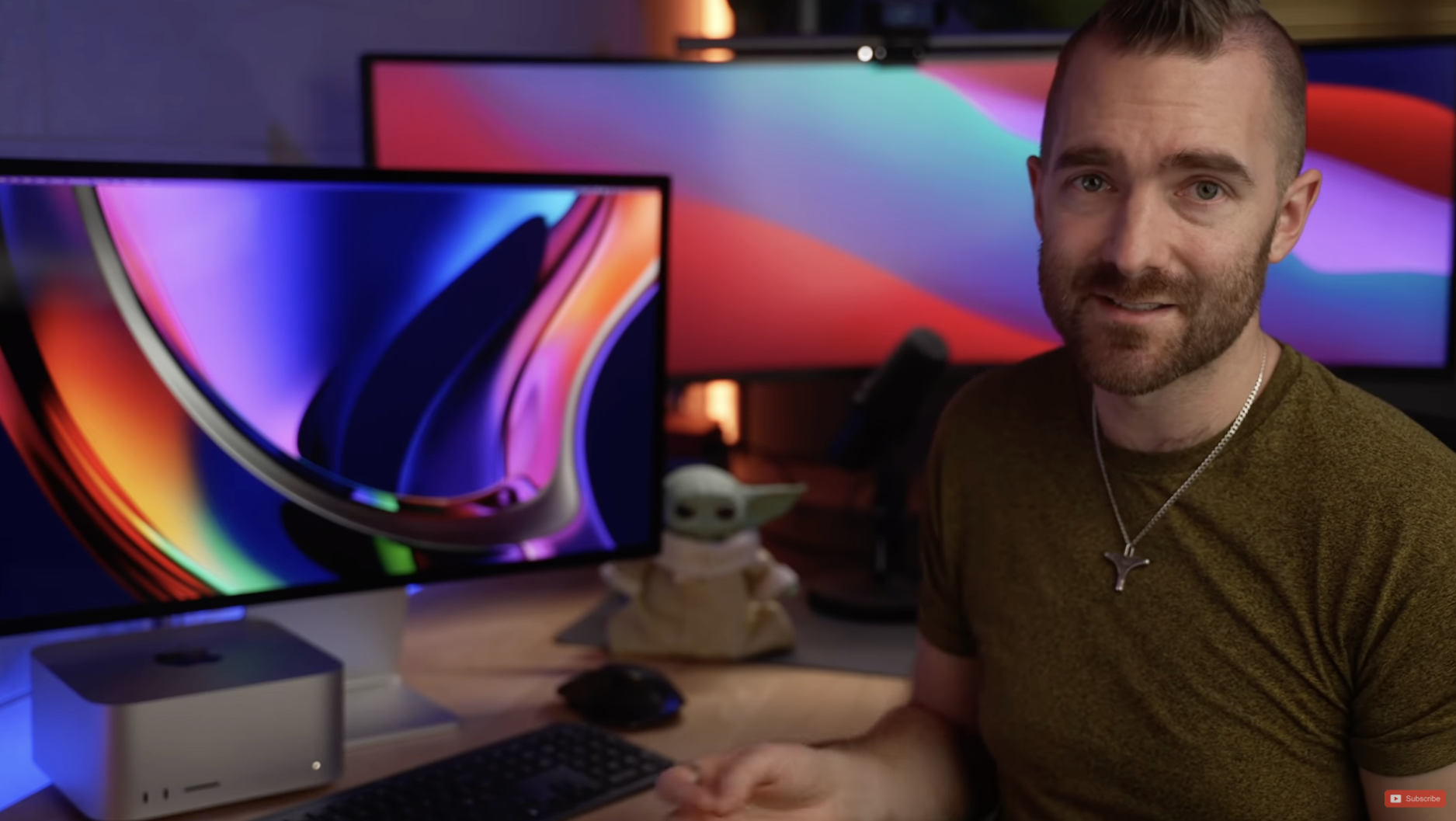 If you want to screen record something for YouTube, you can do this easily, instead of having to manually draw the recording frame on the 49" screen like I have to each time.
Another added bonus with the Apple Displays is that you can use controls on your keyboard to change the brightness - which on the Mac Studio is simple to just move your mouse onto whichever screen you want to control, then tap the keyboard controls and it works.
One thing that I would like to see on the Studio Displays, and given that I'm testing two screens together, is to be able to use both speakers at once. It would be cool if they could combine all of the speakers on both screens to provide a wider split for left and right channels, which would be more similar to that of using the desktop speakers which I position further apart.
What do you think? Would you have 2 higher-quality Studio Displays or one lower-resolution 49" Ultrawide?
It's a tough one.
I think, honestly for this one - I'm going to keep the 49" screen. I just don't like having bezels down the middle. Even though you technically get more space on the Studio Display.
The speakers are not as good as my 22-year-old speaker system, which is a bit of a surprise, but the webcam is better than the Logitech. I'd possibly swap out my Logitech for the Sony ZV-1 camera again because the quality on both of these just isn't up to what I'd like to see.
I hope these screens go to someone who will treasure them in years to come.
Perhaps instead of buying 1 or 2 of these, you might consider the new Mac Studio or M1 Mac Mini. Thanks for reading see you in the next one!
🎥 Mac Studio Max vs M1 Mac Mini: https://youtu.be/Mjd1P3TV8Es
🎥 Upgrading to the Samsung Odyssey Neo G9: https://youtu.be/R2jV1ShhS1w