So, I've got the brand new M2 Macbook Air which is the higher spec model, and today I want to do a quick unboxing, some first impressions, and a comparison to my current machine of choice the M1 Macbook Air. I'm going to compare this machine, and my M1 Mac Mini, which I use constantly, for hours, every single day.
So a quick comparison between the two, a few benchmark tests, and final cut export tests, I'm going to edit a video on the new Macbook Air, and also a bit of rapid-fire Q&A to see if we can answer some of your questions.
So I have my M1 Macbook Air, the M2 Macbook Air, and a currently unopened, M1 Pro Macbook pro. I've never seen, touched, or used one of these new M1 Pro Macbooks, but it's here, so we might as well compare!
Now the reason why I went for the higher spec with this order was first, I did want those additional 2 GPU cores because I was at an event last week where I needed to edit some video quickly, and I was about a 3-hour drive away from home, and exporting a 30-minute video on the old M1 Macbook Air was really slow, it took like, half an hour. It also sucked the battery life pretty fast.
I of course wanted to upgrade the storage because that 256Gb of storage in a laptop nowadays is crazy small, considering that's what most phones come with now as standard.
And there is of course HUGE controversy around the 256GB model being much slower than even the M1 Macbook Air 256GB Model. So we're going to be testing that out today too.
In about 2 weeks I'll also have the base spec model arriving, with 512GB and the 16GB Upgrade so I should be able to compare both the base spec and the top-spec - so if you have any questions or specific comparisons you want to see then throw those in the comments down below! For my full review which will be coming soon.
I'm going to get started with downloading the benchmark tools as well as installing Final Cut pro ready to edit the video - but in the meantime, a question I've been asked a few times already is around the external monitor capability.
One of the downsides about the M2 Macbook Air, and the M1 had it too, was that it can only drive a single external display.
Which for a laptop that's well over the $1000 price point, I feel is a bit cheeky, considering they are definitely capable of doing so.
The question I'm going to answer though is whether the M2 Macbook Air can drive a 49" Ultrawide, 5120 by 1440 screen like mine, so let's just hook this thing up and see what it does.
I gave an M1 Macbook Air to someone I've hired recently and they were blown away by how good the speakers are in the M1, but the M2 has 2 additional speakers, so it should be errr, double as good - however when I tested them, you could clearly hear a difference with the M1 Macbook Pro sounding like there's a speaker system sitting on the desk.  
I also want to check if this machine can do MULTIPLE monitors with the use of adapters. The way I'm going to do this is by using the Picture by Picture setting on the screen to act as if I had 2, smaller 27" monitors.
We'll have a display port going directly into the Mac, via a USB C to Displayport cable, and I also have a USB-C adapter that has a built-in HDMI port, so we can hook up HDMI into the second input of the screen… so let's see if we can work around this dual display issue.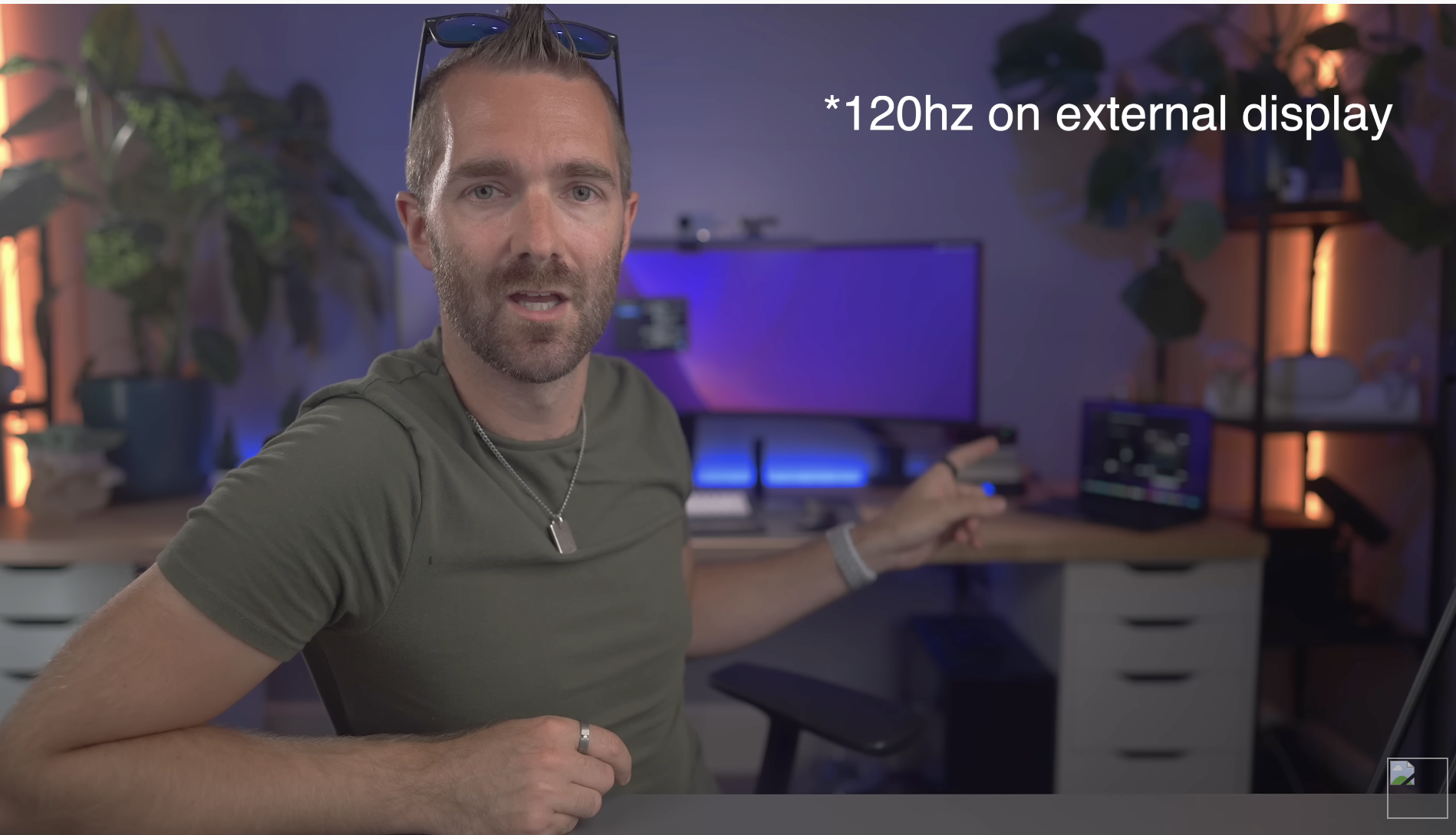 Let's move on to the benchmark tests now. Firstly, let's just do Disk Speed, because of the huge controversy around the 256GB Model - of which I don't have.
So the slowest was the M2 Macbook Air 512GB.
Next up was the M1 Macbook Air 512GB
However, on the M1 Macbook Pro, we got to over 6,000 Mbps write speed and over 5,000 Mbps read speed which is twice as fast as the M1 Macbook Air because, for some bizarre reason, the M2 is slower! This needs more investigation.
Now because I don't have the 256GB Model to test, a friend of mine, Mark Ellis who DOES have the 256GB Model will be running some speed tests over on his YouTube channel, so check that out. He'll also be running some similar benchmark tests too.
See @Mark Ellis Reviews video to compare with the Base Model M2 MBA. 🎥 https://youtu.be/pKOev3nzCCY
Next up I'm going to test the following programmes; Cinebench, Geekbench, GFX Metal, and the Final Cut Render, and for comparison, I'm going to compare the Base spec M1 Macbook Air with 16GB Ram and 512GB Storage, to the higher spec M2 Macbook Air, with 512GB Storage but only 8GB Ram because upgrading to 16GB basically pushed delivery out by a month…
We've also got that brand new, 14" M1 Pro Macbook Pro with 16Gb of memory and a 1TB SSD that we can run those same tests on just for comparison.
So there's the M1 Macbook Air at $1,399 with the upgraded ram and disk, the M2 Macbook Air at $1,499, but would be $1,699 if you matched the memory, followed by the higher spec 14" M1 Pro Macbook Pro which comes in at $2,499.
First up, let's talk about Cinebench Single Core Scores.
M1 Air scored 1493 M2 air scored 1577 (5% Faster) M1 Pro scored 1521 (-3%) Next we have the Multi-Core Cinebench Scores M1 Air scores 6669 M2 Air scored 7800 (15%) M1 Pro scored 11971 (42%)
Over to GeekBench and we get single core scores of:
M1 Air 1731
M2 Air 1885 (8%)
M1 Pro 1767 (6%)
and Multi-core scores of
M1 Air 7237
M2 Air 8805 (20%)
M1 Pro 12509 (35%)
When running the graphical tests on Geekbench
For OpenCL we get a score of 18608 on the M1 Macbook Air
27649 on the M2 Macbook Air (40% Faster)
and 37545 on the M1 Pro Macbook Pro (30% Faster)
And for Metal on Geekbench we're at
20682 for M1 Macbook Air
30989 for M2 Macbook Air (40% Faster)
and 40690 for M1 Pro Macbook Pro (27% Faster)
Lastly, GFX Metal - tests the graphical capability a little more by running through various complex simulations and it notes the maximum frames per second that each machine is capable of in each scenario.
So the M2 was around 35% faster than the M1, and the M1 Pro was a further 55% faster than the M2.
Let's talk Editing now, and there is definitely an improvement over the M1 Macbook Air specifically if you are using this to do light video editing work. What I will say is that generally using the M2 Macbook Air feels very, very snappy, and that's even in comparison to the M1 Macbook Air, which is already one of the best machines money can buy.
It worked beautifully when putting my video together.
In terms of export times, I've got a really interesting test for you.
I have the M1 Macbook Air, with 8 Cores, 16GB of memory, and 512GB SSD. A friend of mine Mark, who has his own YouTube channel has the Base spec M2 Macbook Air with an 8-Core GPU, with the slower 256GB SSD and 8GB of Memory.
Then I have the higher spec M2 Macbook Air, with the 10 Core GPU and 512GB SSD.
So I haven't seen it yet, but I'm really interested to see whether a) the 256gb vs 512Gb drives make any difference in real-world use, and b) whether going from the 8 GPU cores to 10GPU cores affects the export times in final cut.
I had the project that Mark sent me - it's a 10-minute 4K video file and on that, I did two tests.
So the first export on the M1 Macbook Air took 5mins and 11 seconds and the second export with the M1 Macbook Pro took 5mins and 12 seconds but the top-spec M2 Macbook Air exported in 5mins and 12 seconds.
Now I have no idea how that compares to the base spec M2 Macbook Air, so I'll leave a link below to watch Mark's video where he runs the exact same tests, therefore you can very easily tell for yourself if the M2 Base Spec performs any better or any worse than this higher spec M2 Air.
OVERALL VIEW?
Disregarding the M1 Pro result, that literally makes no sense. The M1, Base M2, and higher spec M2 ALL exported the exact same footage at the exact same time.
I genuinely don't know what to do right now. I'm actually considering cancelling my second M2 Macbook Air order, because why pay £1,600 or so for a Macbook Air, which is basically the same, if not slower than the M1 Macbook Air?
I could pay £100 more to upgrade to the M1 Pro Macbook Pro, based on Amazon's discounted prices, and get a much faster machine, better screen, bigger battery, and better speakers BUT with the downside of having a heavier machine to carry around. It's one of the things I love about the Macbook Air, it's so light and easy to throw into a backpack to carry around with you….
My advice to you right now is if you have the M1, stick with the M1 or go straight to the M1 Pro.
Only get the M2, if you want the new Midnight colour, or you just want all those new features like the webcam, the screen, the audio - but in a lighter form factor than the full MacBook pro.
If you're dead set on getting the M2, but you're not sure which M2, the base spec or the higher spec - then watch Mark's video where he runs those same tests on his base-spec M2 Air, so you can very easily tell for yourself if the M2 Base Spec performs any better or any worse than this higher spec M2 Air.
See @Mark Ellis Reviews video to compare with the Base Model M2 MBA. 🎥 https://youtu.be/pKOev3nzCCY
Thanks for reading, see you soon!