Coming from a Lifelong iPhone user who is actually, kinda enjoying the experience of switching over to Android, well - this one has been an unusual one for me.
The OnePlus 10 Pro is the predecessor to last year's OnePlus 9 Pro, which I did actually review on my channel - and with much hurrah.
I actually, really enjoyed reviewing that phone. It had a killer feature, fast charging, and tonnes of flagship features that I just hadn't experienced all in one package before.
This year, the One Plus 10 Pro has a Snapdragon 8 Gen 1, 80w fast charging, 120hz LTPO 2 display and Hasselblad Cameras, so we have what looks to be an absolutely killer flagship.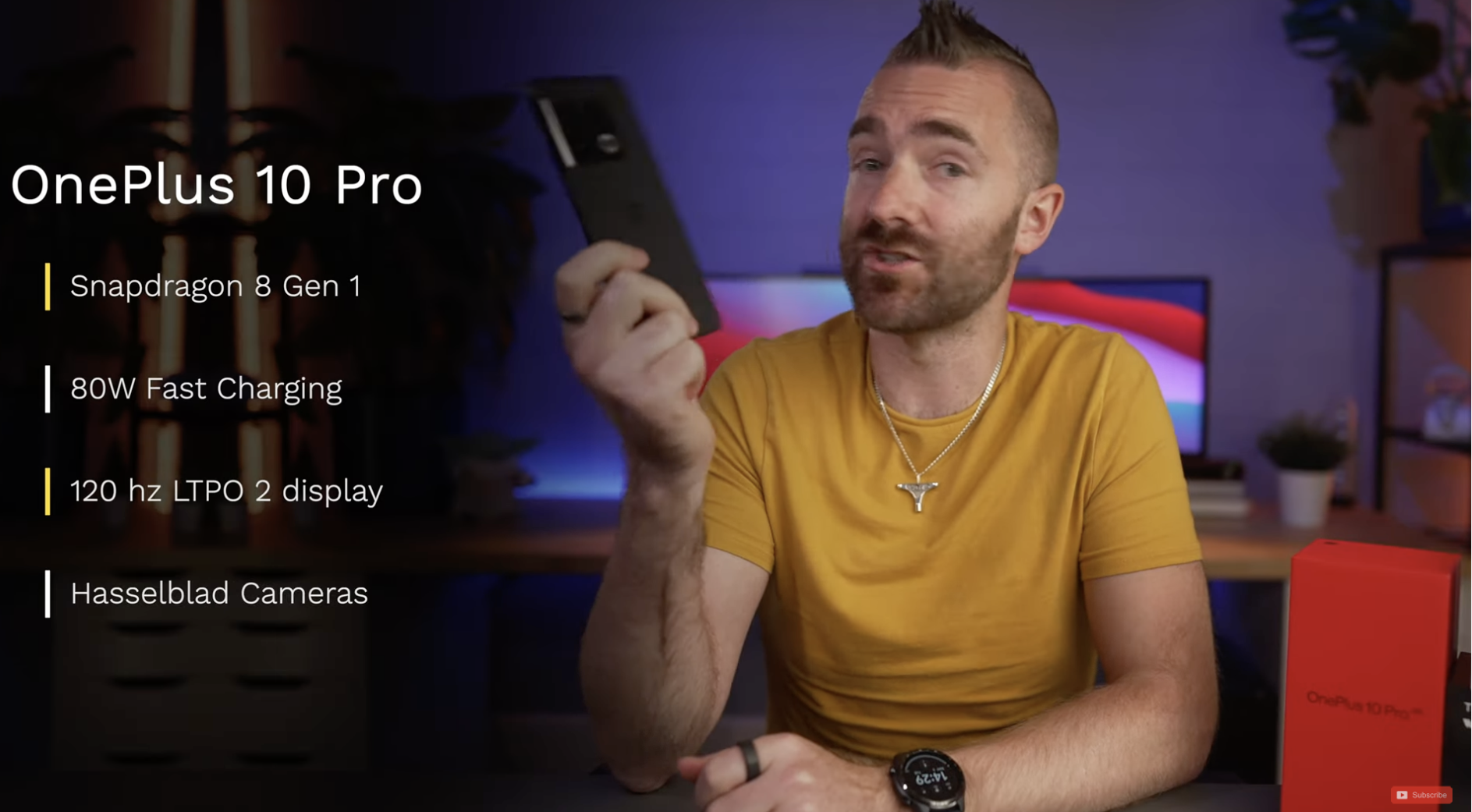 Alongside the One Plus 10 Pro, I was sent a couple of Android watches to try out too - so I thought it was a perfect time to put those to the test, and we'll include a review of those later on as well.
As normal, let's talk about the good stuff first - then finish off (on a high note!) with the bad stuff 🤣
THE GOOD STUFF
Firstly the overall shape, design, look, and feel of the phone are actually, really nice! It's a solid, weighty phone, it weighs basically the same as the iPhone and Google Pixel 6 Pro. There are no ridiculous camera bumps AND it comes with everything in the box.
That's an 80w charging brick, USB cable, a case for the phone, and the phone itself even comes with a pre-installed screen protector.
The day-to-day usage of the OnePlus 10 Pro is actually really good.
Unlike the Exynos version of the S22 that we get here in Europe, I haven't had a single slow down, or things not happening when they should be happening from all my time using this phone. That's impressive considering this model has only 8Gb Ram and not the 12Gb which comes with the Emerald Green model.
We've got an LTPO 2.0 screen that basically mirrors Apple's ProMotion tech which goes from 120hz all the way down to 1hz depending on what's displaying on the screen.
The fingerprint reader on this phone is also a really nice, fast, accurate sensor so there have been no problems like with the under-screen sensor on the Pixel 6.
The cameras also have some great preset modes on them from a software perspective, slow-mo produces some fun videos, time-lapse and the other modes work well too.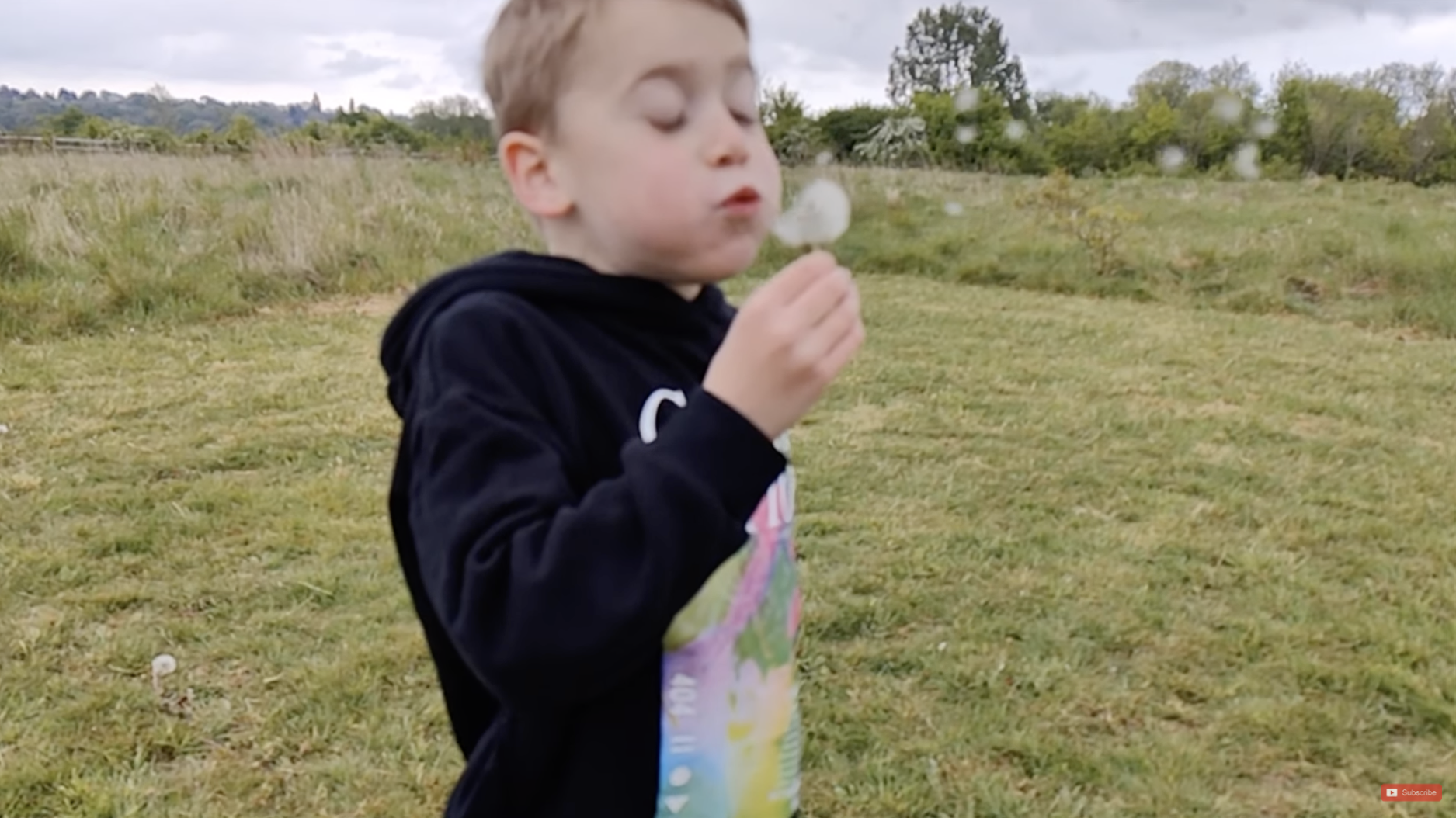 The battery life, actually, holds up really well on this phone. I got through a full, long day, with around 5 hours of screen on time and around 20% left, and that's with all of the settings on. Always-on display, 120hz, full resolution, all the works except performance mode which really can burn through your battery quickly.
With the OnePlus 10 Pro, you also get their awesome 80 Watts fast charging which gets you from 0 to 100 in about 40 minutes, and this can be a lifesaver for those who really chomp through the battery, or need a fast charge before a night out. It really does help to remove that anxiety of not having enough battery, particularly for me as I use my phone to get into my Car and my House nowadays, so it's pretty vital that I don't ever run out.
The Watch
I need to mention the watch here too - which is the Mobvoi TicWatch Pro 3 Ultra GPS and this thing, is a beast. Size-wise yes, and also because I've been wearing it for.... 3 days in a row, and it lasted for all 3 of those days without charging, and that was with everything switched on. Like Heart monitoring, I did at least a 1-hour workout every day with this thing, and actually, it's really quite a solid watch!
I actually found in some cases It's more responsive than the Galaxy Watch 4!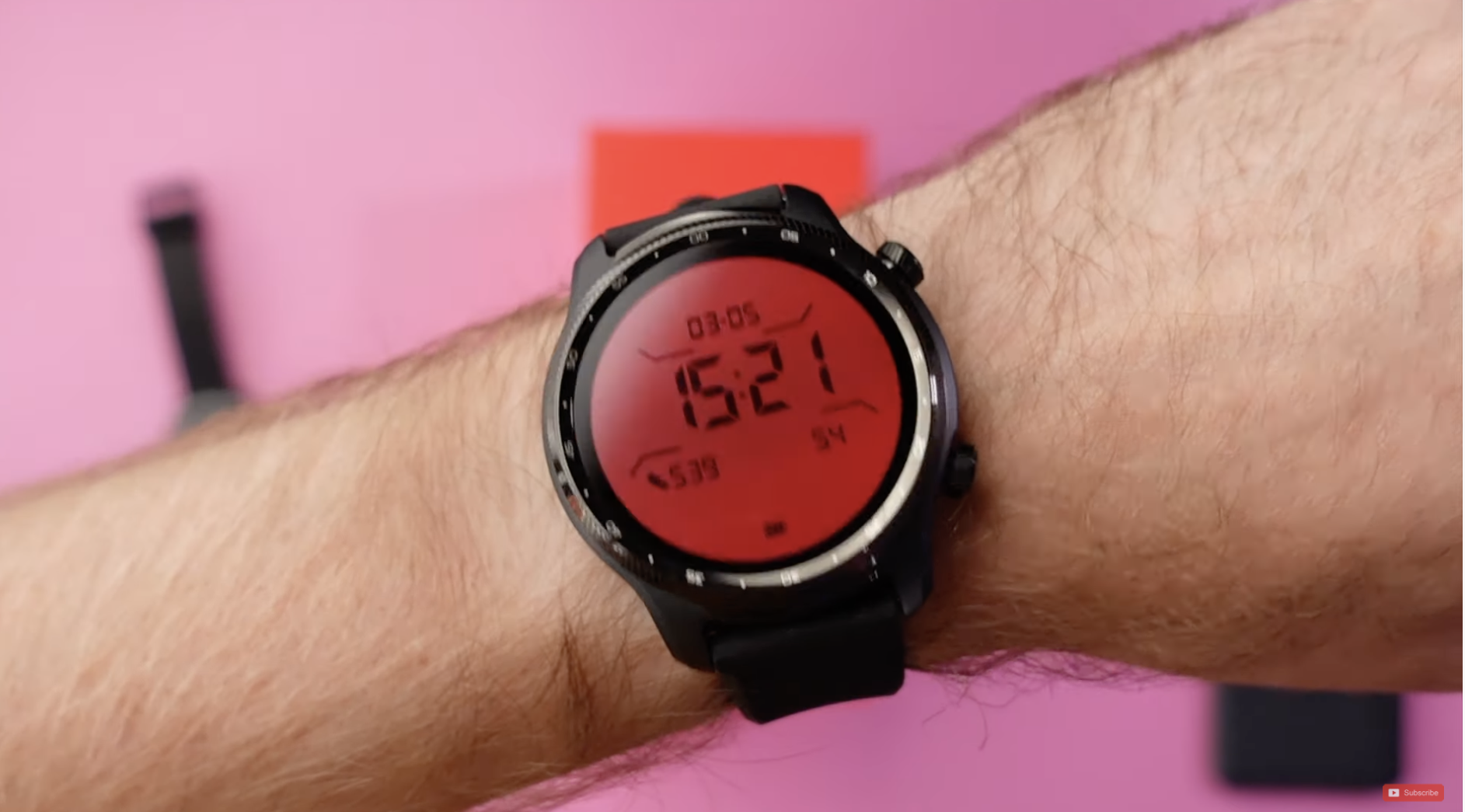 You do also have an option to put the watch into Essential Mode, which just severely restricts what it can do and turns it more into a watch type of watch, which also has that old school backlight that you used to get on watches, though this time you can have some fun and customise the colour of that backlight.
A slightly added bonus, but I'm sure this thing over estimates how many steps I make every day - which is really handy for my Vitality health insurance which pays for my Amazon Prime, Cinema Tickets, free drinks, and a whole load of other things too.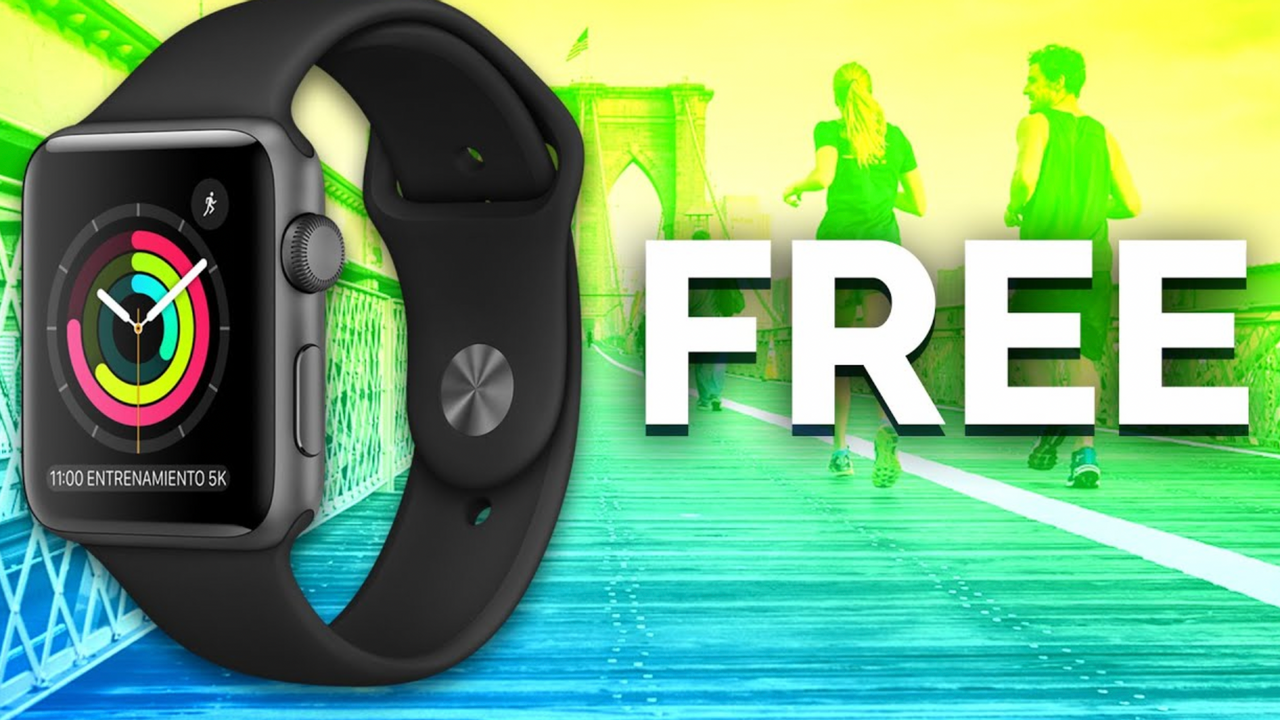 The best thing about this watch is that FINALLY, I have found a watch that lets you use the Google Assistant on the watch. AND it works with all of the Google Fit apps too.
So a very brief but really positive review of the TicWatch Pro 3 Ultra!
Oh and before I forget, iMessage. I keep forgetting iMessage. Now this is very personal to each person using iMessage and their situation, but honestly - after a while of switching to Android and back now, It's really not a huge issue.
If you are desperate to keep iMessage then I'd recommend checking out Beeper, which I've actually been using for about a year now. 90% Of my conversations have now been moved over to other chat platforms. Facebook, Instagram, Signal, or just any other app with pretty much most of the same features and functionality.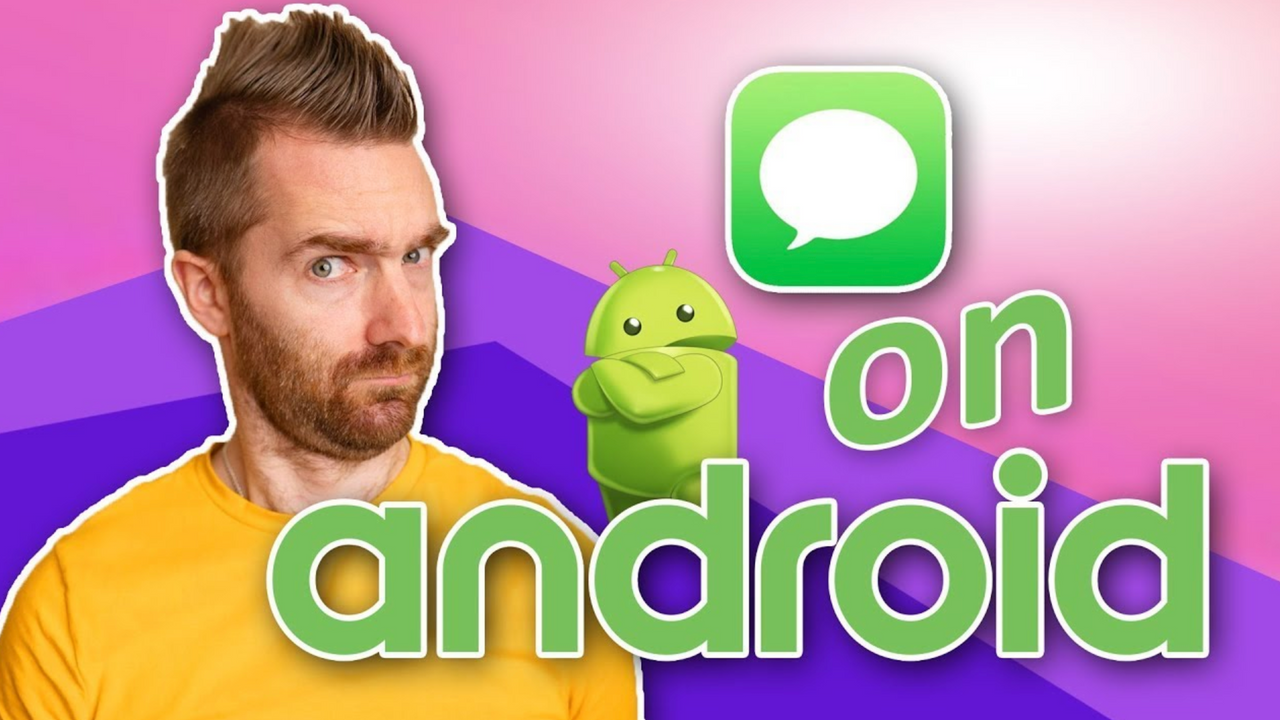 THE BAD STUFF
Firstly, and these are really minor things, to be honest, there's no quick mode to lock the watch when swimming. I only found a way to do this when starting the Swimming workout, and there doesn't seem to be a way to trigger the water lock unless you start this workout.
Also, the setup process seems just a little, complicated. Considering I'm used to the Apple experience of Apple Watch and Apple Phone and the Apple Watch App on Apple Phone with everything just being there.
With the Ticwatch you have to download the Google Wear OS App first, to pair the watch up.
You are then encouraged to download the Mobvoi App which, I'll be honest is a really confusing mixture of fitness goals, an Explore page, your account and profile, and then the device itself. You can't actually do anything with the watch. So a little confusing, but for the price point of it and its features, battery life and everything else it's got going for it - Actually I'm still overall, very impressed with this watch.
Back to the phone now, and for the camera, I'm seeing major colour shifting when switching between lenses. It's not really an issue when taking individual photos, but if you shoot a video of say a sports event and you like zooming in and out - that grass is going to confuse the nuts out of this phone.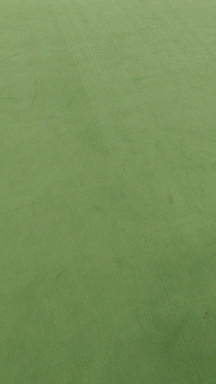 Slow Mo on this phone also, just misses focus constantly. Even with a single subject in the frame, it was still hunting for focus. I'm not quite sure how it can get it this wrong?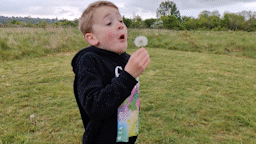 So whilst there are some good and fun modes for shooting videos and photos on this phone, I don't think it's a reason in itself to choose the phone.
When it comes to the display and performance, whilst it has been 99% a solid experience, I've noticed some weird scrolling issues, particularly on Instagram where scrolling just behaves, really unusual. I ran a screen refresh tool that shows it switching from 120 to 60 whilst scrolling, which just ruins the ability to scroll through your feed quickly, as it tends to hop skip and jump around.
There are also some issues with the always on display and that fingerprint sensor. Because whilst the always on display IS actually always on, unlike some other phones I've tested, the fingerprint sensor isn't. Therefore when you want to get into your phone, you'll need to tap the screen, sometimes quite a few times, or just give up and force it awake by tapping the power button on the side and then tapping your finger on the screen.
Has it ruined the whole OnePlus 10 Pro experience? Probably not, but I know that some of you reading are fussy buggers who will probably complain about it if I don't point it out - and for those iPhone users - I don't think anything can beat FaceID. It works, it's secure, they have apple watch integration so if you wear your watch then it can unlock your iPhone in case you're wearing a mask and it's intelligent enough to know if you've taken off your watch recently, just in case someone else has got hold of your watch.
The best thing you can do to replicate this with Android is to set up Bluetooth pairing where your phone will be unlocked when near another Bluetooth device, like your watch, or earbuds, but it's definitely not as secure as Apples way. Sorry Android people.
We've also got a missing IP Rating, there's no expandable storage, and this thing is basically the same price as the Pixel 6 Pro. Which leaves a really interesting conundrum.
Overall, I think the OnePlus Pro 10 is actually a really good phone. It's got solid performance, and a good set of features BUT, it comes at a time when each phone I've tested lately has had some flagship features.
The S22 Ultra with its crazy telephoto lens, the Pixel with all it's intelligent Google Voice features, heck even this Poco F4 GT that I reviewed last week which is cheaper than all of these phones has 120 watts hyper charging and that same Snapdragon chip, so the question is - why would you buy a OnePlus Pro 10 over a Pixel?