The Tesla Model Y is one of the top selling cars worldwide, it's the fastest selling used car, but even thought it's all of these, there are still 9 specific issues I have to deal with on a daily basis.
So I want to tell you how to fix each of these specific issues I've been experiencing with 9 must-have Tesla accessories. They all work for the both the Model Y and Model 3.
The first 2 are from a company called MagBak, and if you've watched any of my YouTube videos, you'll know that I have a MagBak phone case on practically every phone that I own. iPhone 13, iPhone 14, Pixel, S22, S23 - I love them. They do a great job of protecting your phone, and I love that you can stick them to anything.
🛞 MagBak Wheel Protectors
Now - What's one of the worse things that can happen to any new car?
It's probably when you or, perhaps your wife, you know, not naming any names, but maybe... maybe she takes your car our and curbs your wheels not long after you've had the car.
Surely something that could cause arguments in any happy marriage!
So to fix the number 1 problem of curbing your expensive wheels, these are an ingenious invention by MagBak.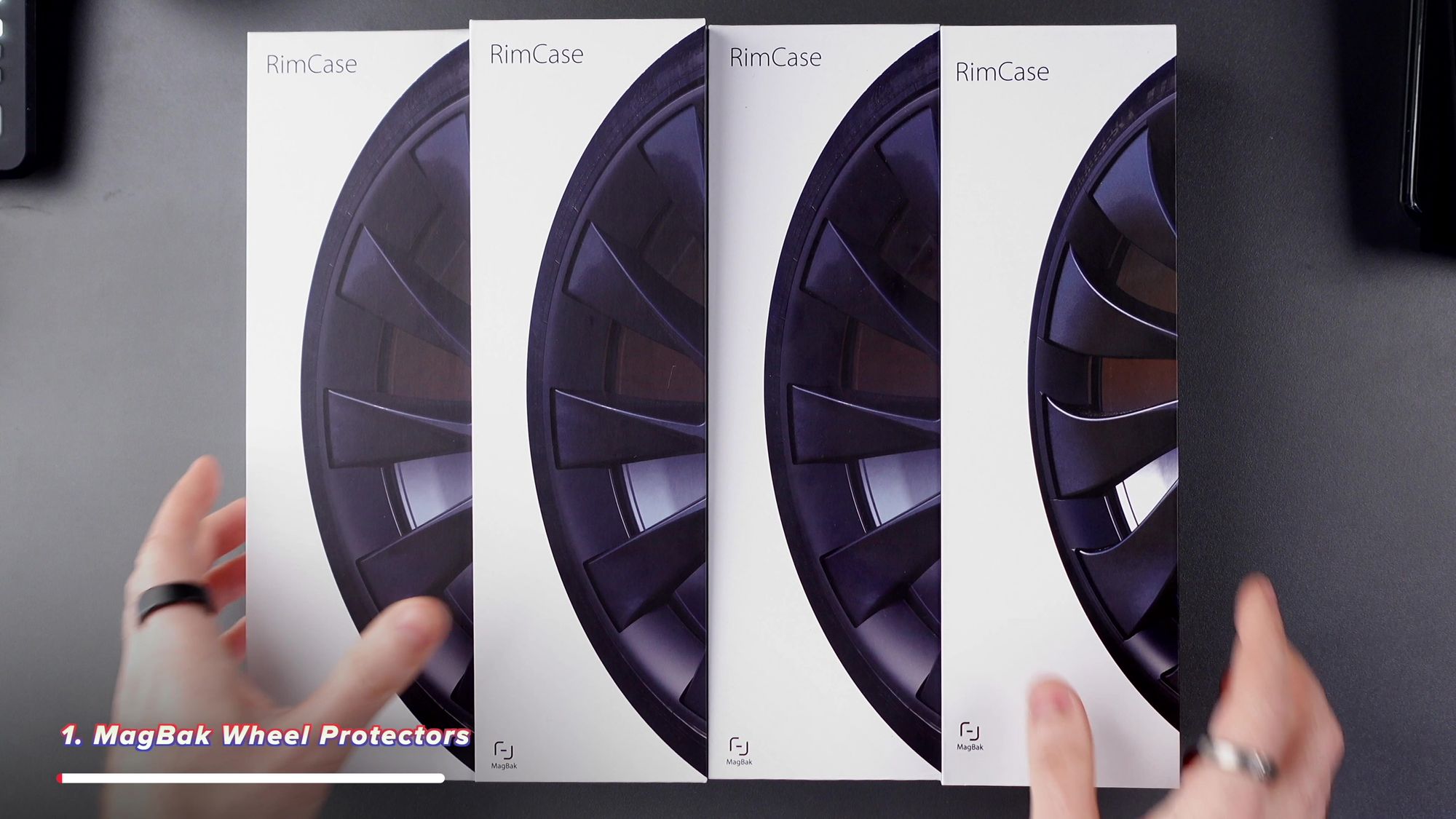 They come in multiple sections, and just snap on to your existing wheels. And by doing so, they give you total coverage and protection from curbing your wheels.
And even if you do curb your wheels, because they're fitted in sections, you can just swap out the section that's curbed, instead of having to replace the entire thing.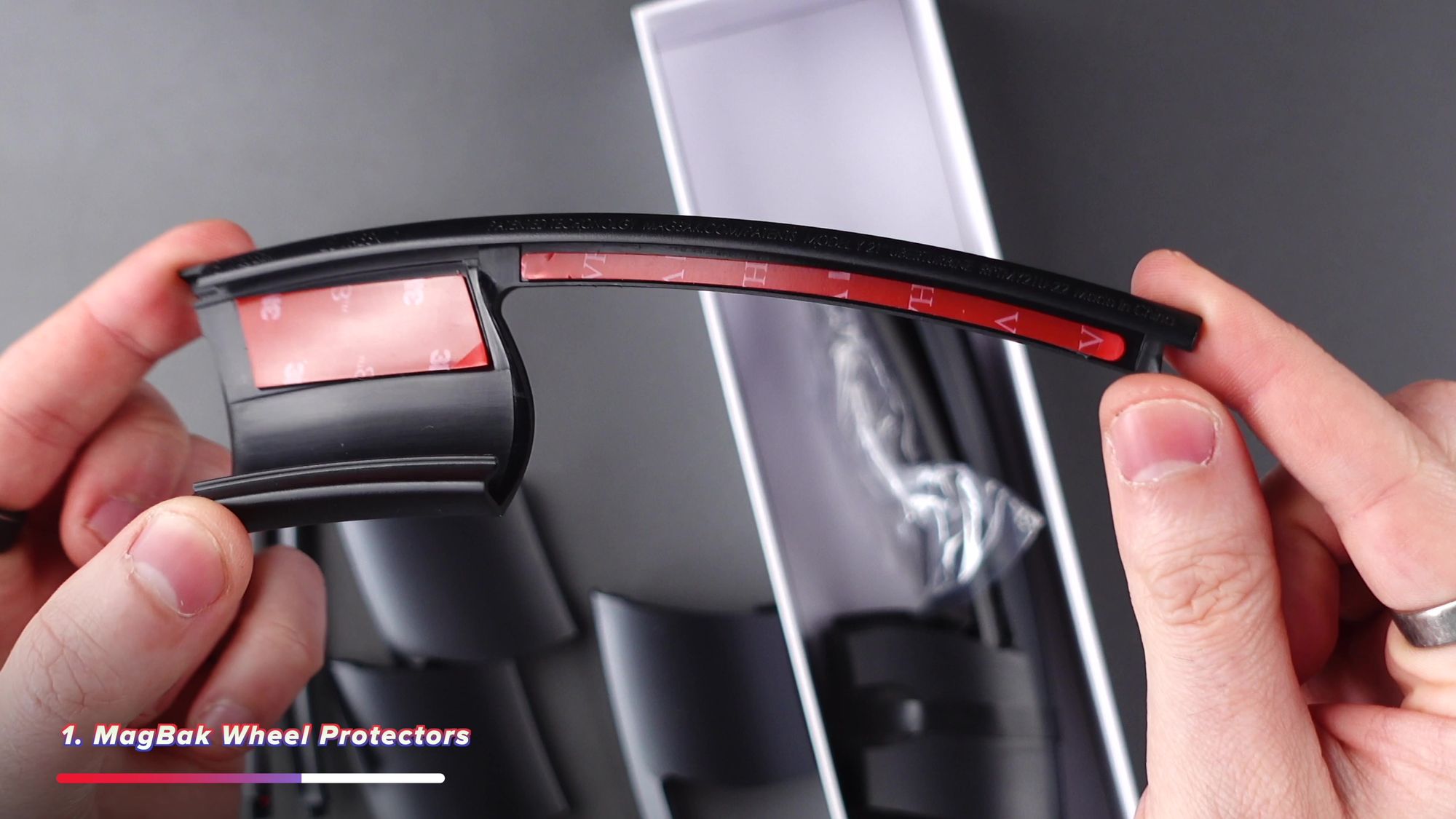 You get adhesive stickers to place over the edges of your rims so you don't risk scratching your actual wheels, and it stops any micro scratches from dust or dirt.
I also like that, once they're fitted, you can't really tell that anything's different. I had a really hard time telling the difference between the before and after photos unless you really know what you're looking for.
🔌 MagBak Charger
The next issue for me is that I don't want to be paying an extra £10 per month for access to some pretty basic features like showing traffic in navigation, or being able to stream Spotify. Damn you Telsa!
But you can't have your phone down on the charger underneath the screen because, A) you can't see it there and, B) it doesn't always charge unless it's in the exact right position.
So to fix this one, this is the MagBak Magsafe charger.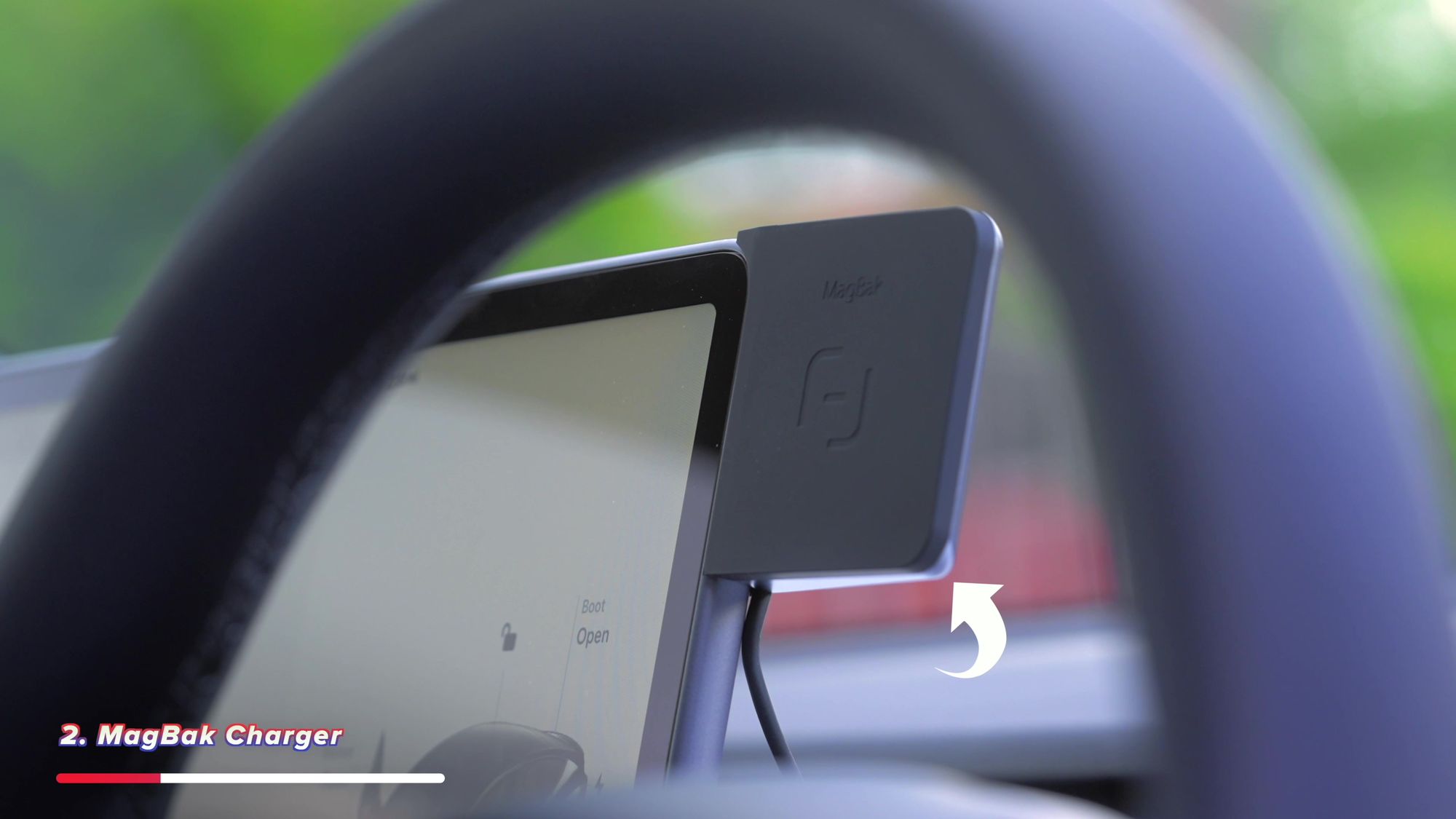 It sticks to the back of the centre screen, you run the cable behind the trim so it's practically invisible, and now you can mount your phone in exactly the right position.
It works with both regular Magsafe (so either phones or cases with Magsafe built in will work just fine) and, of course, it also works with the super strong magnetic MagBak cases.
It's not going to fly off if you accelerate quickly, it's definitely going to charge… you're not going to have to mess around with trying to get the phone in exactly the right position.
So now you can use Waze, or Apple Maps if you prefer that over the Tesla navigation and have quick access to your Spotify.
A huge shoutout to MagBak for sponsoring this video - but if this isn't a good fix for you, then I also have a way to get actual Apple CarPlay working in a Tesla, so stick around to learn more about that one.
👶 Kids Seat Protector
A couple of family problems now - kids. Kids are great aren't they? Particularly when they kick the back of your seats and cover them in scratches and mud and sand.
So these, and a few others I'm going to talk about in this post come from Tessories. These are covers that fit over the back of the chairs, and once fitted you can barely tell the difference.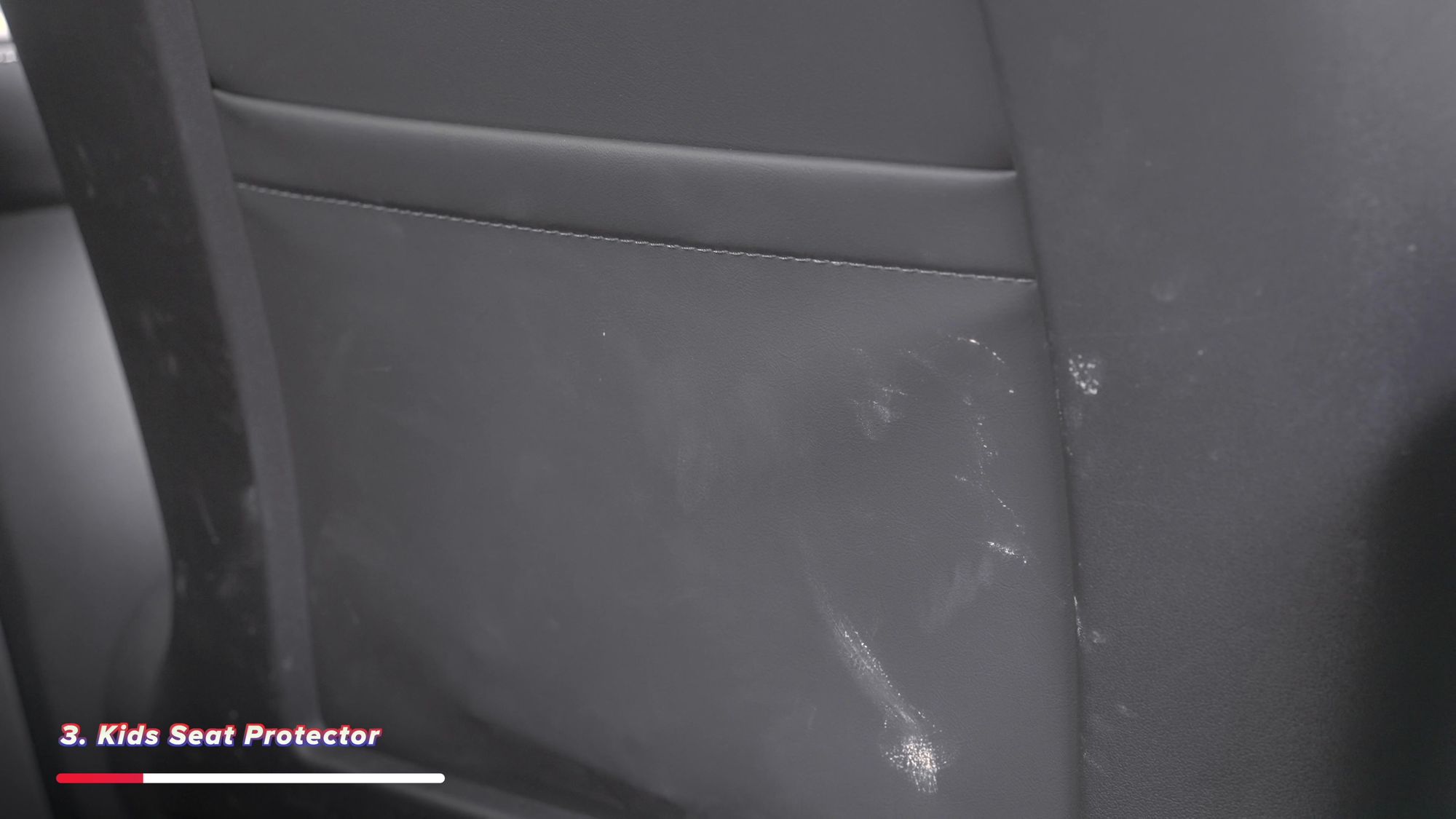 There's a little crease in one of them here which is just how they were folded when they came, but that will disappear in time.
And now, they're easy to wipe down and clean, and if they really get ruined, you can just buy another set instead of worrying about scratches to the plastic.
💺Back of Seat Protectors
On the flip side, where the kids sit always gets ruined. Especially if you're stupid like me and go for the white interior.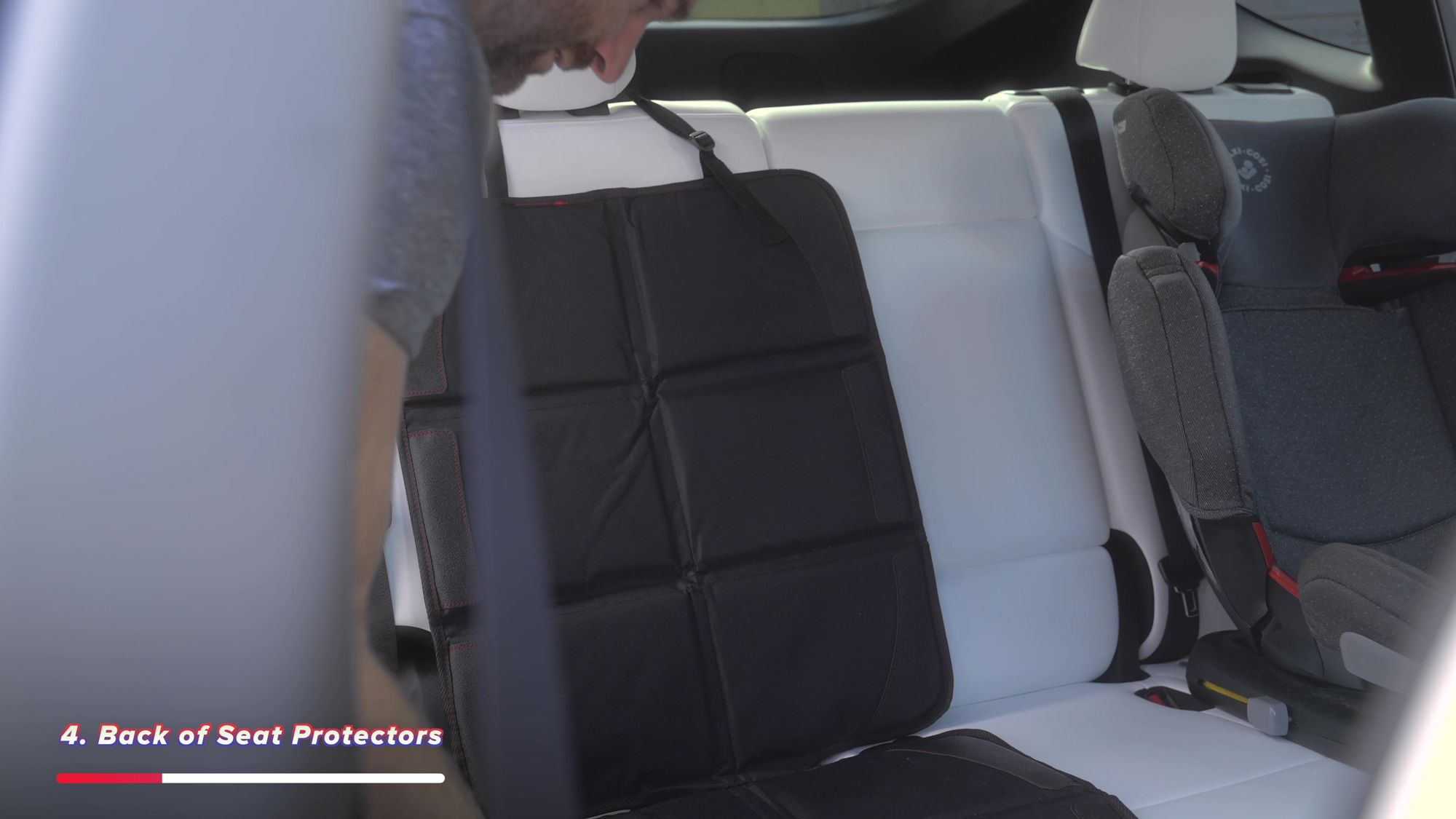 So these seat covers also stop almost all of the sticky, sweet, sand, chips, suncream, and all the stuff that kids tend to get covered in.
They protect the back of the seat if you have a full on car seat, so it stops it from rubbing and marking the seat. And there's also a smaller version which just protects the seat itself.
They also have this mesh pocket underneath which you can use to store things in like sunglasses, drinks, toys and games consoles.
🗑️ Trash Can
And the last family one, this trash can fits perfectly in the spot on the floor between the seats, it attaches with velcro and at least it's somewhere that both kids can reach and put rubbish into.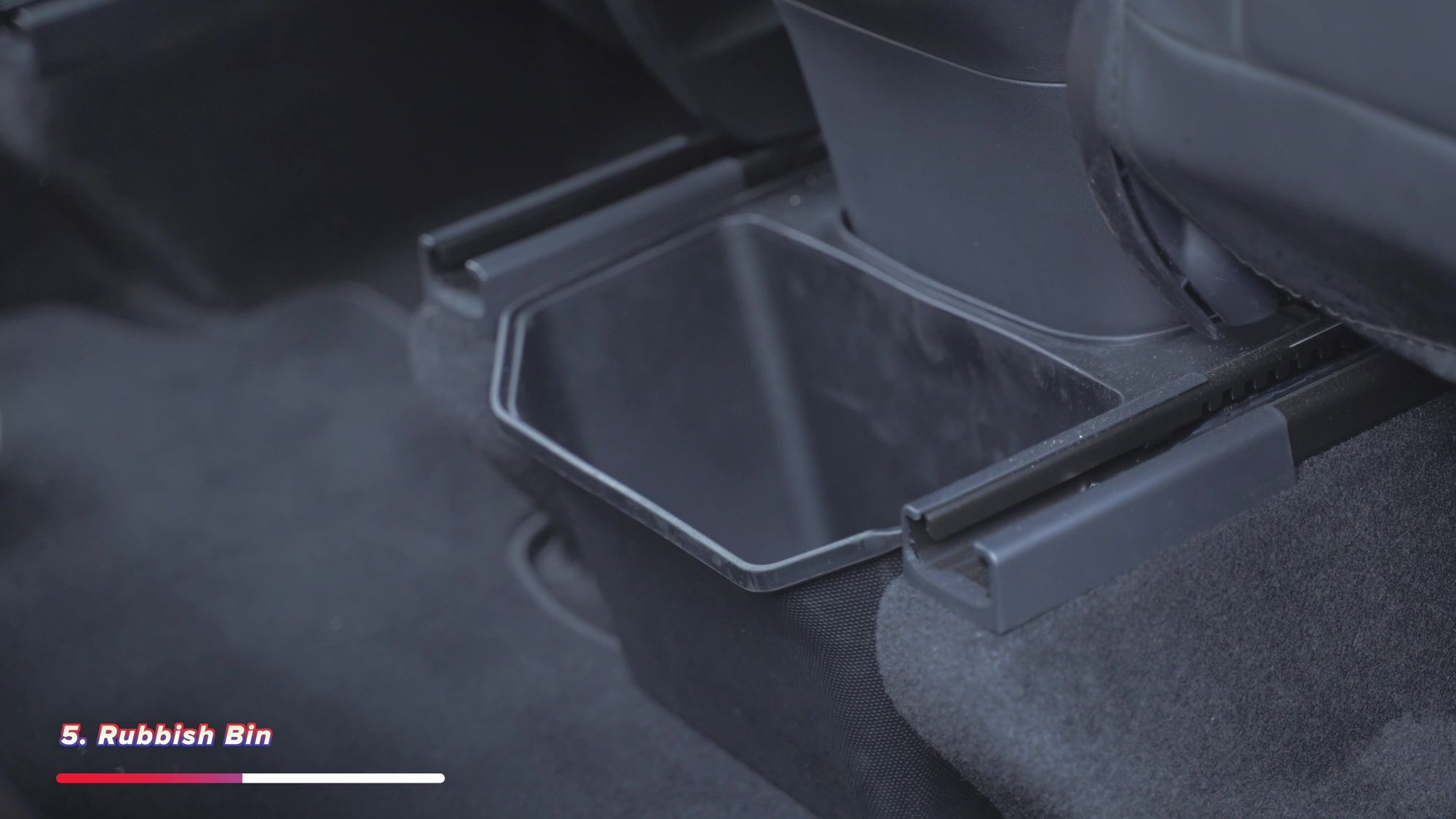 Whether they choose to or not totally depends, but at least it's there, and even if they don't - it makes it all that much easier when you do come to tidy up because you can throw it all in the bin and then take the bin out and throw it away.
🥤 Inserts
The next one that I think is a must have, is to buy some inserts for both the under arm compartment and the big bin of storage you have in the centre console.
They make these in all different styles and sizes.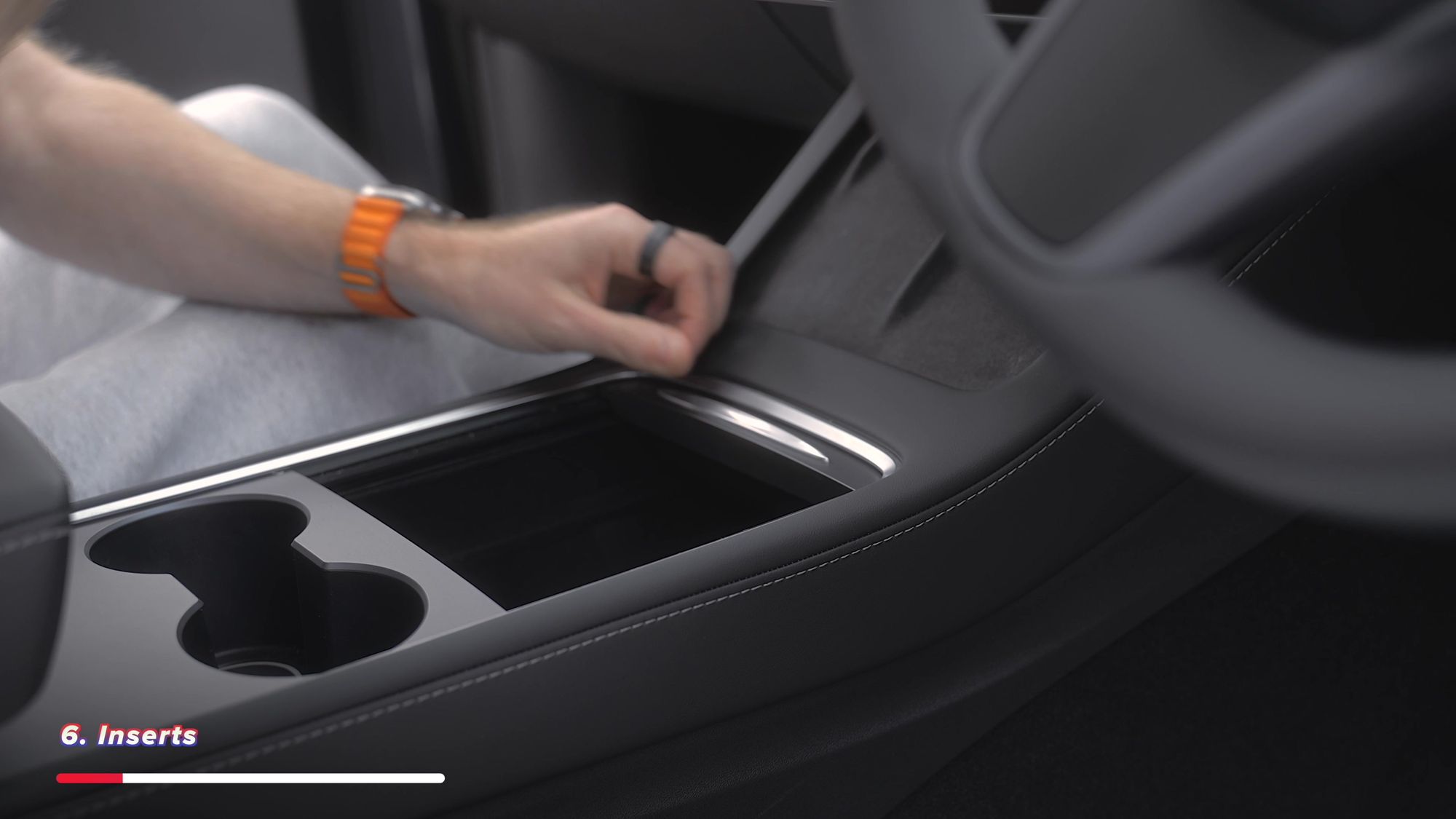 The one under my arm I actually bought for my Model 3 and I've brought it over to my Model Y because it just gives you a useful space to store loose change, I got a few cards in here, charging cables, whatever you need.
Now the large compartment at the front, I couldn't really use it for anything because it's way too big. Unless you want to store a huge drink or something in there.
So getting an organiser that slides in to there will make the space way more useful to you.
I store my sunglasses here along with any other small nick-nacks that otherwise just get in the way, or roll around, or get lost in such a big compartment.
🫧 Ceramic Coating
Something I don't have a huge amount of time for is cleaning my car.
But this is the first car I've actually bought outright in a very long time, so I want to keep it in as best condition as I can.
And that means not putting it through a regular car wash, because it will get covered in tonnes of micro scratches from either machines or from people just reusing the same cloths over and over again.
So the best option here, is to get a ceramic coating.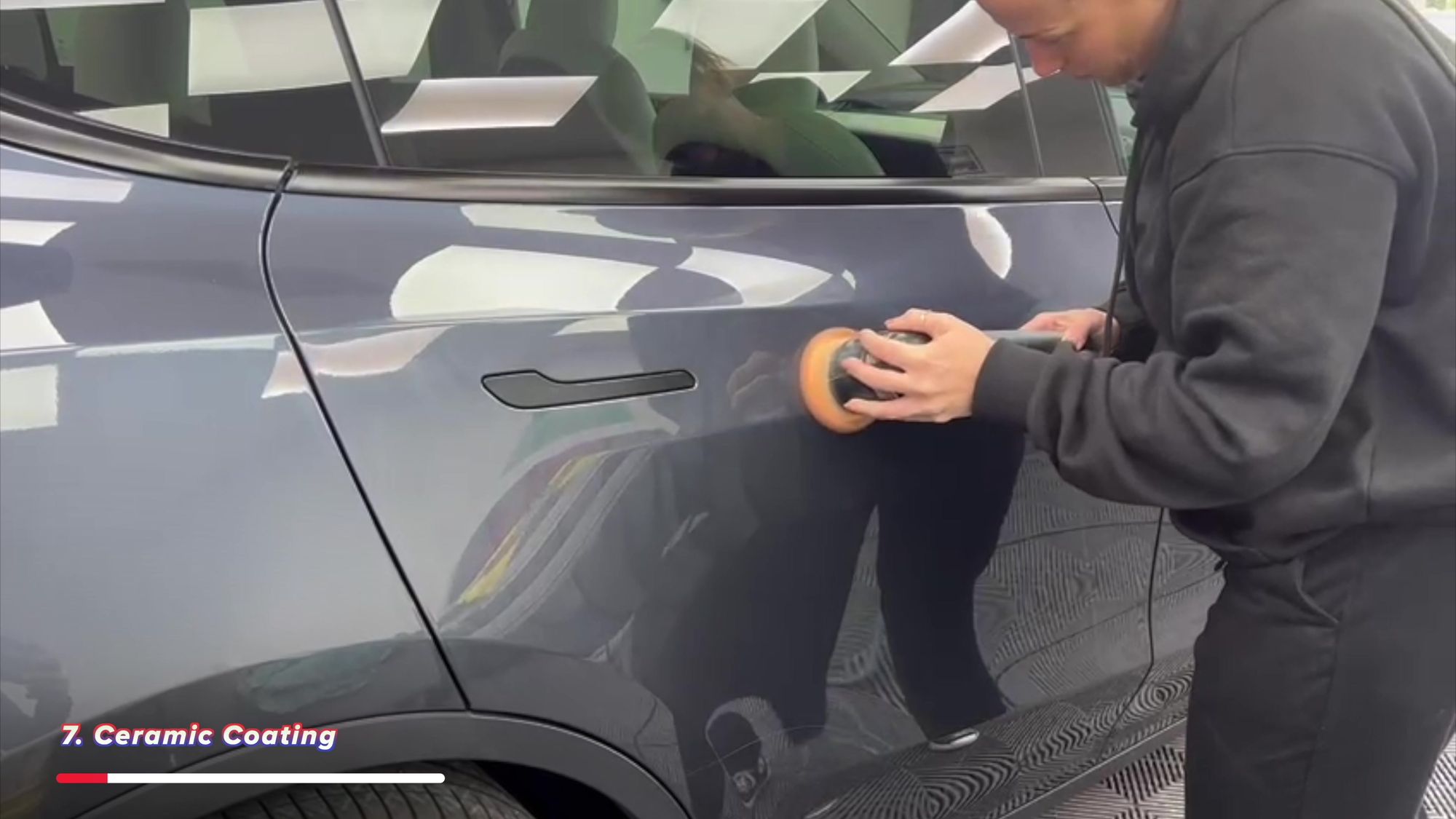 It's this invisible coating which gets applied, and left to cure for a couple of days so the coating goes solid.
And basically what this does, it protects the paint, it makes the car SUPER shiny.
It wouldn't look like this if you took it through a public car wash...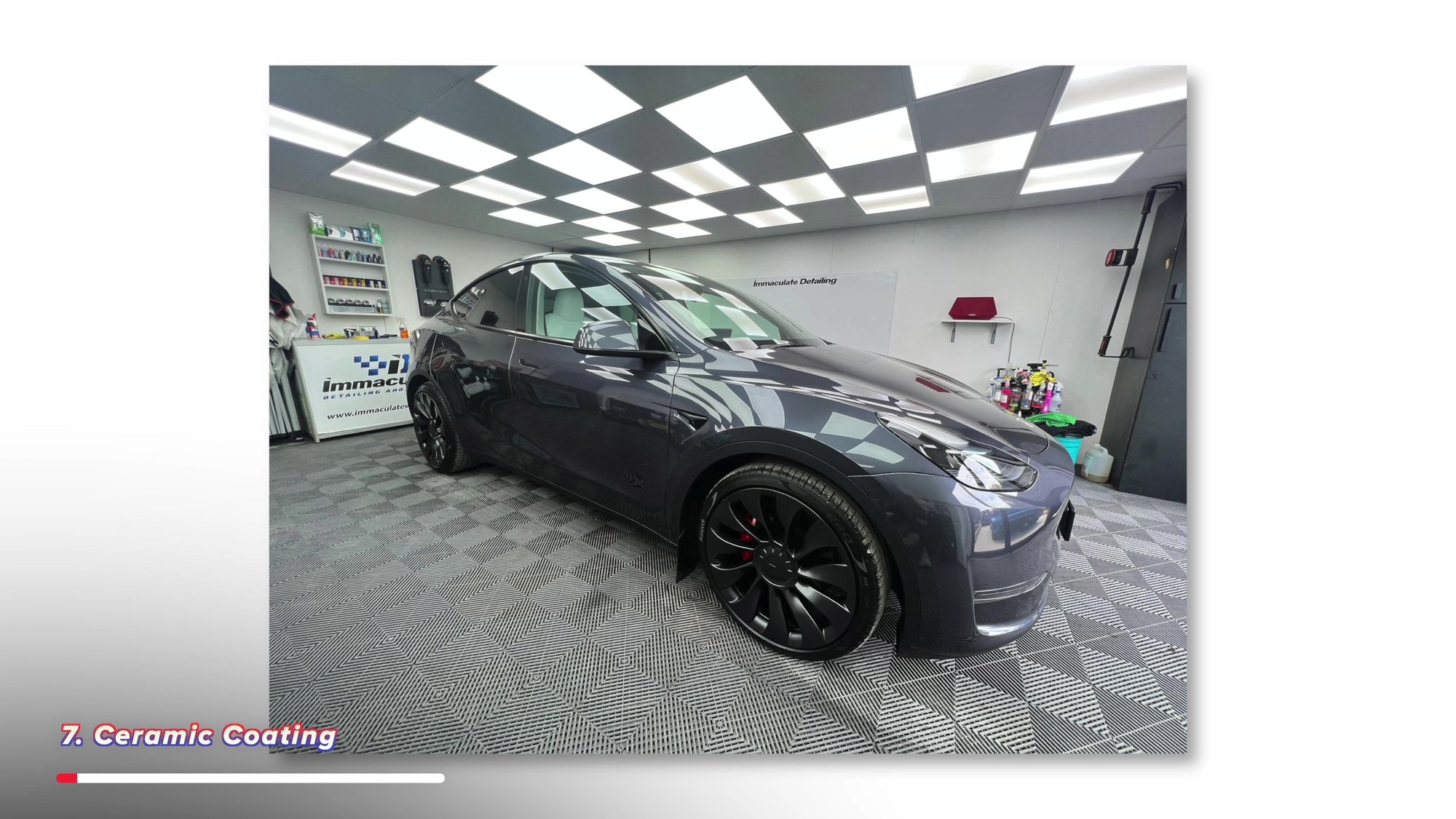 The guys at Immaculate Detailing also machine-polished out some scratches to the paintwork, which were already there since delivery.
And by having a ceramic coating, it just makes it so much easier to clean.
Water just beads off the coating so, even when it rains, it just runs off.
I also had them remove the Tesla and Dual Motor logo on the back and replaced with some sick blacked out TESLA letters which I think just finish it off SO well.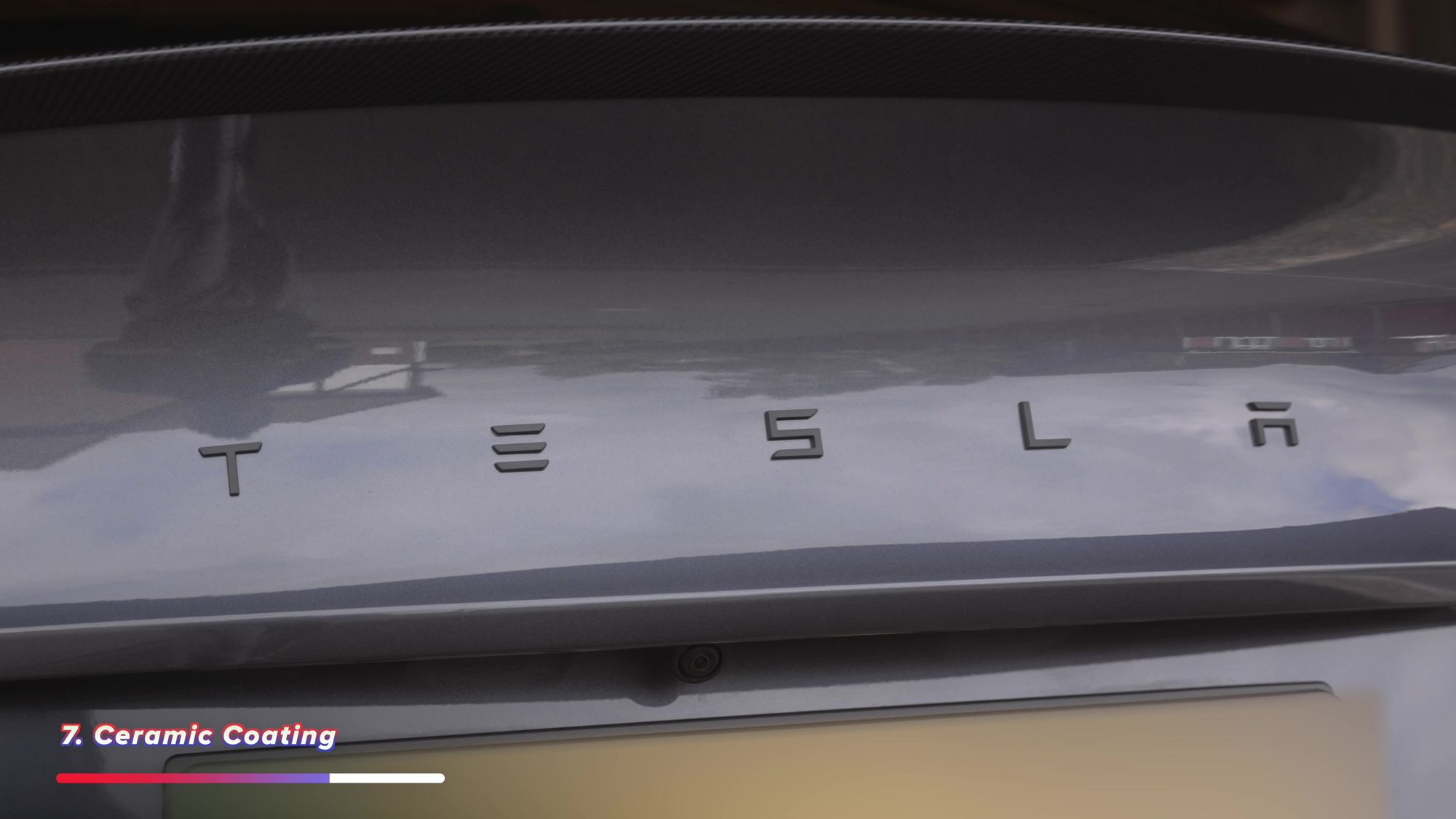 Lastly, with the ceramic coating, I've also applied a coating to the glass where any water hitting it just beads right off.
I find that with it applied and you're going anywhere over, 30-40mph then you don't need your wipers on because the water just rolls off. Even if it's absolutely hammering down, I love to be driving down the motorway, and everyone's got their wipers on full speed, struggling to see what's going on, and you can just be cruising without any wipers on and everything is crystal clear.
🥾 Model Y Floor / Boot Liner
Next up, when you go to the beach, or wear a pair of wellies (or 'rubber boots'!) in the winter and go walking through muddy puddles, having somewhere to actually put your wellies, or sandy shoes can be really handy.
And this really simple tray that you can throw into the bottom of the boot comes in clutch.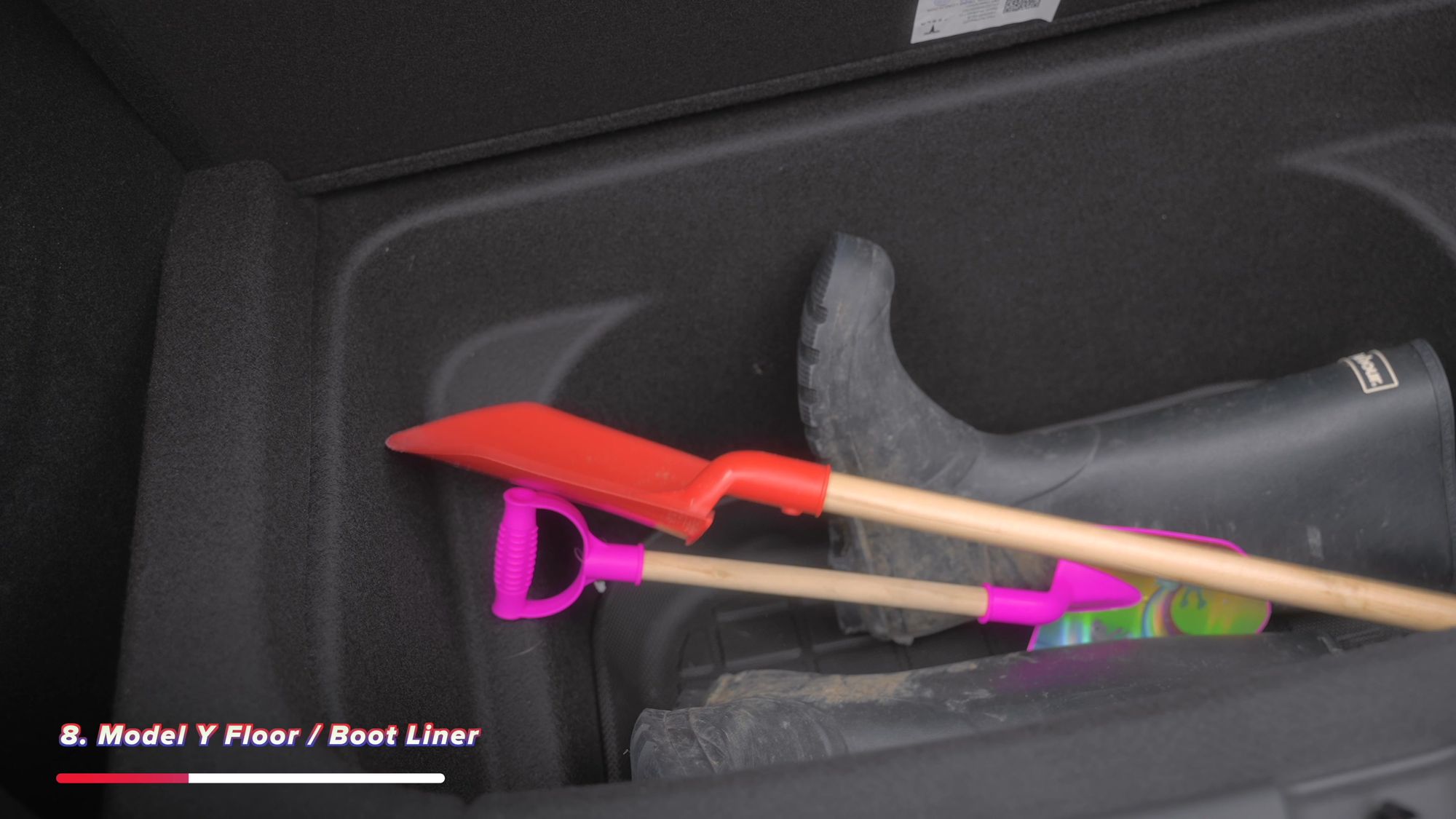 You can also get one for the frunk if that helps. But get one, throw in your dirty shoes and then, if you ever need to, you can just pull it out and jet wash it to get it clean again, before it goes back in.
Particularly if you live near a beach, or for winter, I'd also recommend getting some all weather floor mats as well as a rubber boot liner just to save you messing up the fabric of your boot with mud and sand.
I've actually ordered some but waiting on them to be delivered still.
I never bothered with this in my Model 3 before, but a few weeks ago I ended up putting a bike in the back of the car, and it's already marked the fabric on the back of the seats, which I'm a bit gutted about. So, yeah, had I had the liner in place then, that disastrous event could have been completely avoided!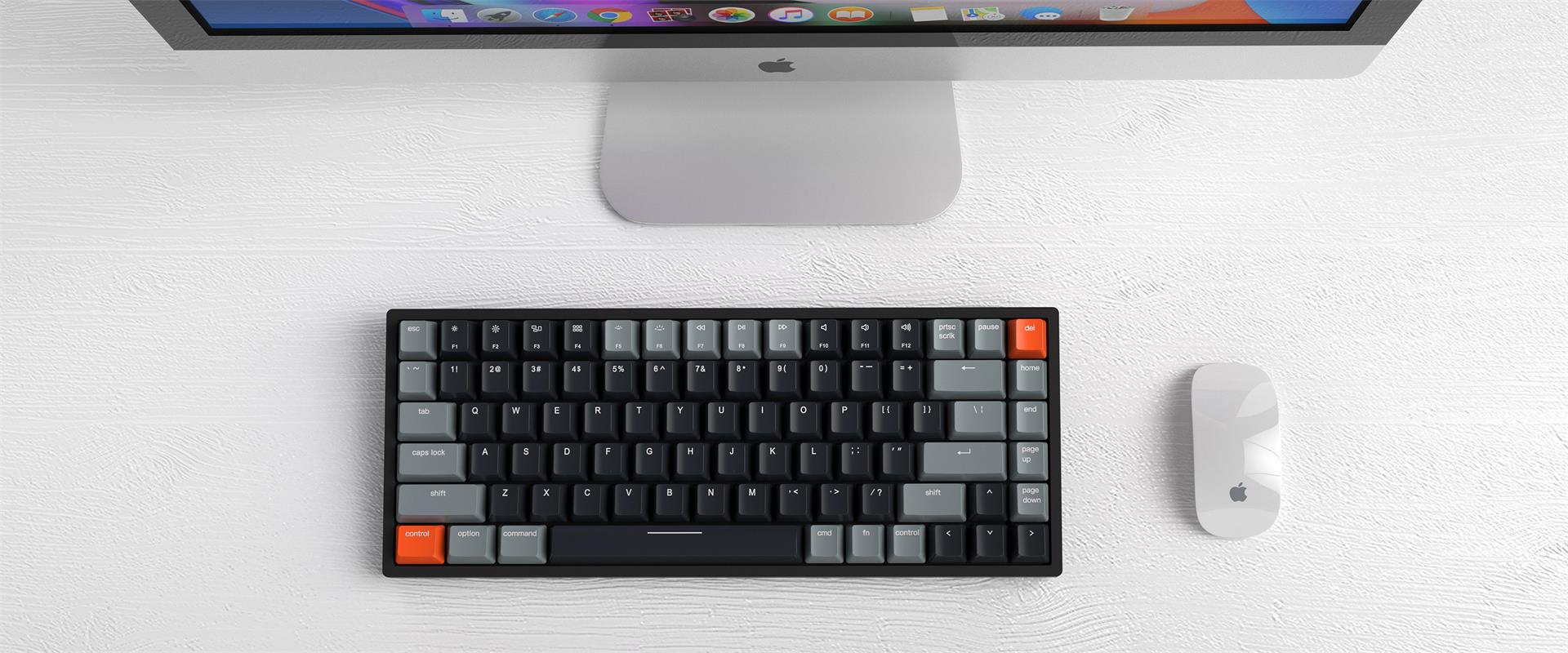 🤳 CarPlay / Android Auto
Next up! And first off - this is going to sound like a huge first world problem right here. But one of the things that bugs me with Tesla is that there is no Apple CarPlay or Android Auto.
I've had 2 Model Ss, a Model 3 and now a Model Y, and I'm honestly getting a little tired of the good, but kinda basic navigation and music integration.
But, there IS a way to get Apple CarPlay AND Android Auto to work.
With AndroidAuto, you can literally just download an app to your phone which then makes it think it's connected to Android Auto, and then you can just browse to it via the web.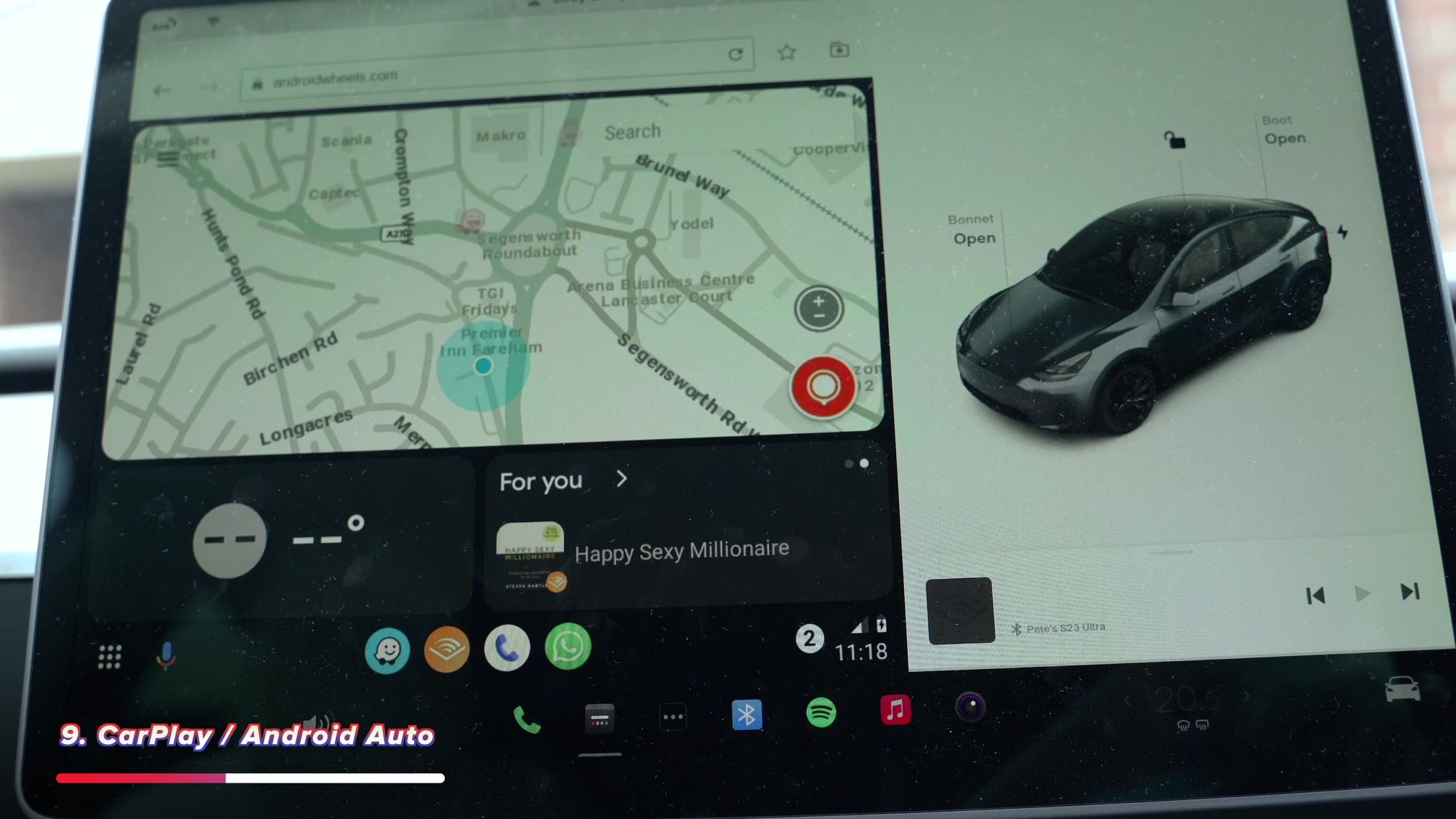 It works OK, but I find the interface to be quite laggy at times.
But for Apple users, I bought a clever little box that just plugs in via USB, you connect to it via Bluetooth and then you connect your car to the box via Wifi. And it brings the full CarPlay experience to you via a browser.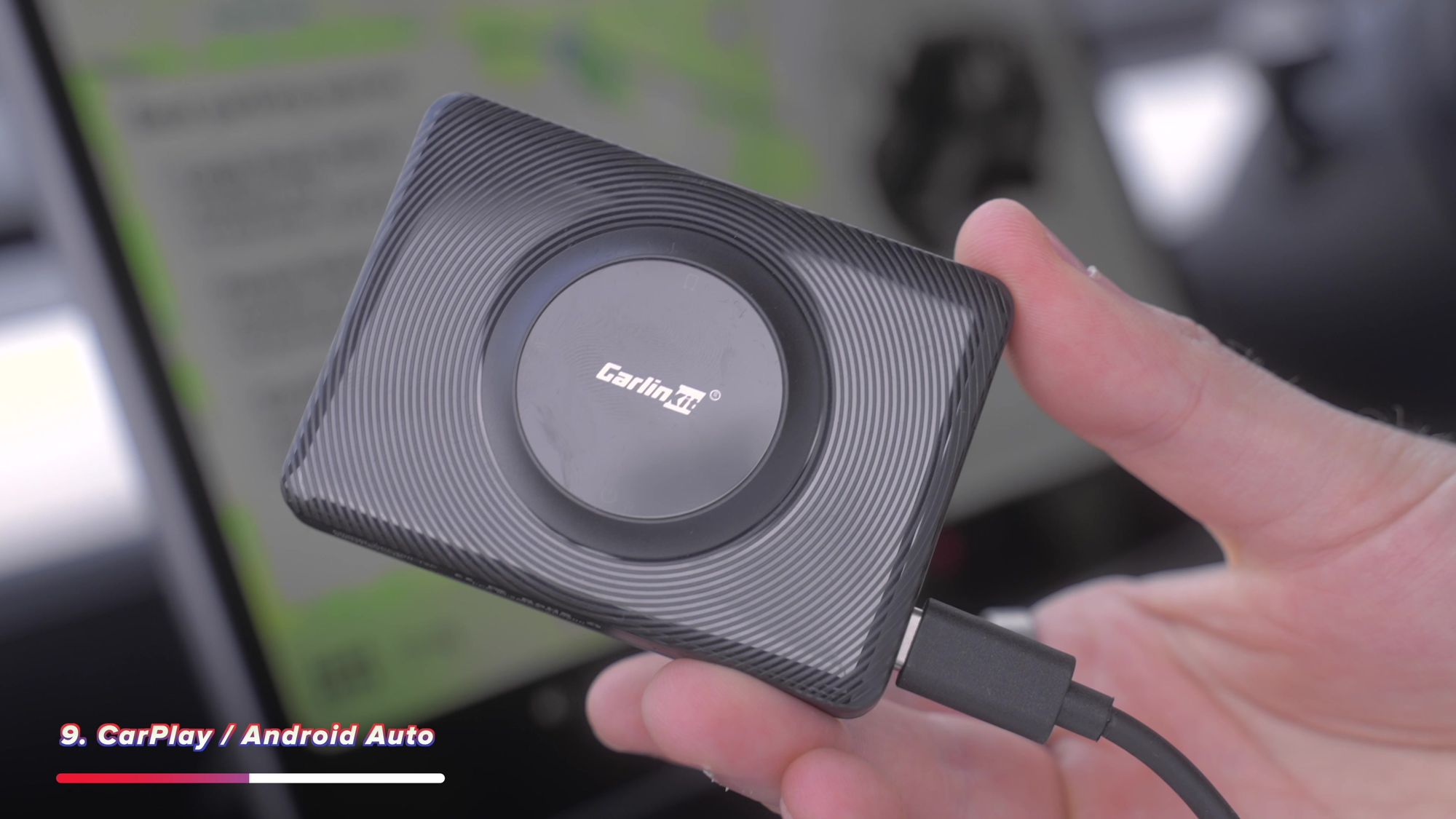 You can reply to messages, use Waze or Apple maps for your navigation if you prefer that, you can use apps to find parking or charging points - it's so much better than what's built in.
And you don't have to pay a monthly subscription fee for it to work either.
Now this one does work much better than Android Auto. I don't have to use a separate sim card or anything; it just hotspots using my phone's data connection but is still pretty responsive.
I really think this is something that Tesla should just get working, both with Android and iOS, but it's at the point now where Elon Musk is just gonna say something like 'Why do you need it when you won't even need a steering wheel soon' - like he's been promising for over 5 years now!
🐙 OCTOPUS Intelligent
If you're worried about how much it costs to charge your car, then check to see if your energy provider offers a smart charging tariff specifically designed for EVs.
Here in the UK, I recently switched to Octopus Intelligent which gives me 6 hours overnight at 10p/kWh, and then costs 45p/kWh outside of that off-peak window.
🛒 Get £50 off Octopus Energy: https://geni.us/WyMpW9mk_IU-1
Now as soon as I plug my car in, Octopus will check to see if it can give me any additional off-peak windows by utilising fluctuations in energy prices, and so far I've been able to charge pretty much from 4pm in the afternoon through to 11am every day at the cheap rate, and that means I can charge my Tesla home battery at those cheap rates too.
🎥 Tesla Club PLAYLIST: https://www.youtube.com/playlist?list...
If you enjoyed this post, and want to read about 20 Hidden Features of a Tesla, click HERE.