...and you're all invited!
Each month, we'll be hosting a giveaway to one (or maybe more) lucky newsletter subscriber.
I'm teaming up with some awesome brands for these giveaways, and I can't wait to share more with you as we go.
For August, Google has really stepped up to the mark and offered a Pixel 6a to giveaway! The only caveat is that this is limited to UK only. Sorry to those outside of the UK.
BUT, we do have a second giveaway for August, which is a collaboration with Paperlike and 1Password - who are giving away 5x Bundles of their 'Paperlike Pro Bundle' and a 1Yr subscription to 1Password for Families.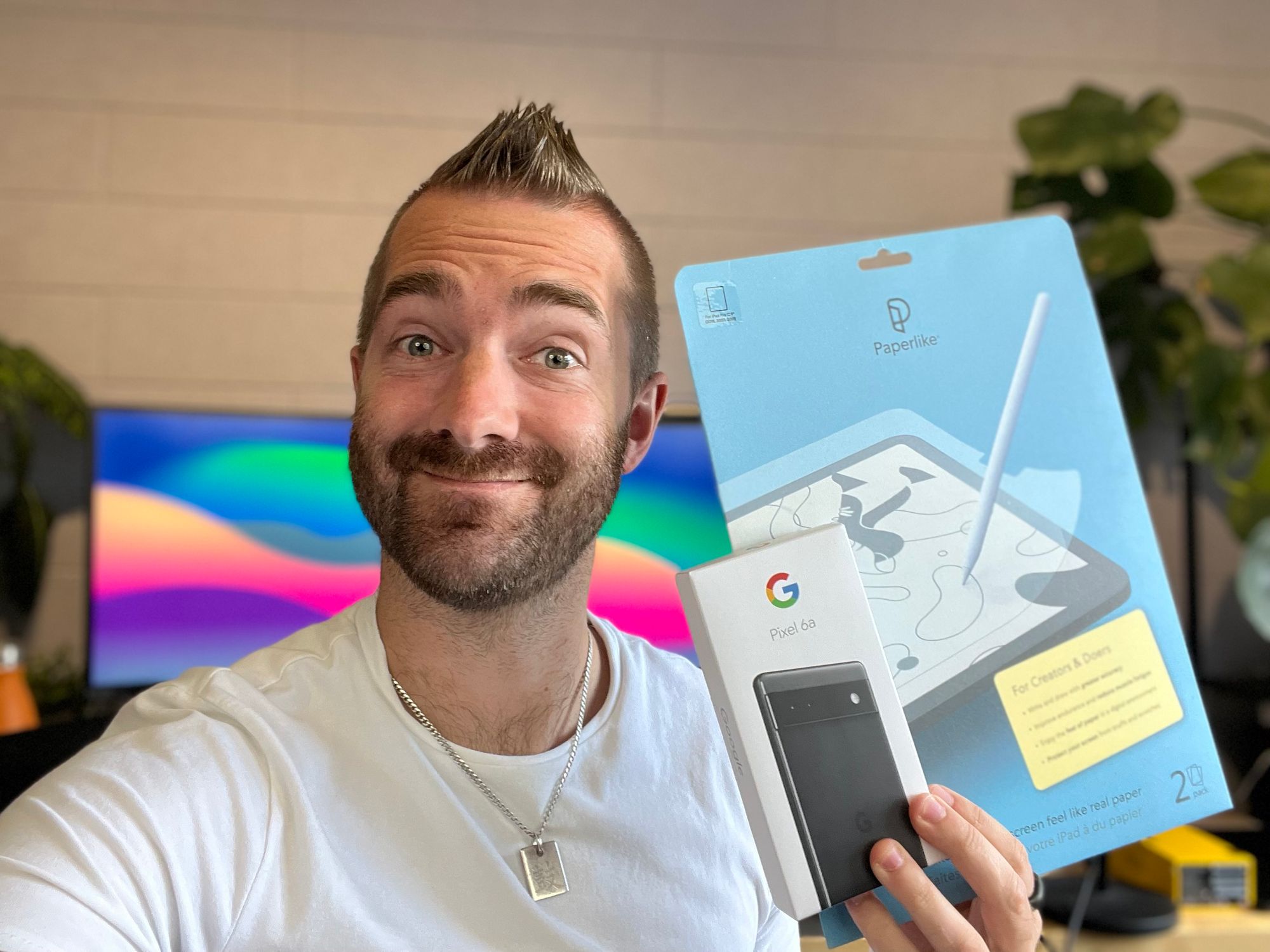 You don't need to do anything to enter, just being on this newsletter will qualify you to enter every single month! And we'll announce the winners via this newsletter too; so keep your eyes peeled!
A huge thank you if you have recently joined up 😀 Welcome!
I typically share a little 'behind the scenes' of what it's like to run a growing YouTube channel. So, if you have any questions at all, feel free to reply back and ask away. I always make time to reply to my newsletter subscribers.
---
💬 In this week's issue:
Plan for Shorts. My 1.4m TikTok video
Favourite Stuff. Advanced preview of what I've been using/reviewing
Latest Videos. Catch up on the latest videos on the channel
---
🩳Plan for Shorts
With my recent new hire starting (Hi Chris!), I've had some time to re-think about the content that I post.
So for August, I plan on shooting 1 video per week for YouTube, and then posting 3x short-form videos to TikTok, Instagram Reels, and maybe also YouTube as a short. (ps. Please follow me on there too! 😜)
I've already had some previous success with one of my TikTok's already gaining 1.4m views 🤯 - Which is crazy since it wasn't planned at all and took me all of 30 seconds to post. So I'm going to try and plan to make some more short-form content to see where it goes. Got to try everything, right!?
🌳Day in the Life
I know how popular my 'Lifelong iPhone user Switches' videos are. I'm also seeing a trend of Day in the Life videos getting more popular. So I'm about to put my hands into my pockets and hire a pro videographer to come out with me for a day per month to shoot a day-in-the-life video, where we'll try to plan out some adventures to really test the limits of each phone! Mega excited for this!
📱Upcoming Tech
Tech season is upon us, we're about to see an absolute onslaught of devices!
The new Samsung Flip & Folds, iPhones, Pixel 7, Pixel Watch - it's going to be AWESOME. And I can't wait to share these devices with you.
---
🗞 Favourite Tech
I purchased the Opal C1 expecting to significantly up the quality of my Zoom calls, but have been left disappointed with buggy software and a camera that struggles to even focus at times. Until - ENTER, the INSTA360 LINK - Holy cow this thing is good! (Full review and comparison coming soon)
Pixel 6 Pro - I just can't get enough of their Voice Assistant features. I can effortlessly type out messages and it actually gets it right!
Brain.fm has legitimately boosted my productivity. Full review coming soon, but this music service uses clever technology to play music that actually helps you focus and get stuff done! Crazy good. (I just signed up for a whole year it's so good!)
My new Synology NAS. I've recently switched over from my QNAP to a new Synology model and this works great! I've already filled it up so I need to find some bigger disks :)
The new Western Digital SN850 - 1TB PS5 Upgrade. I recently installed this into my PS5 and this thing FLIES. 7000MB/s is crazy fast! Call of Duty no longer fills my entire PS5 😆
---
🎥 Latest Videos
Highlights of the latest videos published on the channel
---
❤️ Enjoy this newsletter?
Forward to a friend and let them know where they can subscribe (hint: it's here).
Anything else? Hit reply to send feedback or say hello.