Googles first foldable is finally here, and as a huge fan of the Samsung Fold, the Pixel Fold is one of the devices I've been really excited to buy.
Lifelong iPhone User Switches to Google Pixel Fold!
Until recently I have been a lifelong iPhone user. But, recently, like many others, I've been getting a bit bored of using the same old familiar iPhone, which doesn't really change much with each year and each update that goes by.
And it turns out that Android has a whole lot to offer - and the Pixel Fold is a very good first-generation foldable device by Google.
Let's kick things off with the good bits about this foldy phone...
Front Screen
Now, there's always this telltale sign with a foldable phone: and that is how far you can go when using the phone before being forced to actually unfold the device.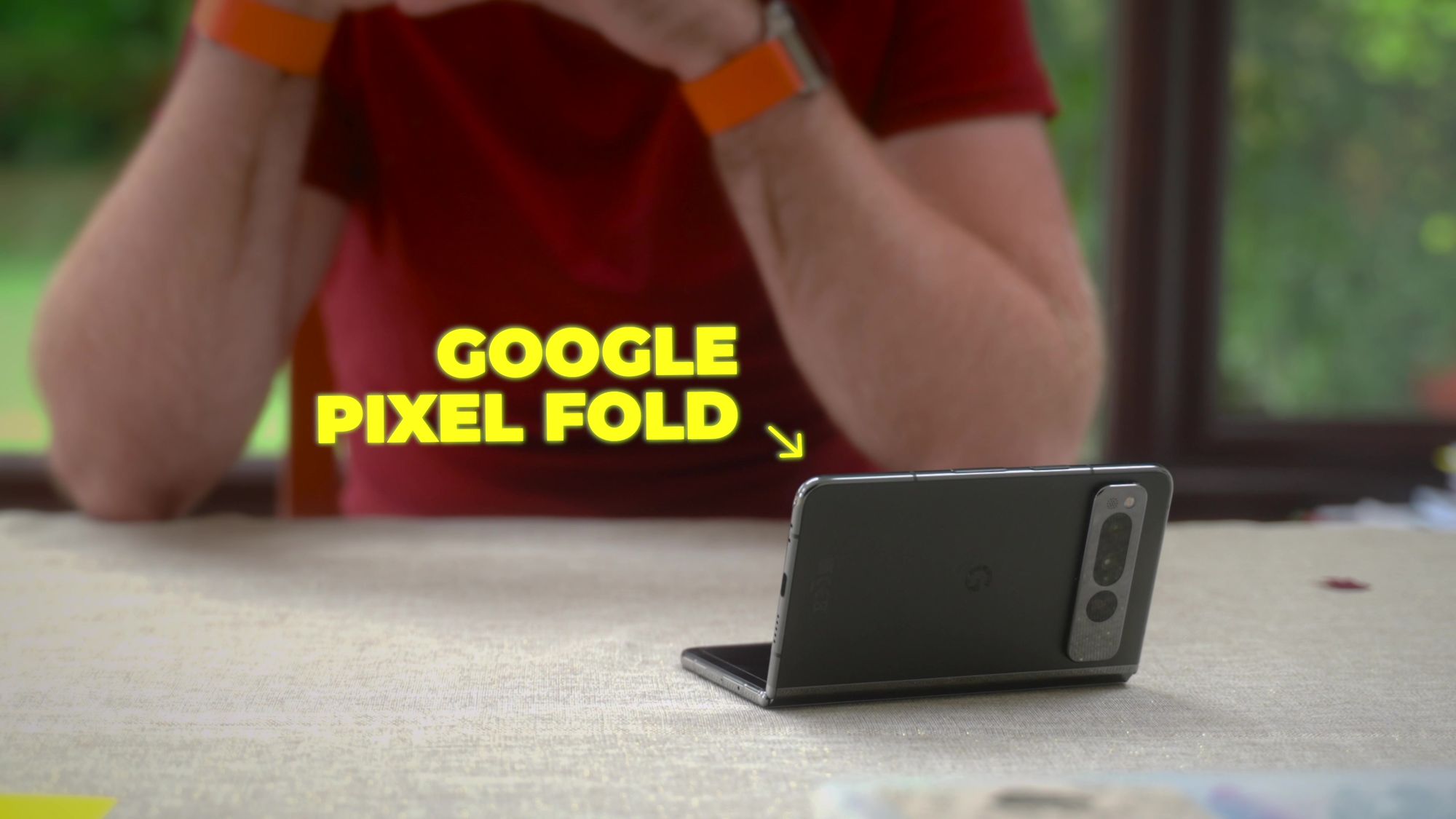 I've used the Galaxy Z Fold 4 and the bar between using the device, and then needing to unfold it to use it "properly", was very low - mainly due to the front screen being too narrow and with it being quite fiddly at times to type on the front screen.
The good news with the Pixel Fold is that they've actually improved on this issue with a much wider front screen, and I find myself needing to open the phone far less than I would normally for just day-to-day, regular use.
You've also got the fingerprint sensor on the side button, which you can get to quite easily with just one hand, and still use the rest of the screen without shifting your grip too much. The Fold also supports Face Unlock, though, as we know, it's not nearly as secure as FaceID, and chances are you'll likely get into the habit of using the fingerprint sensor anyway.
So, whilst the front screen is much bigger than the galaxy fold 4, it's still small enough to use one-handed, and you can still reach all four corners of the phone - even whilst carrying the shopping, or holding your kid's hand, or just doing something else with your other hand... 😉
...like folding laundry.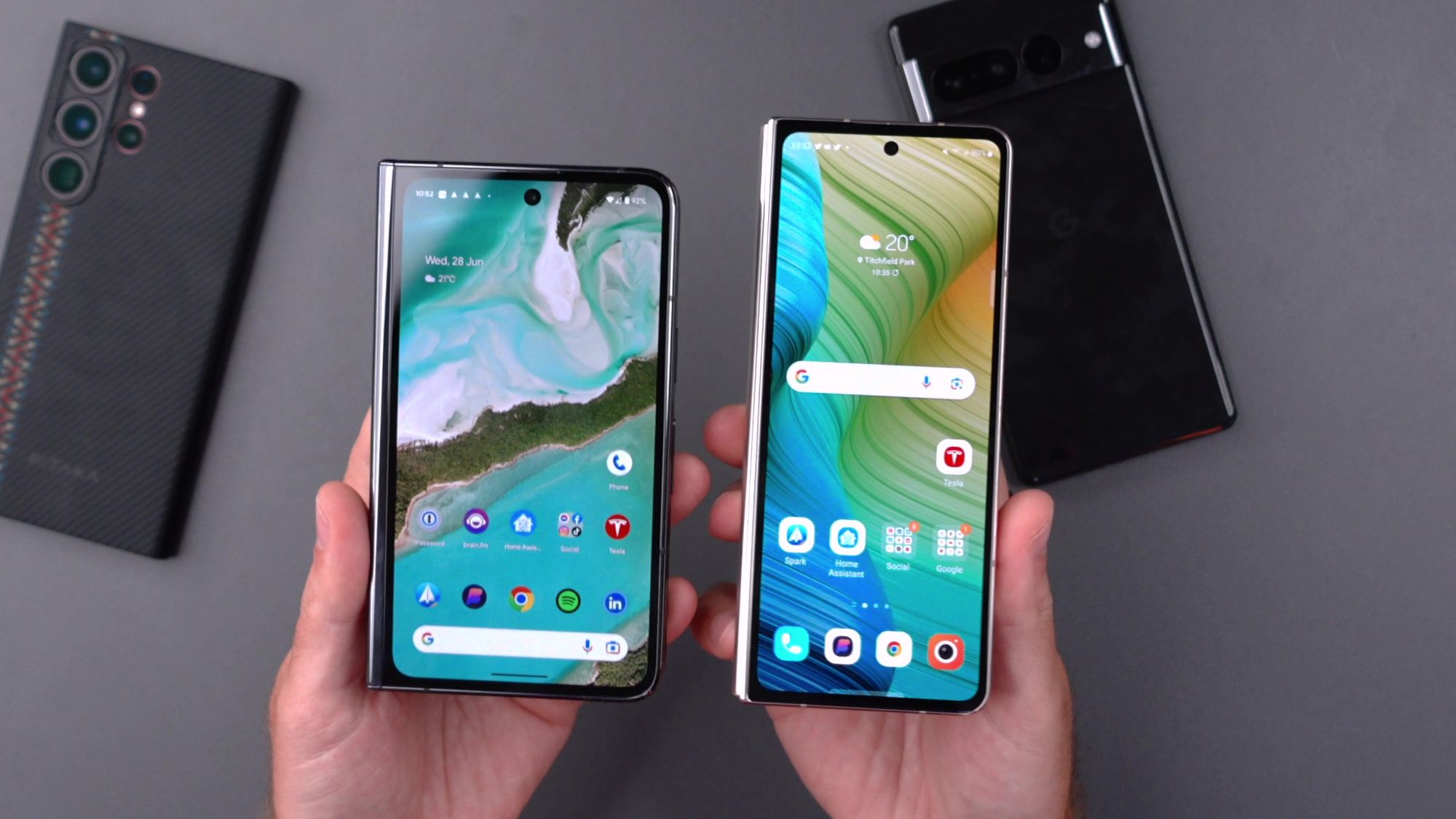 Inside Screen
But of course most of us don't buy a foldable device to only use the front screen…
So upon opening the device, you're greeted with a couple of home screens, one of the left, one on the right, and the dock, which is in the centre.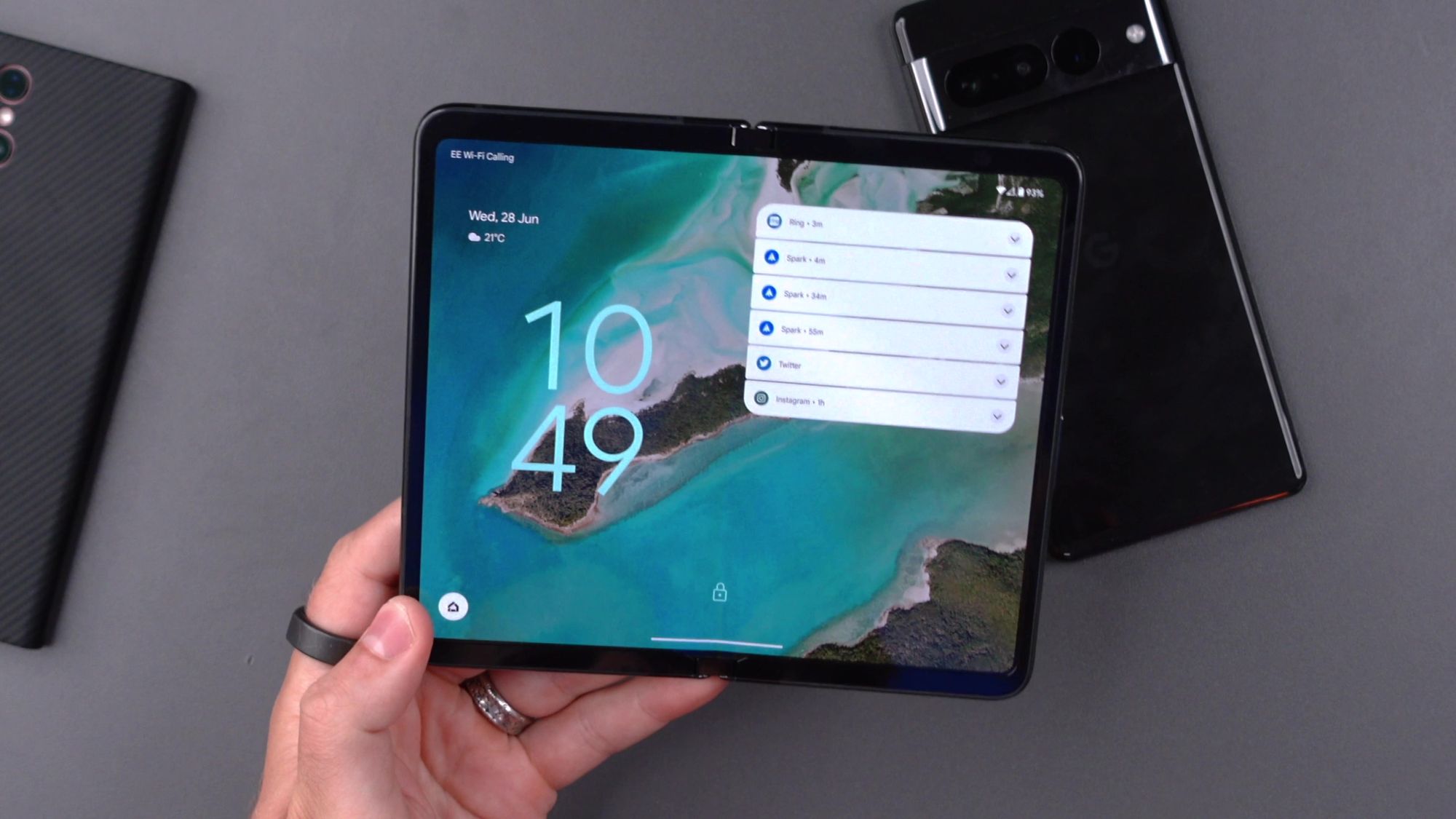 And you can swipe up from the bottom in any app to bring back the dock. Standard.
Multitasking is a simple case of dragging an app onto either the left or right side. Simple and seamless.
You can't do anything more than this currently. There's no floating windows, you can't have 4 or 5 things open at the same time like you can on the Fold. But you can still drag the edges to resize the apps to suit your needs.
When I'm at the gym (which I have to say is becoming more of a regular occurrence!), I can have my workout app open on the left hand side, whilst watching a video, listening to music, or even having a workout guide on the right, all at once. It's actually really neat!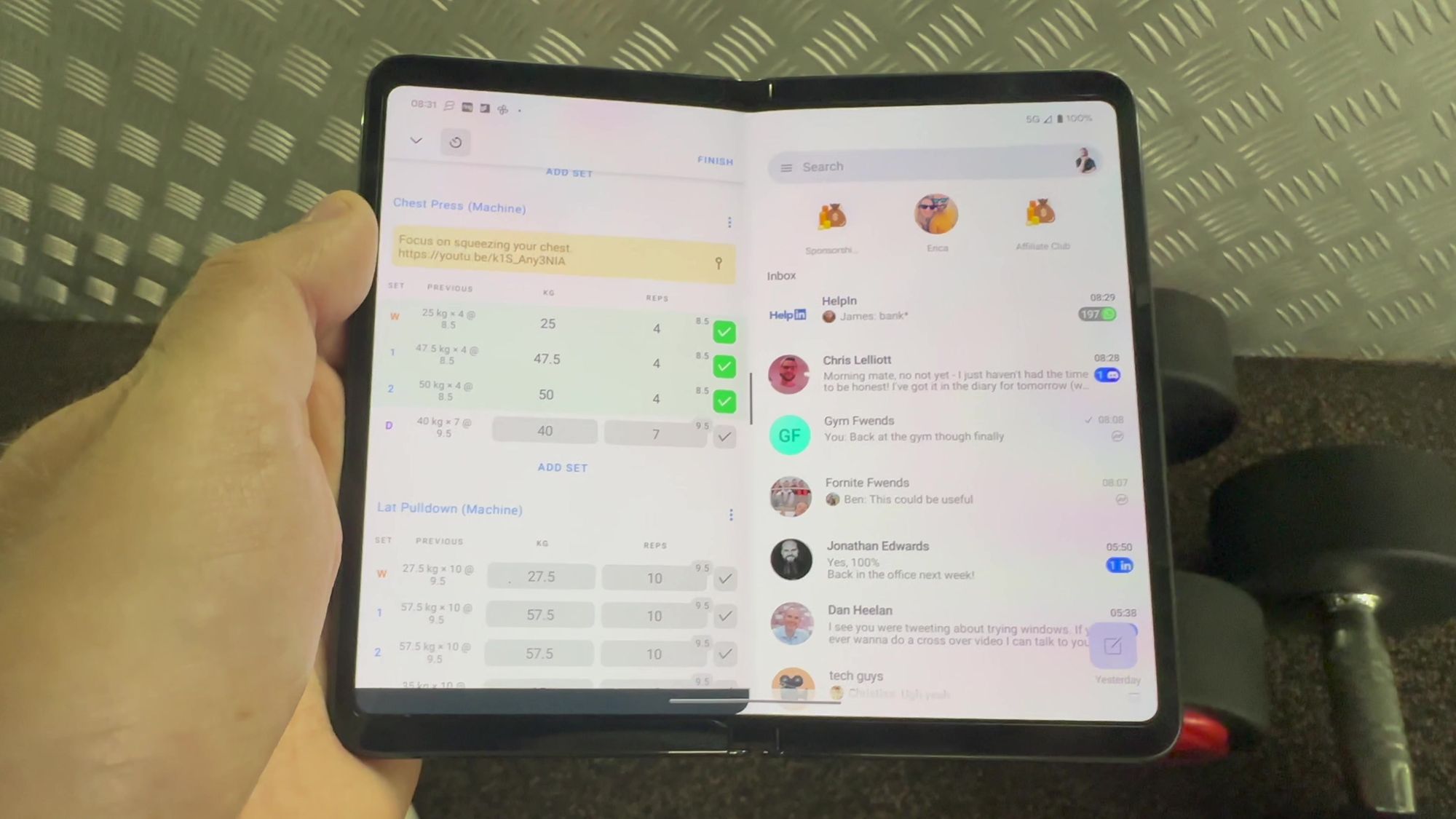 Or if I'm logging into an app or website and need to copy information from my password manager (shout out to 1Password!), I can just have them open side by side.
Both the inside and outside screens are bright enough to see in direct sunlight too - reaching a peak brightness of around 1500 nits. Although, I am in England, where bright sunshine is only seen for about one week per year, usually randomly in Winter!
But there are two things in particular that I was most looking forward to getting back in my hands with this new Pixel phone...
The cameras, and the Google Assistant.
Cameras
Because of course this wouldn't be a Pixel phone, without Google's absolutely fantastic camera system.
And there are a lot of them here, there are five cameras: One punchhole camera on the front, one in the bezel of the inside screen, and three on the back, where you get a 48mp main camera, a 10mp ultra-wide, and a 10mp 5x telephoto.
I know photos are a very subjective thing, and each individual will have their own preferences, but I've always loved the Pixel cameras - with anything from their budget A Series, through to their flagships, they always seem to come out on top in blind comparisons.
And whilst I would still love to have a Pixel version of the 10x telephoto that we got on the S23 Ultra, it's definitely a step up from the almost pointless 3x lens that we got on the iPhone.
In fact here is a photo I've snapped using the 10x on the S23 Ultra, followed by one I snapped using the 5x lens, and zoomed to 10x using Pixel's Super Res zoom.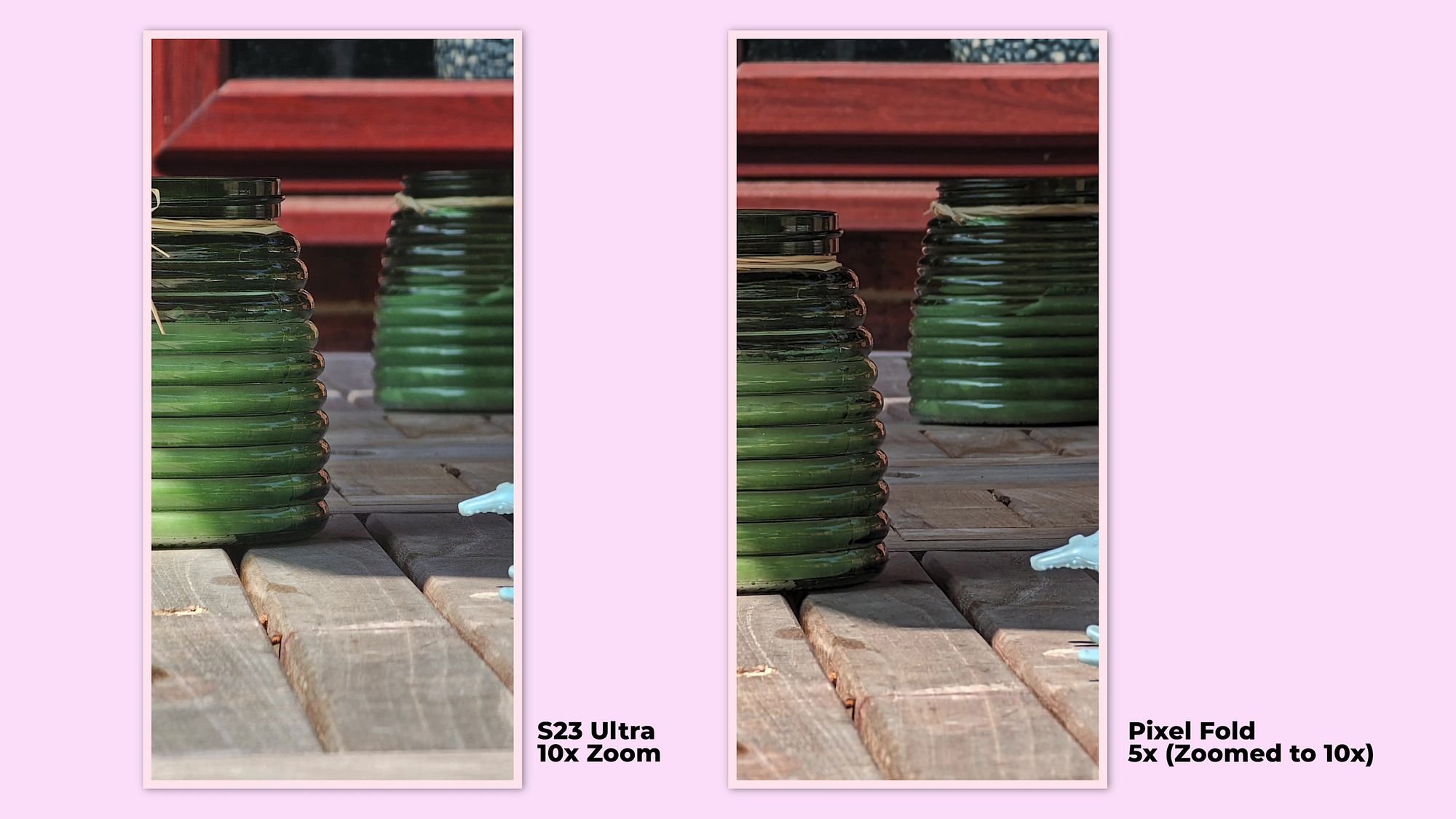 Which isn't mentioned on the page for the Pixel Fold, but on the Pixel 7 Pro's page it claims it's similar to a dedicated 10x lens on leading smartphone cameras.
What do you think?
At least with the 5x lens and up to 20x Super Res zoom, it's particularly great if you have kids. Being able to zoom that bit further in really helps when they're running around!
Also, the fact it's a foldable means that, even for selfies, you can use the rear facing cameras and preview the image on the front facing screen at the same time, which can make a big difference in selfie quality.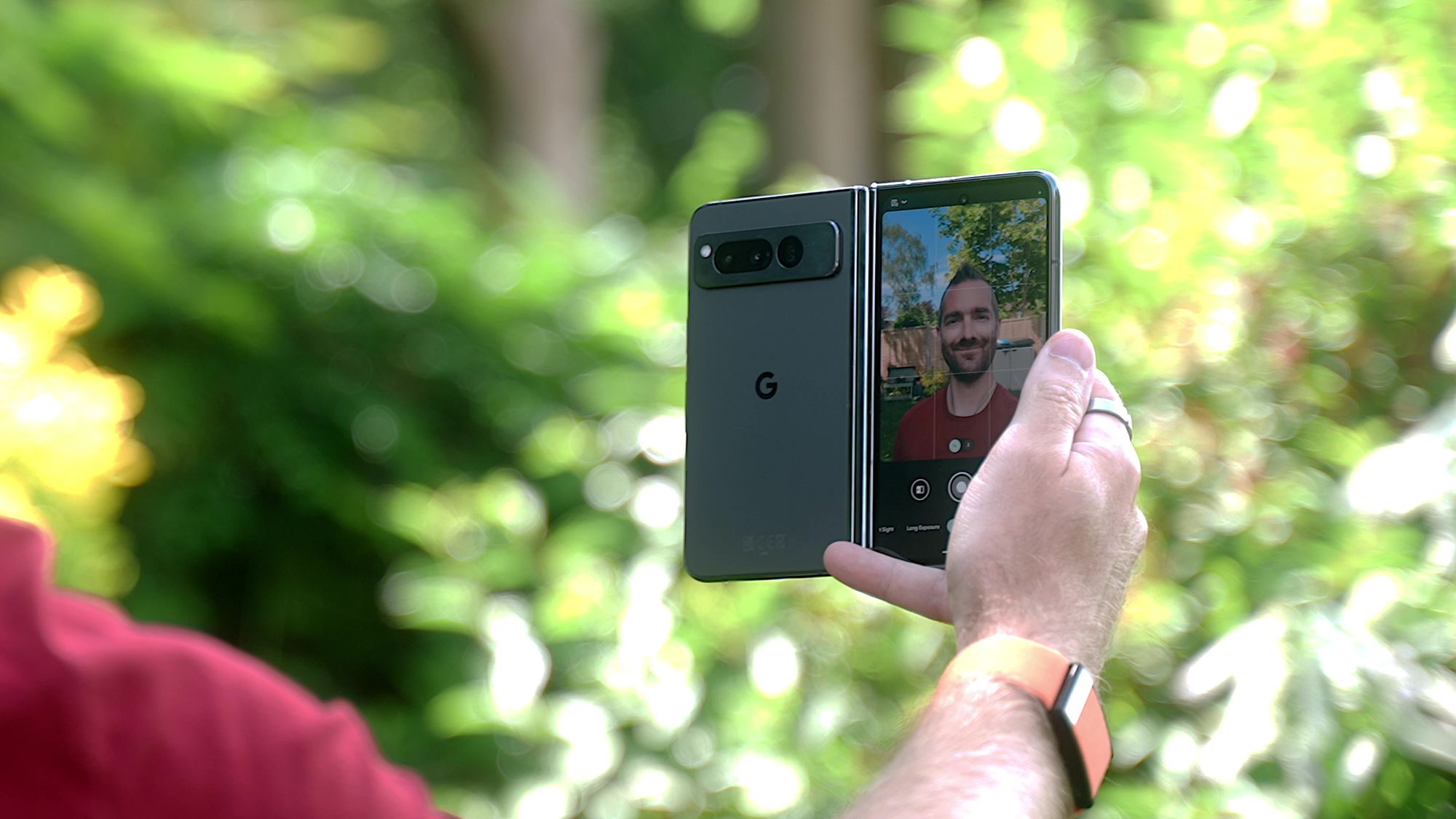 Now, I'm no photographer, and most of the photos I take are of my family or random pieces of tech I use for these videos, but you can make your own mind up based on the images I've snapped from the Pixel Fold, but I love the Pixel cameras.
With an exception though. Whilst Google has some of the best image processing available, the video still needs a lot of work to be at a comparable level with the iPhone. It's one reason I still keep my iPhone with me, and why I shoot a lot of videos on my YouTube channel with one, because the quality is nearly unbeatable with another phone. Though the S23 Ultra did get pretty close.
Voice Assistant
The second feature I was looking forward to getting back was the voice assistant.
Features such as Call Screening, which can be a bit hit and miss here in the UK, where the assistant can answer the call and live transcribe what the caller is saying, so you can figure out if you want to actually answer the call or not, is really clutch.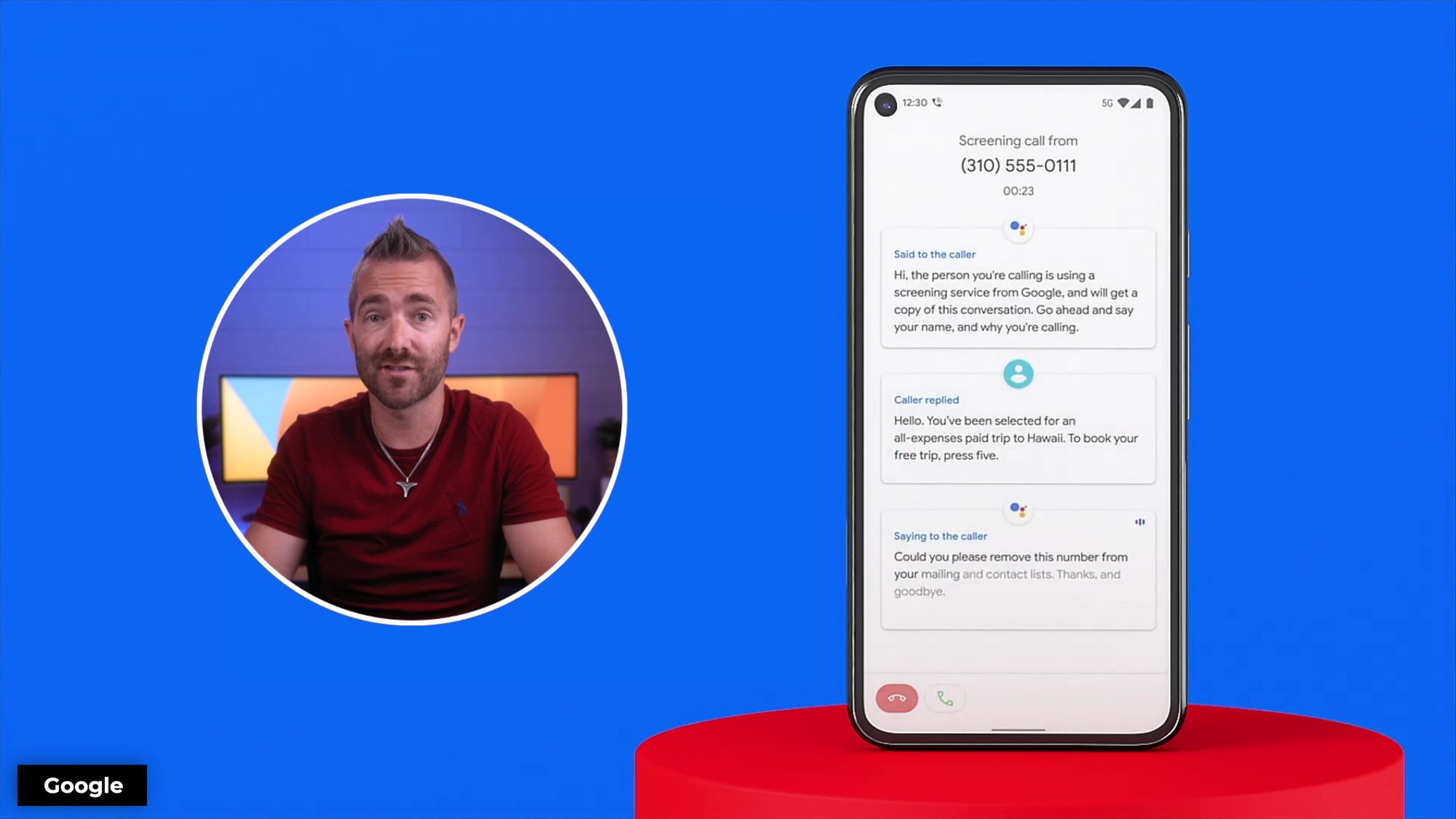 There's also the improved Google assisted voice dictation feature, which I used to write most of my YouTube scripts now. It's generally good enough to get a rough draft down before I go through manually to correct the errors.
At this stage though,  I don't actually think there is a perfect voice assistant? They all seems to have their quirks - but what I would say is that if you are moving away from Apple, to Android, I feel that Google Assistant is a definite step up from Siri.
Not a huge step up, but it's certainly better.
Integration
Now, one of the issues you will experience when switching away from iPhone and being stuck in the Apple ecosystem is that, well, everything is stonewalled in the Apple Ecosystem.
Your passwords in Keychain, your data and photos in iCloud.
But getting your data and photos into something like Google Drive and Google Photos is actually super easy. Just install Google Drive, and drag your data over. Install Google Photos on your iPhone and sync your photos, and it's basically all done.
If you're switching from iPhone, you can also connect your Fold to your iPhone via USB and directly transfer a lot of your data across from phone to phone.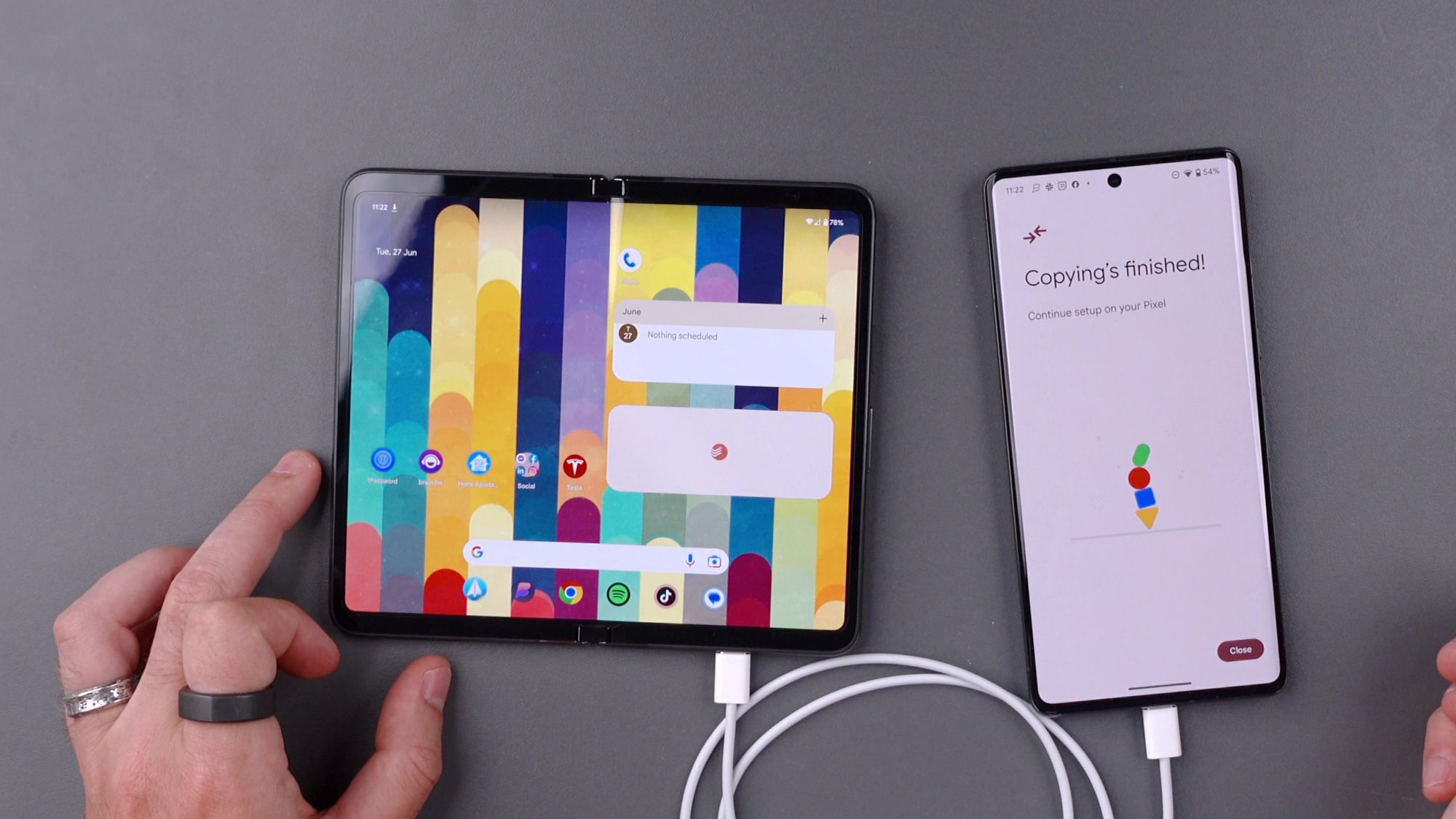 Your passwords in Keychain though - not so easy. But, thankfully, there are services like 1Password who make that a whole bunch easier!
Now on to the things that I don't particularly like about switching to the Google Pixel Fold...
Optimised Apps
The problem with this being their first-gen foldable device though, is that not many of the apps are optimised to use the larger screen on the inside.
That even comes down to their own YouTube Studio app, which for some reason is always one that Google forgets about...
I remember when the Pixel 6 launched, and the YouTube Studio app would crash, repeatedly and constantly, and it took them about 3 months to fix it. Not ideal for a phone brand who literally made the aforementioned app!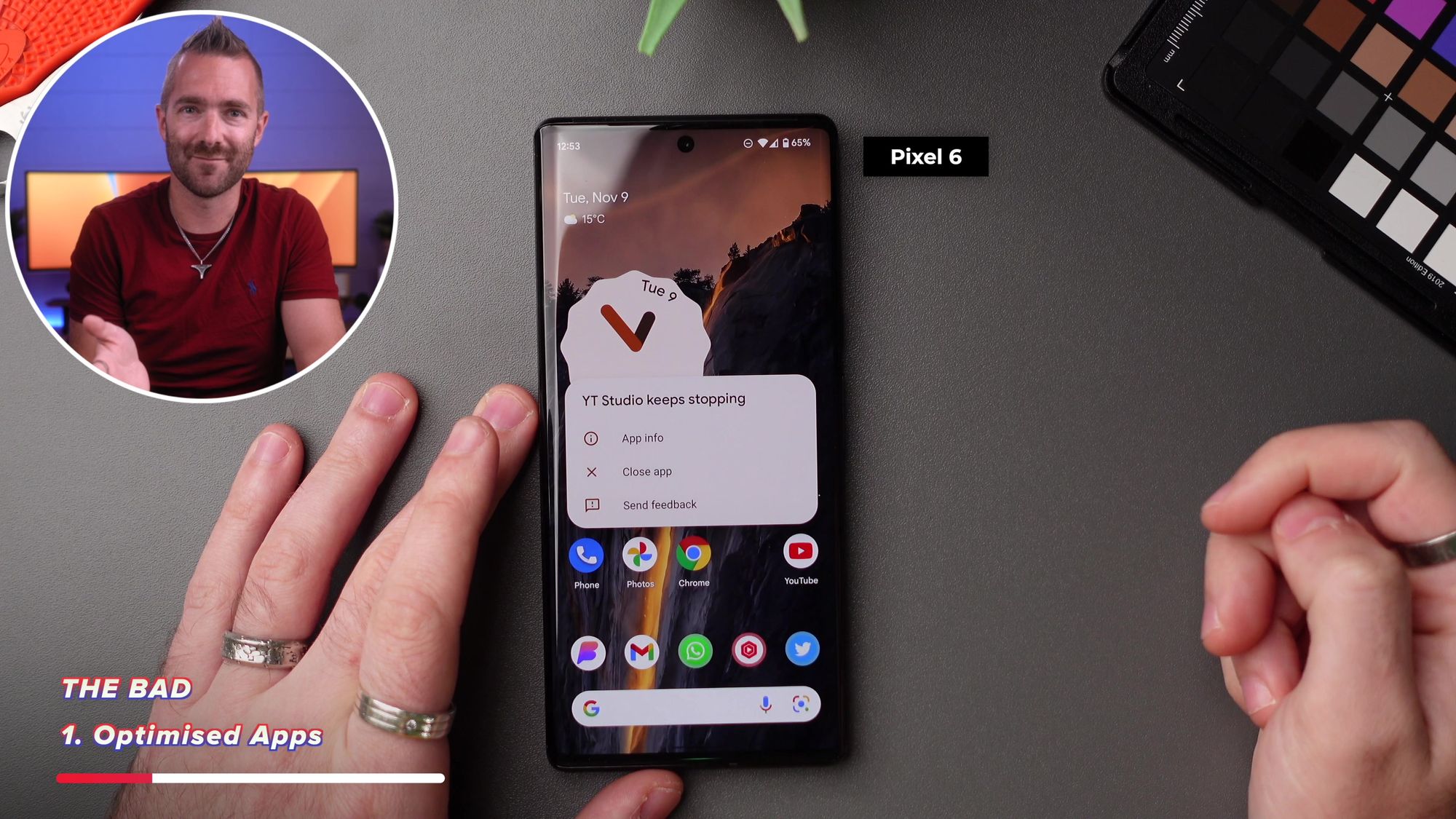 But this will come down to which Apps you used day to day. Thankfully, many of the apps I use daily, do work with the larger screen: 1Password, BrainFM, Spark (my email app), Spotify, and even my third-party messaging app, Beeper, supports the extra space.
But head into most of the social apps, and they just don't.
Facebook Messenger, Facebook, Instagram, Twitter... none of them support the extra space. The only thing you can do is double tap to move it left or right. Which is really… really strange.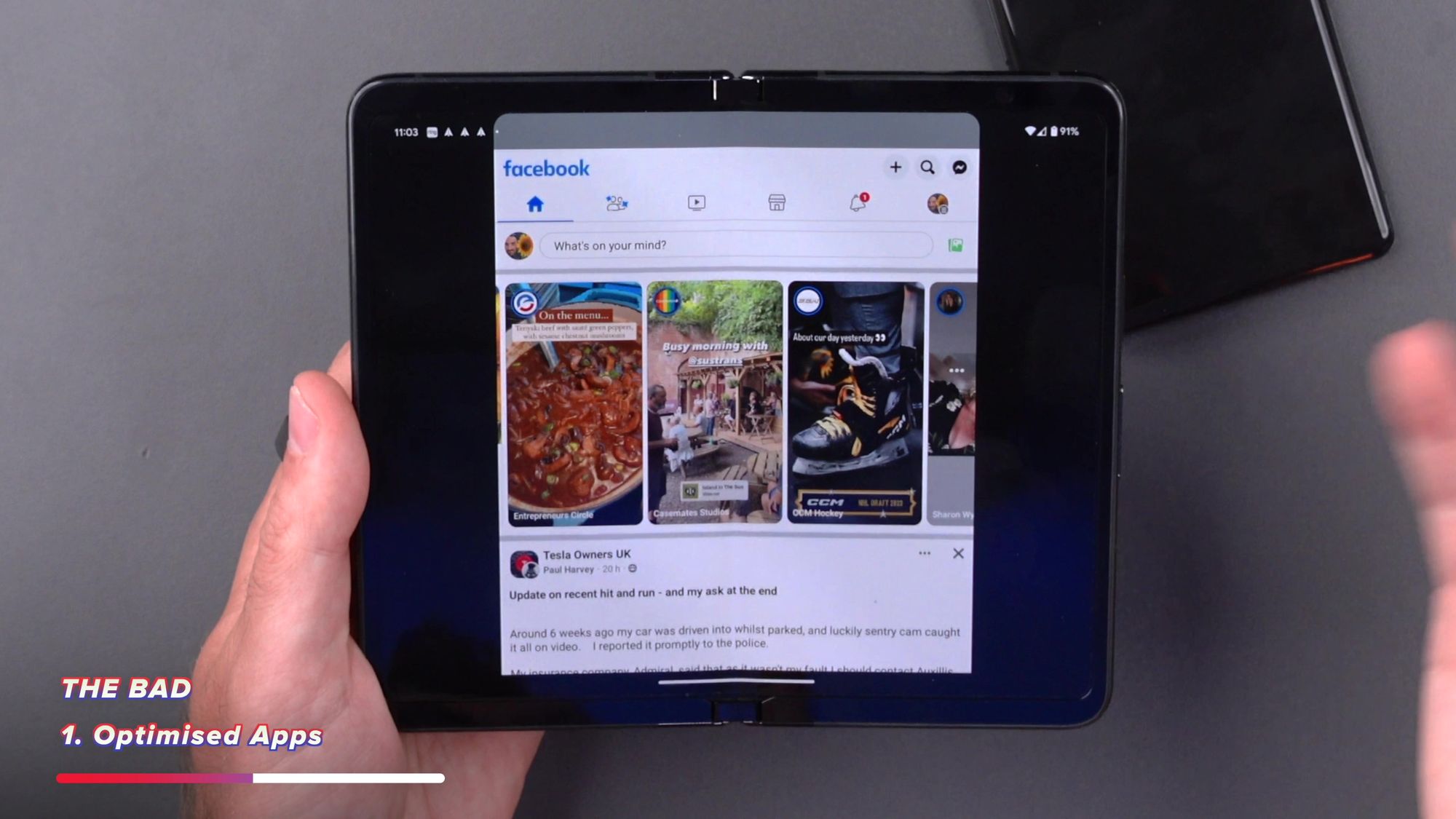 Because they DO work on the Fold 4.
And when I say they work on the Fold 4, I mean even Google's own YouTube studio works on the Fold 4. So I really don't understand why the app experience on some of these apps is so clunky, given that they work on the similarly sized Samsung Galaxy Z Fold 4.
You know when websites went all 'responsive' a few years back, so they work no matter how big or small or wide or tall your browsing window was?
I'm no developer, but surely that's how Android apps should be built nowadays?
And you know which app DOES work full screen on the Pixel Fold? LinkedIn! Who uses LinkedIn nowadays anyway?
180 Degree Screen Opening - or maybe not...
The next gripe with this phone is that it doesn't actually fully unfold, like, not true 180 degrees.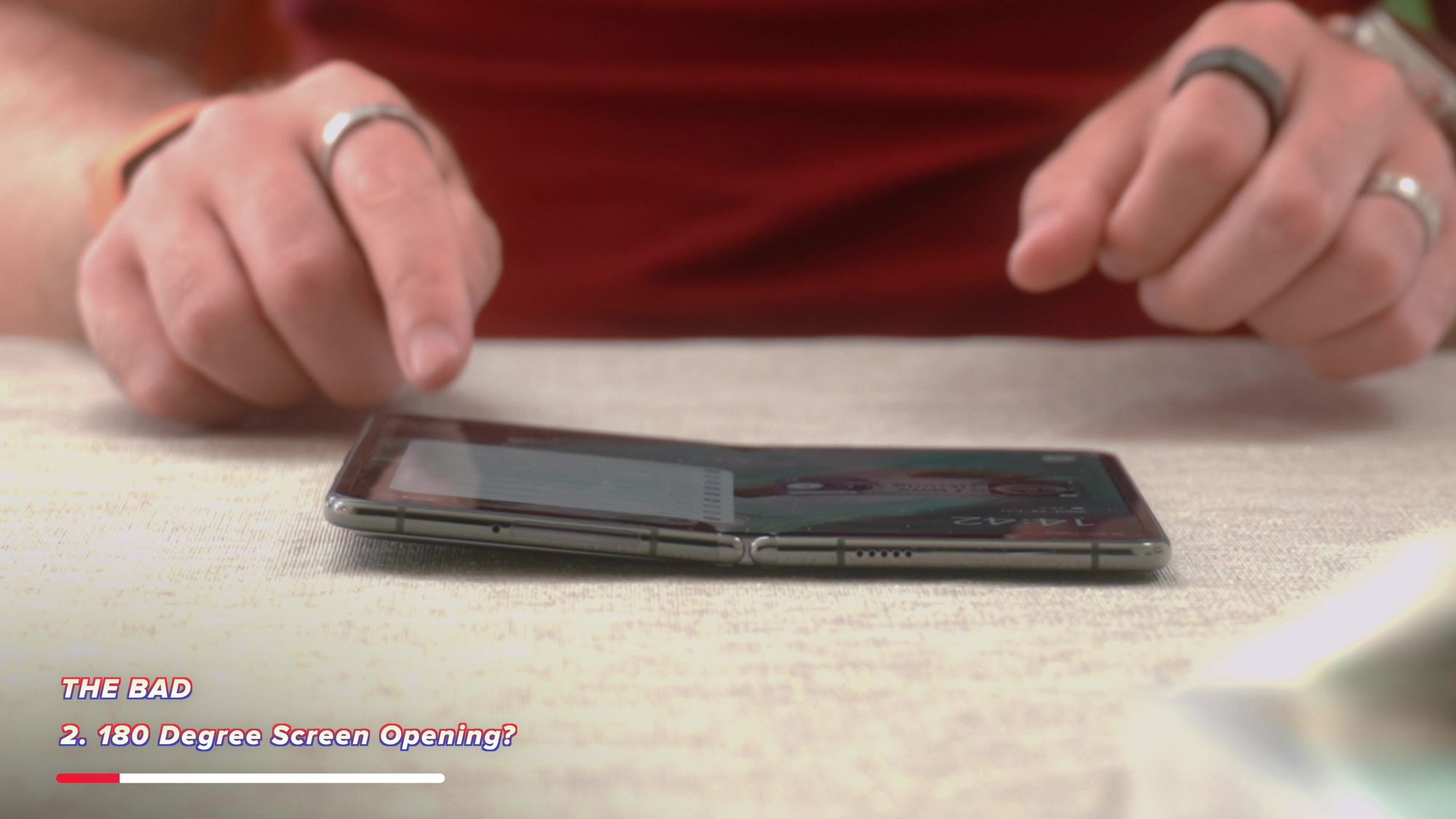 But honestly once you're holding it, you can't really notice, and I can't really tell the difference between the crease on the Pixel Fold vs the Fold 4. Since the crease runs down the middle, it's not that often that you'll be running your fingers over it, unless you like to hold the phone vertically, in which case you're just weird.
Another criticism I hear from a lot of people about the Pixel Fold is the bezels.
And yes, when you put it next to a 4th, and soon to be 5th generation device like the Galaxy Fold, then yes - it does LOOK like the pixel is dated by a few years.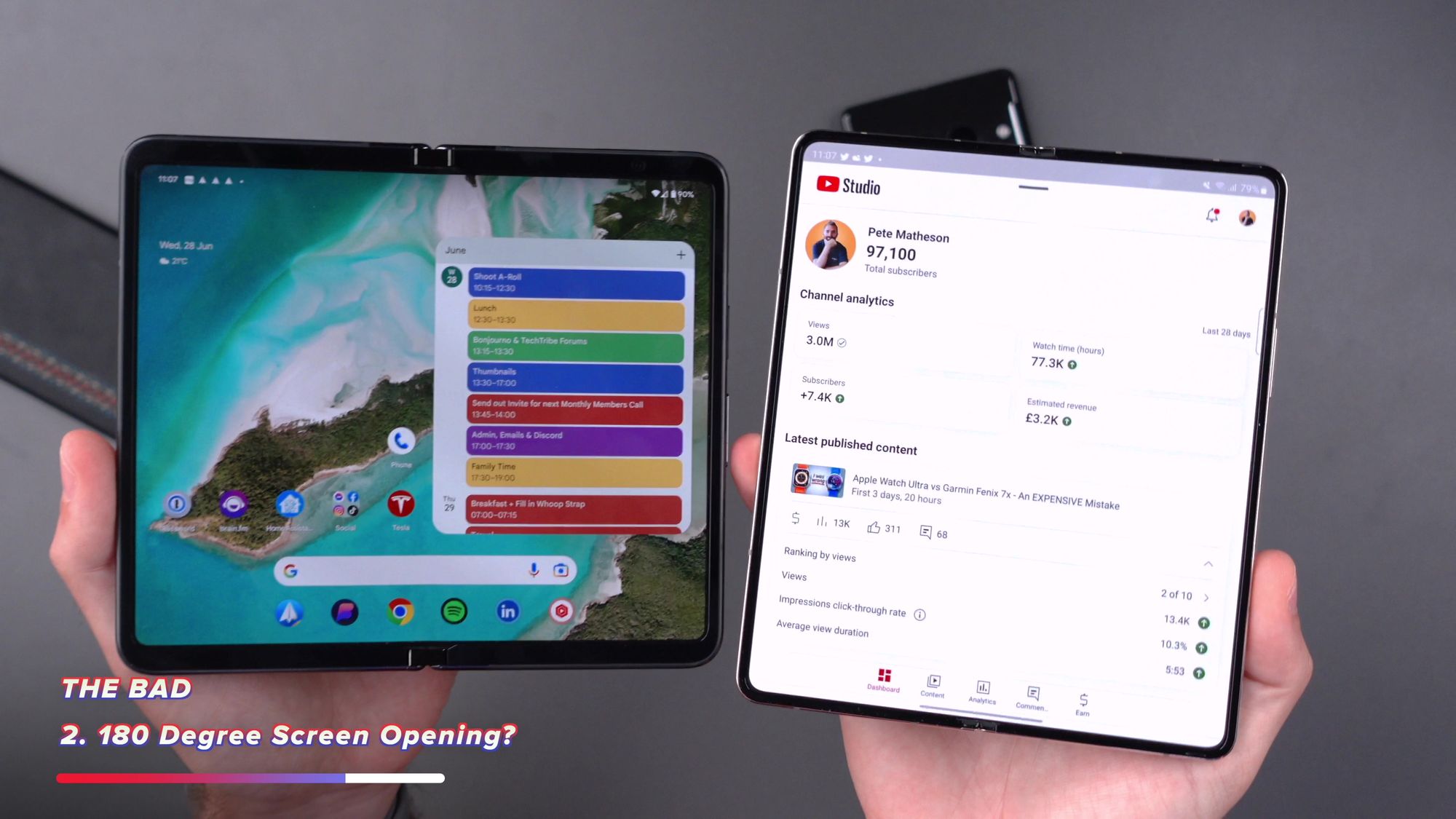 But again, real world experience and when you're not holding these devices side by side. Not really an issue whatsoever.
And there are some really good reasons why people will choose a Pixel device over a Galaxy device.
Whether it's the google assistant features, the software, the cameras - there are plenty of reasons to still want one of these, over a 4th or 5th generation Fold.
Battery Life
Battery life is something that I'm going to reserve judgement on just for now. I've heard bad things about this phone, but it typically takes 2 weeks for the optimised battery management to kick in on many Android phones. So once I've spent a little more time with this phone, I'll update you with my thoughts on the battery life and performance.
Battery is an important consideration for me because I use my phone for literally everything. It connects to my watch, my fitness band, my Oura ring, it lets me in the house, and into my car. If I run out of battery, it's a pretty serious problem for me living this whole key-free life!
So I'll be sure to report back how it's looking after it's had a chance to bed in a bit.
Price
But of course the biggest hang up that most people seem to have with this phone, is that it's an eye-watering £1,800.
But, in reality, that's actually only £100 more than the £1,700 launch price of the Fold 4.
And after you factor in deals and upgrades from your phone provider, it's probably going to be a lot less than that.
So whilst £1,800 is a lot of money to spend, particularly on a first generation device, I do think this is actually a pretty damn good phone, and I reckon a lot of people will pick one of these up to be on that bleeding edge of innovation.
But, for now at least, the Pixel Fold will remain my daily driver. Along with the Pixel Tablet, which I've also got around my home, along with a couple of their other smart displays. And I guess I'm slowly coming around to the Pixel Ecosystem they're building.
If only there was a watch to rival the Apple Watch Ultra…