In this blog, I'm going to compare the Nothing Phone (1) to the iPhone 14 Pro. This may surprise you, but here are 10 ways that the Nothing Phone (1) is better than the iPhone 14 Pro.
Number 1: Price
Let's talk about the obvious, and that is the price. The fact is, the profit margin on an iPhone 14 Pro Max is over 50% of the cost of the phone. That means that for every phone you buy, more than half of it is sheer profit.
Apple could sell these phones for half the price and still make a profit but no, they have and will always charge their Apple Tax and of course, all of the other brands follow suit because they want their profits too.
Everyone else, that is, except for Nothing. Who's Phone (1) is basically priced the same, but without the Apple Tax.
It costs less than half of what the iPhone costs, and they're making a tiny margin of just $88 per phone and apparently, that comes down to practically zero once you factor in the cost of logistics and network carriers.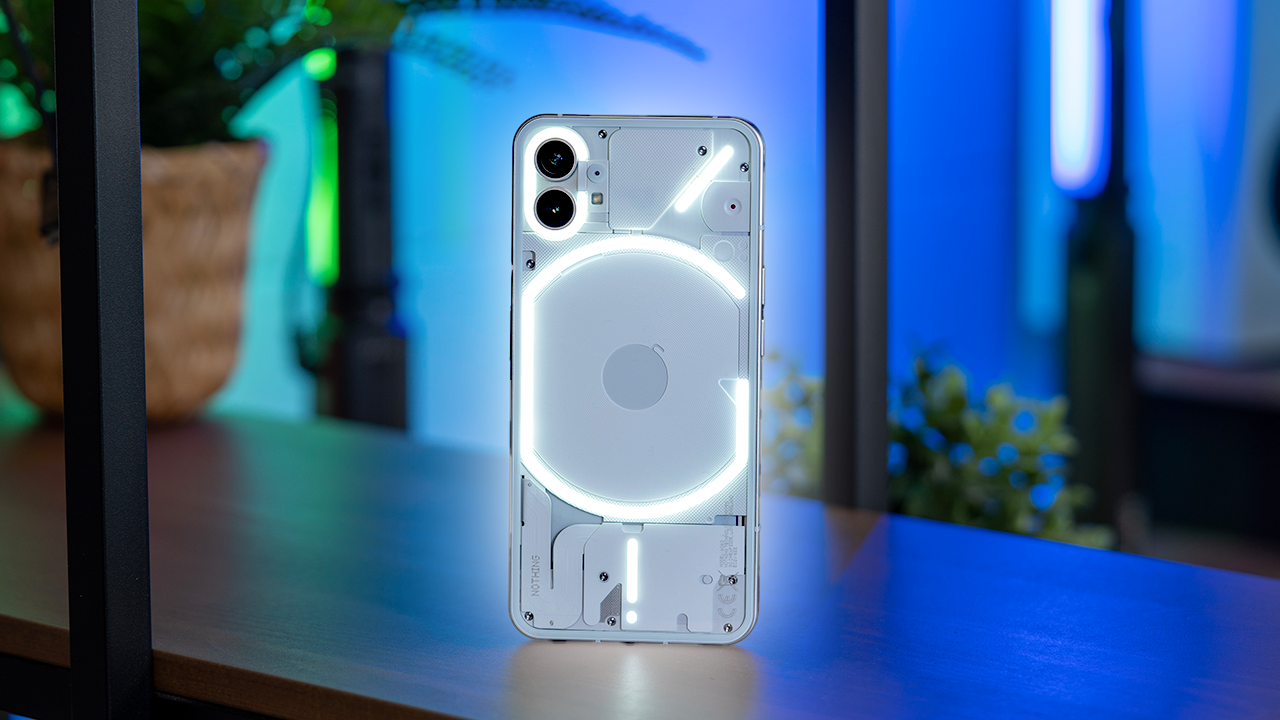 Number 2: Cameras
One of the most important things about a smartphone these days is almost certainly its camera.
In today's fast-paced world, we relive our lives through the photos we capture, and we need reliable cameras that take decent photos.
Now, the cameras on the iPhone 14 Pro are some of the best on the market right now, which, at over £1000/$999, you'd expect! But despite more modest specs, the Nothing Phone's cameras do a really decent job.
You'd have to be looking pretty hard to find any noticeable issues with the cameras.
It takes solid photos in lots of different lighting conditions. And, as a bit of a bonus, the Nothing Phone doesn't over 'beautify' its selfies!
This is a blessed relief as I'm really trying hard to embrace my age, and I don't want my daily camera not-so-subtly implying that I look old AF every time I go to take a picture.
Number 3: Glyph Interface
Let's talk about the obvious difference. The Glyph interface. Some people might call it gimmicky, some people might call it innovation. But I actually really like the uniqueness of the Glyphs on the back.
It certainly sets itself apart from, well, all of the iPhone and Android smartphones I've reviewed so far.
And you can customise this how you see fit, even creating custom sequences as well.
And with all of this combined, you'll be the one person in the sea of 'boring' rival flagships with a phone that actually stands out.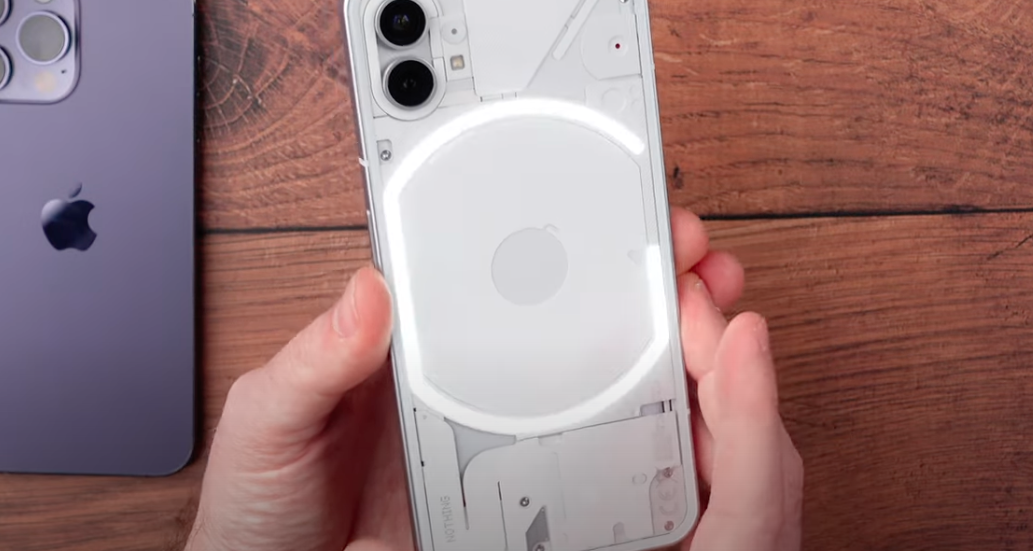 Number 4: Innovation
Following on from that, I'm also interested in future innovation. We've already seen the Nothing ear and stick headphones, and there are rumours to have a watch coming soon, too - with all of their products having this extreme taste of innovation that feels like Apple has just lost in recent years.
We're also not that far away from potentially seeing a Nothing Phone (2), and I'm super interested to see whether they'll bump up some of the specs to really go after the flagship-level devices which are coming out or have already been released this year.
Number 5: The Screen
The Screen on the Nothing Phone (1) is actually smaller than an iPhone 14 Pro.
The Pro Max, of course, is bigger - but remember, this is half the price of an iPhone Pro, we have a 6.5" screen vs a 6.1" screen, and that screen is still 120Hz on both devices, and features AMOLED on the Nothing compared to regular OLED on the iPhone.
Realistically, the OLED vs AMOLED doesn't make much of a difference, but if you like consuming content or playing games, then you might be better off with the slightly larger screen on the Nothing Phone.
Number 6: Fast Charging
Speaking of performance - Charging speeds. The iPhone has a max charging speed of 15w wireless and 27w wired, whereas the Nothing Phone (1) has the same 15W wireless, but an increased wired charging speed up to 33 watts.
In reality, this doesn't give you much of a difference in real-world charging times - but that's mostly down to the fact the Nothing Phone (1) has a bigger 4500mAh battery compared to the iPhone 14 Pro's 3200mAh.
Oh and also, Lightning - USB C. I know which one I'd prefer.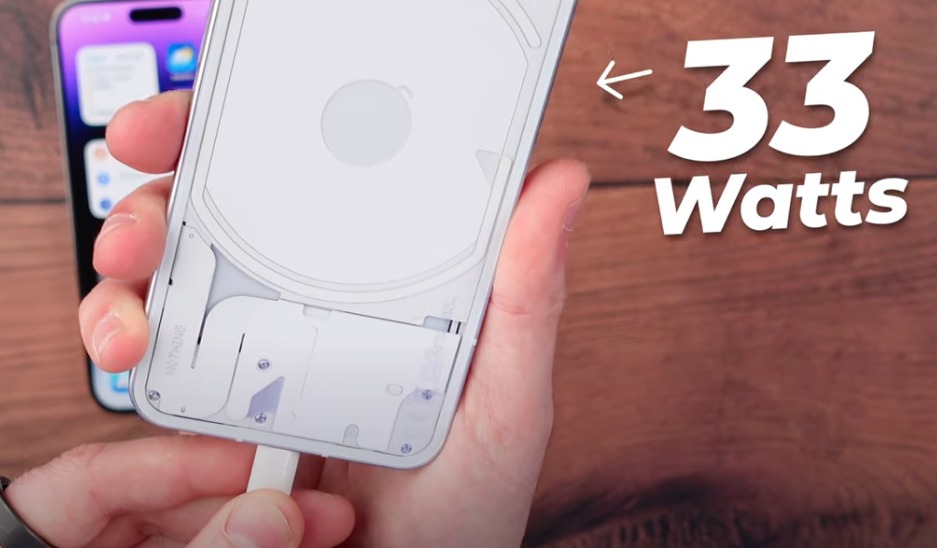 Number 7: Cameras - so good I've mentioned it twice!
So the iPhone does have some of the best cameras available today. But, they're kinda limited. You have a 48Mp main camera, and 2x 12Mp secondary cameras.
Compare this to the Nothing Phone (1)'s cameras, and you have a 50Mp Main and 50Mp ultrawide. So no matter which lens you choose to use, the Phone (1) will be able to capture more detail than the iPhone, and in certain lighting situations, your shots will look better on the Nothing Phone (1).
Overall though, I really like the cameras on the Phone (1), I think we're almost at peak camera stage here where all of the phones are punching pretty high in terms of the photos they can capture.
And I'm sure you won't be disappointed with the results you'll get from the Nothing Phone (1).
Number 8: Biometrics
Now one thing you do lose is FaceID - but as someone who has recently switched away from iPhone, to Android phone, I've gotten used to using an under-screen fingerprint scanner really quickly.
And, I actually find it more convenient in a lot of situations where you grab the phone from your pocket, and oh look, it's unlocked and gone to the home screen already - because that's just the way you hold it as you pull it from your pocket.
The fact it just goes to the home screen too just gives you one less thing to do, there's no swipe up to unlock like on iPhone, and I dig that.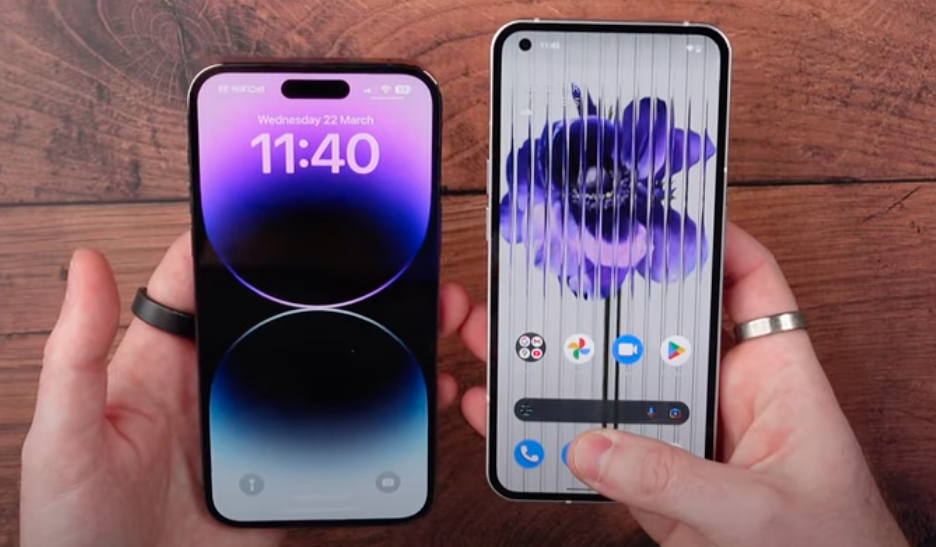 Number 9: Sim Cards
Apple surprised us this year by removing the sim card tray from the iPhone, but so far the rest of the mobile phone industry is yet to follow with this change in their phones.
And I, for one, really don't want to be dealing with eSims - just imagine if you ever wanted to pick up a phone on launch day, but you can't use it because all the carrier's lines have huge queues because everyone's trying to do it at the same time.
💌 Sign up for the weekly newsletter: https://www.petematheson.com/newsletter
Number 10: Everything About Nothing Phone (1)
Number 10 is just everything about how Nothing Phone (1) looks and feels and works.
It looks like an iPhone, it feels like an iPhone in your hand - it's certainly the most iPhone-like Android I've used before.
But it's also NOT an iPhone and gives you all of the benefits of the Android ecosystem.
With the customisability, even the cheaper apps I spoke about in a recent video, you get the new, exciting Android experience in a familiar yet ever so different casing.
Until next time.