I have been an iPhone user for as long as they've sold iPhones, and for all intents and purposes, I'm an Apple Fanboy.
But, this isn't my first rodeo and like many, I've been getting a bit bored of the iPhone.
Particularly this year, we've got the same design, the same features, and they're slow to adopt new technology. And of course, that word - the ecosystem…
I have had a bit of a love-hate relationship with the S23 Ultra for the last couple of weeks - so if you are considering a switch from iPhone to Android, this post should cover everything you need to be aware of when switching.
And for those of you in the comments says 'Oh he's another Apple sheep, he's never going to switch'.
Well, I have actually switched. So let me explain what's going on here.
---
FLAGSHIP FEATURES
For me, we've got 3 main things that made me snap up one of these as soon as it was announced.
Android, Snapdragon, and the Cameras.
This phone is running Samsung's flavour of Android, which will of course be the biggest change to those of you abandoning the iPhone and picking this phone up instead.
I will honestly say that it's taken me a very, very long time to really get my head around Android - but recently I feel like it's just clicked with me.
Since reviewing the Pixel 7 Pro, and the Samsung Fold 4 - those phones have absolutely blown me away this year.
Firstly, there is a bit of work involved in making the switch. You can transfer a lot of your data over. But there are a couple of caveats.

iMessage of course because that obviously just doesn't work on Android - BUT, If you do want to continue using iMessage then there are services out there that do bring iMessage to Android. I've been using a service called Beeper for the last few years as a way to centralise all of the messages from various social media platforms in one place, and for the rare few people who still send imessages to me.
If you have a partner who still uses an iPhone, then I haven't yet found a good Calendar app that lets me see any Apple calendars - perhaps if you do know of any then let me know down in the comments so I can check those out.
And whilst you're there, these posts do take a tonne of time to plan and make, and I buy these phones with my own money - so if you're enjoying this post then subscribe to the newsletter, it would make a huge difference to me, and it's totally free for you to do.
💌 Sign up for the weekly newsletter: https://www.petematheson.com/newsletter
We do use our Apple Family calendar a lot, but instead, you can just set your partner up with a free Gmail account, add that to their phone and get them to use that calendar.

If you tend to store your photos in iCloud, then you'll also have to go through privacy.apple.com to request your data, which you can then transfer over - so just be aware there's some extra work to do.
So with all of those flagship features - over on the iPhone, the only real 'New Stuff' we've had has been, well, Dynamic Island.
Dynamic Island does have its use cases. But that's kind of been it for me this year. It's another reason why I'm seeing a lot of iPhone users considering a switch to Android this year.
And since we're here.
Ecosystem.
ECOSYSTEM
Since I still choose to use a Mac over Windows - of course the ecosystem from an iPhone is going to be better. Seamless copy and paste, unlock my mac with my watch. It's all great.
But - if you're a windows user, then the S23 Ultra does have some similar tricks up its sleeve.
Connect your S23 Ultra to your Windows machine and you'll be able to send messages, view photos, make and receive calls, and see notifications from your PC.
All great features if you're on Windows.
But as a Mac user, the best you can get here is to either use some third-party apps that mimic things like Airdrop although lots of them also seem to be full of ads...
However, you can use Chrome to send calls to your phone, which is probably one of the most common ways I use my iPhone to copy and paste numbers from my Desktop to my Phone.
But outside of this, there's not actually much to complain about.
Facetime - Most recent video calls I've had have been over WhatsApp or Facebook Messenger so that's not a big issue for me.
iMessage - I thought it would be another problem for me, but only a small number of conversations were still using iMessage, and most of those were easy to move over to WhatsApp.
Photos changes to Google Photos which works just as well in my experience.
Speaking of which, the S23 Ultra has a feature called Secure Folder. If you store any confidential or private data it can be of great use with everything stored on your device, encrypted using Samsung Knox, which needs unlocking with a separately set passcode. That's something I haven't seen on the iPhone before.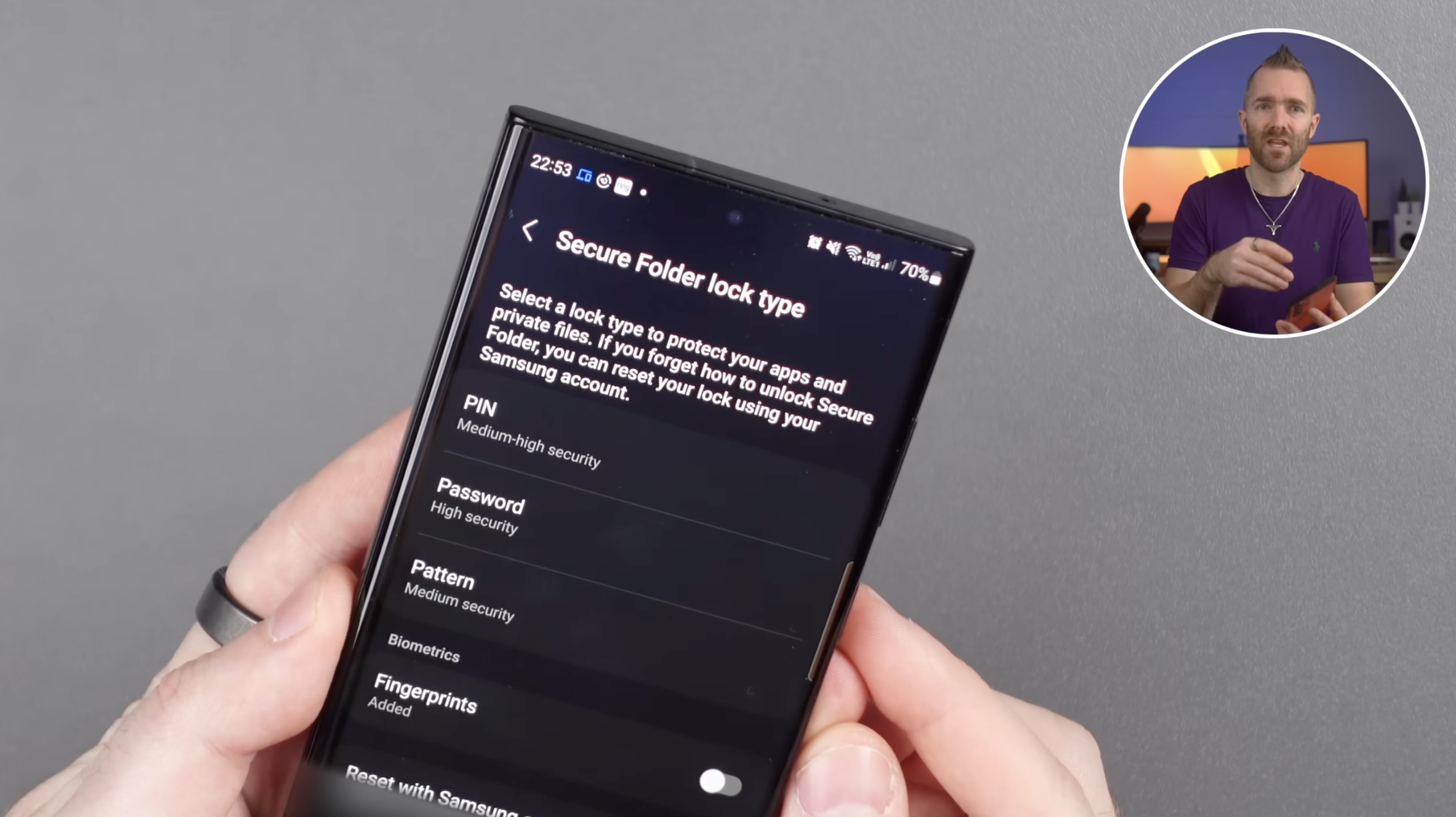 DESIGN
As far as the design goes - Yes, the S23 Ultra isn't that different from the S22 Ultra. And it's the same argument I guess you could say with the iPhone.
I also think that both this and last year's phones are still being hampered by the effects of Covid on the supply chain and so they're having to basically work with what they've got now.
But for those of us coming over from iPhone, it's a much-needed change.
In place of a Dynamic Island, we have a pinhole camera which is way less intrusive and makes the screen look so much nicer and bigger overall. But, you lose FaceID - and Samsung's Face Unlock is only a single camera, so it's not as secure as using FaceID.
I just use my fingerprint to unlock, which is quick and I haven't had any issues with it.
I love the colours, particularly the Online Exclusive colour, it really does make the phone pop.
But at the same time, I also found it to be quite slippery in the hand, so ended up slapping on a couple of cases.
Casetify sent out a whole range of S23 cases for me to try, and I'm actually a little bit taken with their cases. Honestly, there's an endless number of designs you can choose from, even personalised with your name, they're made with 65% recycled & plant base materials which is pretty awesome. The case I chose makes the phone easy to grip because the S23 Ultra can be a slippery bugger, and they give you drop protection from up to 11 ft.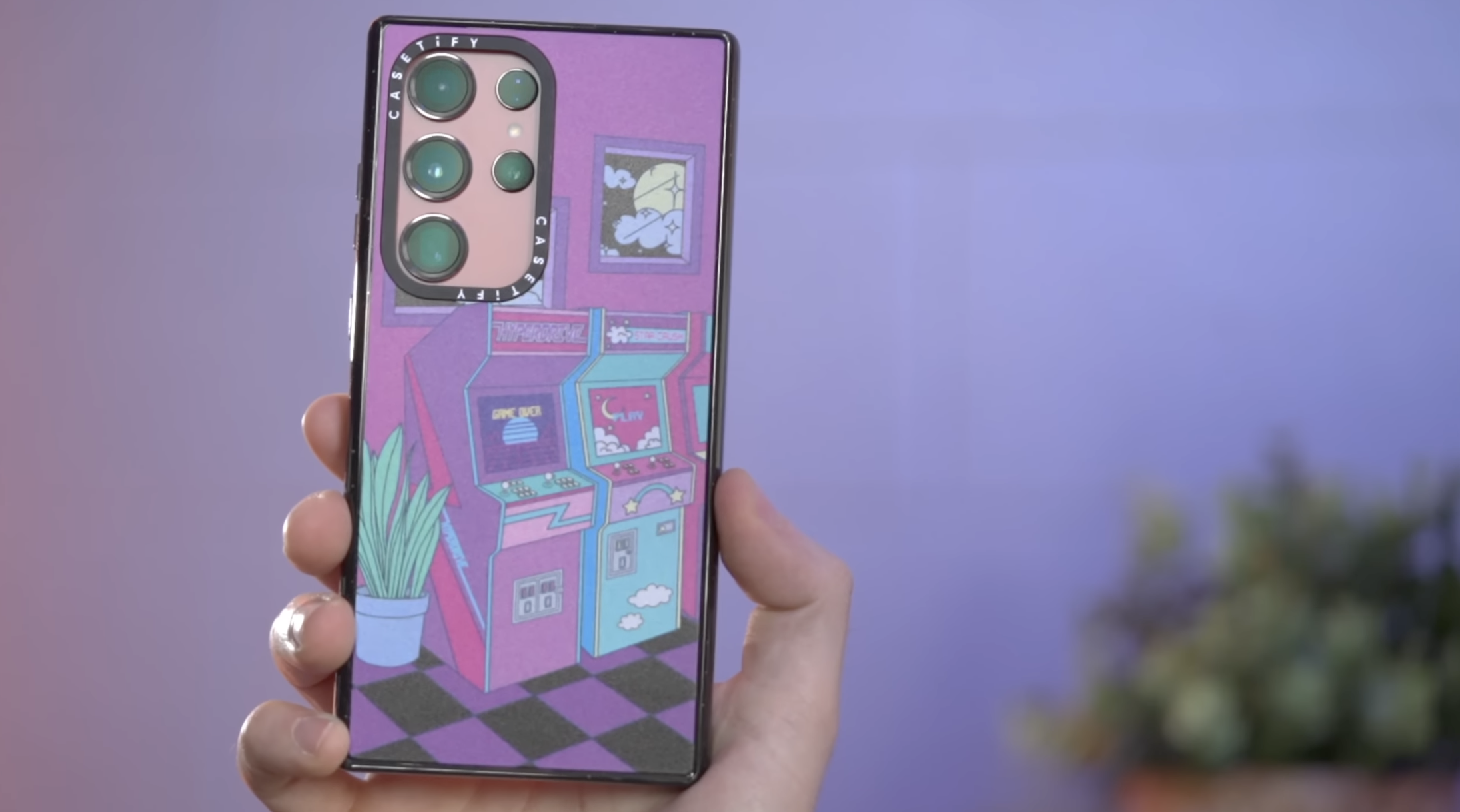 If you like this case, grab 15% off at Casetify your new S23 Ultra using this link: http://casetify.com/petematheson
The S23 Ultra also comes with the love-it-or-hate-it S-Pen, which will be totally down to personal opinion as to whether you use it or not.
You can use it to take notes, but you can also use it to pretend you are a wizard and control your phone by swishing it around in the air to change cameras. Probably the most useful function I've been using it for has been to snap photos.
For me though, it is something that stays on the phone for 99% of the time and won't really get used. But to others, it will be hugely useful and valuable to you.
The always-on Display works really well too - there are no issues with it draining the battery like on the iPhone, and whilst it doesn't give me as much information as my iPhone - you can still quickly tell what's waiting for you.
Since the iPhone drains the battery so quickly, I usually end up just switching its always-on display off, which kind of defeats the purpose of one of their new features.
And we're just coming up to the 2-week mark of me owning the S23 Ultra, I always give it 2 weeks to let the battery optimisation stuff kick in - and I have to say that the battery life on this phone has been pretty incredible.
I'm getting easily 4-5 hours of screen on time, and for me - getting from around 7am through to 1am and still having over 30% battery life left, is pretty incredible - it rivals the iPhone 14 Pro Max! Maybe I should do a proper battery comparison between the 2… comment down below if you want to see that.
Oh, and of course for design, we have USB C. So no more carrying around that one cable anymore, just for one device that refuses to get with the times!
MIGRATING
In terms of actually switching from the iPhone to Android and the S23 Ultra, there are a few ways you can switch.
You can actually transfer most of the data from your iPhone directly to the S23 Ultra. But since most of what I use is in the cloud already, I always choose to start with a fresh phone - so I just set it up from scratch.
I dread to think how many apps I've installed on my iPhone. So I'd rather start fresh.
One issue you might have when moving, is if you use Safari and keychain to store all your passwords. Because of course, you don't have that on Android.
So what I would highly recommend you do, before you switch, is to sign up for a proper Password Manager. Because using a proper password manager for me, has meant that I can bring all of my usernames and passwords with me to any new device that I pick up.
It doesn't matter if it's a Samsung, Android or Google Pixel, iPhone, Windows, or Mac. It works - and I can also bring with me my bank and credit card information, personal ID, 2 Factor Authentication codes, and a whole tonne more.
I've used 1Password for years now, and they've become a long-term sponsor of my YouTube channel, so the link below will get you 25% off either a personal or family subscription.
Grab 1Password: https://geni.us/1PasswordPersonal / https://geni.us/1PasswordFamilies
CAMERAS
Let's talk about Cameras now - and I don't mean - let's snap a tonne of identical photos and play spot the difference.
We've all seen too many camera comparisons to know that the S23 Ultra and the iPhone 14 Pro, they're both hugely capable cameras.
Portraits, landscapes, low light, including this shot of taking a photo in absolute pitch-black darkness and, where in the hell did it pull all that light and colour from?!?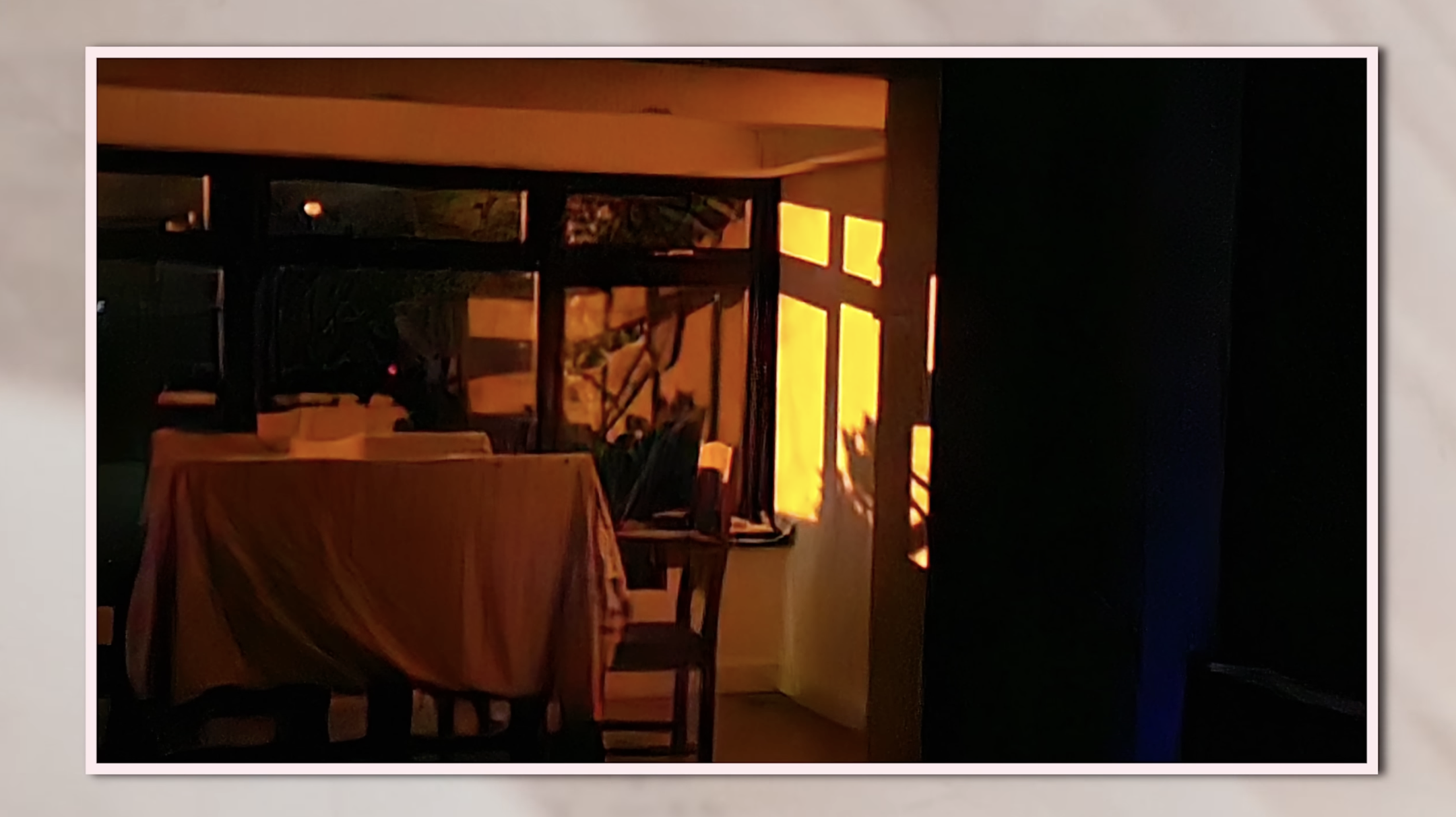 The video has also had a massive upgrade this year for the S23 Ultra, so I'm glad to see that for once, I feel that the S23 Ultra is more on par with the iPhone.
So we do have 4 cameras on the back of the phone, but the things we're all here for are the 200Mp Wide Angle, the 10x Optical Zoom, and that 100x space zoom.
Firstly - if you want a photo of the moon, for some reason. That's this phone's party trick. You can just pull out your phone, and with your hands, hold it up to the moon, and it uses all of its computational power to stabilise, expose, and get some actual detail of the moon.
But like most party tricks, you only really do it to show your mates before going back to not using that feature 99% of the rest of the time.
The 10x optical zoom though IS something that is far more capable to me, than an iPhone. For anyone with a family, trying to snap a photo when you're either sitting on the sidelines or watching from a distance - the 10x zoom has come in so handy, and it's an easy win for anyone who goes to watch their kids play any sort of sport or if you go to see a show or a gig and want to zoom up close to what's on stage.
The 100x Zoom is kind of cool - but honestly gets a bit too pixelated to take any form of GOOD photos. But it's pretty mind-blowing to be able to see things that your eyes can't with just this tiny camera, and at 20x the phone's software kicks in to try and stabilise your shaky hands as much as possible, which does a really good job.
The 200Mp is also definitely one of those numbers you hear and go 'Wow' that's crazy good! And It's nice to know that I'm capturing things in the highest detail possible - but just be aware that the 200Mp mode is only on the 1x Lens, and it also suffers from pretty significant shutter lag when you tap the button.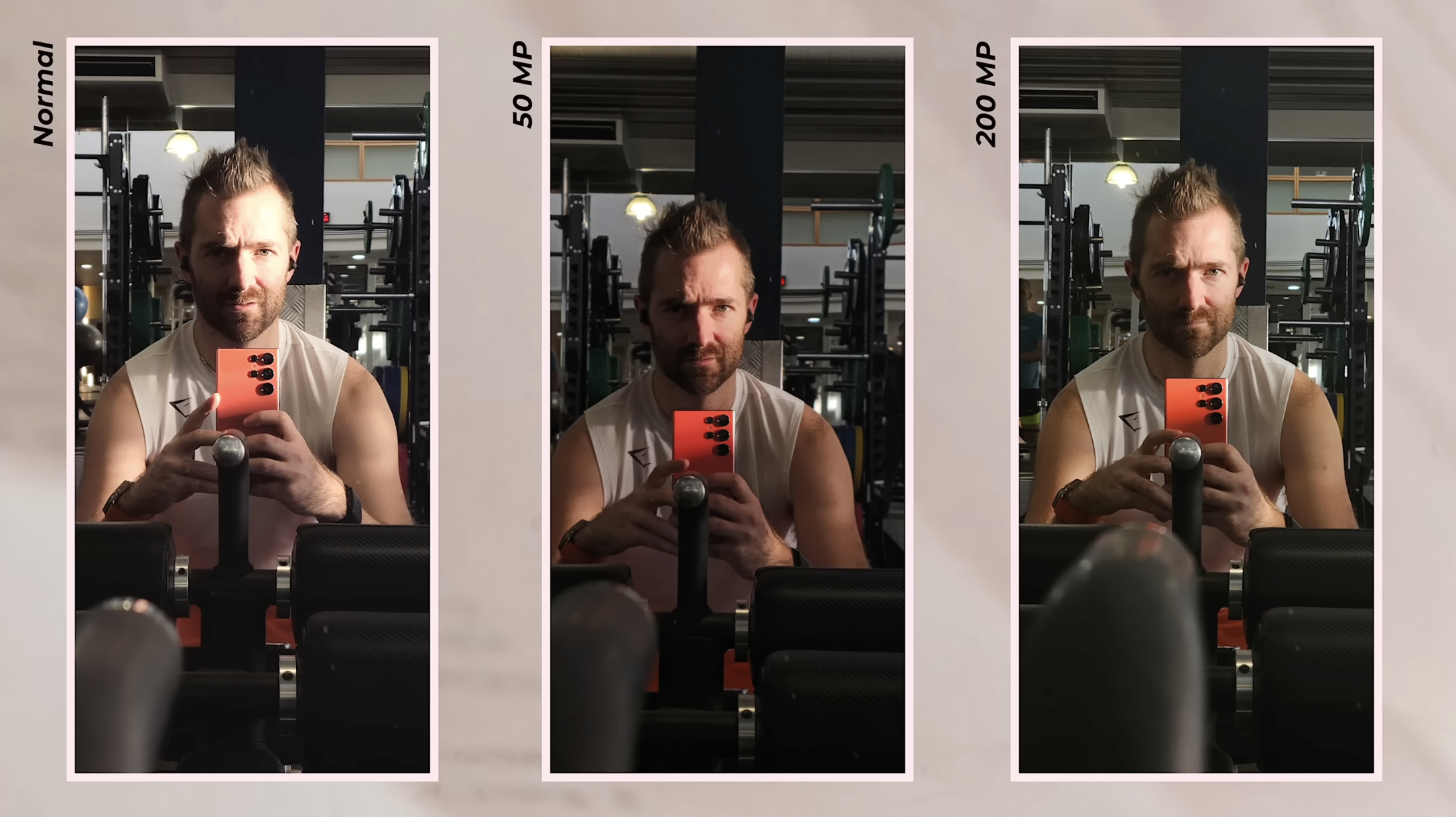 You can kind of fix this by downloading an app from Good Lock which then changes the camera to Performance Mode instead of Quality Mode, which I haven't tried personally.
So unless you can be sure that whatever your shooting is staying still, then it's probably best to use another mode or risk either a blurry shot or just missing the shot completely.
I also like all of the various modes you have available. It just makes using the camera on the S23 Ultra fun again.
PERFORMANCE AND PRICING
For Performance, I've seen some really stupid videos doing the rounds comparing the iPhone 14 and the S23 Ultra in Slow Motion to show the few milliseconds of difference in performance.
But in the real world, I was VERY excited to get my hands on the S23 Ultra this year because we FINALLY, FINALLY get the Snapdragon 8 Gen 2.
This won't mean much to those of you in the US. But for years, Samsung has been shipping phones outside of the US with a different chip, the Exynos chip - which was pretty awful and the main reason why a lot of people said the S22 Ultra was a crap phone. When the Snapdragon chip was far superior.
So this is the first time I've had the flagship phone, with its flagship chip. And it's not disappointed me at all.
It's RAPID.
I've not had a single slow down, hiccup or just any form of performance issue with the Snapdragon 8 Gen 2 chip.
There are 2 exceptions. The shutter lag can be annoying and also a few times when I've been watching YouTube videos there seems to be a bug where the overlay doesn't disappear and I have to quit and re-open YouTube to fix it. But honestly, those are minor gripes and we all know how buggy the iPhone has been this year.
I don't do a huge amount of gaming on my phone, but for the games, I do play, the performance again has been spot on, and the phone hasn't even warmed up! So, to summarise - finally, the Snapdragon 8 Gen 2 chip has fixed the biggest bugbear I've had with this series of phones for a very long time.
And as far as pricing goes - This year, I was able to trade in my S22 Ultra and knock off £600.
Plus they gave me a free upgrade from the 256Gb model to the 512Gb Model, which was nice. Plus when buying a Samsung phone, you also get discounts on earbuds, watches and chargers - something you don't see Apple do, ever.
So whilst the price point isn't that far between the S23 Ultra and the iPhone 14 Pro Max - it's nice to at least see there are some savings to be had still.
WATCH
OK so for the Eagle-eyed people who have probably already posted 'Oh this guy is reviewing an S23 Ultra but he's wearing an Apple Watch!'
Just Pause. Calm. Let me explain. I did use the Galaxy Watch 5 Pro. And it's actually, pretty stunningly good, for the price.
I picked one up for around £329 after trading in an old watch and for the price, it's pretty impressive. With a battery life that rivals the Apple Watch Ultra, and an interface that is - Pretty good.
I would still argue that Apple has just nailed their interface better than any Android watches I've tried so far. They're faster and smoother.
But, just before writing this post, I managed to break all of my watches, and I'm still waiting for a replacement Galaxy Watch to come through.
But at least with the S23 Ultra, and Android in general - it does open up more options to you in terms of the style and colour of the actual watch itself.
Whether that's the Watch 5, TicWatch, Fossil, or the Pixel Watch. There is a tonne of options.
ISSUES
So up until now, it's been pretty much all good things.
But over my last few weeks, I have had some issues that I want to touch on which may or may not affect you depending on your use.
Firstly a pretty major issue I had, is that Samsung pay doesn't support the main credit card that I use for everything. I even tried Google pay and that didn't work. Samsung Pay tells me to use a third-party app called Curve instead, which I tried to do - but I already use Curve, and recently they limited their free tier, so I can't add any additional cards to that.
This might leave you pretty stuck - I've never had an issue with Apple Pay, and I've been using that card for the past year without issue. Oh, and after I installed Curve, it started sending me Ads to sign up for mobile phone insurance.
A couple of minor things too, if you have small hands, you might struggle to reach the left side of the screen to swipe to go back which can be a bit awkward at times if you're carrying shopping or holding a kid's hand or something.
And something I didn't realise I used all the time on the iPhone, which is where you hold your finger on the spacebar, which then turns your thumb into a mouse pointer which you can move anywhere - that kind of works on the S23 Ultra. But it only lets you go back and forward, not up and down.
You could try changing the keyboard you use to find one that does have that feature, but I do like using Gboard for my keyboard so I've just kept it as is.
Honestly these past few weeks and months I've been switching back and forth between the Pixel 7 Pro, the Fold 4, and now the S23 Ultra, and I still can't decide which one is going to be my main phone, because they're all great in their own way.
But let me know, which one would you choose and why? For now, I am actually going to stick with the S23 Ultra. Until next time.