Apple M2 Silicone is here!
So as you guessed, WWDC has just dropped, and we had the slightly expected but also unexpected announcement of a brand new Apple Silicon, the M2. The brand new Macbook Air and 13" Macbook Pro are the first products to get the new Apple Silicone.
Firstly for the M2 Silicone, we have 100GB/s memory bandwidth, up 50% from M1, Up to 24GB of Unified Memory, and up from 16GB in the M1.
4 High-Performance Cores and 4 Efficiency Cores with 18% Better performance than M1.
There's also a 10-Core GPU, which is 2 up from the M1 with 25% better performance at the same power level as the M1, and an updated Neural and Media that runs up to 40% faster than M1.
But let's look at what you're all here for. The brand new Apple M2 Macbook Air.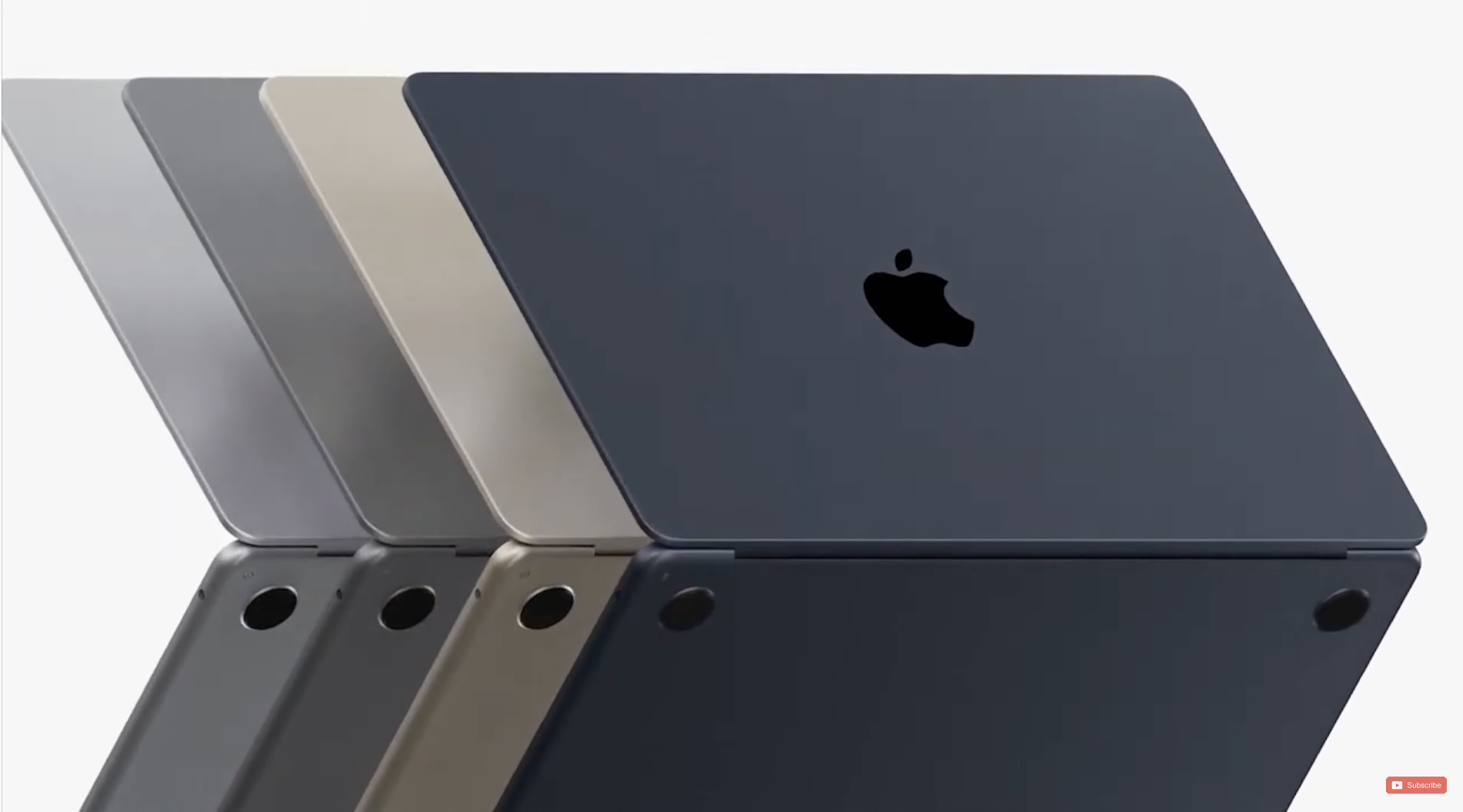 The screen is a 500 Nit, 13.6" liquid Retina Display which is 25% brighter than before. It's actually the same as offered on the new 13" M2 Macbook Pro  - which is a welcome addition as I was just thinking about upgrading to a pro whilst using this outside now it's finally reached summer here in the UK.
There's a 1080p camera with supposedly 2x the Resolution and 2x the Low light performance of the last Macbook Air, though if the Studio Displays are anything to go by I really don't have high hopes for this actually looking any better.
For Audio we have a 3-mic array as well as a 4-speaker sound system that can produce spacial audio with Dolby Atomos.
All in all, it's 20% faster than the last-gen Macbook Air, and up to 40% Faster for intense Editing for those of you editing in things like Final Cut Pro.
Altogether, it's still totally Silent with its fanless design, still with the same all-day battery life with up to 18 hours of video playback.
When you do need to charge, we've got support for Fast Charge with a 67w power adapter which charges to 50% in just 30 minutes from one of the same 2 thunderbolt ports on the side.
And pricing has been announced as starting from $1199 or $1099 for education.
We also had the 13" M2 Macbook Pro announced, which was over and done within about 30 seconds.
It's basically the M2 in the existing Macbook Pro chassis, the same features but because of the additional cooling, you get that slightly better performance, and with up to 20 hours of battery life.
Pricing for the 13" M2 Macbook Pro starts at $1299 or $1199 for education and both of these machines are available next month.
I know I'm going to be getting my hands on both of these machines as soon as I can, so be sure to subscribe to my newsletter to hear about that and let me know down in the comments what you'd like me to compare them to, and I'll get to work.
💌 Sign up for the weekly newsletter: https://www.petematheson.com/newsletter
Otherwise, thanks for reading and I'll see you in the next one!
📄 https://www.petematheson.com/mac-studio-max-vs-m1-mac-mini/
📄 https://www.petematheson.com/m1-mac-mini-vs-intel-mac-mini-vs-macbook-pro-which-one-should-you-get/