You've just picked up your new Samsung Galaxy S23 or S23 Ultra, and now you want to kit yourself out with some of the best accessories.
In this blog, I'm going to share 7 of the best Galaxy S23 accessories on the market in 2023.
Get ready to make your Samsung Galaxy S23 series the best Android you've ever owned.
No. 1 accessory has to be the case
Starting off with the first thing that most people go for with any phone, and that's the case.
I waited for my case to arrive for so long - it's from a company called MagBak, and I have one of their cases for all of my phones because they're by far my favourite.
Firstly, it's a decent thickness, so it's going to protect your phone from drops at all angles. It protects the cameras on the back and the glass on the front with its raised edge, but it also gives you access to everything you need on the phone. The charging port, the mics and speakers, the s-pen, and the buttons on the side.
Also, this case makes the back of the S23 Ultra totally flat, so it will lay flat on a desk and not rock around while you're typing, which I like.
The MagBak case also has Magsafe built into the back of it, so if, like me, you are switching from Apple, all of your Magsafe accessories will still work. Chargers, Wallets, all that good stuff.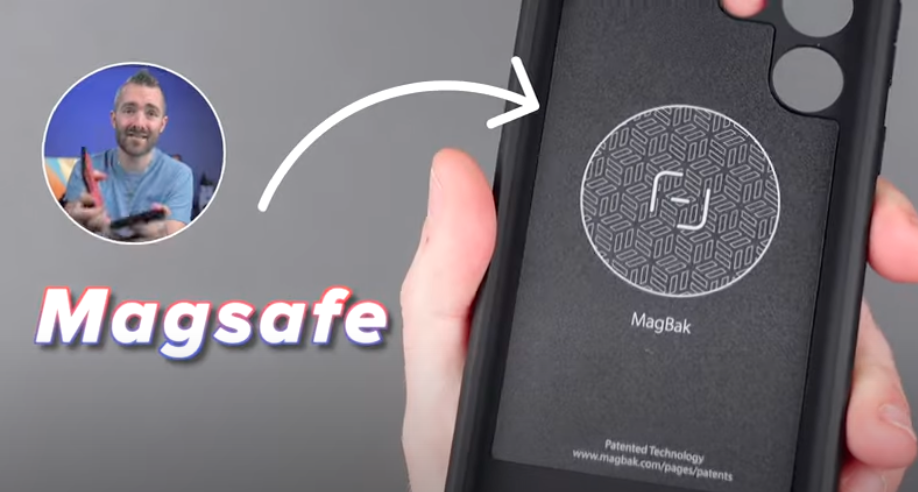 But the magic trick with this case is those Magsafe magnets are strong enough to literally stick to any metal surface.
You might be saying to yourself why that is a good thing?
Well, when I'm at the gym, I can stick my phone to the equipment in front of me and follow the workout on my workout app or maybe watch a video.
It just means I don't have to keep reaching down to the floor where my water bottle is between sets to grab my phone. I can just stick it in front of me and return to what I was doing.
It's really helpful in kitchens too, if you want to stick it to the front of a microwave, oven, or fridge - again, same reasons to watch a video or just have your phone in easy reach if you're mid-texting with someone.
They are so clutch, I love them and am so glad they're now available on the S23 Ultra.
No. 2 is the screen protector
Once you've got your case, you're probably gonna want to protect the screen on your phone.
And the S23 Ultra does seem to suffer from an issue with lots of micro scratches on the surface, which is a little disappointing to me because I've only just fitted a screen protector.
And I'm using the Dome Glass screen protector for the S23 Ultra, which I got from Amazon, and this does take a little time to fit because the dome glass actually uses glue to glue the screen protector to the front - and you then use a USB powered UV light to cure the glue once it's all stuck down.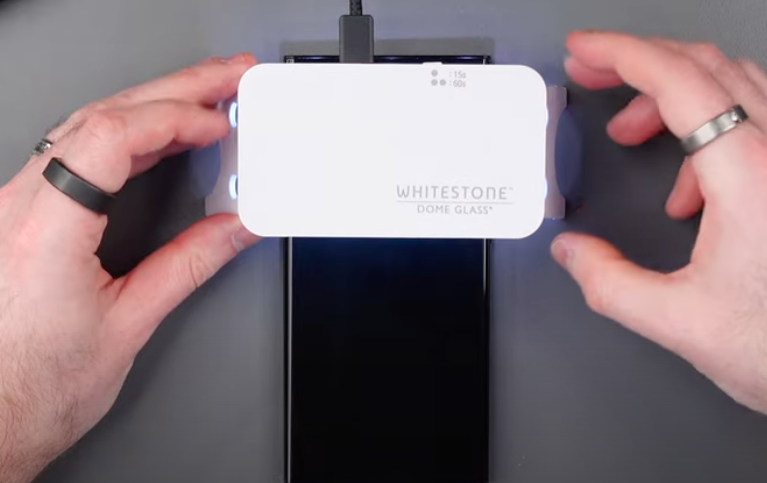 Since you are literally squirting glue onto the screen, you need to tape up all the buttons to be sure that no glue gets inside any gaps and then sets and jams your phone up.
BUT - it feels incredible. It gives you full coverage across all of the glass, It still makes the screen feel like it should, unlike some of the other screen protectors I've tried, and it does a great job at protecting your actual phone's screen free from scratches that you will pick up over time.
Even better, you get 2 in a box which I actually needed because I managed to mess up the first one - or if you're not an idiot like me, just swap it out when you need to - but overall, it's the best screen protector I've come across so far and one that's really going to stand the test of time with this phone.
No. 3 is the phone charger
Assuming you want to charge your Samsung S23 series phone, you'll have to buy a charger because the Samsung Galaxy S23 Ultra does not include one with this phone.
Since Samsung started taking a leaf from Apple's book, Samsung no longer includes a charger.
Now the S23 Ultra and S23 Plus can charge up to 45 watts, the regular S23 is only 25 Watts, and I've been using a couple of different chargers lately.
Firstly, for 45 Watts, the uGreen 45w Mini Charger comes with 2 USB-C ports, so you can charge your phone plus a second device.
Now in the UK, we have these 3-pin plugs, which makes any charger pretty gigantic, but the US version is much smaller.
I was sent a really cool one, a 35w charger from a company called Shargeek. And other than the fact it looks straight-up cool looking, like an old-school Mac - the size difference is crazy.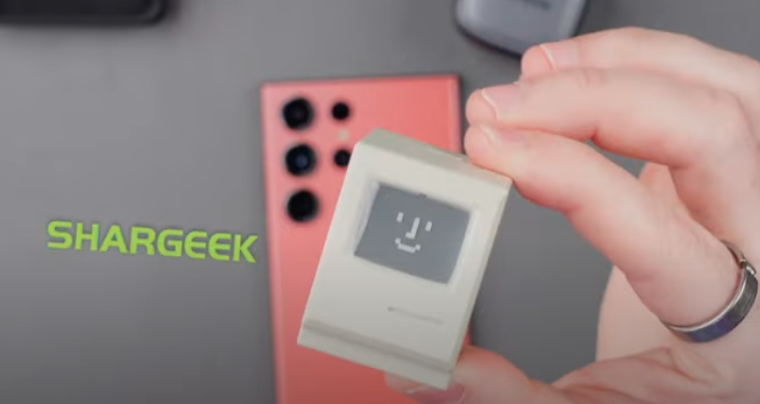 I love the look of the Shargeek charger, and I'll probably throw it in my bag whenever I travel now just due to how small it is.
But if you need something that's going to charge your phone at 45 watts, then check out the UGreen charger, you can charge both your phone and maybe your smartwatch or your wireless earbuds at the same time with the 2 USB-C Ports, and as far as chargers go, certainly here in the UK, this is pretty small for the wattage it gives you.
So I'm always gonna throw the UGreen charger in my bag along with a few charging cables, and I know I'm covered.
No.4 is the Samsung Galaxy Buds 2 Pro wireless earbuds
Next up, what else - let's talk Audio now.
This time I thought, if I'm going all in with Samsung and the S23 Ultra, I'd better get the headphones too, so these are the Galaxy Buds 2 Pro, and I'm not sure how I have ignored these for so long!
Genuinely, the sound quality of these tiny Galaxy earbuds is incredible. I never knew that the drivers in these things were from AKG, which is a very well-known and very good professional audio brand - and you can tell it when you pop these in your ears.
The thing I like about these, coming from Apple, is that they can actually switch between your Phone and the Galaxy Tab, just like Apple's own AirPods do.
With my iPhone, I've always carried around a pair of Beats Fit Pro, mainly because they're the only headphones I can find which stay in my ears.
But the difference in the size of their cases, the Galaxy Buds 2 are tiny in comparison.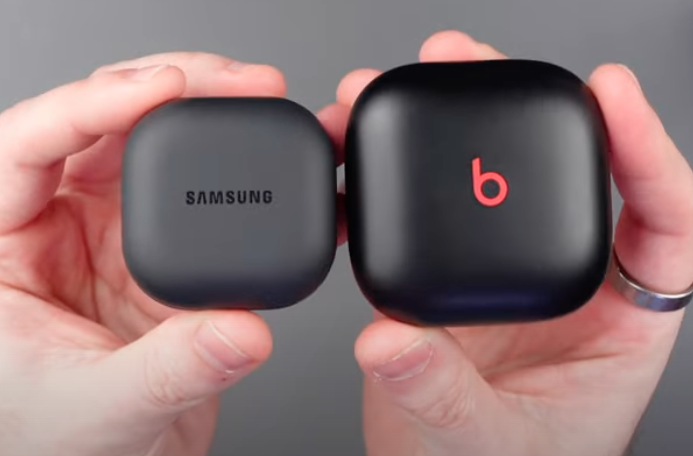 They charge wirelessly, have really good active noise cancellation, and also have some clever features we've seen with the Sony earbuds, which automatically stop playing when you start talking to somebody.
You can use Smart-things find to track them individually if you lose an earbud, and there's a feature to play a little noise if you walk away from your earbuds to prevent you from leaving them behind.
5 hours of battery life, 18 hours with the case, IPX7 Water resistance, and I just love the quality of the audio that comes out of these things. It's not too bassy, it's a really balanced sound.
Now, I do have one issue with these earbuds - it's actually an issue I have with most earbuds other than the Beats Fit Pro, and that's keeping them in my ears.
I came across this problem with my Airpods, and I have replacement ear tips for the Galaxy Buds 2 Pro, which are made from memory foam rather than the silicone material that comes with the buds.
And with these tips fitted, at least for me, they do seem to stay in my ears better than without. These tips actually make these earbuds usable to me, otherwise they'd just fall out of my ears as soon as I do any form of movement, and definitely not anything like the Gym or going for a run as I'd risk them falling down and losing them.
So yeah, really, REALLY impressed with these earbuds, but just be sure to swap the tips out.
No. 5 is the Samsung Galaxy Watch 5 Pro smartwatch
Let's take a look at the watch situation now - Because we're on Android, you get a lot of options. All the different styles and colours and straps.
We've got the Pixel Watch, the Ticwatch - but the best I've come across so far has been the stock Samsung Galaxy Watch 5 Pro.
It's not without issues, but I feel the 5 Pro is as good as it gets for the Android watch experience right now.
That might change with the Watch 6, I'm also about to buy a Garmin Fenix to compare to the Apple Watch Ultra, so subscribe to my YouTube channel if you want to see videos on those.
The Galaxy Watch integrates really nicely with your Samsung phone. The battery on this thing lasts 2-3 days, depending on your use, compared to the Pixel Watch, which lasts less than one day for me with my use.
You've got all the integrations here with Fitness Apps, you can pair your earbuds to the watch and go for a run without carrying the phone with you whilst tracking a workout still.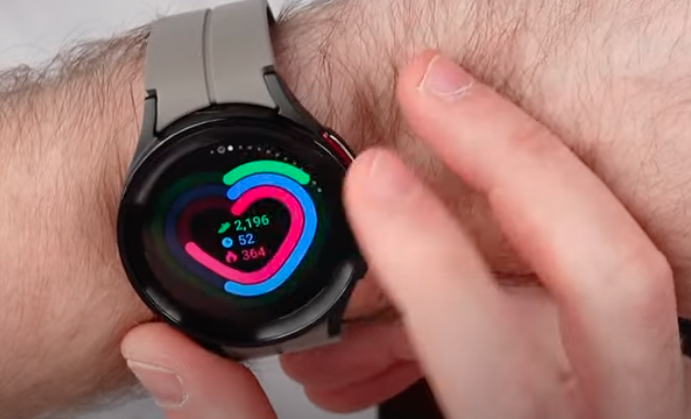 I do think the interface could do with some refinement. The issue for me is consistency.
If I start a workout and then want to end it. I have to swipe exactly across in a straight line for it to bring up the screen where I can end the workout.
And it's not that if I swipe at an angle it doesn't work - the issue is that it sometimes works and sometimes doesn't. Look, I'm swiping on what I would say is the same part of the screen every time, and it doesn't respond the same each time.
Someone suggested you can use the digital crown around the edge instead, but no you can't. That just scrolls up and down on the screen you're on.
So yeah, as far as Watches go - Samsung is the best you can get. I'd personally go with the Watch 5 Pro, but if you don't like something as bulky as this, then try the regular Watch 5, which is a bit smaller, but just be aware the battery doesn't last as long on that one.
No. 6 is the Samsung Wireless Charger Trio
OK, over to a gadget that I really do like now, and that's actually the official Samsung Trio Charger.
I don't know about you, but I've struggled to find any good double or triple chargers for my Android phones. I normally end up slapping on a Magsafe case and then using a Magsafe iPhone charger instead.
But the Samsung Trio Charger is actually a really high quality, very good piece of kit from Samsung. It has 3 wireless charging areas.
Firstly, the Watch has magnets to ensure it stays in the right place and doesn't slide off.
Then it has 2 more charging pads here to charge your phone and the Galaxy Bud 2 Pros.
All of them can charge at once from a single USB-C Cable, and the charger for this even comes in the box! I know, crazy!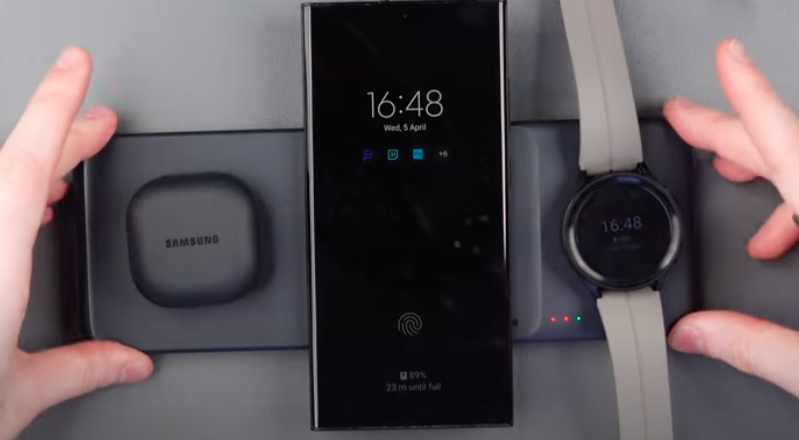 It is only 25 watts though, split between all the devices, so since the Samsung Galaxy S23 Ultra can charge up to 45 watts, you'll want to use a separate charger for that if you need fast charging.
Otherwise, this charging pad has some really nice grippy pads on the bottom to keep the charger itself in place.
The thing I really like about this charger is that when you put your device on to charge, the little LED lights are red when it's actively charging, and once it's fully charged, the LEDs turn green.
No. 7 is the Galaxy Smart Tags
The next one is a really cool one. The Galaxy Smart Tag.
If you have a Samsung smartphone, I'd buy one of these for every set of keys, or in my case, my wife's keys as she's always losing them, for every suitcase you have when you go on holiday, maybe even hide one in your car somewhere, hide one in your kids' coats, you can even use them as pet collars for dogs or cats - they're so handy.
Using these tags, you can easily find stuff when it goes missing by playing an audible noise or using your phone to see how close you are.
Now there are 2 different versions of these tags. There's the SmartTag and the SmartTag Plus.
And the only real difference is that with the Plus, you get ultra-wideband connectivity, which means you can get a more precise location with the SmartTag Plus.
But for the regular smart tag, you can still get in the nearby area, play a sound and find it, so I didn't personally think it's worth paying the extra. But if you think it's worth it - then go for it.
Some other things that are really cool with the Smart Tags.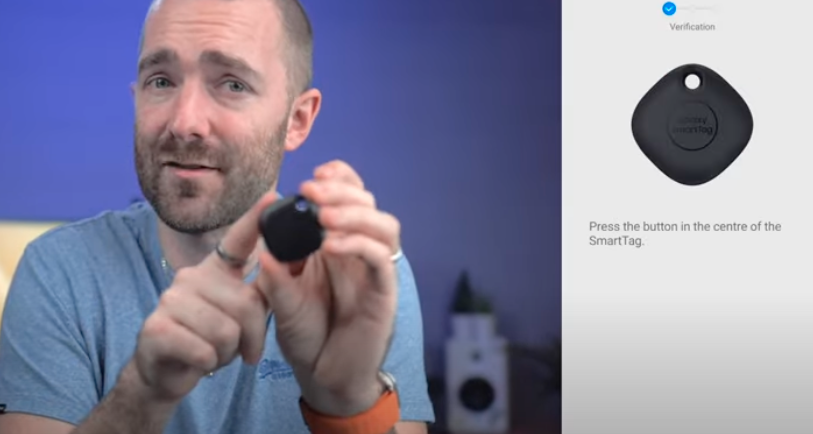 You can double-tap the tag, and it will make your phone ring. That's cool if you have your keys in your hand with the tag on but now can't remember where you left your phone. Super cool.
And the even cooler thing about these tags is that they integrate with Samsung SmartThings, so the button on the tag can be pushed or pushed and held to trigger 2 different things.
And that could be anything, it could be turning a light on, unlocking a door, opening a garage door, disabling the alarm or just anything that you can do in the SmartThings ecosystem.
I really like that about these tags, it's something I've not seen before with the likes of Apple's own Airtags.
Samsung Galaxy S23 Ultra Accessories
There you have it, my top 7 list of the best Samsung Galaxy S23 accessories.
When new accessories are released for the Galaxy S23 and Galaxy S23 Ultra, I'll let you know what I think!
Watch the 7 Must Have Accessories for Samsung Galaxy S23 Ultra video on YouTube.
Until next time.