What is the Best Samsung Phone to buy right now?
Given that we've had all of the Samsung product launches until the S23 comes out in February, I thought I'd make a post to give you my thoughts on the Top 5 Best Samsung Phones for this year.
We'll cover all Budgets to ensure there's something for everyone here.
---
1.
Starting with the best value, for me, this is undoubtedly going to the S21 FE.
At the time of making this video, The S21 FE is cheaper than the S20 FE from places like AT&T at just $5 per month, and it's even discounted to less than the S20 FE on Samsung's website, plus there's a £100 cashback offer going on to make it even more affordable.
And since the S21 FE is essentially a more refined version of last year's S21 Ultra Flagship, this still makes for a very capable and very interesting phone.
The beautiful 6.4" 120hz display with Corning Gorilla Glass Victus is something I've always loved about Samsung phones, I think they have the best displays across all other phones, and the screen on the S21 Fe is a testament to Samsungs Craftmenship - The S21 FE comes with an AMOLED screen that's bright, colourful, runs the same resolution than the S22+, and it's an absolute pleasure to watch content on.
This is made even more of a pleasurable experience with the still to this day, flagship level performance with the Snapdragon 888 chip inside.
Depending on where you live, you might get the Exynos 2100 chip instead though, which isn't as good as the Snapdragon chip - but now they've had time to update and tweak the software over time, there's not as much of a difference in performance.
But if given a choice, I'd always pick the Snapdragon first if I could.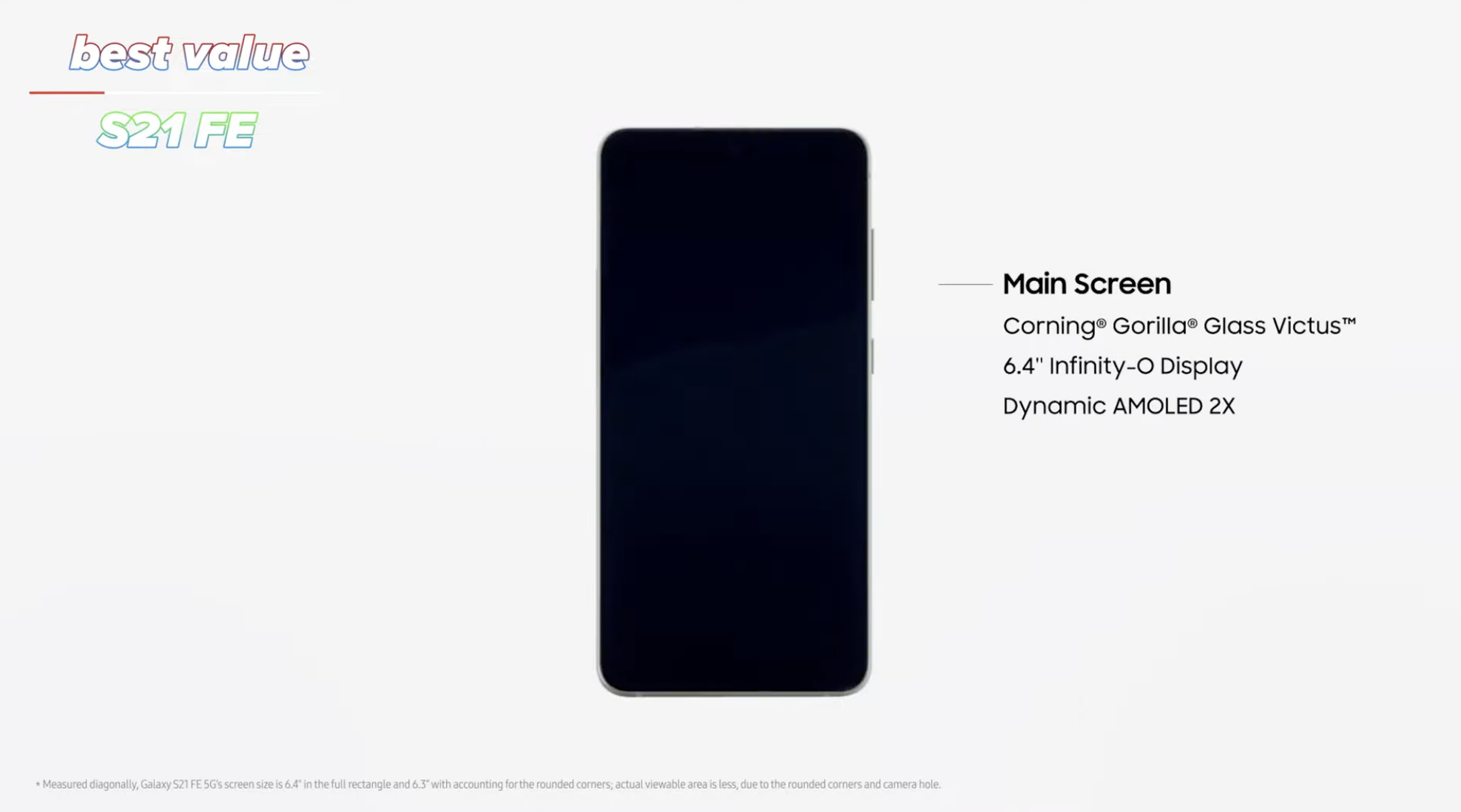 You also get some great cameras on the FE Model - 32MP Front Facing, which is still better than most phones on the market today. There's a fairly standard triple camera setup on the back, which are 12MP Wide, 12MP Ultra-Wide and 8MP Telephoto, including a 30x space zoom - but as we all know, when it comes to Samsung and Cameras, they're some of the best you can get.
Auto-focus and optical image stabilisation are baked in to get you some decent shots in all conditions, and you can shoot up to 60FPS in 4K or their crazy 960FPS in High Definition, though you need seriously good lighting to stop the image disintegrating into a pixellated mess when shooting at 960fps.
You get other standard features like fast wireless and wired charging, IP68 water protection, a really solid battery life, and reverse wireless charging;
All in all, the S21 FE is taking on everything we came to love from the S21 series of phones and puts it all into one fantastic device.
2. BEST FOLDING
Up next is what I believe to be almost the best flagship, foldable phone of the year.
Introducing the Galaxy Fold 4.
This is so close to being the Flagship of all flagships in my eyes.
Snapdragon 8+ Gen 1, 120hz on BOTH screens, it's even IPX8 rated so you can fully submerge and drop this one - more to cover you from accidents rather than doing it on purpose though.
It also works with the S-Pen to give fans of the Fold 4 a big, powerful, portable device that's practical and productive.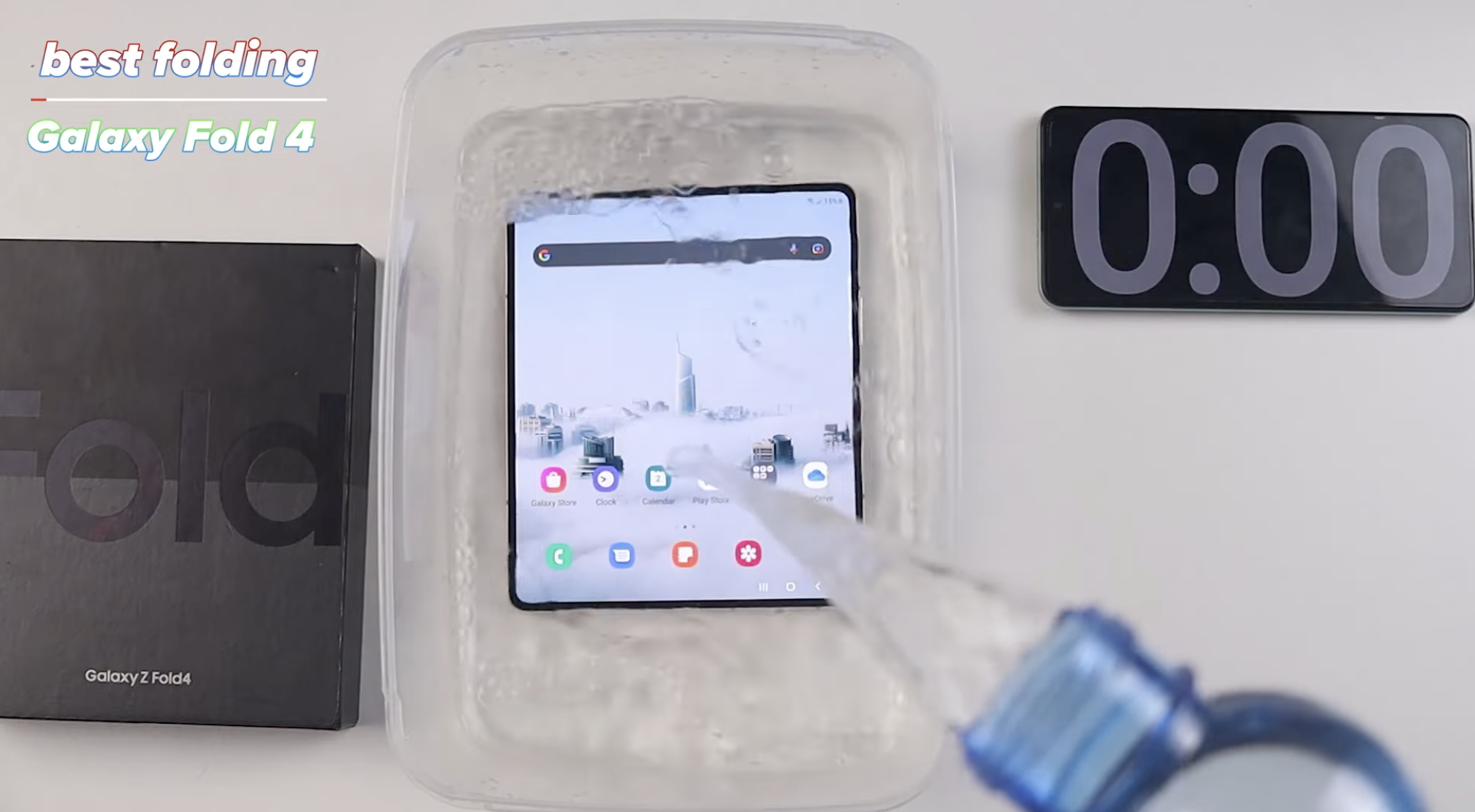 Once again, we get a high-quality 7.6" main screen with a centre fold that vanishes as you start using it and look directly at it.
The thing that stands out for me, though, with the Fold 4 is the software experience.
I haven't found a device yet that does multi-tasking, as well as the Fold 4. With the ability to drag and drop apps anywhere and drag to resize anything, the Fold 4 genuinely allows you to multitask without slowing down what you're doing.
Watch a YouTube video whilst replying to messages and whilst adding things to your to-do list; it's all easily doable with simple touch controls, a far sight better than Apple's own Stage Manager experience on iPad.
The fold itself, as in the fold of the fold, is practical too. Since you can set this down on the table and watch or read content without having to prop your phone up precariously.
You also get an insane number of cameras on this phone.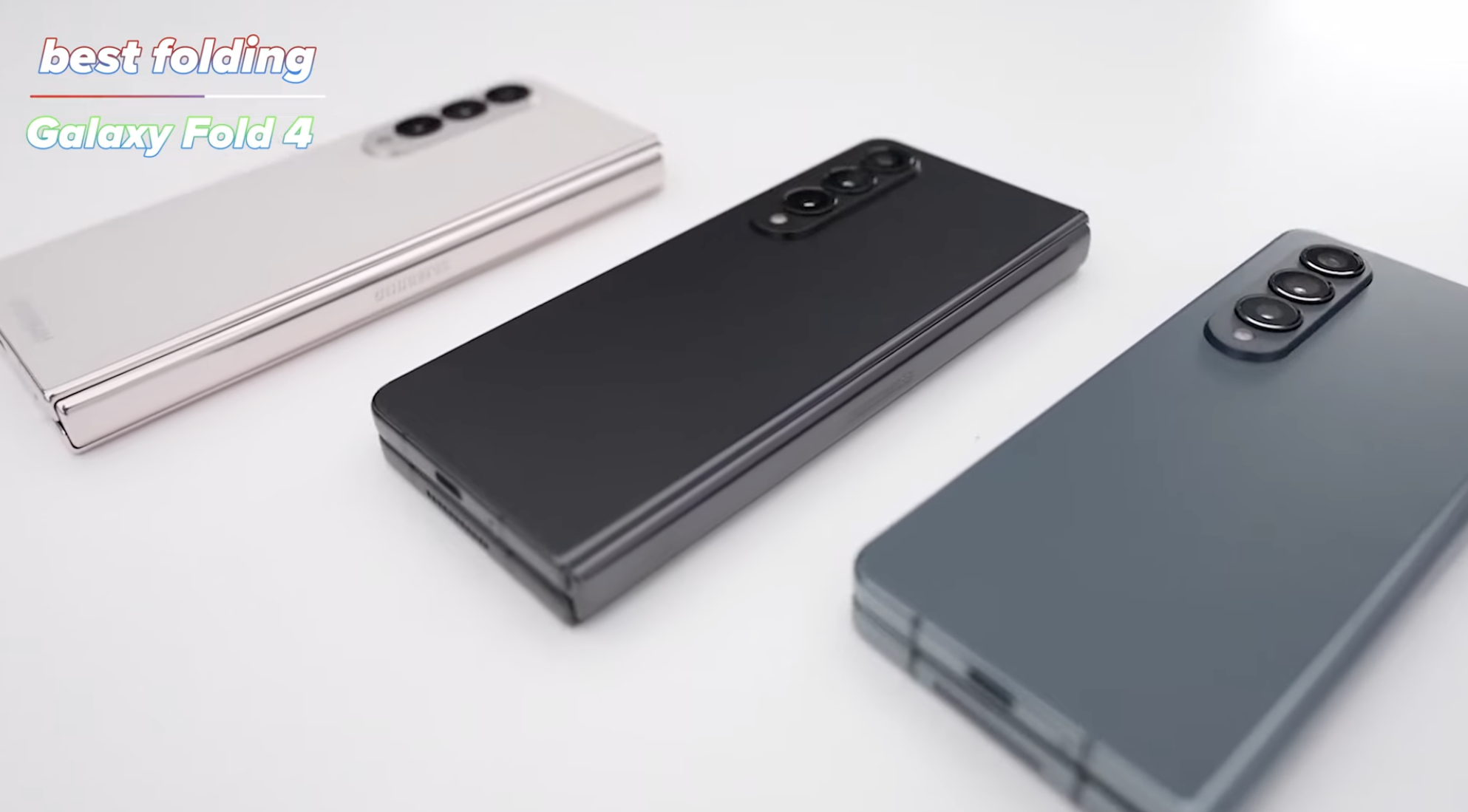 There are three on the rear, a 50MP Main, 12MP, and 10MP Lens, which all provide very, VERY good images and video quality that rival the flagships like the S22 Ultra and iPhone. You've got the same flagship features like Autofocus, Optical image stabilisation and 8K shooting at 24fps, and the aforementioned 960fps HD shooting modes.
There's a hole punch camera on the front screen, which serves its purpose, and on the inside screen, there's a hidden camera that unhides itself when you use it. And even though you can see the cut out for where it is, it just disappears from your mind after a while as you forget it's there. Until you open up the camera app again.
It's not the best quality, though; I use it to hop on the odd video call or send quick photos to friends. Because if you do care about the camera quality, you're better off using the front-facing camera - OR - you can use the rear-facing cameras as the selfie cameras.
Since this has a screen on the front, you can just open the phone up and use the front screen to preview your selfie images and snap photos using the bigger and better-quality lenses.
BEST FLIP PHONE
If the Fold 4 is too big, but you're still interested in a foldable phone - then another foldable phone worth paying attention to is, of course, the Flip 4.
Often compared to a compact mirror by many of my friends, the Flip 4 takes a different approach to the Fold 4, but again - it still has some fantastic specs and features.
The first feature is that Samsung allows you to customise the appearance of your Flip 4.
Start with choosing the frame of your colour, from Gold, Silver and Black. Then change the colour of the top and bottom pieces independently - with a wider range of colours from Purple, Yellow, White, Navy, Khaki and Red. To truly personalise the device to fit in with your aesthetic.
But aesthetic aside, the flip four still comes with the Snapdragon 8+ Gen1 processor, with 8GB of RAM and either 128, 256 or 512GB of Storage. There's no expandable storage, though.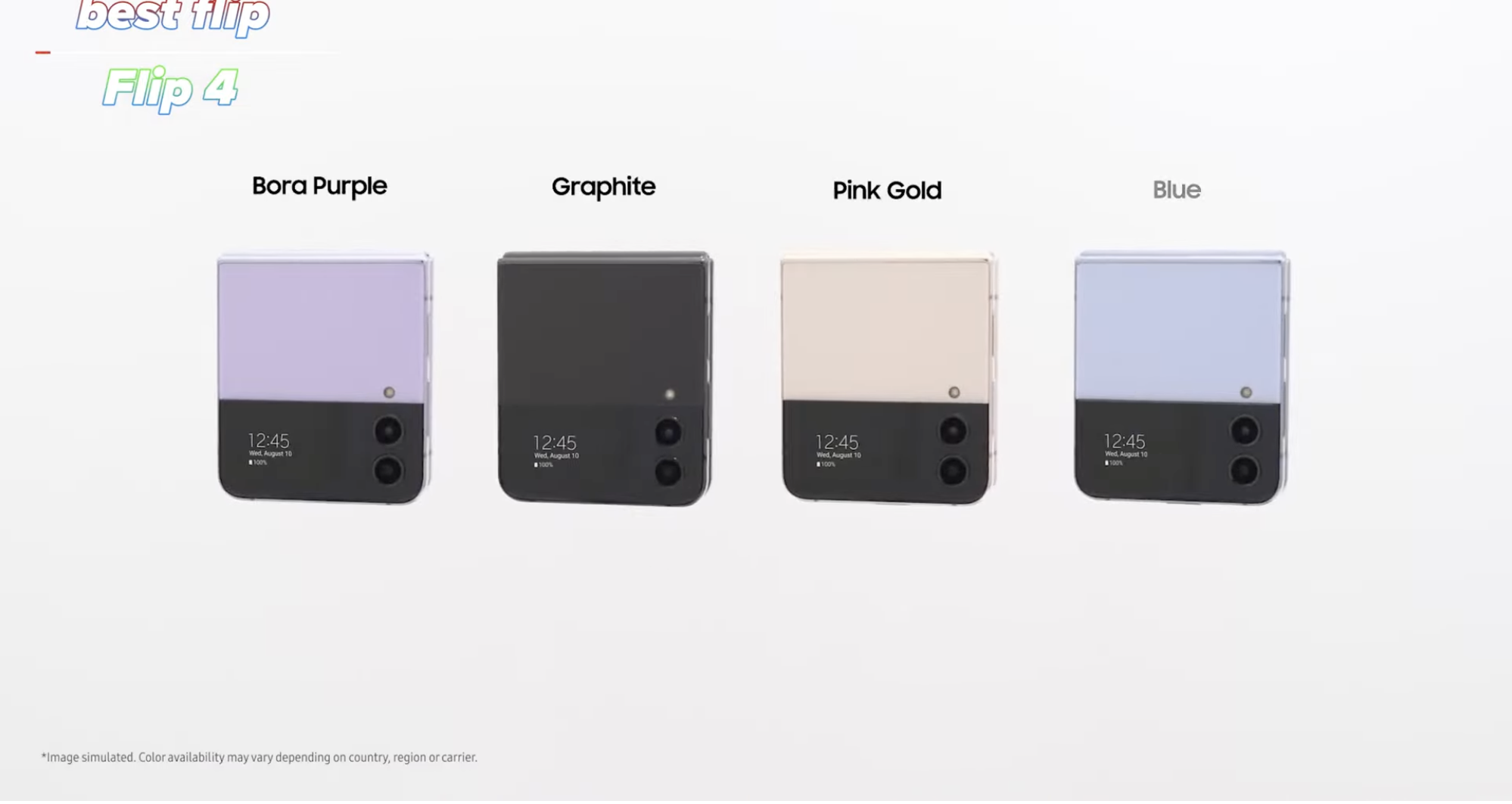 One thing to note with the Flip 4 is the Front Facing Screen, which provides some genuinely useful information.
Quickly see the time, notifications, music controls and your calendar for the day without having to open up the whole phone - so if you are the kind of person who checks their phone for notifications and then wakes up 2 hours later in a TikTok hole, this can be a great way to stay on top without getting sucked into other apps.
In the camera department, you have a front-facing 10MP camera and dual 12MP rear-facing cameras, providing a well-rounded experience when taking photos and videos. You still get Autofocus and Optical Image Stabilisation AND can shoot 4K videos up to 60fps and up to 960fps in HD. But again, you'll need a lot of light to make these high frame-rate videos look anywhere near good.
Since this is foldable, Samsung has put together some innovative ways to use the front screen along with the rear-facing cameras to take higher quality selfies and video than when using the built-in selfie camera, though it can be difficult to frame things up properly due to the size and shape of the smaller external display.  But it does provide overall better quality images.

Like the Fold 4, the Flip 4 has its fingerprint sensor on the side - but the placement can feel a bit high due to the hinge, having said that this is a fast and reliable way to unlock your phone.
Along with all of the usual software features that we'd expect from Samsung, you also get the ability to multi-task, but the biggest benefit I've found is when using this to prop the screen up when consuming content, perhaps at the same time as eating a meal. You can set the phone on a table and still be able to see - and with some innovative changes to apps such as YouTube, which allow you to watch the video in the top half of the screen whilst reading comments or scrolling through other videos on the bottom half of the screen.
OR another benefit is when taking photos, you can prop the camera up at 90 Degrees and use it as a tripod!
The Flip 4 is also IPX8 rated to protect against accidental drops into water, and with Corning Gorilla Glass Victus+, you get a seriously strong and durable foldable device.
Fast wireless and super fast wired charging come as standard, along with a 3700mAh battery that gets you through the day and the ability to power share and charge other devices using the back of your phone.
If you're looking for a compact but durable folding phone, then the Flip 4 is the only one you should consider.
BEST RUNNER UP (S22+)
For the best runner-up in the Samsung Mobile range, then take a look at the Samsung Galaxy S22+.
This phone has almost everything that the flagship S22 Ultra has and is technically a flagship in its own right.
With a 6.6" Screen and slightly sharper edges, this phone sits quite comfortably in your hand but can sometimes get a little uncomfortable for some people. We've got Gorilla Glass Victus+ on both front and back, which means that this phone has excellent protection for day-to-day use.
We get a 4500mAh battery which provides a solid all-day battery life, even with that beautifully bright 120hz display, which can ramp down to 48hz to save battery life, and uses the Snapdragon 8 Gen 1 or Exynos 2200 processor, depending on which country you purchase from.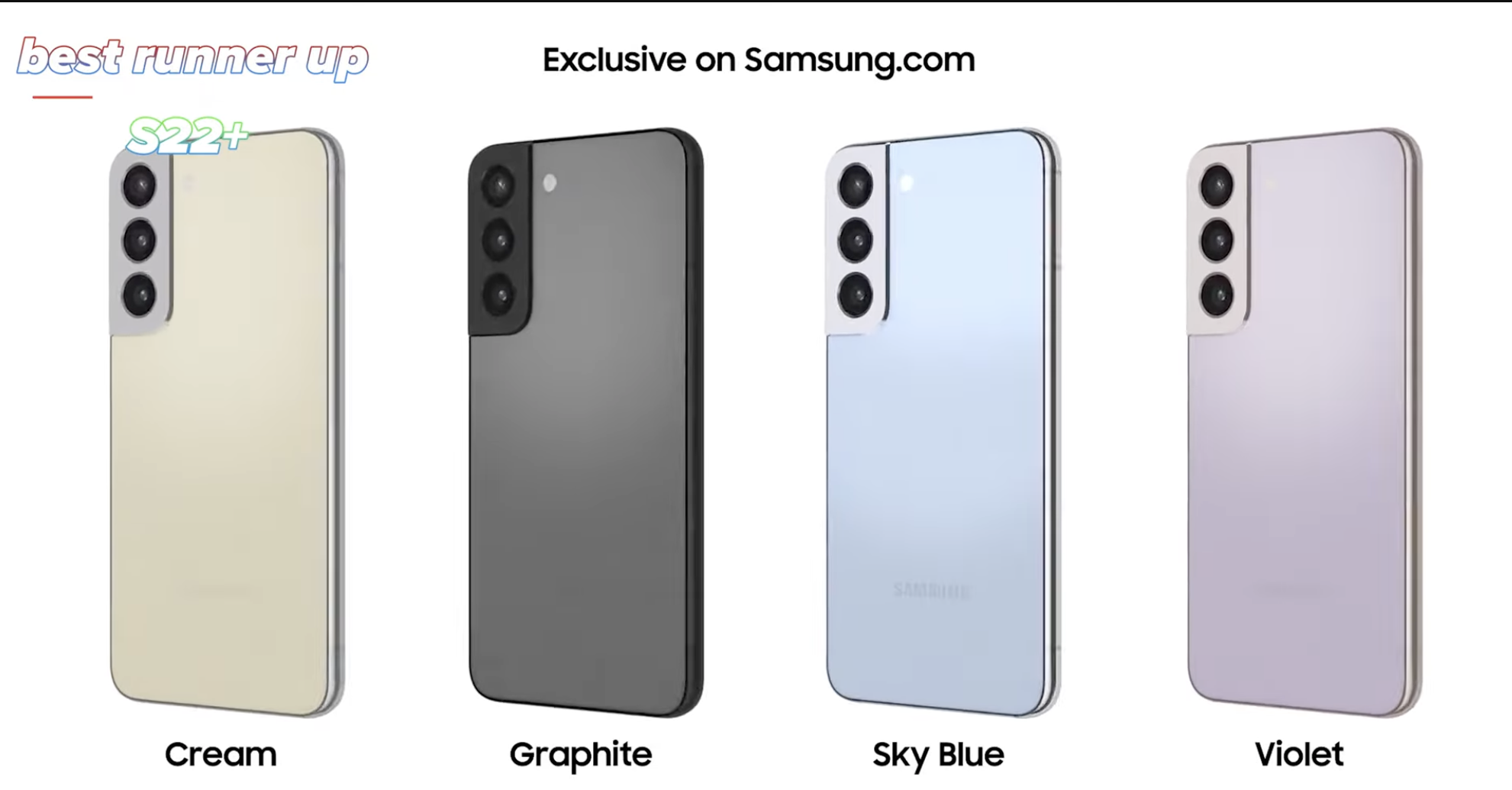 There's more good news regarding cameras with a 12Mp Ultrawide, 50Mp Main and 10Mp 3x telephoto, which all provide fantastic image quality across everything they shoot, including crazy high-quality video at 8k and 24fps.
There's also a 10Mp Selfie camera which shoots some pretty respectable selfies.
And like the other devices, we have features such as 45w wired charging, fast wireless charging, reverse wireless charging and 1750 nits peak brightness which matches that of the flagship S22 Ultra.
BEST OVERALL (S22 ULTRA)
Speaking of which - the S22 Ultra is by far the best of the Flagships that Samsung Offer. Whilst I do favour the Fold 4 over the S22 Ultra, personally, you can't argue the flagship specs and features that the S22 Ultra holds.
The S22 Ultra comes with the s-pen, which depending on your opinion on this somewhat marmite accessory, either is a huge selling point for you or a waste of valuable battery or storage space.
Use it to take notes, doodle, run presentations or even as a remote shutter button for the camera - it's a hugely versatile tool that comes with every S22 Ultra device.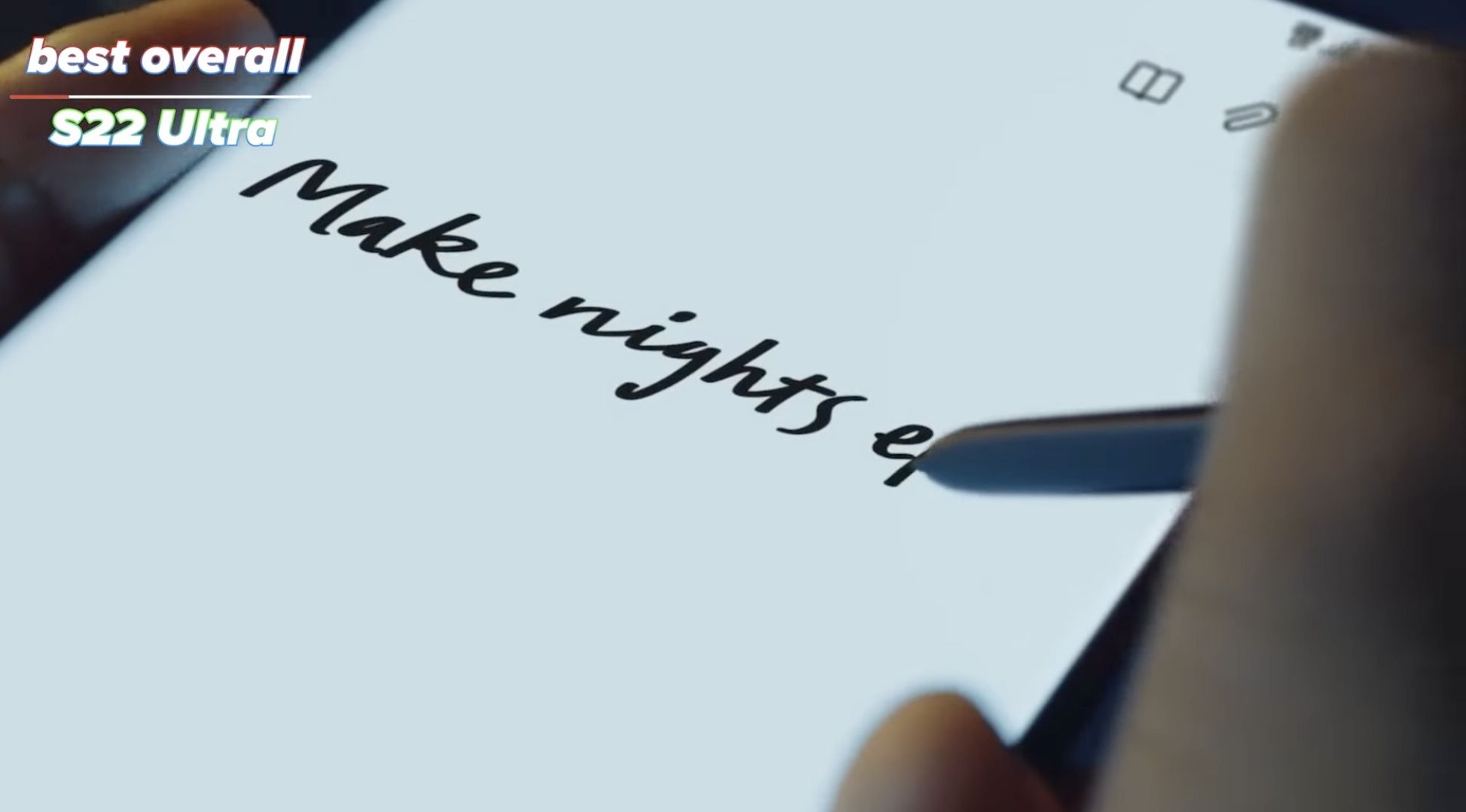 We have a 6.8" AMOLED Display which runs up to 120hz, along with an ultrasonic under-screen fingerprint sensor - Plus a 5000mAh battery, the biggest Samsung offers, which gives you the best in class battery life of any Flagship Samsung device, as well the best cameras on the market.
The flagship feature that keeps people coming back to the S22 Ultra, though is their inclusion of a 10x 10MP Telephoto lens which can zoom digitally up to 100x, which is a feature reserved exclusively for only the S22 Ultra.
There's also the whopping 108MP Main camera, along with the standard 12MP Ultrawide, second 10MP Telephoto, this time with a 3x lens and a 40Mp Selfie camera.

Which when combined makes the S22 Ultra one of the most versatile phones on the market for both photos and video.
---
That's everything for this post; I'll also do my best to include links to any good discounts I can find on Samsungs Website, so check those out down below.
Subscribe to the newsletter for more and I'll see you soon!
---
💌 Sign up for the weekly newsletter: https://www.petematheson.com/newsletter
🛒 Get the S21 FE: https://geni.us/hmPizq2xUNY-1
🛒 Get the Z FOLD 4: https://geni.us/hmPizq2xUNY-2
🛒 Get the Z FLIP 4: https://geni.us/hmPizq2xUNY-3
🛒 Get the S22+: https://geni.us/hmPizq2xUNY-4
🛒 Get the S22 ULTRA: https://geni.us/hmPizq2xUNY-5