The iPad is Apple's most confusing range of products they have on offer today.
There are literally 6 different versions, we've got the iPad Mini, the iPad 9th and 10th Generation, iPad Air, and the 11 and 12.9" iPad Pros.
And each of those has its own nuances, but all of them have support for either Gen 1 or Gen 2 Apple Pencils. They all have centerstage with their front-facing cameras, as well as their own range of cases, keyboards, and accessories. They all run the same apps, even the cheapest iPad runs the same apps as the most expensive iPad. And, interestingly - they all have exactly the same battery life across the board. 10 hours on Wifi and 9 hours when using mobile data.
But, if you're considering buying one, now is a pretty great time because there is so much variety on offer. So this should help you decide if you're about to buy one, but still trying to figure out which ones which.
---
So to start with some upfront information here.
You should buy the iPad Mini or either of the 2 basic iPads if you mostly use your iPad to just consume content, watch videos, play a few games, browse the web, and send a few emails, that sort of thing.
These devices are great. And generally speaking which one of these you buy will depend on whether you want a small one, a big one with a button, or without a button. If you're someone buying one for more than occasional use, maybe you're a student or you do like to dabble with video or photo editing then the iPad Air is a good option for you.
And if you're a seasoned pro who really needs the vast amount of power that's available to you then the iPad Pro 11 or 12.9-inch versions will be for you.
But saying that, and when you factor in the prices - don't forget you can also pick up some other pretty amazing tablets. The Samsung S8 range can be great, as well as a full Windows Surface device which gives you both a tablet and a full laptop in one, and at a very similar price.
Regardless of which iPad you get - if you plan to use your iPad to take notes or draw with the Apple Pencil then for me, the new Paperlike 2 is an absolute must-have.
I currently have the Paperlike 1 on my 12.9" iPad Pro and compared to the Paperlike 2 on the 10.9" iPad, to my eyes it's a night and day difference. It makes the screen feel more - well, Paperlike but doesn't affect the image quality of the screen as the first generation did.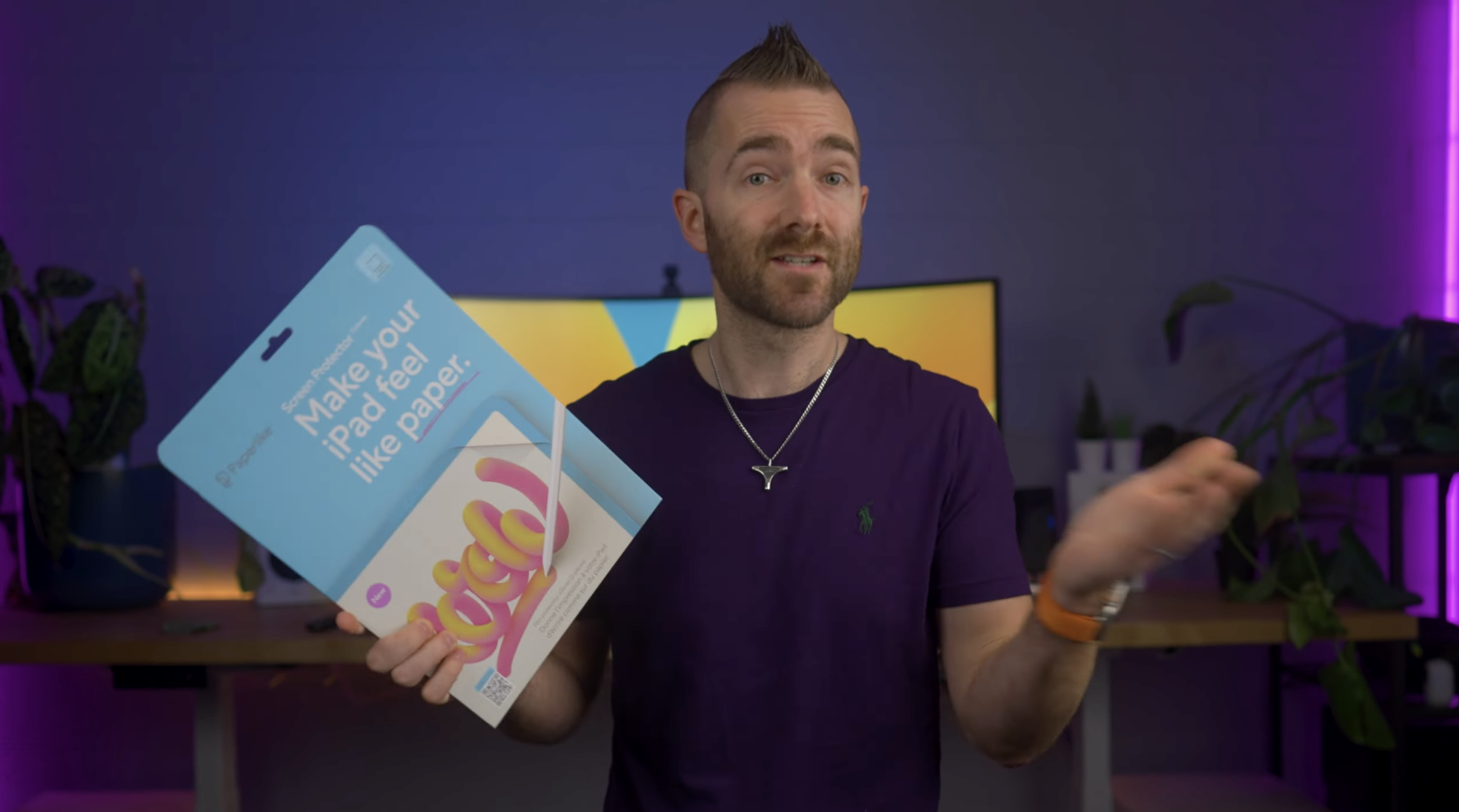 🛒 Get Paperlike here: https://geni.us/GET-PAPERLIKE
Something to point out here I feel is that you probably don't need an iPad.
You generally need a Laptop and a Phone - an iPad is one of those optional extras - unless you're trying to ditch the laptop and just switch to an iPad.
By the time you add on cases and pens and other accessories, you'd actually be better off picking up what I recommend to most people, a Macbook Air, and have something that is more versatile and less restrictive than an iPad.
Because still I find myself wanting to use an iPad but having to reach for my Laptop for certain tasks.
SO, WHICH ONE?
9th Generation
Let's start off with the cheapest iPad first, the 9th Generation iPad.
This is the only iPad that has the dated large bezels around the screen, and still features both a lightning connector and a home button at the bottom, but supports all of the same gestures that every other current generation iPad uses.
The main differences with the 9th Gen iPad are that it's using an older A13 Chip with support for 4G, not 5G, has one of the lowest quality cameras for both photo and video, and has stereo speakers only coming out of one side of the iPad.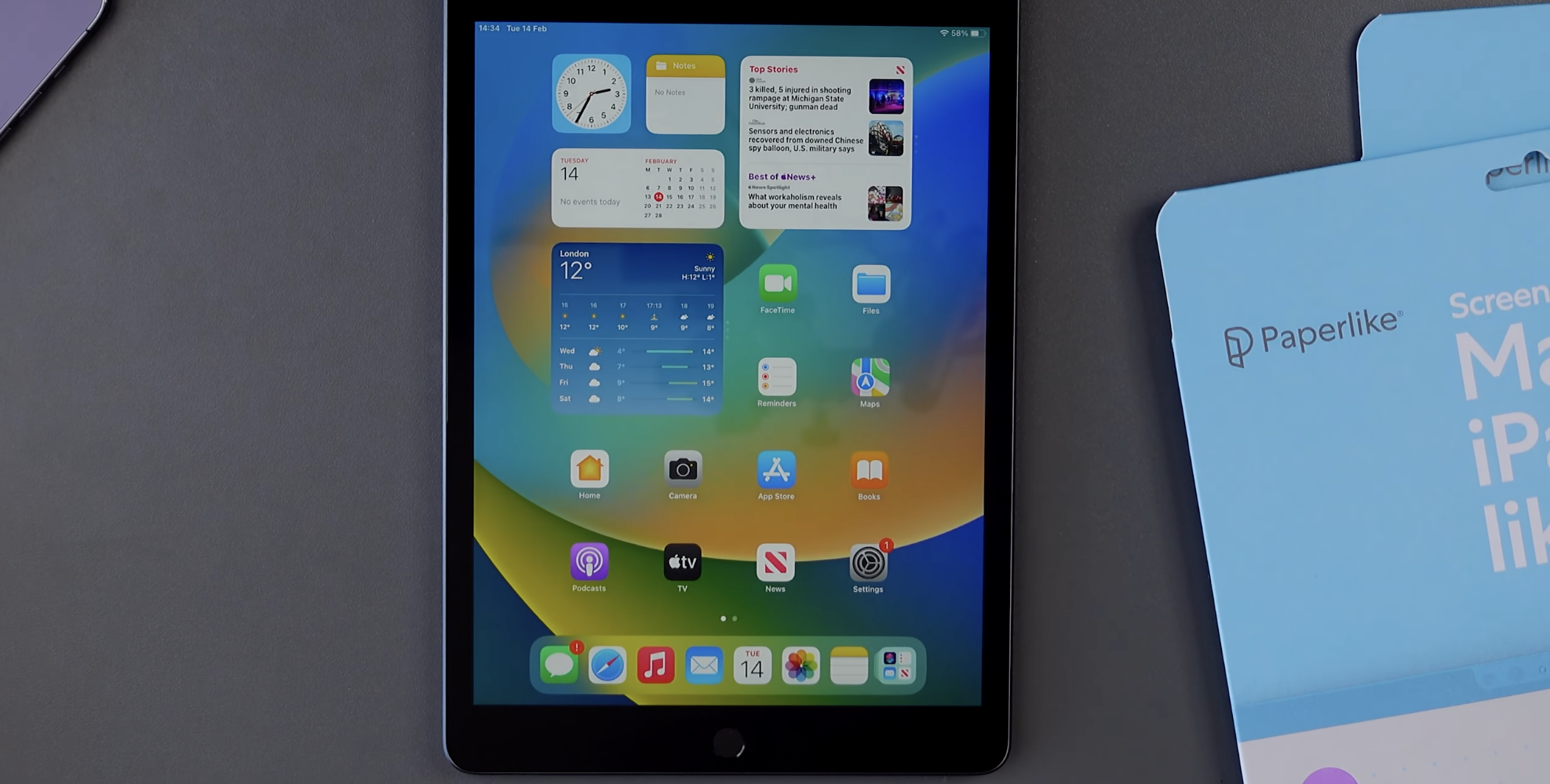 It does support the First Generation Apple Pencil which works OK - but you do have to worry about losing the cap on the end and there's no handy wireless and magnetic charging like with the Gen 2 pencil.
They're also great for Kids, my 7 and 4-year-olds use this just fine, and since lots of their homework is based on apps like Busythings, it's also kind of essential for us to have a basic, cheaper iPad in the house just for them.
But overall, this is an affordable and great option for those of you wanting 90% of the iPad experience, without paying any extra.

10th Generation
So why would you pay the additional £130 to upgrade to Apple's most recent iPad, the 10th Gen iPad?  
Well, aside from the new colours, you also ditch the bezels and the home button to give you a slightly larger screen at 10.9", up from 10.2 on the 9th version, and Touch ID moves from that now missing home button to on top, as part of the power button.
The display also gets an upgrade to Liquid Retina, which does look much better and there's a bump to a newer A14 processor.
But if you're a student or consuming more content, this is probably the one for you. There are true stereo speakers on each side of the iPad, 4K Video, and a better 12Mp rear-facing camera which takes much better photos. The front-facing camera has also been moved to the center in landscape mode - which is currently the only iPad that has this feature which is a pretty essential one if you're Facetiming someone, and even just using FaceID to unlock it becomes better without your finger accidentally covering the camera sensor.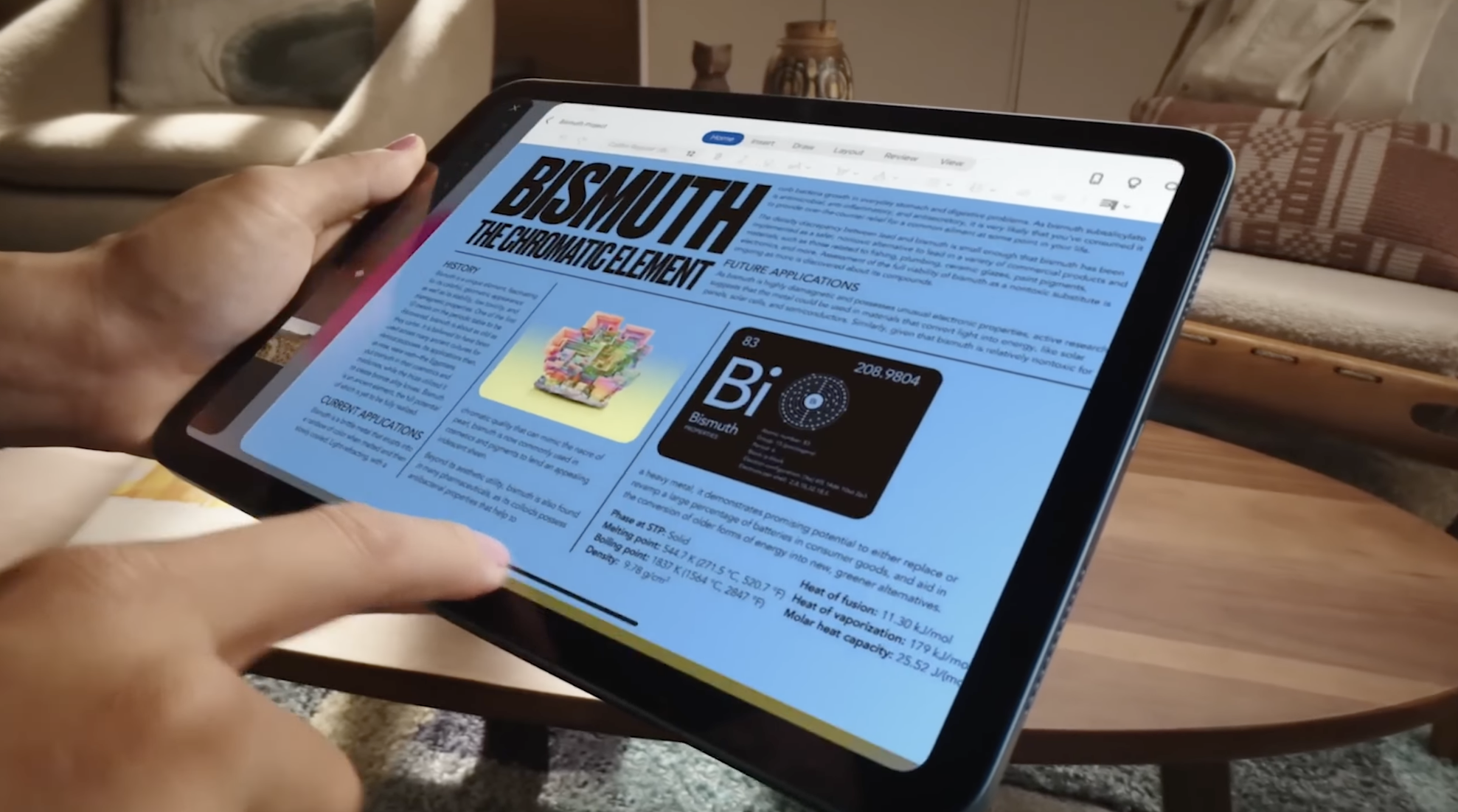 Lightning is gone for USB C, and thankfully every iPad hereon is USB C.
But, in a strange choice by Apple, it still supports only the first-generation Apple Pencil, which if you recall, has a lightning connection. So if you do go down this route, you'll have to buy an adapter to go from Lightning to USB C to even be able to pair the pencil, let alone charge it.
If you're buying a New pencil that's fine as the adapter comes with it, but if you already have a pencil somewhere, then you'll need to buy it separately.
But overall, this is the iPad that I would recommend to most people.
6th Generation iPad Mini
Next up we have the £70 more expensive, smaller, and older, but faster, iPad Mini. See what I mean about a confusing lineup?
The iPad Mini is a more compact but still very powerful iPad.
With the A15 Chip, it's faster than both the regular iPads - but is missing things like the Landscape front camera, instead, it's back at the top in portrait mode, and this is the first iPad that DOES support the latest generation, Gen 2 Apple Pencil, which pairs wirelessly and attaches and charges magnetically.
Why they didn't do this, or couldn't figure out how to do this on the 10th Gen iPad I don't know. But for now, this iPad for me is probably one of the most convenient of all of them.
The 8.3" screen and overall size mean it's light and easy to slip into a bag or even a pocket! It's great for note taking, and reading a book with Kindle. The screen is both bright enough and dim enough to read in all lighting situations, and the chip inside means it's fast for playing games, some light productivity, and doing almost anything else you can throw at it.
It can also make for a great, but still very expensive wall-mounted tablet for your home if you want your home to look all futuristic with an iPad on the wall to control all the smart tech in your home.
5th Generation iPad Air
So from here on up, I would say that these next iPads are really only needed if you're somewhat of a professional.
And by that I mean that you know that you need the better features and specs which are on offer, or you're creating content - editing videos, photos, publishing articles, or something that just requires a little more grunt.
Starting with the 5th Generation iPad Air, which has the same screen size as the second cheapest iPad, with the same Liquid Retina Display.
The main change in this one is that now we have Apple's desktop-level performance in an iPad, this time with the M1 Processor.
I've talked about the M1 a lot in previous posts, it's an absolute powerhouse of a processor that's super efficient on battery consumption too.
If you're not fussed about the cameras, or some improvements in screen tech, which we'll get to in a moment - then this one is for you.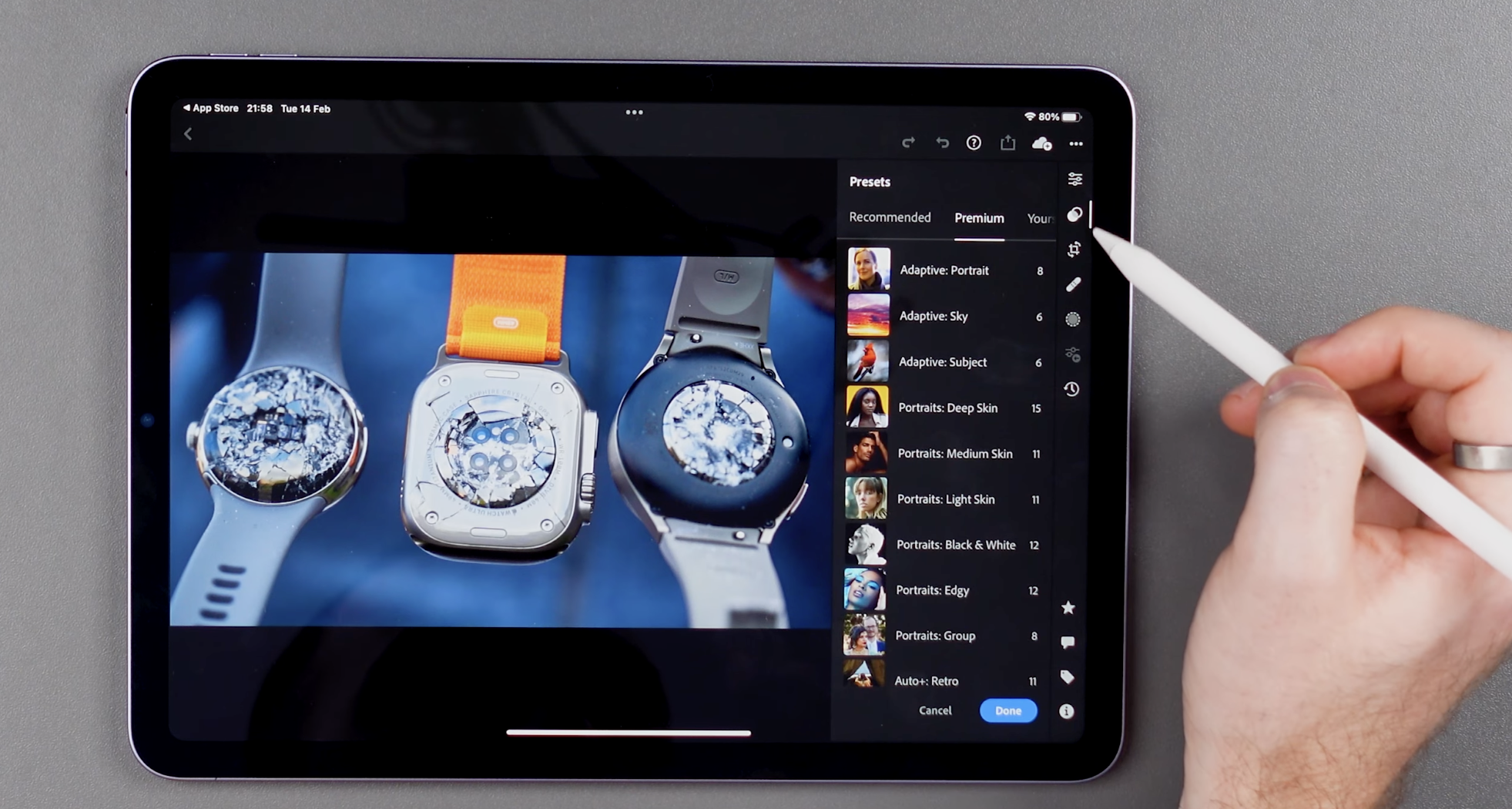 The M1 will be super capable of video editing for most people, touching up photos, and of course, all of the content consumption you can throw at it. The screen also has an anti-reflective coating on it, so it will be better to use as a more laptop-form factor if you pair it with a keyboard - so for 'the professional' let's call them, this one's for you.

iPad Pro 11" and 12.9"
Then we have the iPad Pro range, both the 11 and 12.9" Screens, and these are identical other than the size.
I would say that these are for those who either know that they need an iPad Pro for whatever they need to do with it or just those with some extra money and want the best of what's available.
You get Apple's latest and fastest-ever M2 chip which is faster than most people's desktop or laptop computers.
The Cameras get a significant bump in quality with their new TrueDepth system, plus an introduction of a second camera on the back, and for the first time - we get ProRes video - though I've not really seen anyone use an iPad to shoot a full video in ProRes yet.
We also see the first change with the USB C connector now supporting Thunderbolt and USB 4, which means you'll have much faster transfer speeds for moving footage on or off the iPad - probably for those huge ProRes video files you'll be shooting.
And for both of these models you get the best of a four-speaker audio system, with 5 Microphones for, really good content consumption, and…Facetime calls?
Though I'd argue most people I know just throw on a pair of headphones anyway.
Just don't forget that at this level, an iPad Pro plus keyboard plus pencil plus case and all the rest of the accessories will likely set you back far more than a similar spec'd out and arguably more useful Macbook Air, or even an Apple refurbished Macbook Pro.
Whichever one you buy, don't forget to grab yourself a Paperlike screen protector, they are so good!
🛒 Get Paperlike here: https://geni.us/GET-PAPERLIKE
---
iPads:
🛒 9th Gen: https://geni.us/iPad-9th-Gen
🛒 10th Gen: https://geni.us/iPad-10th-Gen
🛒 Mini: https://geni.us/iPad-Mini-2021
🛒 Air: https://geni.us/iPad-Air
🛒 Pro 11: https://geni.us/iPad-Pro-11
🛒 Pro 12.9: https://geni.us/iPad-Pro-12-9