POCO recently sent me their new X4 GT and F4 handsets to review, and whilst waiting for these phones to arrive - I honestly couldn't figure out where they sat amongst POCOs product line. So If you are confused as much as I am, or maybe even wondering who the heck POCO is, then stick around.
You might have heard of Xiaomi, which is basically the biggest Chinese manufacturer of mobile phones in existence. If their Wikipedia page is led to be believed, they're currently ranked as 2nd in the world for the most Intellectual Property design registrations published.
Earlier this year they also stated they will overtake Apple within 3 years in the Chinese markets, and recently have announced some impressive collaborations with Harmon Kardon for improved speakers, and more recently Leica to improve the cameras in their high-end flagship smartphones.
So that's Xiaomi.
Then you have Redmi, which is a subsidiary of Xiaomi and that produces entry-level devices whereas Xiaomi is more focused on high-end devices.
And then, then there's POCO. Who, today - I guess are filling all of those levels, the budget, the mid, and the flagship tier. POCO was part of Xiaomi, but more recently has become independent.
POCO Basically try to take the best of what they can from Xiaomi, and Redmi and make their subtle improvements on top.
We've seen this strategy before, the first OnePlus phone was a rebranded Oppo device - it's basically a way that as a new smartphone company, you can quickly sell some phones by re-branding someone else's phone - with their permission, with just a few subtle tweaks to the software.  Between those releases, they'll start introducing some of their own unique devices.
What this has meant for POCO over the past year or two, is that there is a tonne of non-uniform new smartphone releases.
What I mean by that is unlike the iPhone, or say, Samsung - when new devices are launched, they'll typically release all of the models at once - The iPhone Mini, the Standard, the Pro, and the Max model, or the S22, S22+ and S22 Ultra - and as you move up the range from the cheaper models to the flagship models, you just get more stuff. It's the same stuff, but better.
That's not the case with POCO. Late last year we got the POCO M4 Pro 5G, then the M4 Pro, then a month later, the M4.
Then we have the X4 Pro, launched at the same time as the M4 Pro, the F4 GT launched at the same time as the M4, and now recently the budget C40, the X4 GT, and F4 handsets.
All of them with different chipsets, some of them just re-branded versions of Xiaomi's Redmi series of phones, and some launching as much as 6 months later with slower chips but with better cameras, more memory, better screens, and in one case, with a newer Android experience that's available on even their flagship model.
Take the X4 Pro that launched earlier this year, for example, and compare it against the X4 GT that's just launched, and they don't even look like the same series of phones.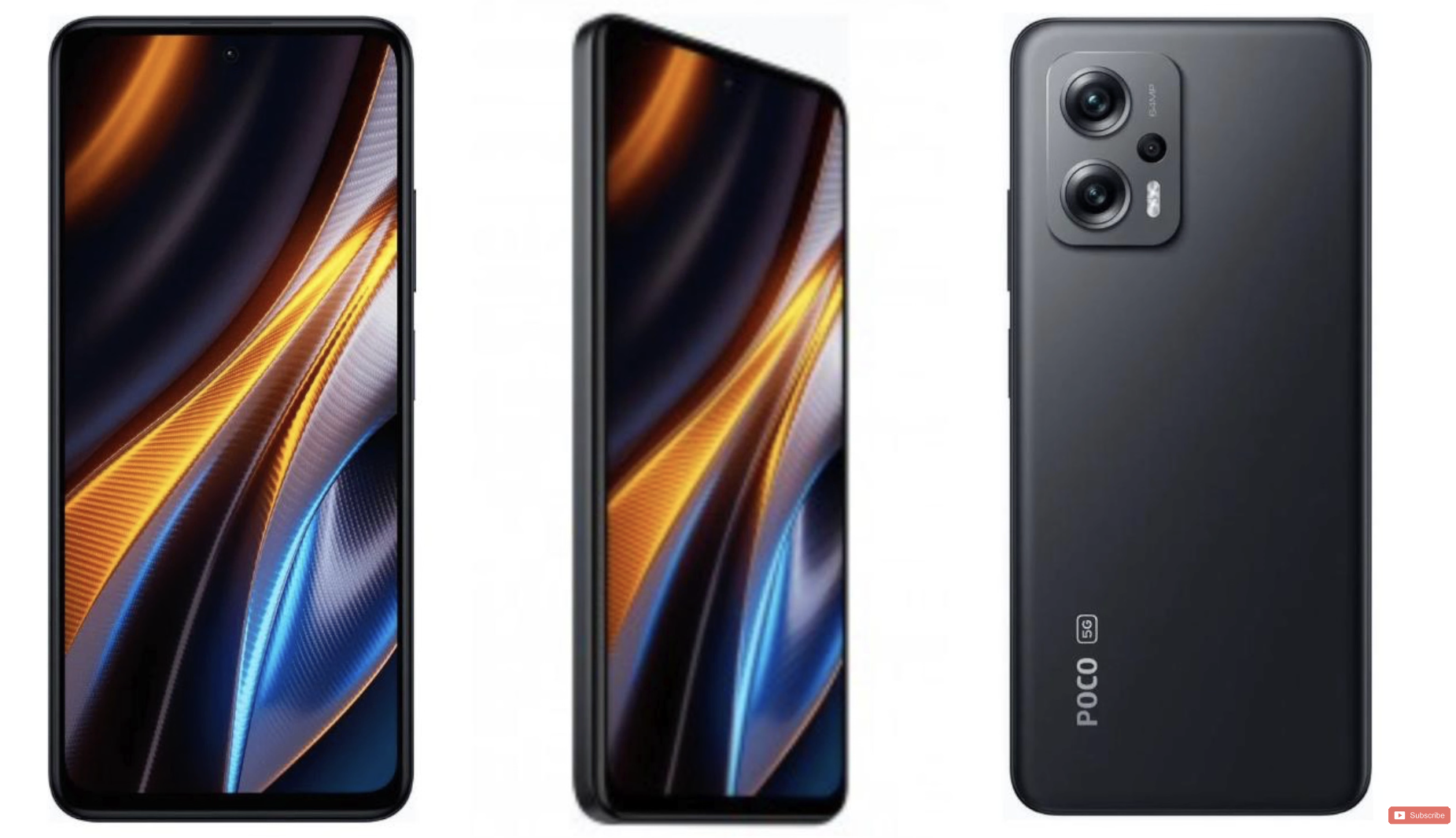 It's definitely no iPhone, where there are just 4 models of a phone, and that generally means the more you spend the better the features. With POCO, they are literally all, totally different.
So it's no wonder that whilst POCO is continually launching these new products, well, I no longer have a grasp on what phone I would recommend for most people...until today.
In this post, I have gone full sherlock holmes and put all of these phones up against each other to finally answer that question of, which POCO phone should I actually buy?
So firstly, what do all of these series mean?
Well, put simply.
F = Flagship.
X = Not Quite Flagship.
M = Mid Level
C = Budget
I kinda made that up, but it's basically how it goes.
I'm going to start with the F Series, and the Flagship series, but stay reading until the end because there are some strange things happening with some of their models, as you'll hopefully see.
F SERIES
For the F Series of phones, this year, we have the F4 GT and the F4. The F4 GT is their Flagship Gaming phone.
There's a 120hz AMOLED Display with a 480hz touch sampling rate, a Snapdragon 8 Gen 1 chip with either 8 or 12GB of DDR5 memory, a 64MP Main, 8MP Ultra-wide, 2MP Macro, and 20MP Front Facing Camera with a 4700 mAh battery with 120W HyperCharge that gets you from zero to full in 17 minutes and running Android 12 with MIUI 13.
Then we have the newly launched F4.
This one is similar to the F4 GT but still different.
It's still 120Hz, but with a lower 360hz touch sampling rate. There's a downgrade on the CPU to the Snapdragon 870 and a slower GPU. The Camera is basically the same, but they've been rearranged to now include optical image stabilisation, the Display now supports Dolby Vision and is a little brighter at 900 nits sustained or 1300 nits peak and the charging is almost half the speed at 67 watts.
So for these 2 phones - it's basically the F4 GT if you game or if you need the fastest charging and fastest performing device.
It's the F4 if you need slightly better cameras, might use this in direct sunlight a lot and want a better viewing experience with that Dolby Vision display.
So that's the 'Flagship' series of POCO Phones. But if that was the Flagship, then what exactly are the X Series?
THE X SERIES
The X4 GT, again this will be the gaming model - has a faster, 144Hz adaptive refresh rate but a lower screen brightness of 500-650 nits. The cameras are similar to the F series, charging speeds are 67Watts but with a 5080mAh battery. The Processor is a MediaTek Dimensity 8100, which is slower again than either of the F4 chips and you only get 8GB of Ram.
So really, there's nothing there to me that would make me want to get this over an F4 or F4 GT - it's really only the 144Hz refresh rate that the X4 GT has over the F4's.
Down we go to the X4 Pro, and we take a step down again with a slower processor, but this time we now have a 108MP Main Camera instead of the 64MP. Whilst I'm not going into a full camera comparison right now - actually, let me know if you want a full POCO comparison down in the comments, perhaps we could do a blind test of all the POCO Phones together?
Whilst MegaPixels aren't everything, it's curious why the X series would have a 108MP camera, which goes above the F series 64MP Main camera.
You lose Dolby Atmos,  gain a brighter display, have a z-axis linear vibration motor instead of all of the other X-axis so far, and strangely, now you're dropping down to Android 11 with MIUI 13, instead of Android 12.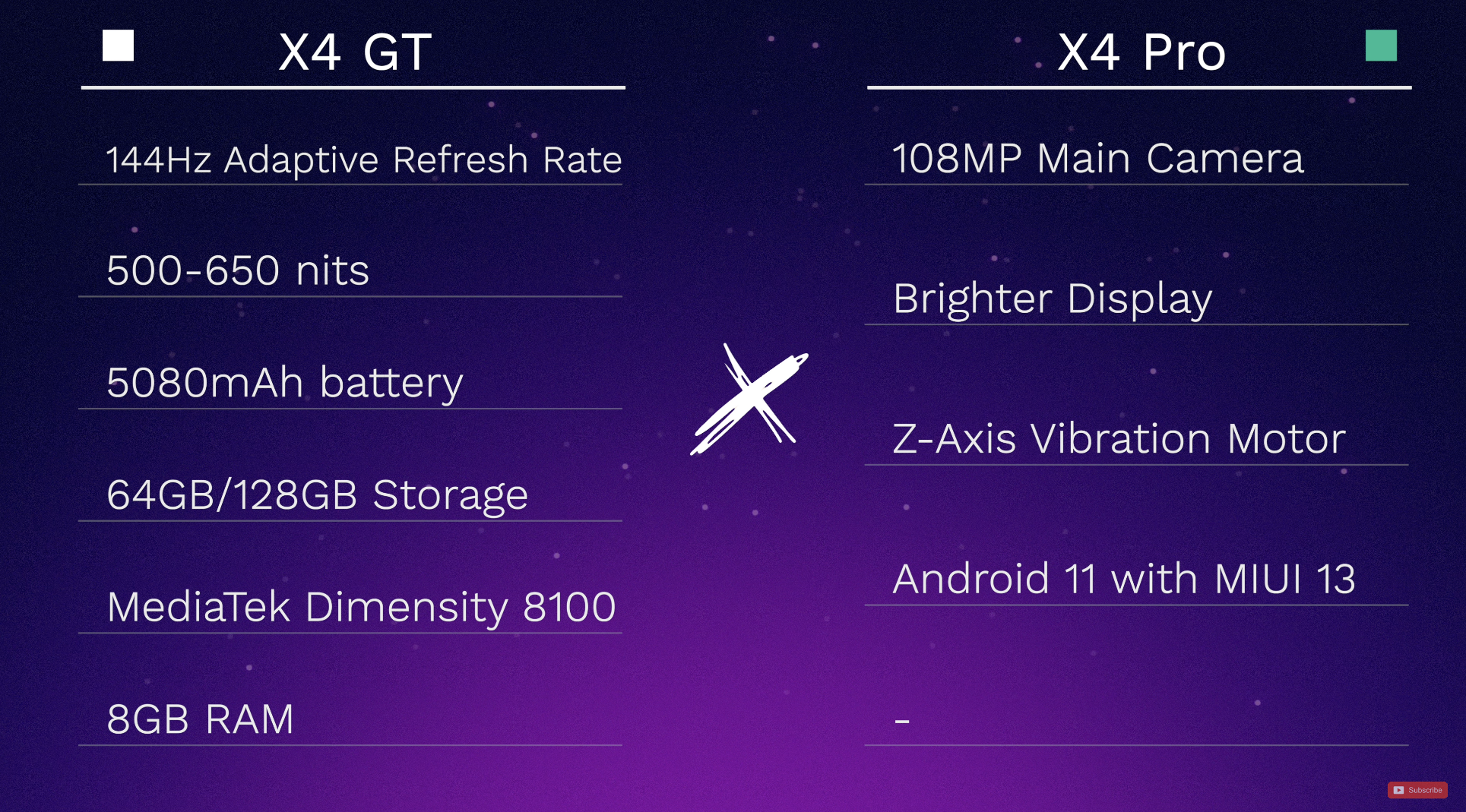 This is definitely where the lines get a little blurred - because we've got that 108MP Main Camera, which is better than the GT's camera, but now you have to step down to an older version of Android.
Oh, it's worth noting here, that on both F and X series phones, POCO's update policy states that you'll get 2 years of Android updates and 4 years of MIUI updates.
Again, the story looks the same. If you're a gamer, it's the GT, and if you're not, it's the Pro model.
Whether you go for the F4 or the X4, it just comes down to budget, or possibly what you can find on the second-hand market.
So buy a brand new X4 GT for £300-350 here in the UK. Or you can buy a 2-month-old F4 GT for £450 but will perform that much better.
Let's talk M4 now because we have the full and even more confusing trio of M4s, the Pro 5G, the Pro, and the M4.
M4 SERIES
The M4 Pro 5G, which I guess would be the best of all of the M4s sports an IPS 90Hz LCD screen, a MediaTek Dimensity 810, 4 or 6GB of Ram with 64GB or 128GB respective storage, a 50MP, and 8MP Camera setup, a 16MP Front Facing and we're stuck with Android 11, but now we're also at MIUI 12.5, and of course this is 5G.
OK, so it's a step down again from the X4 range, which is to be expected in this, Mid-tier phone level.
But what I can't quite understand, what doesn't make sense is the M4 Pro - that's not 5G. As the name would suggest.
Because it's not just the lack of 5G. You get, a better screen - AMOLED vs LCD, there's the MediaTek Helio G96 which yes, is slower. You get MORE ram and MORE baseline storage. And you get a totally new camera setup - a 64MP Main, 8MP Ultrawide, and 2MP Macro.
Oh and also, this has that older Android 11 BUT instead of MIUI 12.5 on the 5G Model, we get MIUI 13, which is newer than the top tier of the M4 Models. It doesn't make sense to me.
Out of these 2 models, the Pro is the cheaper model, but I'd argue is better than the 5G Model.
At the tail end of this, we have the currently un-contested C40 which is POCO's Budget phone I recently made a post about which I'll link don't below for you.
Let me know in the comments which phone you're looking at buying and why, don't forget to subscribe to my newsletter, and I'll see you in the next one, bye bye!
💌 Sign up for the weekly newsletter: https://www.petematheson.com/newsletter