This might be a really silly idea…
Recently I reviewed the behemoth of the 55" Samsung Ark, and whilst it's marketed primarily as a Monitor more than a TV, I definitely felt that it was more of a TV with monitor features.
And actually, it turns out, you can buy this gigantic 65" Samsung QN95B QLED Smart TV, and still, be left with some change when compared to the Ark.
This TV comes with one, really valuable thing that could save you a tonne of money in the long run, but how practical can a QLED TV, particularly one as gigantic as this one, actually be?
---
The Specs
When it comes to pure specs, the QN95B is pretty fully featured and in many ways similar to the Samsung Ark.
But there are a few differences.
For one, there's a 4K 144hz refresh rate instead of 165hz which you get on the Ark. We've also got Dolby Atmos with eight multi-directional speakers instead of the four speakers and 2 subwoofers, yes subwoofers, built into the Ark.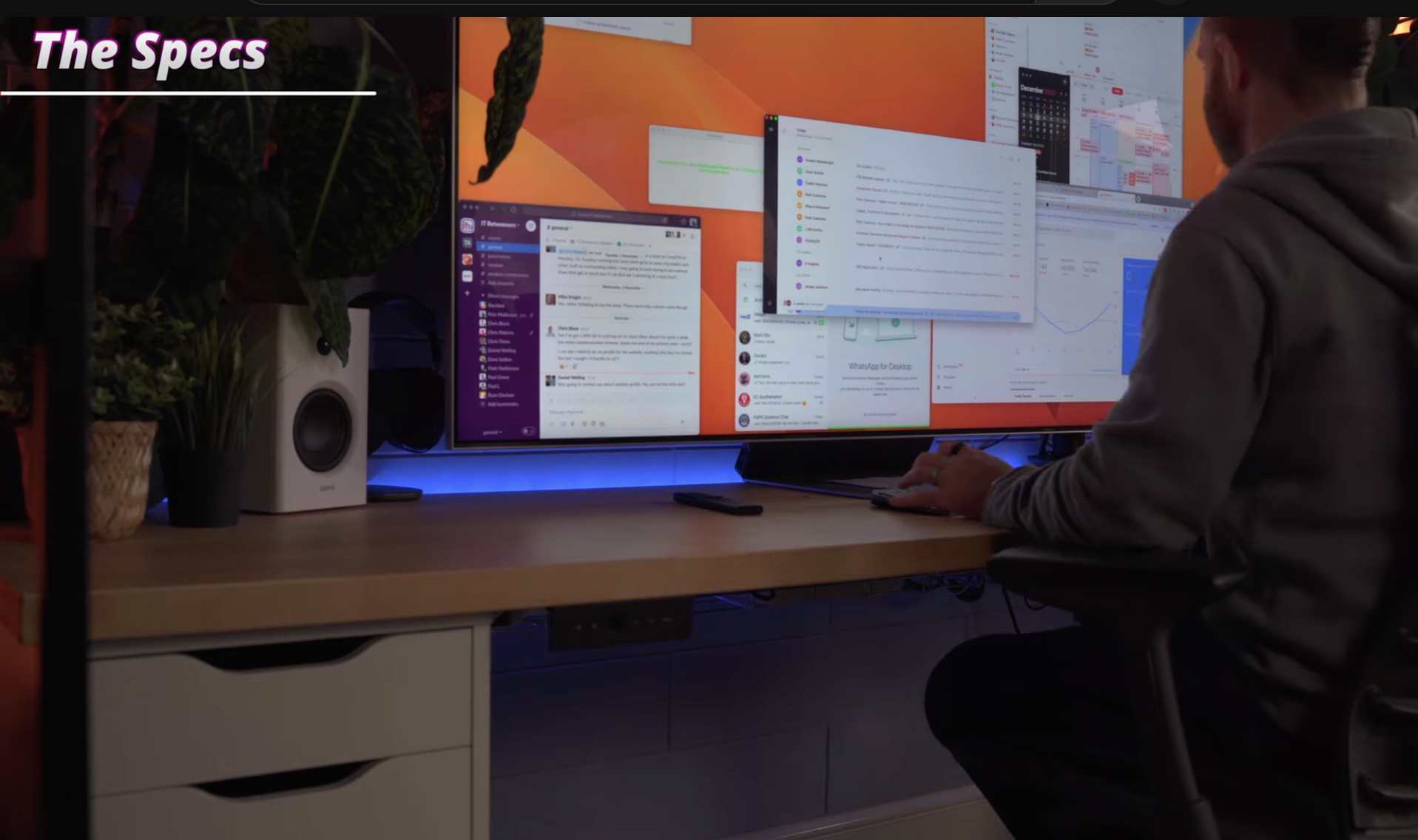 For gaming we get all of the usual Variable refresh rates and FreeSync Premium Pro, along with Quantum HDR 2000, it runs the same software as the Samsung Ark and so provides a pretty much identical interface and comes with the same 4x HDMI 2.1 ports.
These all sound very fancy - but put together it means that this screen really has a lot going for it.
PRICE
Now the Samsung Ark comes in at a pretty staggering $3,499.  Which is actually $500 more than this tv slash monitor.
If 65" is too big though, you can get the 55" version of this for $1,200 less than the Samsung Ark.
For that price, you could buy one of these and still have enough to get yourself a gaming console, or a pretty decent upgrade to your PC.
CONNECTIVITY/BOX
There are of course going to be drawbacks with a screen of this size, which we'll get to - but I want to first address something that is a massive improvement on the QN95B over the Samsung Ark, and that is the situation when it comes to connectivity.
Something that you don't get with a normal computer monitor, is a separate box where you connect all of your devices, like your PC, cable TV, and games consoles. From this box, you just run a single cable into the back of the actual TV, so you avoid having all of those ugly wires dangling out the back or the sides.
Usually, this is in a totally separate box which then sits underneath your TV, nearer the devices you're connecting to it. But with this TV, it's still a separate box, but it's really nicely integrated into the back of the stand, and with a cover that lets you hide all of the cablings to keep it looking really minimal.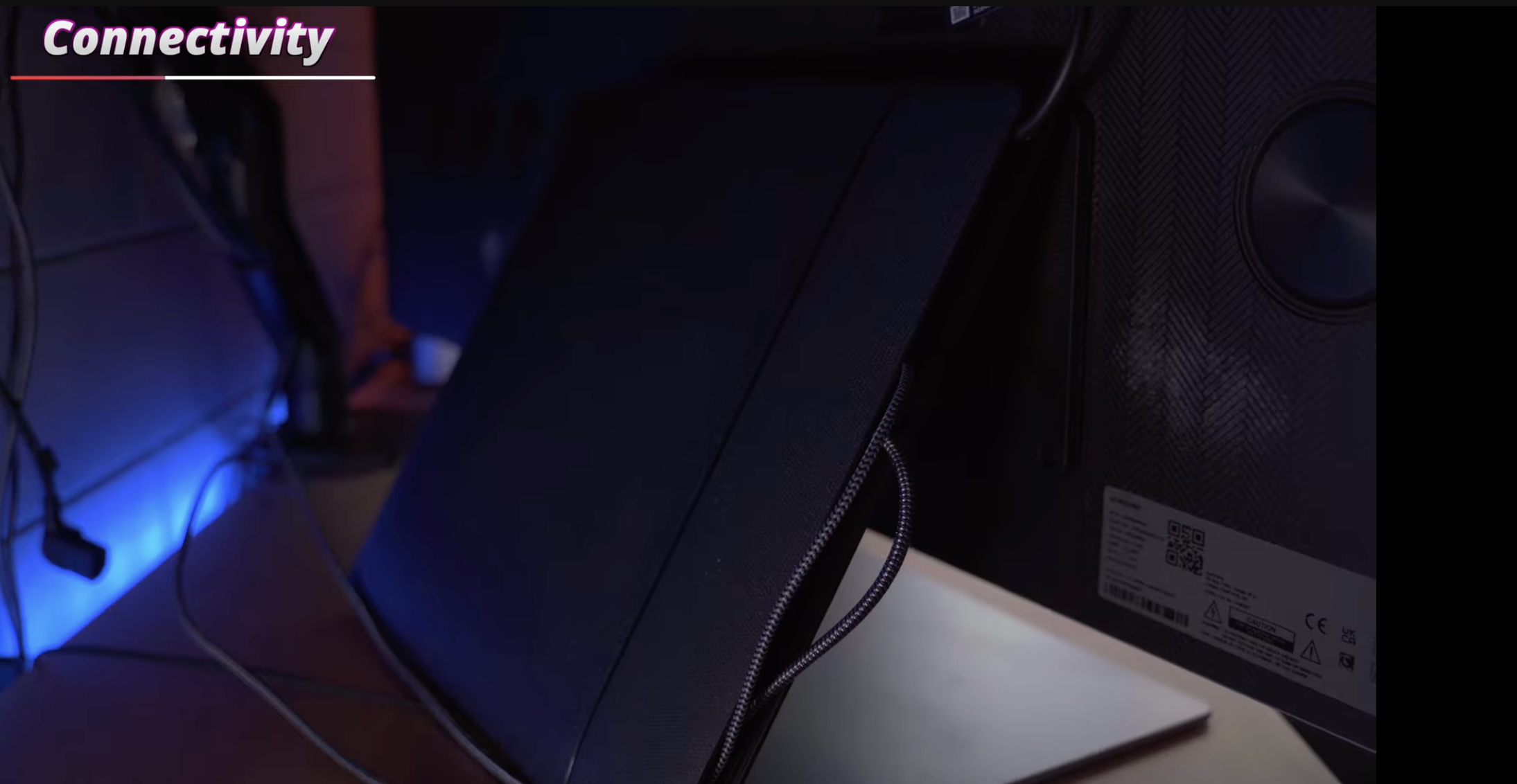 This is a big improvement over the Ark which has a standalone and very gigantic separate box, so I definitely prefer this more integrated approach.
In terms of inputs, we have the same 4x HDMI 2.1 Ports as the Ark, but once again there are no USB C or Thunderbolt inputs. Though considering this is designed primarily as a TV and not a monitor, that's to be expected.
What that does mean though is to get the full 4K Resolution at the maximum 144hz, then you'll need a computer that's equipped with an HDMI 2.1 Graphics Card, so an RTX 3080 or Radeon RX6800.
FIRST IMPRESSIONS
For first impressions, just, Wow - this thing is ridiculously big. I don't even know where to look, it's just insane.
It feels like the first time I used a 49" Ultrawide, and back then I thought that was ridiculous!
It's kind of hard to imagine what a 65" screen would look like on a desk, and well… yeah, here's what it looks like!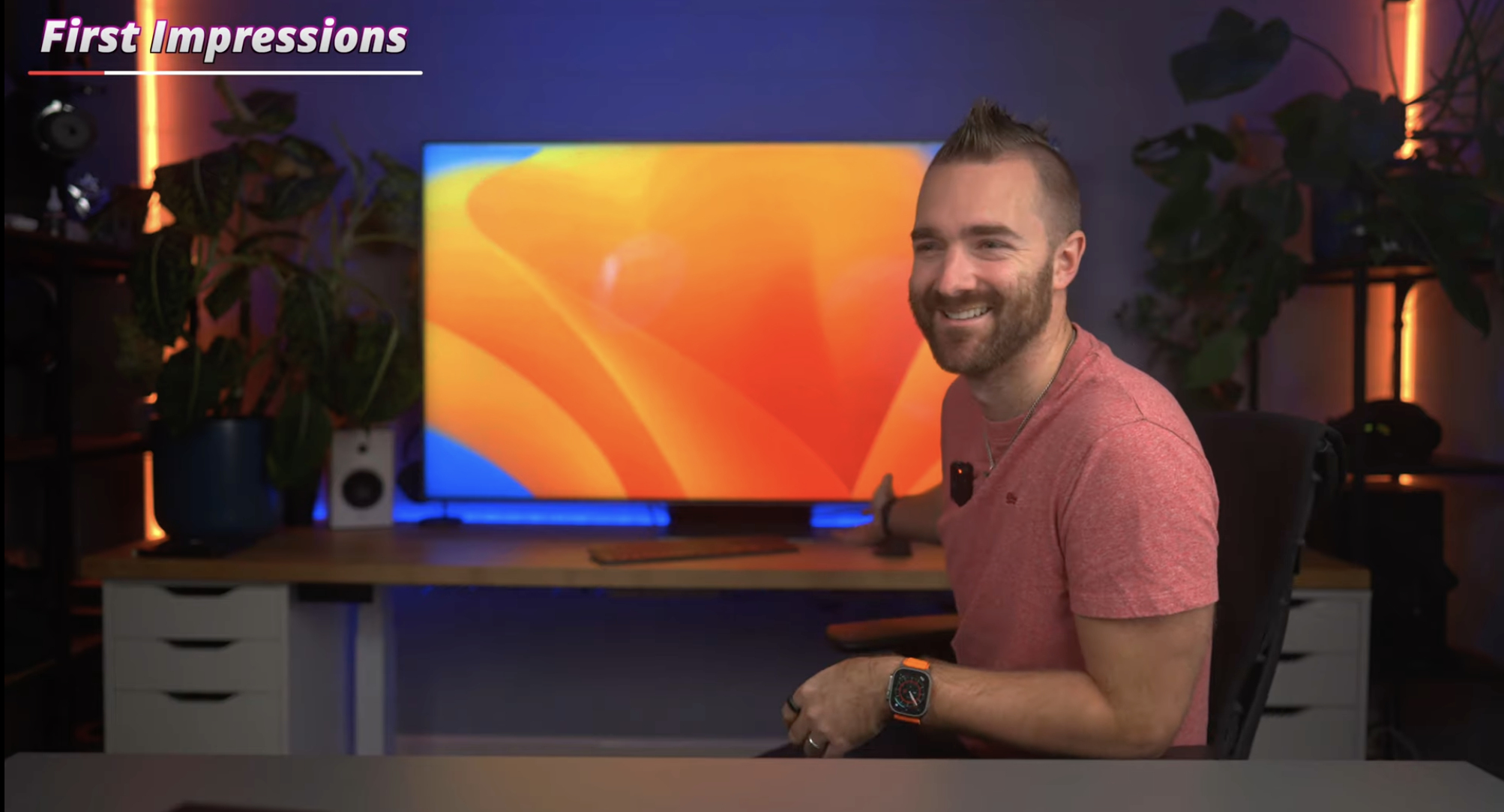 I did have a concern over using a TV because most TVs are quite mirror-like and reflect the light from the room. This does actually have an anti-reflective coating on it, which should prevent any glare from being introduced, however, in my room, at the very top of the screen, I can clearly see the spotlights from my main room lights which is a problem when I'm slouching or sitting up close to the screen.
In terms of pixel definition, it's not going to be as good as a smaller 4k Display. Because with smaller screens you get much higher pixels per inch. On the G9 Neo for example it's 108 pixels per inch, and both the 55" Samsung Ark and 55" Version of this screen are 80 pixels per inch.
This 65" model though is 68 pixels per inch, so you can see the pixels if you look from around a foot away from the screen, but when sat at a normal distance away, it's not actually that noticeable.
However using this you do of course have the ability to blow up anything you're watching, which looks stunning in full 4k resolution. For resolution though, I have to say that I am LOVING the extra vertical height - it's something I miss from a 49" Ultrawide, and weirdly this feels better than the Samsung Ark… perhaps that's just because the price tag is so low with that $3.5k vs $2k price!
But having the additional vertical resolution means you can keep so many more things open on your screen at once - if you're anything like me, I'm the guy who has about 15 apps open at once, along with about 30 chrome tabs that I never close.
Maybe that's more of a Mac user thing than Windows where you normally just split screen 2 to maybe 4 apps at one time?
I find with this much space though, you're better off just positioning apps in their place and keeping them there, then over time it just becomes second nature to know where the Apps are whilst you're using them.
Spotify is always in the same place, all of my messaging apps, slack, and beeper are in another place, and front and center is usually my browser. Along with a password manager at the top.
If only Macs could keep up with Windows when it comes to graphics and gaming performance - or at least with being able to display more than 60hz on their HDMI Ports.
What I would recommend though is changing the scaling within windows to 100% as by default it's set to 300% for some reason, so everything is just going to look absolutely ridiculously big on the screen.
By doing this you'll get back an absolute truckload of screen real estate.
On the Mac side, even though you're stuck at 3840 by 2160, it only feels like it's marginally too big. You can easily see everything on the screen, but with a 65" screen then having an even bigger resolution like 5k or perhaps even 8k would mean that apps and text wouldn't be so big.
So that is certainly a downside.
But where there are drawbacks, the HDR capabilities, where this is a TV first and PC monitor second, are - well, second to none. HDR Content on devices that support HDMI 2.1, with Games and videos, looks stunning, with the deep blacks shifting to bright colours beautifully. It really does look staggeringly good.
Something you might still struggle with, and something I most definitely am struggling with, is getting the maximum performance out of this screen. Of course, with up to 144hz, you're going to need something pretty powerful to output anywhere close to the maximum 144fps.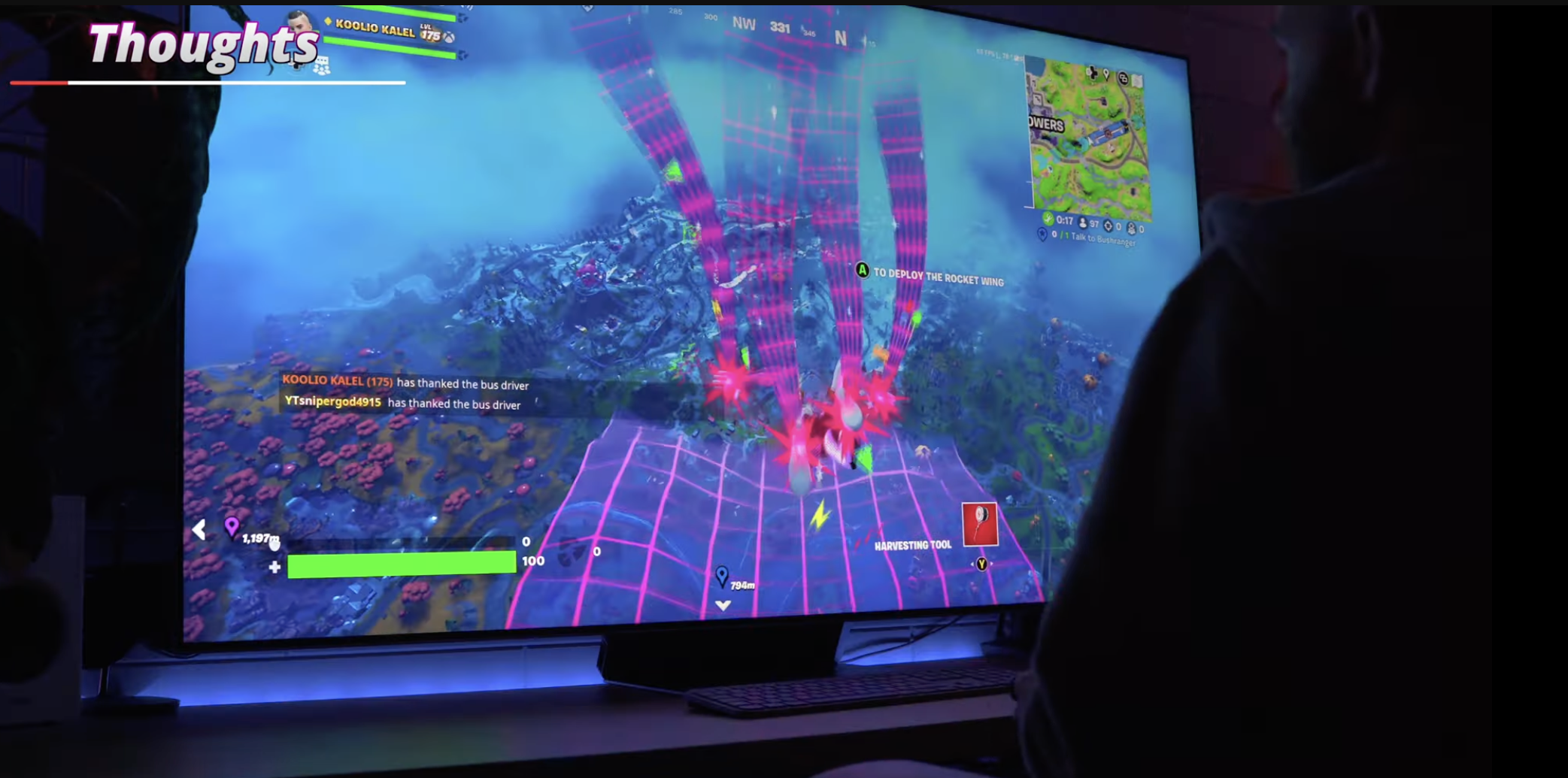 My Gaming PC is getting quite old now, I'm actually waiting on a new case to be delivered where I'll be teaming up with a national brand to build and giveaway a new gaming setup, so make sure you're subscribed to my newsletter to see that.
💌 Sign up for the weekly newsletter: https://www.petematheson.com/newsletter
So for now on both Windows and on my Mac, I can get the highest resolution possible on this screen, but I can't get HDR, nor can I get 120hz, let alone 144.
That's more of a Me situation though. But I can comfortably play on my Xbox Series X or PS5 to get the maximum 120fps that it supports.
It's something that's frustrated me for a while now - on my PC with the 2080 Graphics card, which admittedly is a few years old - it doesn't support HDMI 2.1.
I thought I could work around that by using a DisplayPort to HDMI cable, but that actually makes the image look worse and still doesn't workaround the issue. And even then, my PC struggles to put out 4k 60fps let alone 120 or even 144 when playing games. So I can't wait to get that upgrade.
Of course with this being an actual TV, you can also use the included remote and perhaps even save yourself a few dollars of electricity when watching content by switching off your PC and using the TV. Watch YouTube, Netflix, and Disney, there's even a built-in gaming hub where you can stream Xbox Games without even having your Xbox there.
Though the quality and responsiveness leave much to be desired, and if you actually have an Xbox, you'd be much better off using that instead. When you do play proper games on either a PC or Console on this thing, damn do they look great though.
With a combination of all of the tech in this TV, you do get a responsive, high-quality gaming experience, though I'd recommend using something of this size at more of a normal distance when gaming - so sit back in your chair, or - like more sensible people perhaps, use it as a TV and wall mount it, or put it on a TV stand.
Actually, if you did do something like this - wall mounting would be a really good idea.
The stand itself isn't that intrusive, nowhere near as intrusive as the Samsung G9's stand, but being able to put something this big straight onto the wall would give you back a vital foot or so of distance which could make all the difference to feeling like you're constantly turning your head to look around.
Back to the display itself now, and with Tizen, you also get a familiar software experience that spans across Samsungs smart TVs and Monitors, including being able to split screen inputs - this time with 2 inputs at once.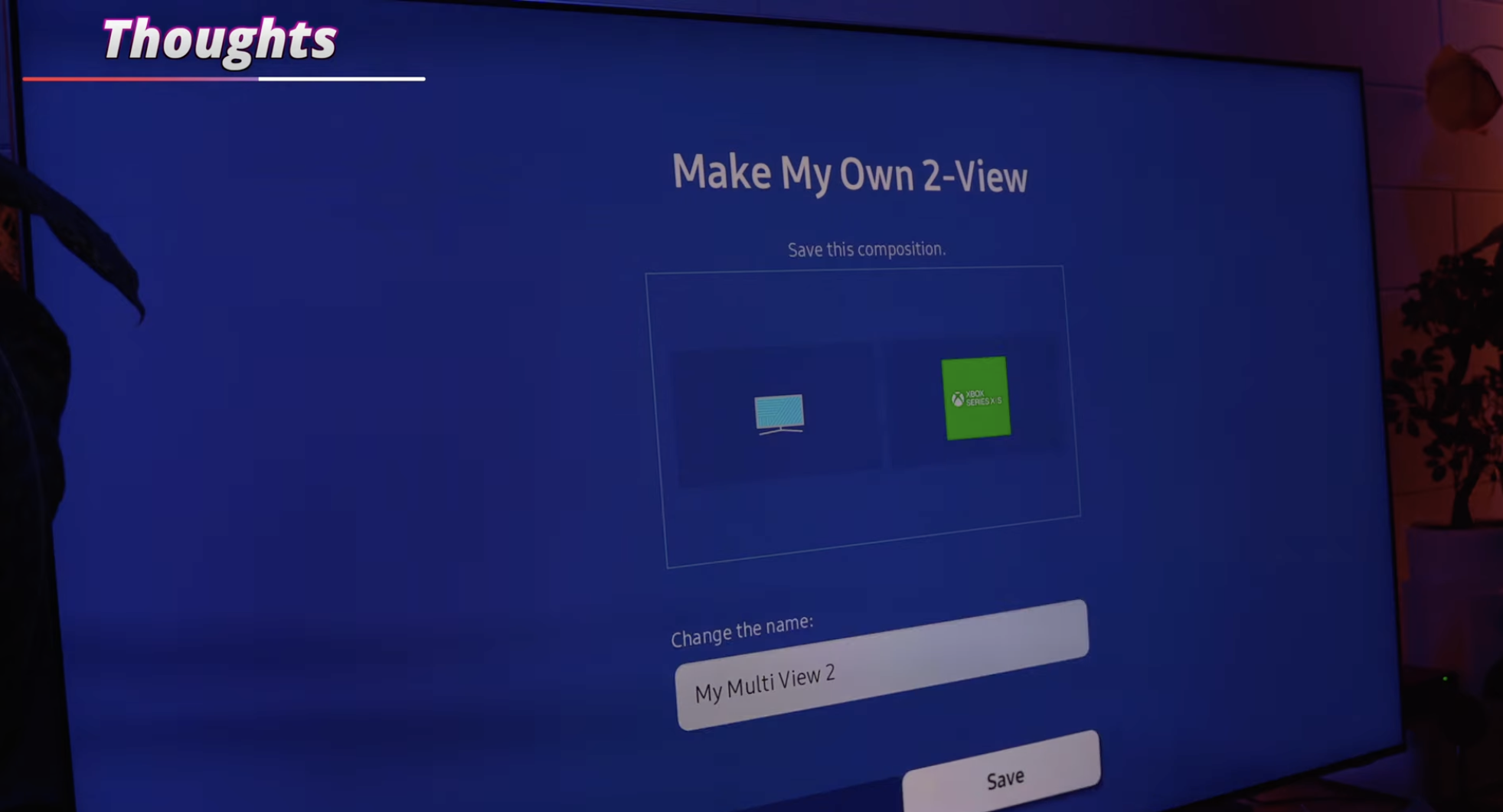 For some reason, you're unable to split screen 2 separate HDMI inputs, so you can only show one HDMI Source, so a PC or Gaming Console, and then have a native App running like YouTube, or even mirroring your Android phone down the side, that's pretty cool.
But as a computer come gaming monitor come tv, you can't have a games console on one side and have your PC on the other with perhaps a discord or messaging app going. It's the same story with the Samsung Ark, so I assume there must be a technical reason for not being able to process two HDMI signals simultaneously, but it's still frustrating when this IS something you can do on many smaller computer monitors like the G9 Neo.
WARRANTY
There's also another significant reason to buy one of these OLED TVs over an Odyssey series monitor, and it's something you might not think of when making a purchasing decision - and that is the warranty.
Buy something like an Ark or a G9, and you'll get a 2-year warranty. But buy a TV like this one, and you have a 5-year standard warranty, and that is, quite something.
I'm sure we've all owned a TV or Monitor at one point or another that's gone wrong within 5 years of ownership, so you may see even more savings further down the line when you don't have to buy a replacement monitor 2 years after purchasing the first one.
So after initial impressions, is this a sensible thing to do? Should you look at one of these over something like the Samsung Ark?
Yes, and, no...
Sitting here right now, staring up at this monstrosity in front of me - I can't tell if this is incredibly clever, or incredibly stupid.
THOUGHTS 💭
I'm definitely missing having a curve on a display. Mainly because as you get to the edges of the display, it just feels awkward. Whereas with the curved screens - and particularly the 1000R curve that Samsung has in their series of screens, it feels way more natural to use them.
But in the case of the Samsung Ark, having a Curve and some added LEDs will cost you an extra $500 - $1.2k.
You'll also need to make sure you have a powerful enough PC to take advantage of the high FPS.
And the size, well perhaps consider getting a smaller 55" model, depending on the size of your desk - but I'm actually starting to really like the 65". Yes, it might be taking it a bit too far - but actually, it gives you a tonne of the screen for those of you who do some serious multi-tasking, without having to repeatedly minimise or go hunting for windows.
If anything, and I said this in my Ark review, but for something this size - if they just slightly curved in the sides, but also curved in the top and bottom, I think it would make for a really great experience.
Even just the curves on the sides - I definitely miss them, but I'm not sure I would pay an additional $1,000 plus just for that feature.
My recommendation? Save the money on a Samsung Ark and consider either a 65" like this if you have the space for it, or perhaps a 55" TV that's cheaper, or even the G9 Neo instead. I'm also about to test out the new OLED Samsung G8 Neo, which will be coming in a few weeks.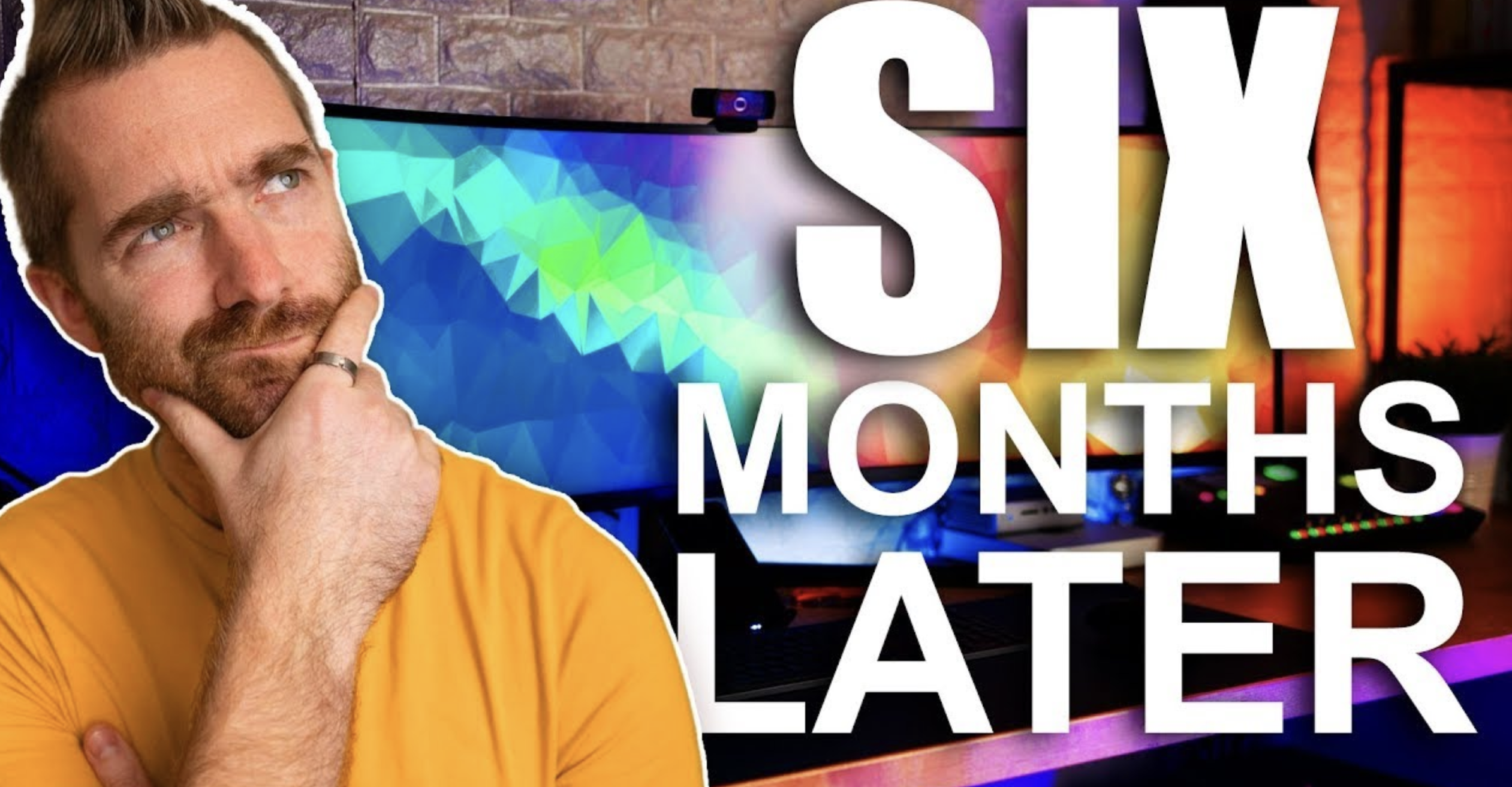 🛒 Get the Samsung QN95B Neo QLED 4k TV: https://geni.us/rdg8tKNZt1s-2